It's the first big boy full field tournament of the season, as the PGA Tour moves back seaside for the 2020 Farmers Insurance Open at Torrey Pines in La Jolla, California.
With football on a one week sabbatical before the big game in Miami, the Farmers Insurance Open already was going to be a primary focus in the sports world thanks to a star-studded field on one of the most iconic and visually pleasing public golf courses in the world. The final rounds have been going head to head directly against the NFL Playoffs the last few weeks and, unsurprisingly, the TV ratings have been getting killed. But with only college basketball as the main competition to draw the eyeballs of sports fans on Sunday, a final round leaderboard with a few big names in contention should lead to a much needed ratings bump for the PGA Tour.
Especially if a certain large feline back at the top of his game is in the hunt.
Here's a primer of everything to know before you place your bets this weekend for the Farmers Insurance Open:
The Field
As referred to previously, the biggest draw in the field is Tiger Woods, who not only has an outstanding track record at Torrey Pines but comes into this tournament in great form. After a very poor finish to his 2019 PGA Tour season, Tiger roared back in the fall by winning the ZOZO Championship in Japan and was head and shoulders the best player on either team in the Presidents Cup. Tiger has won the Farmers Insurance Open seven times and won the 2008 U.S. Open at Torrey Pines. With both his driving and iron play in great shape he very well could add another victory on one of his most successful golf courses.
In addition, Rory McIlroy will make his 2020 debut at Torrey Pines. Like Tiger, Rory had a great fall when he won the WGC-HSBC Champions over in Shanghai, as well as a T3 at the ZOZO Championship and three other Top 10 finishes on European Tour events. For reasons to be discussed later, Rory's game is a great fit for Torrey Pines as he looks to build upon one of the most successful PGA Tour seasons of his career.
The player I'll have my eye on the most this week is Jordan Spieth. He also will be making his 2020 debut after basically two lost seasons on the PGA Tour. Spieth hasn't won since the 2017 Open Championship and squandered a historic putting season with absolutely dreadful ball striking and driving in 2019. He didn't really look close to overcoming whatever demons are plaguing him off the tee or with his irons last fall. Is he really just washed up? Or is he just mired in a slump that he'll eventually break out of. Torrey Pines is probably not the golf course that will cure his ails, but any sign of progress tee-to-green this week would make me start to consider backing him in tournament props and futures.
Other notables in the field include defending Farmers Insurance Open champion Justin Rose, two-time champion Jason Day, Farmers Insurance darling Rickie Fowler,  former winner Jon Rahm, Tony Finau, Xander Schauffele, Patrick Reed, Hideki Matsuyama, Gary Woodland, Francesco Molinari and Phil Mickelson.
The Golf Course
Unlike the golf resorts, country clubs and semi-private courses the PGA Tour normally stops at, Torrey Pines is a municipally owned golf course built in 1957 on the site of an old U.S. Army Base just north of San Diego. The golf course was designed by William Bell and featured two 18-hole tracks on both the north and south sides of the property. The PGA Tour has made Torrey Pines a regular stop on the tour since 1968.
Starting in 2000, the U.S. Open began to have an appetite for municipal public golf courses in their effort to #growthegame. Along with fellow municipal golf course Bethpage Black, Torrey Pines was picked by the U.S. Open to host the 2008 event and hired Rees Jones to redesign the golf course so that it was suitable for championship play.
The revisions to the South course included a significant lengthening to counter advancements in golf technology, repositioning of greens closer to the canyons to bring them into play, and adding numerous fairway bunkers to challenge the professionals off the tee. The course was lengthened over 500 yards and runs almost 7,700 yards from the tips.
While the USGA loved the new-look of the golf course, it had more than a few detractors. The South course is often regarded by the nerdy golf architecture community as a "good view spoiled" due to its lack of imagination. Tom Pernice called it a "typical piece-of-junk Rees Jones design". And because it was altered with the professionals in mind it became an absolute behemoth for amateurs to play, even from the regular tees. If you were to walk the golf course from the back tees, you'd log almost 5.5 miles on your Fitbit.
I've never had the pleasure of setting foot on the property, but when looking at the layout of the South Course I have to agree that it has Rees Jones' lackluster fingerprints all over it: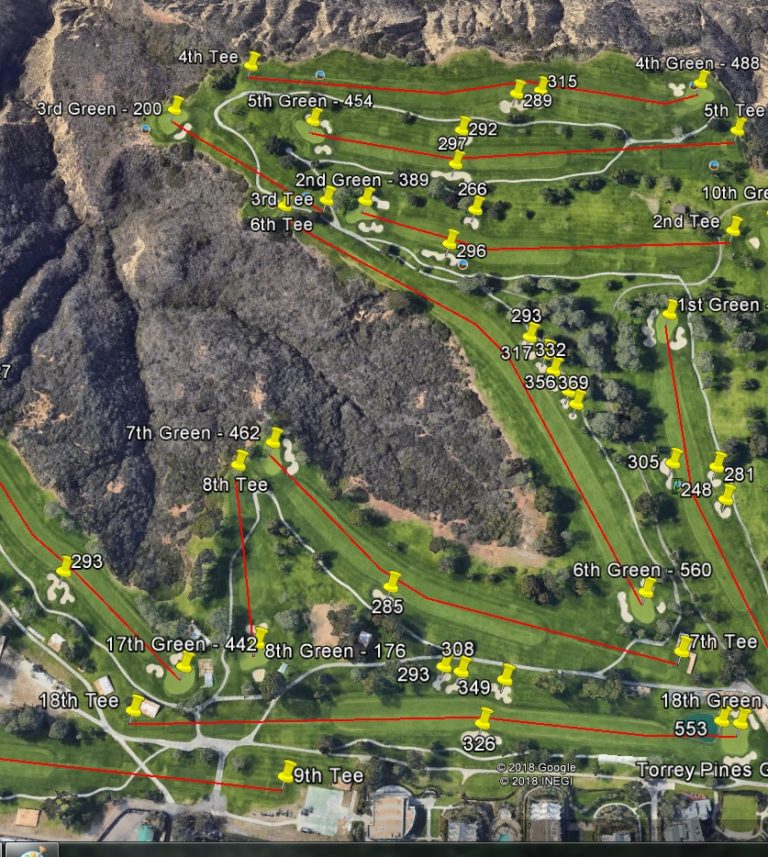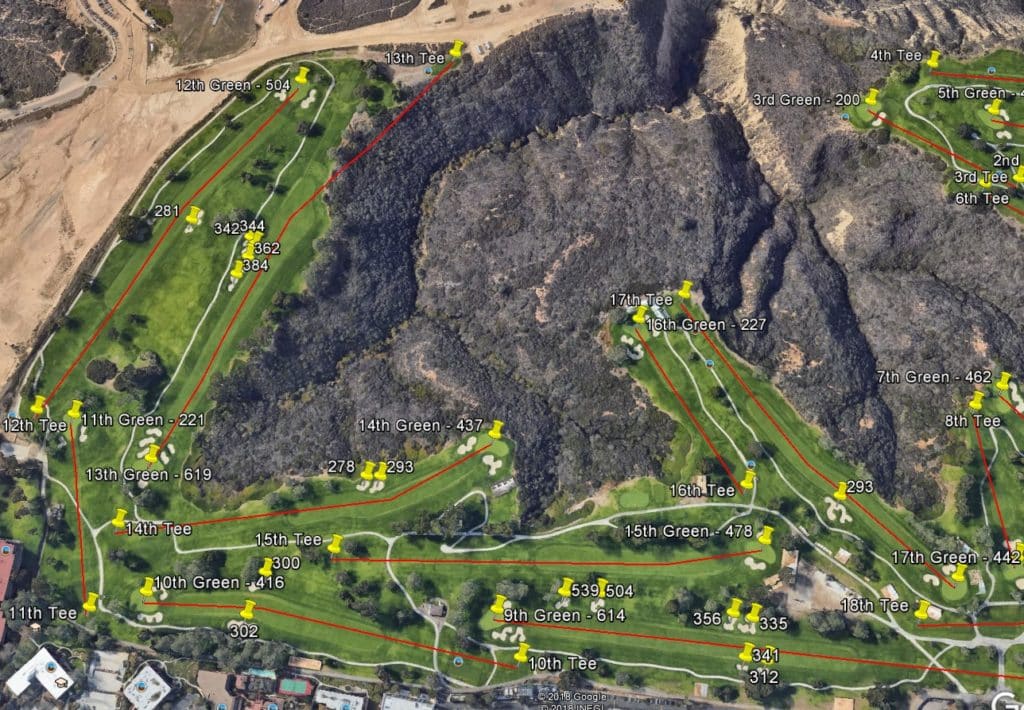 The only difference between the South Course and fellow panned Rees Jones design Bellerive, which hosted the 2018 PGA Championship, is the Pacific Ocean. Both courses feature a never ending parade of long, slightly doglegged Par 4's with narrow fairways, deep rough and fairway bunkers in the landing zones. And though the goal of the redesign was to bring the canyons into play, there really aren't many places on the golf course where they actually do. Sure there are a few greens that sit on the cliffs of the canyons, but thanks to deep rough surrounding both greens and fairways it takes a spectacularly poor mishit from a professional to say goodbye to their golf ball. There's very little threat that an average or slightly below average shot will wind up into the hazard. The canyons are nothing more than decoration.
Meanwhile, the North Course was redesigned in 2016 by Tom Weiskopf, whose other notable work includes the Olympic Club in San Francisco. Unlike its big brother to the south, Weiskopf sought to redesign the North course with the amateur, not the professional, in mind. As such, Weiskopf enlarged greens, removed eighteen bunkers (mostly of the fairway variety), and cut down dozens of trees due to a beetle infestation. While the removal of the trees disappointed some, it opened up the golf course significantly and gave way to spectacular views of the coastline.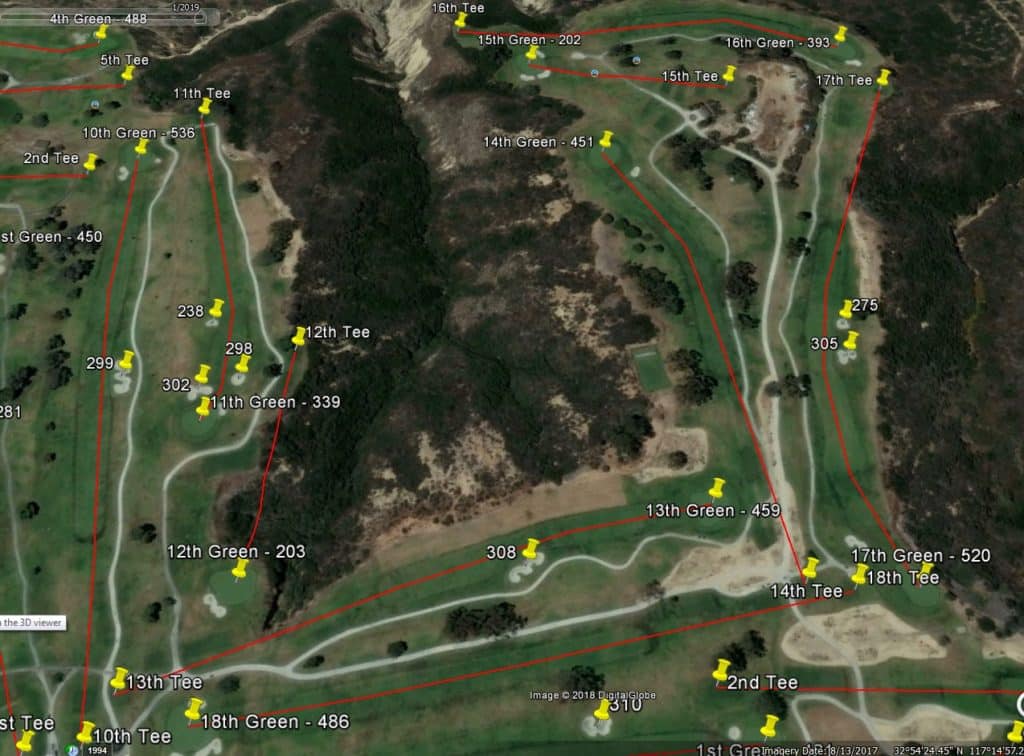 But the most significant improvement of the North course was just a simple cosmetic change. Weiskopf flipped the nines so that the Back Nine plays along the coast and canyons, and showcases the property's most picturesque hole – the downhill Par 3 15th.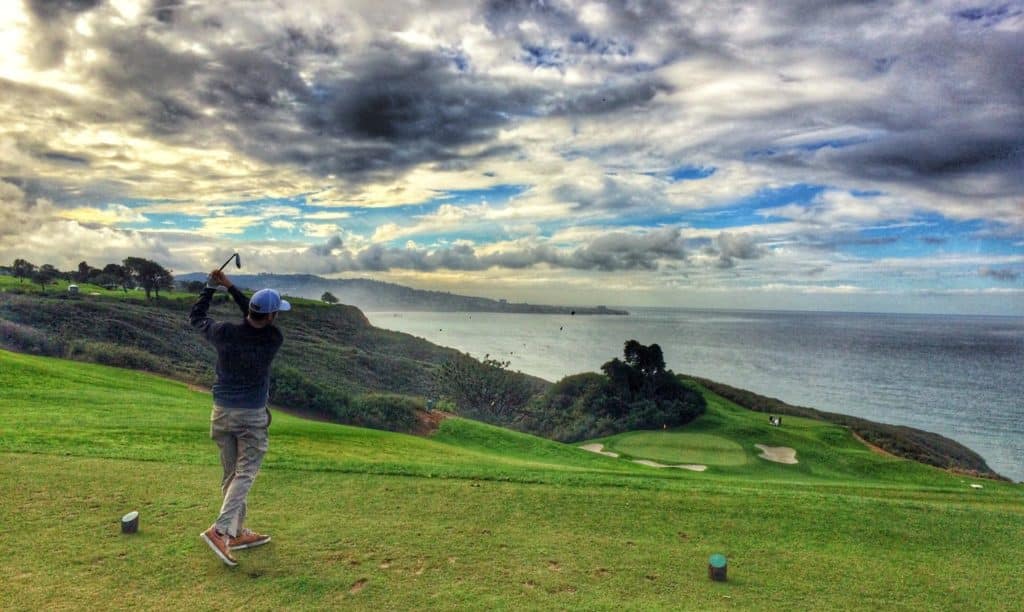 Though the North course plays with the amateur in mind, the scores by the professionals are actually worse than they were before the redesign. In 2015 and 2016 (pre-renovation), the average score on the North Course was about 70.6. In 2017 and 2018 (post-renovation) the average score was about 0.7 strokes per round worse. Last year's tournament, however, saw very low scores on the North Course as the average score was about 69.8 on the week. That could be attributed to absolutely pristine scoring conditions rather than a fundamental change in how the golf course plays.
Despite some of my criticisms, as an ardent supporter of public golf it is a relatively affordable and accessible one to play for both residents and non-residents. Residents of San Diego can play Torrey Pines South on weekends with a cart for $126. That's a bargain considering it's one of the most famous golf courses in the United States and on the bucket lists of many amateur golfers to play. And if anyone wants to go out after work for a twilight round, San Diego residents can do so with a cart for a measly $48.
For non-residents, is substantially more but compared to the cost of other upscale public golf courses in the United States it's not all that much of a hit to the wallet. Non-residents can play Torrey Pines South on weekends for $292, which when you compare to the cost of playing other bucket list public golf courses like Pebble Beach or Bandon Dunes isn't all that bad. Still, if I were to go on a golf trip out to the West Coast it's already going to cost and arm and a leg to get there. I'd rather pony up more to play a much superior and enjoyable golf course than cross Torrey Pines off my bucket list.
Betting Strategies
Before we even consider what player attributes lead to success at Torrey Pines, the first thing bettors need to do is look at the weather report. That's going to be a significant indicator at what type of tournament we'll see and where the winning score will be at.
The temperatures in La Jolla in January often struggle to break 70 degrees, and players with very early tee times could be playing in some very chilly conditions. That's something to keep in mind when looking at Tiger Woods, who has struggled to get off to good starts when the temperatures aren't very warm. In addition, it's a fairly safe bet that there will be some sort of delay on Thursday and Friday for fog.
From there, the tournament can go one of two ways. It could get weather like it saw last year with comfortable temperatures in the upper 60's and lower 70's with very little wind. That led to Justin Rose running away with the tournament with a winning score of -21. If it's this type of tournament, then the cream will rise to the top. The best ball strikers tee-to-green have a tremendous advantage over the rest of the field, and if they can match that with a decent putting week they stand a great chance to win.
On the other end of the spectrum are weather conditions like it saw in 2016. That year, rain and wind absolutely decimated a final round that started on Sunday and finished on Monday. Despite 50 MPH gusts, Brandt Snedeker somehow managed to card a 69 and sat in the clubhouse all day Monday as the rest of the field averaged 78 to backdoor into a title. In bad weather conditions, shorter tacticians with low ball flights and can shave strokes off their score on and around the greens are the ones to gravitate to.
As of right now, the weather report looks a lot more like the 2019 Farmers Insurance Open than the 2016 tournament. Temperatures are forecast to hang in the upper 60's all weekend with very minimal wind. It might get a little gustier on Sunday as winds might reach 15 MPH, but that shouldn't give the players too much trouble. I expect low scores throughout the weekend like we saw last year, with the premium ball strikers dominating the leaderboard and coming down to how well they can putt.
There is one consistent attribute year in and year out that gamblers should keep in mind – driving distance. The South Course is an absolute monster and with narrow fairways and penal rough it gives longer hitters a tremendous advantage over a player who lacks distance. Some people have the misconception that lengthening a golf course, narrowing fairways and growing penal rough will elevate the importance of driving accuracy – an absolutely false assertion. At this type of golf course it reduces the likelihood to hit the fairway for everyone and punishes shorter hitters more than it does a longer one. It forces short hitters to try and hit a longer iron out of the rough, which even for professionals is a very difficult task. It's much easier for a longer hitter to try and dig a wedge or a higher lofted iron out of deep rough onto the green.
In fact, driving distance has statistically been shown as a greater importance to success at Torrey Pines than the average PGA Tour golf course:
Course Fit Skill Set Data Plot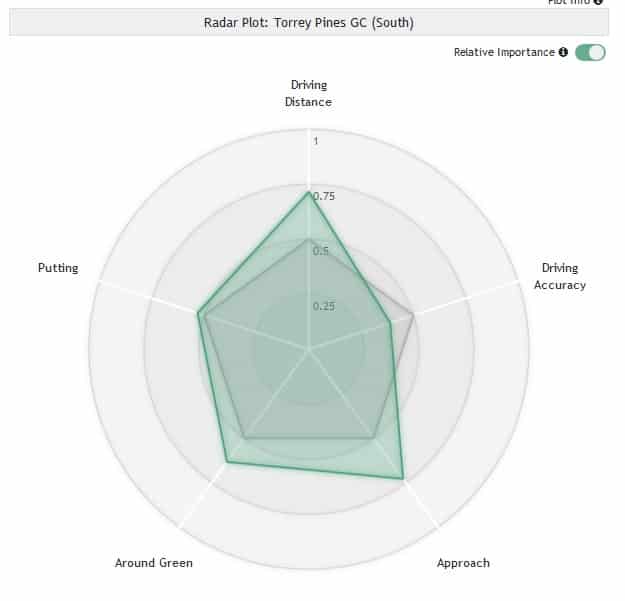 Another factor to keep in mind is that the grass at Torrey Pines is poa annua. Almost every player in the field grew up playing on some form of bentgrass or bermuda grass, but poa annua plays much differently. It's actually an invasive species of grass and has over 500 strain varieties. It can be mixed together with different strains to create different turf conditions from one golf course to the next. These different strains also have different rates of growth, with some growing more slowly than others.
The most stark difference between poa annua and other forms of grass is how it plays on the greens. Whereas bentgrass and bermuda can roll quite true, putting surfaces with poa annua can be quite bumpy, especially later in the day. That can sometimes make putting a bit of a crapshoot on a mixed strain putting surface with different rates of growth of the grasses. That means by no fault of the player one roll over the wrong blade of grass could send a putt offline.
Players in the field who have good histories on poa annua golf courses include Jason Day, Rory McIlroy, Justin Rose, and Jordan Spieth. In addition, confident putters who are surer of their putting stroke fare better than weaker ones.
Lastly, the closest correlated golf courses on the PGA Tour to Torrey Pines in terms of similar skill sets include Augusta National, Quail Hollow, the Stadium Course at PGA West, and Club de Chapultepec. Players in the field this week with great results on these golf courses include Tiger Woods, Phil Mickelson, Jon Rahm, Patrick Reed, Jason Day, Francesco Molinari, Bubba Watson, Gary Woodland, Rickie Fowler, Hideki Matsuyama, and Justin Rose. That doesn't mean you have to necessarily pick these players, but it does help identify the profile of player that would be successful in this tournament.