The fall season rolls on as the PGA Tour heads down to Texas to play at the Golf Club of Texas for the Houston Open.
This tournament used to reside as the final event before the Masters, but sponsorship trouble punted one of the oldest events on the PGA Tour to the fall. While some fall events have been able to attract a very nice field, this tournament's proximity on the schedule makes this one pretty barren in terms of star power.
Long story short – only true degenerates will be betting on this tournament.
Here's everything there is to know about the Houston Open before you place a single wager on it.
The Field
Last week's tournament in Las Vegas had the strongest field for a United States-based fall event, with 54 points given out to Kevin Na as the winner. To equate that to other more notable events on the PGA Tour, that's about as much as given out for the Waste Management Phoenix Open, the Charles Schwab Challenge and the RBC Heritage. Accordingly, the final leaderboard by Sunday was one with several recognizable names and a thrilling finish.
One week later and this field is, well…it's a tough hang. As of this writing, the OWGR hasn't made the determination of how many world ranking points will be given to the winner, but just eyeballing the field makes me believe that it will probably be the bare minimum of 24 points – as much as the Puerto Rico Open.
There is one big fish in this field that matches both name recognition and current form, and that's Henrik Stenson. Why is Henrik Stenson taking a break from the peak European Tour season to play a very minor Fall Series event in Houston, you may ask? Beats me! A quick google dive doesn't yield any strong Houston/Henrik Stenson links that could give a reason why he feels obligated to play. What I do know, however, is that Stenson has a very good track record at the Golf Club of Houston, so maybe he just enjoys playing the course and sees this week as a good chance at a nice pay day against a weak field.
Other notables include Jason Dufner, Cameron Champ, Brian Harman, and Scottie Scheffler. There also is a full crop of recent Korn Ferry Tour graduates who are scrambling to accumulate as many starts and good finishes as possible so they can climb as high up the priority list as possible before the calendar turns to 2020.
Lastly, because of the weak field the tournament invited a few notable college stars currently enrolled at Texas universities, most notably amateur superstar Cole Hammer of the University of Texas. His claim to fame was taking down Matthew Wolff in match play at the 2019 NCAA Tournament, and he has enough raw talent to at least make the weekend.
Like I said, though, it's a pretty obscure field that likely won't attract many eyeballs from casual fans this weekend. Most of the best players are either on a plane heading over to Korea to play in next week's C.J. Cup, or still over in Europe playing on the European Tour.
The Golf Course
The Shell Houston Open is one of the oldest tournaments on the PGA Tour, first played back in 1946 at River Oaks Country Club. The event bounced around the Houston area for years, never seeming to find a permanent home until 2006 when the event landed at the Golf Club of Houston. Previously, the Golf Club of Houston was known as the Redstone Golf Club and opened in 2002. In 2013, the club was purchased by a investment group from Fort Worth and rebranded it as the Golf Club of Houston.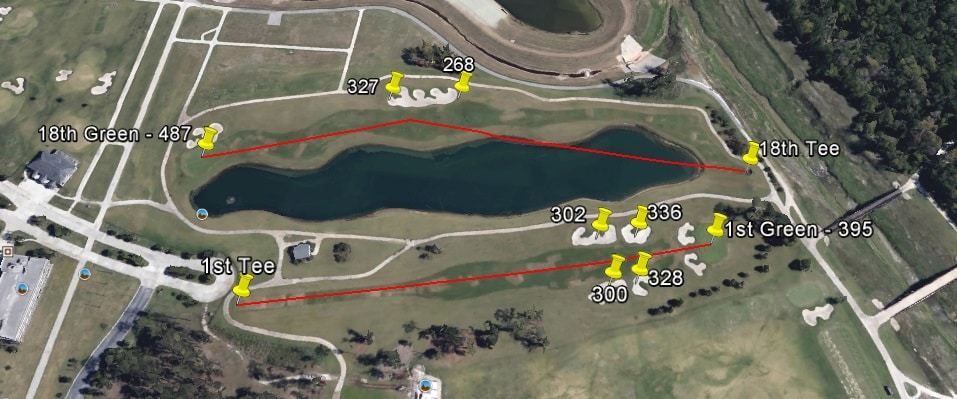 The Golf Club of Houston offers a private members course and a public "tournament course", with the latter playing host to this week's event. The Tournament Course was redesigned by famed architect Rees Jones, with consultation from former PGA Champion David Toms. From the tips, the course is just a shade under 7,500 yards and has a lot of the qualities of his typical tournament courses. Jones designs typically suit longer hitters off the tee with long and straight designs, with the only real architectural challenges presented to them are fairway bunkers placed in the landing zone and water hazards. His golf courses tend to turn off the more elitist, snobby golf architecture purists (see Andy Johnson of the Fried Egg or Geoff Shackelford). And while the abundance of hazards might not bother a professional, it will surely cause an amateur hacker fits.
But what made the Houston Open an interesting tournament was that it took advantage of the grass types to entice the best players in the world to make an appearance. The fairways consist of perennial ryegrass and the greens are bentgrass, which are the exact same grass types as Augusta National. With its place on the schedule immediately before the Masters, the tournament directors sought to try and create as close to Masters-tournament conditions as they could. That meant shaved down areas around the greens, overseeding of the fairways, inch and a half rough and double cutting and rolling of the greens to get the speeds as close to Augusta as possible. They had great success in creating Masters conditions in Houston, and for years the tournament attracted many stars who wanted a tune up before they headed down Magnolia Lane.
Unfortunately, this event lost its primary sponsor, Shell Oil Corporation, before the 2018 tournament. With sponsorship dollars lacking and the PGA Tour looking to reconfigure its schedule, the Houston Open was a prime candidate to punt to the fall. And with its placement on the schedule between a star studded Las Vegas event and immediately before an Asian swing that boast huge purses, no top player has the incentive to play the Houston Open anymore.
Betting Strategies
As mentioned previously, Rees Jones designs tend to favor longer hitters. Notable golf courses with Rees Jones as the crediting architect or renovator includes Torrey Pines, East Lake, and Bellerive. All these are golf courses that raises the importance of performance off the tee, and typically some of the longest hitters in golf win there.
The Golf Club of Houston is no exception. Recent winners include Matt Jones, J.B. Holmes and Russell Henley, all of whom annually rank highly in Strokes Gained – Off-the-Tee. Driving the golf ball long and straight at the Golf Club of Houston puts one at a huge advantage over the field, and anyone who shows up to the golf course this week with an excellent driver is going to have a great finish on the leaderboard.
This is also borne out when looking at how strokes are gained at the Golf Club of Houston overall:

(Per DataGolf)
Performance off the tee historically has accounted for about 20% of a player's strokes gained at the Golf Club of Houston. That's about five percentage points higher than the tour average. Combining this with great iron play should give players great looks at birdies this week.
There is a slight problem with relying on course history this week. For one, I'm not sure if they'll set up the golf course with the Masters-like conditions like they have in the past. Getting the golf course prepped like that takes time, effort and money, and the tournament directors may opt for a more standard set up because of its low profile stature. This would likely affect putting the most, as the greens won't run as fast as they have in the past. This data is also all compiled based on much stronger fields than this year's tournament will offer. Not only does that mean the vast majority of players will be poor ball strikers statistically, it also means that they are highly volatile with their week to week results. This could make the tournament pretty frustrating to bet on and force bettors to have to guess who'll rise above their baseline metrics.
Nevertheless, with how the golf course is set up tee-to-green I'll still shade towards players who's strengths are off the tee, and then weeding out contenders and pretenders with their performances with their irons and their current form putting. Like last week, this tournament is going to see some very low scores, so anyone who's suffering from a cold putter and/or struggles on bentgrass surfaces receives an automatic demerit.
Lastly, there looks as though there will be wind in the forecast all four days, with gusts approaching or exceeding 20 MPH at times. While I'm not a firm believer in relying on stats of player's performance in wind, what I do value is players who overall are better iron players regardless of weather conditions. It's these players who have great command of distance and spin control are the ones who will fare better in windy conditions. In addition, these conditions should be taken into consideration for DFS should one side of the draw receive a much better forecast than the other. If that's the case, break ties in favor of a player with a better tee time.