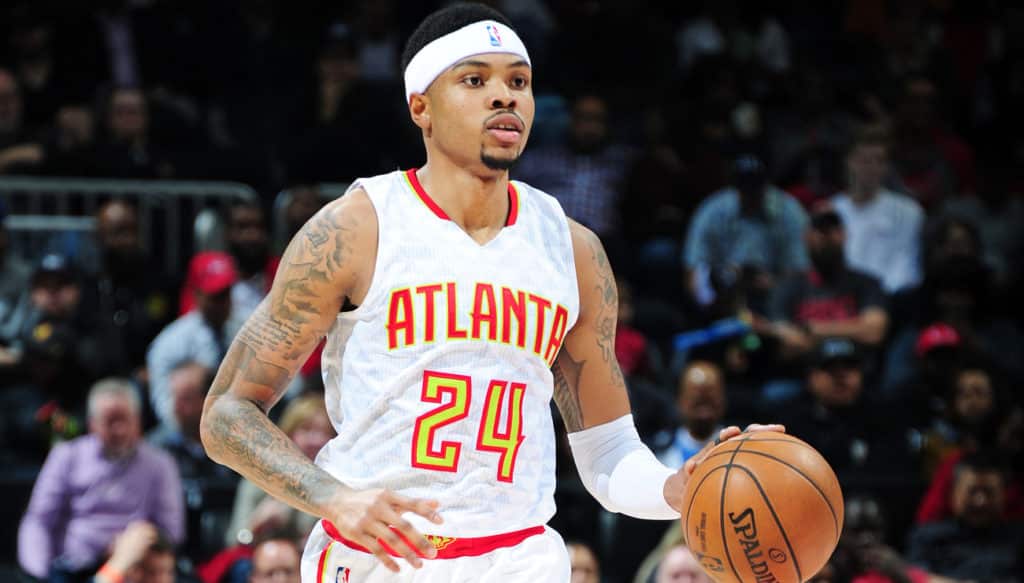 The 2nd TNT Thursday of the fledgling NBA season brings a surprisingly shitty slate of games — though, as already detailed on the site this morning, a likewise awful Thursday Night Football matchup won't provide much entertainment relief for fans who go both ways. That being said, there are some interesting player prop options tonight that I like to help build some bankroll going into crowded Friday Night and Saturday Night basketball slates and, of course, weekend Football action.
Naturally, the prop market is tough early in the NBA season as teams are still tinkering with shot distribution and minute rotations. I prefer to stay away from superstar player point totals especially, as recent history has shown that guys will take a game every now and then to "get others involved". Then, just when you bet the under, Lebron puts up 34 and you get burned for trying to overthink the team chemistry situation in Cleveland.
Anyways, let's dive into tonight's slate and point out some good spots for value on the prop market.
1) Kent Bazemore OVER 15 Points (-150)
Bazemore's Atlanta Hawks head to Chicago tonight in what might just be a matchup of the two worst teams in the NBA. The unwatchability of the game doesn't mean there isn't money to be made, however, and Bazemore's numbers have climbed since Hawks PG Dennis Schroeder has been sidelined with a turned ankle. It's not just his scoring numbers (which have eclipsed 15 points in each of his last two games) that point to tonight's pick, but it's that he's actually been pretty poor offensively in reaching the total.
Bazemore's last two games:
16 Pts, 4-12 Shooting (33%), 0-3 3pt (0% Tough math I know)
20 Pts, 6-17 Shooting (35%), 1-4 3pt (25%)
With Schroeder set to miss tonight's game in Chicago, I look for Bazemore to put up at least 15 shots again, and is a clear regression candidate as a career 42% shooter and 35% from deep. The opportunity will be there for Bazemore, so barring another piss-poor shooting performance, I expect 15 points to be a lock.
2) Giannis Antetokounmpo OVER 31.5 Points (-115) & OVER 9.5 Rebounds (-105)
Call me a Greek Freak hype beast if you want but I'm all over both of these spots tonight. Giannis is just on another planet right now, especially coming off of 2 full days of rest. He's gone over the 31.5 in each game thus far, doing a fantastic job of both scoring efficiently around the rim and getting to the line to add free ones to the top. He put up 13 free throws in Milwaukee's first match-up with Boston this season which, coupled with his least efficient shooting night of the year (still an absurd 59%), led to an easy over at 37 points. Neither Jaylen Brown nor Jayson Tatum have the size to hang in against Giannis for 48 minutes, let alone throw him off his game. I expect another 10+ free throw performance here, so as long as his usage stays where it has been in the previous 4 games, over 31.5 should be likely.
Antetokounmpo is also collecting 27% of available defensive rebounds when on the floor, a near 5% increase from where he was a season ago. Looking closer at the numbers reveals that the Greek Freak rebounds at a far better rate when he's rested, which he will be tonight. Last season, his rebounding percentage jumped from 20% on back-to-backs to 23% with 1 day rest and, eventually, 26% with 2 days of rest. Look for Giannis to come out hungry tonight and pound the glass early and often, where he can get out in transition and initiate the primary fast break.
The Bucks are also bringing back a retro court design tonight and are trying hard to hype up this Thursday night spot against another Eastern-Conference contender. They'll get up for this game, which means Giannis should be locked in.
3) Damian Lillard UNDER 26.5 Points (-105)
This is less of a fade of Lillard and really more of a Patrick Beverley play. Beverley's defensive acumen has been well-documented, and with Milos Teodosic sidelined by a disappointing foot injury, Beverley should be on the floor for 35+ minutes tonight. Sure, PatBev talks a lot of shit, but this man backs it up with numbers. He's posting a truly absurd 84 Defensive Rating to start the season, making life a living hell for opposing Point Guards. A season ago, Draymond Green led the league with a 98.9 Defensive Rating (Holy shit Patrick keep it up). Combine that with Lillard's admission in the past that Beverley has gotten under his skin, and I expect Beverley to come at this matchup with the intensity and grit for which he has become notorious.
On the flipside, Lillard is coming off an awful 3/16 shooting performance on Tuesday against New Orleans, and while typically you'd like this as a bounce-back spot, I don't see Beverley as the right guy against whom to "get right."
Good luck out there tonight!