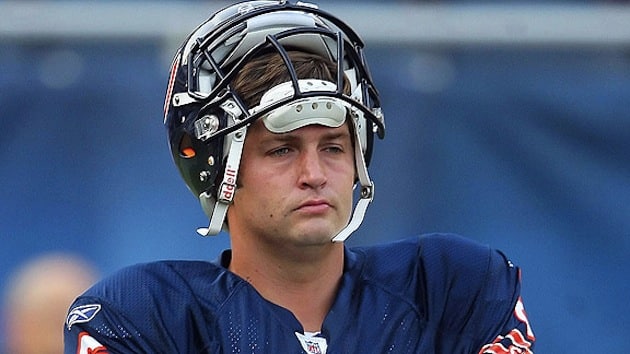 Jay Cutler Catchphrases
Jay Cutler recently decided to hang up his cleats and walk away from a mediocre football career in hopes of transitioning to a mediocre broadcasting career. Tony Romo, (in spite of suffering from a severe illness) has locked up the number one gig on CBS, while Jay Cutler is positioned to take the number two commentator role on Fox. Now if we learned anything from Chris Berman, it's that America loves catchphrases with their football. Here are seven ones Jay Cutler should use if he wants to succeed in the broadcasting business!
1. Check His Blood Sugar Baby!
When an athlete is having a particularly sluggish performance Jay can throw this out. While it's not only hilarious it also is a good way to help raise awareness for Jay Cutler's diabetes.
2. Cut Dog Doesn't Like That One!
People love when athletes refer to themselves in the third person, it helps remind fans how important they were in spite of the fact that were below .500 as a starter.
3. I'm With Him!
Piggybacking off of Hillary Clinton's success Jay will be sure to win fans over with his version I'm With Him! Players will be giddy with excitement when they hear Cutler throw out his personal endorsement 'I'm With Him!'.
4. Laguna Beach Mode!
Marshawn Lynch became a household name with his famous nickname "Beast Mode". If Jay notices a player sitting on the sidelines that is relaxing and not playing he can throw out "Laguna Beach Mode!". This catch phrase will remind people that he married a chick from Laguna Beach and that he relaxed a lot on the sidelines.
5. Let's Get Ready To Fummmmmmble!
You don't rack up 89 career fumbles without developing a sense of humor about the experience. In Cutler's defense have you seen the shape of footballs these days?
6. That Was As Smooth As My Behind!
Sure a baby's bottom is smooth but have you seen Jay Cutler's ass? Well if you haven't it's on the Internet and I'm sure he'd like to remind fans that they can see it online, this is a great branding move for Jay.
7. Warm Up The Oven We Got A Turnover!
This catchphrase helps highlight Jay Cutler's two big areas of expertise, turning the ball over and baking! Fans may get upset that Jay Cutler is taking throwing interceptions lightly but they will be won over once he reveals his award winning apple turnover recipe.