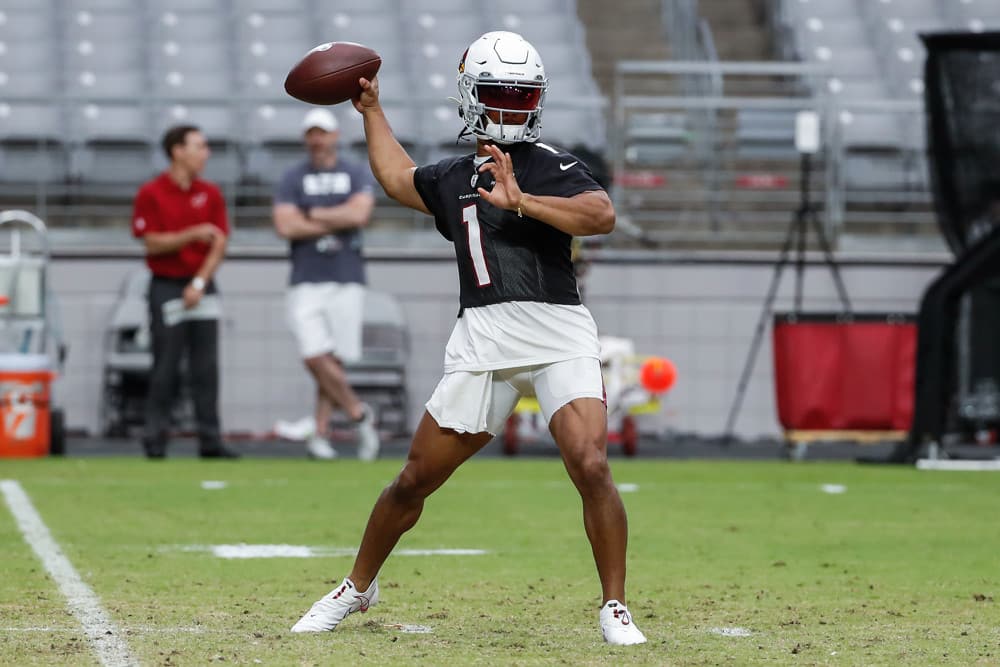 It's a quarterback's world and we're all just living in it. The NFL has more talented field generals than it has ever had before. Without good quarterback play, your favorite NFL team is doomed. So why oh why do we let fantasy football managers win with bad quarterbacks? Fear not degen nation! The SuperFlex format is here! And for good measure, so is the SGPN SuperFlex Cheat Sheet that will make you the envy of your entire Fantasy Football league.
SuperFlex is built to most closely mirror real-life football. By adding the SuperFlex, or offensive player, a position that allows you to start a quarterback, running back, wide receiver, or tight end in it, we revolutionize the game. Now instead of waiting to draft uber-talents like Josh Allen, Patrick Mahomes, or Kyler Murray until the fourth round, they fly off the board in round one. With the ability to start two quarterbacks, you have to move early on them or risk being shut out.
MORE EXCLUSIVE SGPN FANTASY CONTENT
SGPN Fantasy Football Projections
SGPN Fantasy Football Rankings
Fantasy Football Draft Cheat Sheets
PPR brought fantasy football to the cusp of what it could be, but SuperFlex took it "to the moon," as the kids are saying these days. By adding a second slot where you can start a quarterback it fairly values the QB position. Try playing SuperFlex once and you may never go back. It is a challenging format that gives you high-scoring weeks and plenty of action. If you are worried, do not worry! The SGPN crew has SuperFlex consensus rankings and we will be updating our cheat sheet regularly as well.
How to use the Cheat Sheet
The SGPN Cheat Sheets are quick references that you can print out the PDF version of the cheat sheet for quick reference. Additionally, we have provided an excel version that you can easily edit and modify. Each cheat sheet contains the top 160 players split into tiers, excluding kickers and defenses. The SGPN cheat sheets are based on our SGPN Fantasy Football Rankings which are updated regularly and our cheat sheets will be updated weekly in the lead-up to the draft.
If you want a more in-depth tool that includes defenses and kickers, we recommend our SGPN Mega Reference Sheet. It is an excel sheet containing full rankings for each position, including defenses and kickers. Additionally, it is in a simple excel format that is easily editable for your own usage. Be sure to check back regularly as news breaks throughout training camp and we update our fantasy cheat sheets for Standard, PPR, Half-Point, and SuperFlex scoring formats.
ALL SGPN FANTASY FOOTBALL CHEAT SHEETS
Fantasy Football Cheat Sheet Half-Point PPR Scoring
Fantasy Football Cheat Sheet PPR Scoring
SGPN Mega Reference (All Rankings for All Formats) Excel Format
Fantasy Football Cheat Sheet Standard Scoring