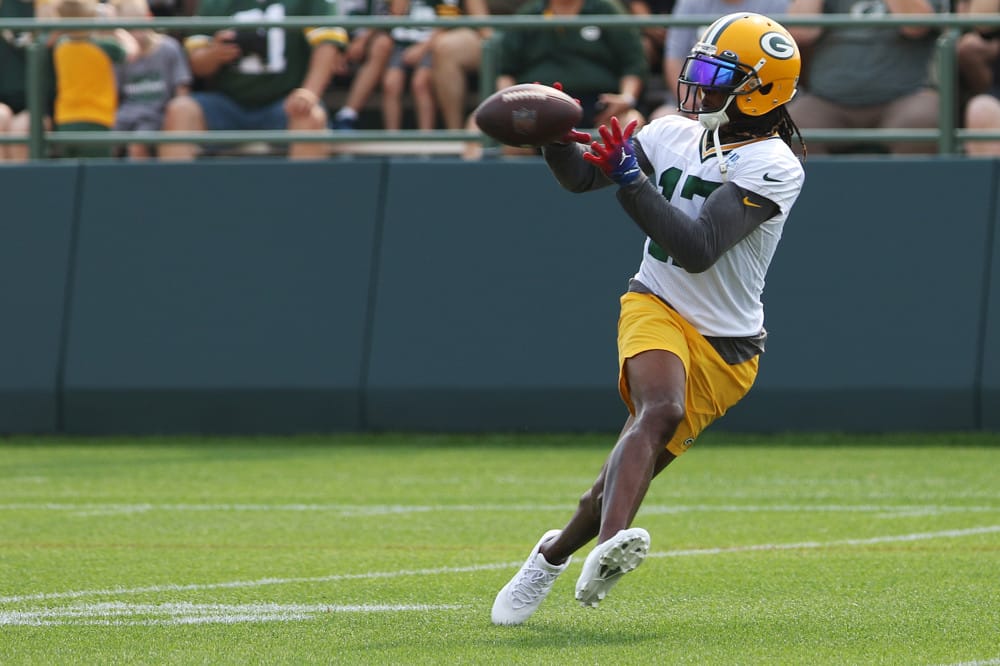 Football is evolving. Gone are the days of boring 6-3 games on a blustery and cold day on the shores of Lake Erie, and good-riddance! The gridiron is now dominated by crisp routes, athletic freaks, and air-it-out offenses so why shouldn't fantasy football reflect that change? Our SGPN PPR Scoring Cheat Sheet has all the information you could possibly need to dominate your fantasy football draft and win your league.
Now we see 56-26 scores in games where backups play most of the game. Receivers touch the ball less so they should get a bonus when they do. That is the thinking behind PPR scoring. We should be rewarding superstars like Stefon Diggs, Davante Adams, and Calvin Ridley who carve up defenses on every level. No one really wants to watch a football game dominated by runs. We want teams airing it out and making huge plays.
MORE EXCLUSIVE SGPN FANTASY CONTENT
SGPN Fantasy Football Projections
SGPN Fantasy Football Rankings
Fantasy Football Draft Cheat Sheets
PPR scoring lets you really enjoy the modern game in the fantasy football sphere. Old-school backs are boring, the five-yard rush is boring and more outdated than a rotary phone. You're a modern degen with a smartphone so bring your fantasy league into the 21st Century by adopting PPR scoring. If you really want to dominate your league, use the SGPN Cheat Sheet, updated weekly. And if you really need the most up-to-date information, check out our Consensus Rankings too.
How to use the Cheat Sheet
The SGPN Cheat Sheets are quick references that you can print out the PDF version of the cheat sheet for quick reference. Additionally, we have provided an excel version that you can easily edit and modify. Each cheat sheet contains the top 160 players split into tiers, excluding kickers and defenses. The SGPN cheat sheets are based on our SGPN Fantasy Football Rankings which are updated regularly and our cheat sheets will be updated weekly in the lead-up to the draft.
If you want a more in-depth tool that includes defenses and kickers, we recommend our SGPN Mega Reference Sheet. It is an excel sheet containing full rankings for each position, including defenses and kickers. Additionally, it is in a simple excel format that is easily editable for your own usage. Be sure to check back regularly as news breaks throughout training camp and we update our draft cheat sheets for Standard, PPR, Half-Point, and SuperFlex scoring formats.
ALL SGPN FANTASY FOOTBALL CHEAT SHEETS
Half-Point PPR Scoring Draft Cheat Sheet
Standard Scoring Draft Cheat Sheet