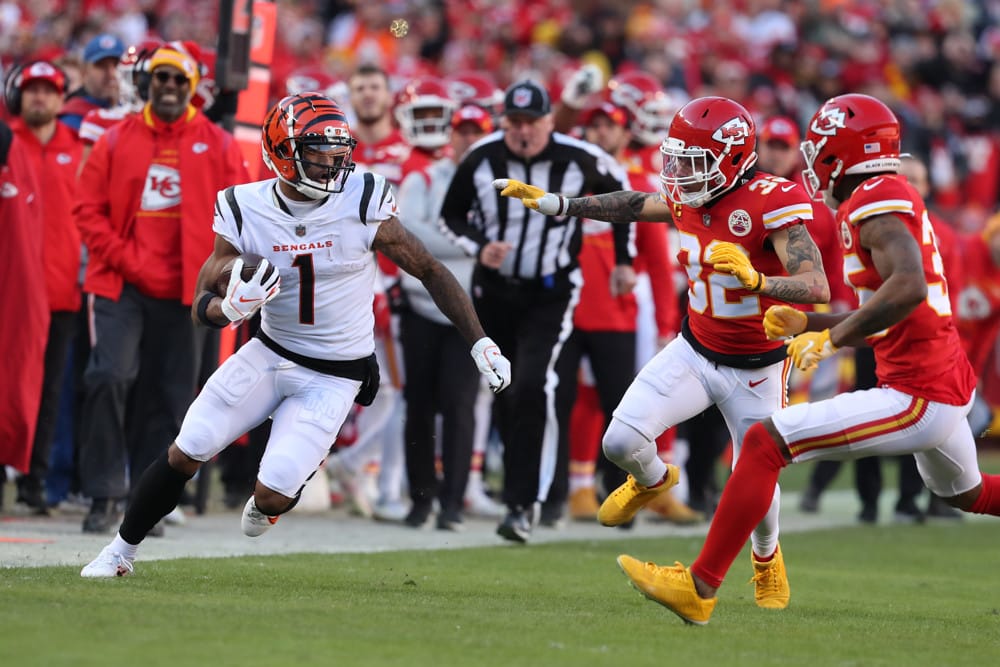 2022 Fantasy Football Cheat Sheet: PPR Scoring
Updated 8/16/22*
Point Per Reception scoring formats have become the most popular and commonly used in fantasy football. This format prioritizes the value of position players who receive targets and pass-catching volume. While bell-cow running backs are surely valued in this format, you will see some players fall in ADP compared to Standard scoring. Derrick Henry and Nick Chubb are too key examples.
You'll also see more value for late round 3rd down running backs. Any wide receiver can play the hero in this format on any given week. This PPR Cheat Sheet will allow you to gauge position value on a pick-by-pick basis; this consensus is just what you need to compete!
You can attack a PPR Fantasy Draft from many different angles. If it's a single Quarterback league, you can easily load up on players with high-volume projections. You could even start the draft off by taking the first wide receiver off the board in Justin Jefferson, then easily follow that pick with a target friendly Running Back or another top-tier receiver.
If you're looking to get creative in deeper formats and you're feeling spicy, you could select Mark Andrews and Travis Kelce through the first few rounds. Nevertheless, our PPR Overall Rankings are just what you need with any approach you utilize.

MORE EXCLUSIVE SGPN FANTASY CONTENT
SGPN Fantasy Football Rankings
PPR scoring offers a lot of possibilities every week of action as it offers the most roster utility. You could lose your starting running back one week and have his sleeper replacement catch six passes while filling in. There will be plenty of PPR risers once the season starts, but here you've got the heads up on which players to prioritize when considering pass-catching volume in relation to draft capital. It's always important to understand the scoring of any fantasy game.
Easy targets are players on teams that pass the ball a lot; when in doubt, you can always draft a late-round player from the Buffalo Bills or the Kansas City Chiefs. This leads to the factor of Elite Quarterback play; you might want to target high-volume players with Elite QBs like Tom Brady and Aaron Rodgers.
Then there's just chasing opportunity, like late-round sleepers that may not have much competition for snaps or playing time. There will be plenty of options, so the key is to never overreact or reach for players you can pace to your next round's pick availability.
How to use the Cheat Sheet
The SGPN Cheat Sheets are your draft guide and mentor. You can print out the PDF version of the cheat sheet for quick reference during your live or online draft. We've also provided a google sheet version that you can easily review. Each cheat sheet contains the top 160 players split into tiers, excluding kickers and defenses. The SGPN cheat sheets are based on our SGPN Fantasy Football Rankings.
ALL SGPN FANTASY FOOTBALL CHEAT SHEETS
Fantasy Football Cheat Sheet half-point PPR Scoring
Fantasy Football Cheat Sheet PPR Scoring
Fantasy Football Cheat Sheet SuperFlex
Fantasy Football Cheat Sheet Standard Scoring