The first UFC pay-per-view of the new year is upon us. UFC 283 goes down this Saturday in Brazil, with an unlikely pairing for the UFC Light Heavyweight Championship at the top of the marquee, with a rarer that rare quadrilogy (Google it) for the UFC Flyweight Championship as the co-main event. Here is my UFC 283 DraftKings lineup to hopefully get us into the money on Saturday night.
RELATED
UFC 283 Predictions & Betting Guide
UFC 283 Props & Totals
5 Common MMA Betting Mistakes
MMA Betting Trends
UFC 283 DraftKings Picks, Fantasy UFC
Jailton Almeida – $9,700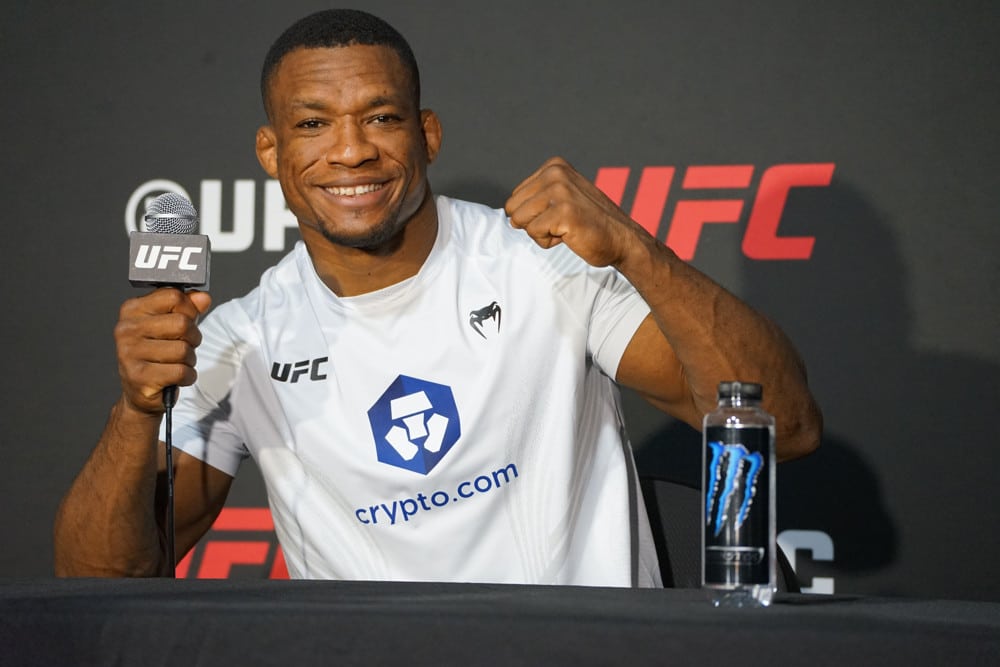 We kick things off with one of the fighters in the UFC I'm most high on – heavyweight Jailton Almeida. After this fight being scratched twice in the past, it seems like he'll finally get his hands on Shamil Abdurakhimov on Saturday night in Almeida's native Brazil. And he's going to demolish Abdurakimov. Almeida is far too talented on the feet and on the ground for a mid-level heavyweight like Abdurakhimov. Look for another triple-digit performance for Jailton (he's averaged 117.6 fantasy points over his three-fight UFC career).
Josiane Nunes – $9,500
Josi Nunes is another hard-hitting, high-scoring Brazilian, like Almeida. She has averaged 107.8 fantasy points per fight over her two UFC fights, including 121 points in her debut. I'm expecting a score close to that again on Saturday. Her opponent this week, Zarah Fairn dos Santos, gets hit a lot, hasn't fought in almost three years, and hasn't won a fight since 2017. Nunes is going to knock her out.
ANOTHER massive KO, what is happening at The Apex!?

Josiane Nunes sleeps Bea Malecki in Round 1 👊 #UFCVegas34 pic.twitter.com/8NNSqZoP6w

— UFC Canada (@UFC_CA) August 22, 2021
Terrance McKinney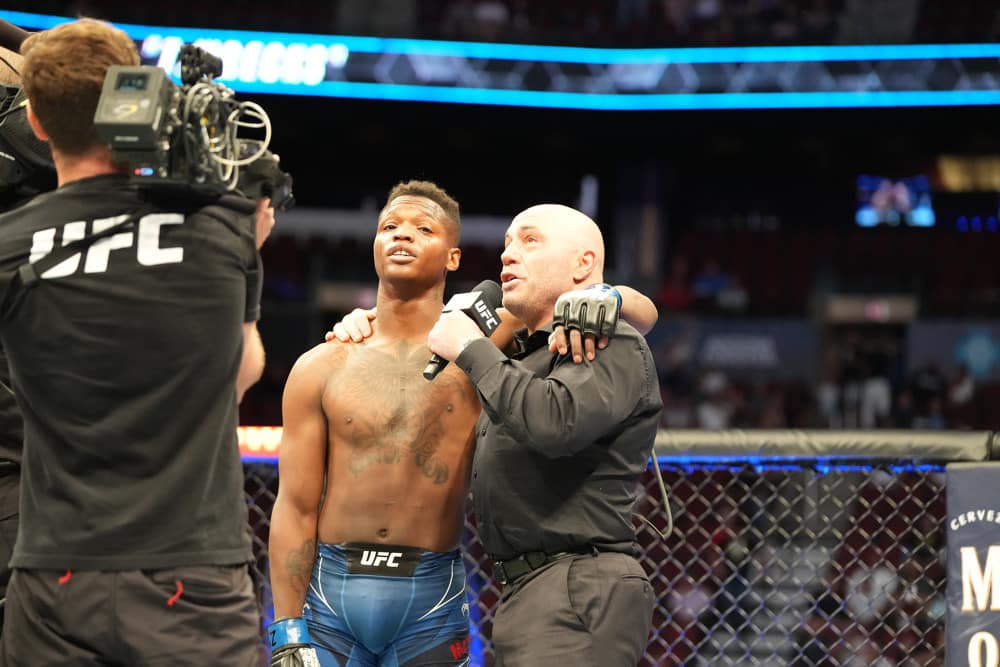 Next up is Terrance 'T Wrecks' McKinney, which is a funny nickname but an apt one, because he really does wreck opponents. He's finished all 13 of his pro wins (five knockouts, eight submissions) and averages 91.8 fantasy points over the course of his UFC career. McKinney is going to be a handful for the debuting Ismael Bonfim. Finish #14 incoming.

Brandon Moreno – $8,000
To the co-main event we go, as I'm grabbing challenger Brandon Moreno in Figueiredo-Moreno IV. This thrilling flyweight series – with every fight for the title – between Moreno and current champ Deiveson Figueiredo is tied 1-1-1, so this should be the rubber match (outside of another Draw or a No Contest). I'm leaning toward Moreno using his grappling and regaining his title on Saturday night, getting us a decent pile of points.
Mauricio 'Shogun' Rua – $7,300
Does the retiring legend Mauricio 'Shogun' Rua have any gas left in the tank? I'm hoping a bit more. Opponent Ihor Potieria didn't look very good in his UFC debut, so I'm fading him a bit here. And I'm hoping the hometown crowd will help fire Shogun up and have him leave MMA on a winning note.
Mauricio Rua vs Evangelista Santos

Shogun's Vale Tudo dayspic.twitter.com/gBIbGpVDNJ

— Cerebral Vigilante (@Delisketo) August 5, 2022
Luan Lacerda – $7,000
My final underdog pick for the week is newcomer Luan Lacerda. He's won 10 straight fights, six straight via finish. He's four years younger than his opponent Cody Stamann. And he has an incredible nine-inch reach advantage on him. While Stamann looked good in his last fight, that was the first time in a long time that that was the case. I'm hoping he reverts back to past form on Saturday night.
Related Content