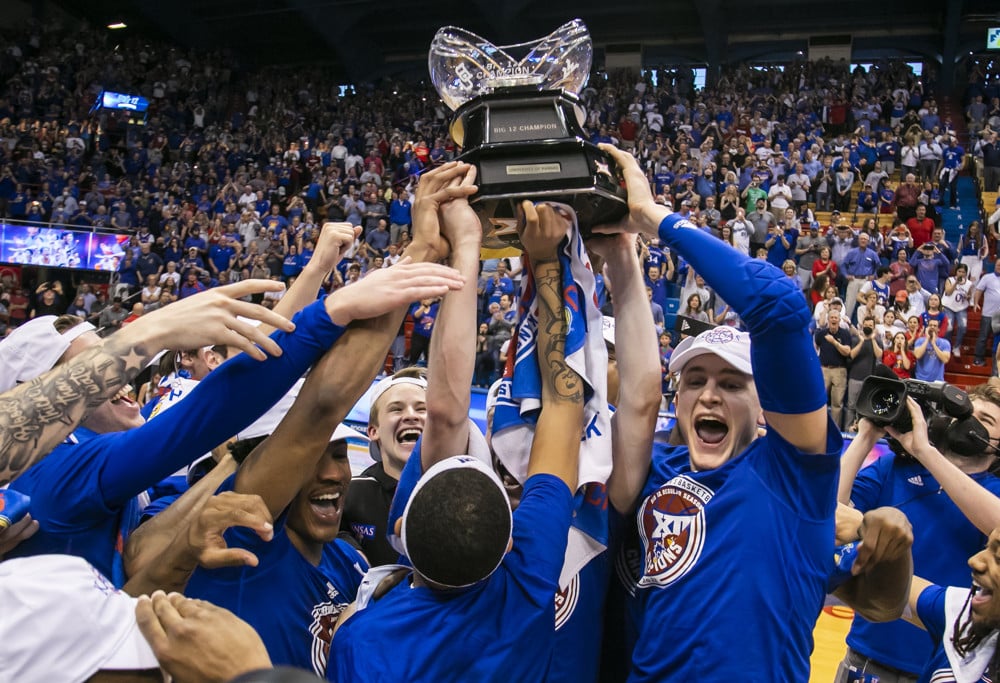 The Madness has begun and no region is going to show up like the Midwest Region. This region is the most unpredictable where it feels like almost any team has a chance to make it to the Final Four.
Kansas is going to be the favorite as they hold it down for the blue bloods as the 1-seed. They may have their hands full with Iowa coming off of their first Big Ten Tournament title since 2006. Ed Cooley has had Providence playing great basketball all year. Will they be able to overcome an early exit from the Big East Tournament by the hands of Creighton, who is also in the Midwest region?
Towards the bottom half of the draw, Jabari Smith and Auburn got out to a strong start this season, however, have stumbled slightly in the second half of the season. Johnny Davis is going to join Smith as a top ten pick in this year's draft, and he is looking to get Wisconsin to their first final four appearance since 2015.
It is without a doubt that is region is going to put the "mad" in March Madness. Let's dive deeper into this region and make predictions on how it will turn out.
EXCLUSIVE SGPN MARCH MADNESS CONTENT
March Madness Guide: How To Win Bracket Pool & Betting Strategies
NCAA Tournament West Region Preview: Favorites, Bracket Busters, Predictions
NCAA Tournament East Region Preview: Favorites, Bracket Busters, Predictions
NCAA Tournament South Region Preview: Favorites, Bracket Busters, Predictions

NCAA Tournament Midwest Region: Favorites, Bracket Busters, and Predictions
NCAA Tournament: Midwest Region Favorites
#1 Kansas
Big 12 Conference
Record: 28-6
Odds
Championship: +1100
Final Four: +250
Sweet 16: -355
Bill Self and Kansas claimed not only a Big 12 regular-season title but also the Big 12 tournament title after knocking off Texas Tech 74-65. An important factor in a team's tournament success is their backcourt, and Kansas has a veteran group of playmakers and bucket getters.
Ochai Agbaji is a 19.7 ppg scorer that can score on all levels and averages 40% from three. Mix in transfer Remy Martin, that when he is healthy he can add double-digit scoring and facilitate the offense for Bill Self's second unit.
The major key here is going to be sophomore Dajuan Harris Jr. He leads the team in assists and has been entrusted to carry the ball most of the time for the starting offense. He is going to control a lot of possessions for the Jayhawks.
The offense should be easy as the Jayhawks sport the nation's sixth-best offense in terms of adjusted efficiency, according to Ken Pom. Their defense is not far off as Ken Pom has them at 28th in the nation. This team has all of the makings of a final four team, however, they have only made the final four twice as a 1-seed in the Self Era.
#2 Auburn
Southeastern Conference
Record: 27-5
Odds
Championship: +1600
Final Four: +250
Sweet 16: -260
Auburn dominated college basketball for much of the beginning of the season. After stumbling in a double OT thriller vs UConn, the Tigers won 19 straight games. Smith averaged 17.1 ppg this season and Walker Keesler, the North Carolina transfer, put together a big season for the Tigers as he finished averaging 11.7 ppg and 8.2 rpg.
The offense was good but the defense was better as Ken Pom has Auburn with the eighth-best adjusted defensive efficiency. Keesler contributed with an incredible 4.5 blocks per game—second in the nation. The team as a whole holds opponents to a 44.1% effective field goal percentage—seventh in the nation.
There are two main concerns for the Tigers: playing away from home and their backcourt. The Tigers are currently 7-9 ATS when they are playing away from home. All five of their losses have come on either on the road or on a neutral site.
Since midway through the season, Auburn has gotten inconsistent guard play from KD Johnson, Wendell Green Jr., and Zep Jasper. Their turnovers increased and the offense has become stagnant at times depending on the frontcourt for production. If the Tigers can get those three to revert back to their play at the beginning of the season, then they have a great chance to cut down the nets in April.
#3 Iowa
Big Ten Conference
Record: 26-9
Odds
Championship: +2500
Final Four: +420
Sweet 16: -240
Keegan Murray and Iowa put on an impressive performance in the Big Ten tournament. After a heroic shot vs Indiana and a strong win vs Purdue, Iowa reclaimed the Big Ten tournament title. Now they have their eyes set towards the final four in a wide-open Midwest region.
Murray is a perennial top ten pick and averages 23.6 ppg—fourth-best in the nation. They have multiple three-point shooters including Kris Murray, who along with his twin brother shoot 40% from three.
An important fact for the Hawkeyes is that they have the second least turnover percentage in the nation. Protecting the basketball is a key to success for the tournament and Iowa's slow pace and efficiency are going to carry them.
The plague for the Hawkeyes their rebounding. They are bottom third in the nation in opponent offensive rebounding and it has been a factor in a majority of their losses this season. Even in games they have won, the Hawkeyes have often found themselves outrebounded. In a tournament where every possession matters, Iowa is going to need to limit second-chance points.
NCAA Tournament: Midwest Region Bracket Busters
#11 Iowa State
Big 12 Conference
Record: 20-12
Odds
Championship: +50000
Final Four: +4600
Sweet 16: +500
Oh, how easy it is to forget that Iowa State was 12-0 going into Big 12 play. TJ Otzelberger turned Iowa State around after inheriting a team that was losing four of its five leading scorers. However, that might not have been a bad thing as Iowa State went winless in the Big 12 the season prior.
Oztelberger brought in six transfers and landed the No. 5-ranked point guard in the freshmen class, Tyrese Hunter. Hunter finished the year second on the team in scoring and led the team in assists. Izaiah Brockington shouldered the scoring load averaging 17.2 ppg in his first season transferring from Penn State.
The defense of Iowa State was elite all season. They finished tenth in adjusted defensive efficiency, according to Ken Pom. They also were sixth in opponent turnover percentage and top 20 in opponent three-point percentage. Now the offense was a different story.
The Cyclones offense struggled turning the ball over all season—300th in turnover percentage. Partially, because they faced a conference where seven teams were in the top 30 of adjusted defensive efficiency. If their offense can protect the basketball more, then I think they have the talent that can make them primed for a big run.
#13 South Dakota State
Summit League
Record: 30-4
Odds
Championship: +50000
Final Four: +20000
Sweet Sixteen: +750
South Dakota State has to be one of the most anticipated teams to watch in this year's tournament. They are one of the nation's best offenses even though they are a mid-major school. They are first in the nation in effective field goal percentage—59.7%. They are top 30 in turnover percentage. They even hit their free throws at an impressive 76%.
When you watch this team play, it feels like everyone can hit from distance. All five starters shoot over 40% from three—yes, you read that right. Led by a pair of 16 ppg scorers, Douglas Wilson and Baylor Scheierman, the Jackrabbits have a limitless amount of options in scoring.
Defense is a completely different conversation. They were abysmal on defense this season. They struggled to stop anyone from scoring and rather forced turnovers. If the Jackrabbits are going to make a run they are going to need to find some kind of identity on defense.
While the Summit conference is down, the Jackrabbits had a 53rd ranked non-conference schedule this season and went 9-4. We have seen teams hit another mode defensively in the tournament and if South Dakota State can tap into that then they could very easily find themselves in the Sweet Sixteen.
NCAA Tournament: Midwest Region Prediction
There were so many factors in this region that were not even mentioned. This is truly the hardest region to handicap and it is going to be exciting to watch. Of the favorites, Kansas and Iowa intrigued me most to come out of the region.
A slight lean towards Kansas because of the number of veterans they have on that team. They can defend and have multiple scorers that can be relied upon in every game. Keegan Murray is a force for Iowa and I do not look forward to any team that is going to have the assignment of guarding him.
However, I am 100% betting on Iowa State in this region. I will be taking them to make the Sweet Sixteen, Elite Eight, and Final Four. LSU poses as a scary first matchup as they are just as much a defensive force as Iowa State. However, with the uncertainty in that program after the firing of Will Wade, they could stumble early.
Oztelberger is a great coach and he has had a whole season to work with this group of transfers. I think now is where it pays off.

NCAA Tournament: Midwest Region First Round Picks
South Dakota State +2 vs Providence
San Diego State -2 vs Creighton
Kansas -22.5 vs Texas Southern
Auburn -15.5 vs Jacksonville St
Miami +1.5 vs USC
Iowa St +4 vs LSU
Colgate +8 vs Wisconsin
Iowa -10.5 vs Richmond
---