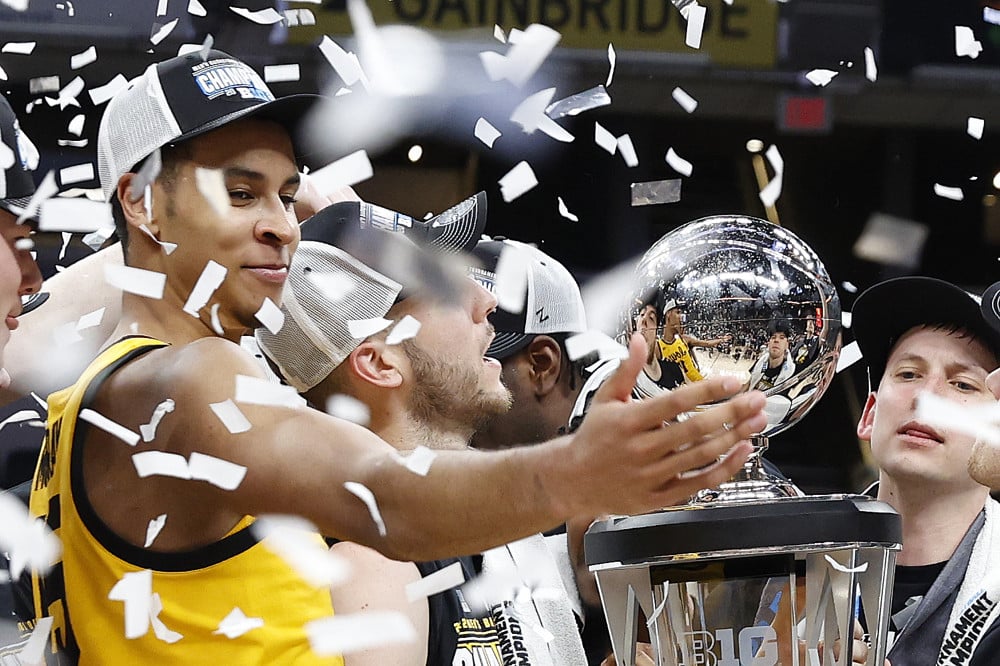 The clocks have been changed, the weather is starting to warm up, and most importantly the bracket is set. It's that time of year to call in sick and not leave your living room! Yes, March Madness is here. As we count down the hours until the first play-in games on Tuesday, let's dive into our March Madness Guide. We'll walk you through successful strategies, betting value, and more tips and tricks to help you win your bracket pool!
March Madness Guide: How To Win Bracket Pool & Betting Strategies
Whether it's an office pool, a bracket challenge amongst friends, or a larger contest by ESPN or a similar company, everyone wants to nail the perfect bracket. Well, I have some bad news for you.  Statistically speaking you are far more likely to be in a plane crash, attacked by a shark, or even eaten by a cannibal than you are of predicting a perfect bracket. However, there are some definite strategies that can give you an edge in your pool. Below are a few examples of some March Madness Bracket "Do's" and "Don'ts". Hopefully, these tips and strategies will give you a fighting chance of keeping that bracket unbusted!
DO: Beware of Picking Too Many Upsets
I totally get it, it's March Madness and that means underdog season. While I am not by any means saying there's no value with longshots, it can be easy to get carried away with a longshot and have them cripple a big part of your bracket by having them advance too far.
DO: Make Yourself Aware of The Rules
All pools have the same basic premise but it is important to understand how your pool is going to award points.
DO: Consider the Size of Your Pool
The goal is to win the pool, not necessarily pick the most winners. I know those two things sound like they should go hand in hand, but I think it's important to consider your pool size and how it will impact your overall strategy.
DONT: Pick a First Round Upset by #16 Seed
Historically here the #1 seed is 135-1 against #16 Seeds. Even if the unthinkable happens very few if any will have it penciled into their brackets and it isn't very likely it will bite you.
DONT: Blindly Pick All #1 Seeds To Make Final Four
Just once in the tournament's history have all #1 seeds have advanced to the final four. Now given that 19 of the 27 national champions since 1993 have entered the tourny as a top seed, it will be important to find the #1 seed(s) that do.
Go here for more info on March Madness betting.
---
March Madness: Stats & Trends by Seed
Back #1 Seeds in Spreads Less than 20 Points
Since 2021 #1 seeds are 8-2 in their last 10 games against #16 seeds when the spread is -20 or less.
Back the #7 Seed over the #10 Seed
#7 seeds have beaten the #10 seed 87 times out of 144 meetings, 60.4% all time.
Be Wary of Seeds #9 & #8 and Their Staying Power
The #8 and #9 matchups have proved to be toss-ups historically as you would expect based on seedings, but it's the winner of this game that you want to fade going forward. When the 8th seed advances they have gone 14-56 in their next matchup, 25%. When the #9 seed happens advance they have been even worse going just 7-66 in their next matchup.
Another interesting note about these two seeds is that the underdog in this matchup has covered the spread 58.3% of the time over the last 12 tournaments.
Target Underdogs in the Sweet Sixteen
Since 2017, underdogs are 14-8 against the spread including an 11-5 run since 2018 in the Sweet Sixteen.
Take a Stab with an 11 Seed
Since 2011, #11 seeds are 22-22 straight up, now you may be saying that's not very good, but keep in mind these teams will be underdogs in their matchups against their respective #6 seed opponents.
In 2017 alone Rhode Island, USC, and Xavier all won their opening-round matchups. In 2019 both Syracuse and Loyola-Chicago came in as #11 seeds and won multiple games. Finally, just last season Syracuse pulled off the same feat again last year as an #11 seed and so did UCLA.
---
March Madness: Stats to watch
Offense and Defense Efficiency Rankings
The title is fairly self-explanatory but these metrics quantify how effective a team is on either side of the floor.
Top Defensive Efficiency Rankings
Texas Tech
San Diego St
Tennessee
LSU
Gonzaga
Auburn
Saint Mary's
Iowa State
Houston
UCLA
Top Offensive Efficiency Rankings
Gonzaga
Iowa
Purdue
Kentucky
Arizona
Kansas
Duke
Villanova
Baylor
Houston
March Madness Strategy: Back Experienced Coaches
The bright lights of the big stage can be quite bright for a lot of these young men to take in and an experienced head coach goes a long way in calming the nerves and getting the most out of their players. They say experience is the best teacher and that's how guys like Krzyzewski, Roy Williams, and John Calipari have a combined 27 final four appearances with a combined 81 total tournament appearances in their careers.
Tournament Appearances
 Mike Krzyzewski (34)
 Roy Williams (28)
 Rick Barnes (23)
 Bill Self (20)
 John Calipari/Mark Few (19)
Final Four Appearances
 Mike Krzyzewski (12)
Roy Williams (9)
 John Calipari (7)
 Bill Self (3)
 Jay Wright (3)
March Madness Strategies: Follow the spread
Best Teams Against the Spread
St. Peters 20-9 ATS
Longwood 19-9 ATS
TX A&M-CC 20-10 ATS
Houston 22-12 ATS
 Iowa 22-13 ATS
Worst Teams Against the Spread
Alabama 11-21 ATS
Texas 12-19 ATS
Seton Hall 13-16-1 ATS
UCONN 13-18-1 ATS
Michigan 13-18 ATS
March Madness Final Four Strategies: Futures
To Win the National Championship
Since 2010 the winner of the National Championship has been a 1-3 seed, ten times.
2021: Baylor – 1 seed
2020: 🙁
2019: Virginia – 1 seed
2018: Villanova – 1 seed
2017: UNC – 1 seed
2016: Villanova – 2 seed
2015: Duke – 1 seed
2014: UConn – 7 seed
2013: Louisville – 1 seed
2012: Kentucky – 1 seed
2011: UConn – 3 seed
2010: Duke – 1 seed
As much fun as it is to take a long shot and root for upsets in March the harsh reality is the cream always rises to the top. Therefore, when making my National Championship bets I don't target many teams higher than a five seed. Below are the 1-3 seeds I think are worthy of an investment.
National Champion Futures
#1 Gonzaga (+350): A team that ranks in the top ten in both offensive and defensive efficiency with experience. Is this finally the year?
#1 Arizona (+650): Ranking 5th in defensive efficiency, Arizona has a ton of talent and is looking to stay hot after winning the Pac-12 tourney. This team is also 17th in terms of offensive efficiency.
#1 Baylor (+1200): Secondly, It is said that it is so hard to repeat as champion, but at 12-1 and a top 10 ranking in offensive efficiency coupled with a defense ranked 12th inefficiency, there is some value in this number.
#1 Kansas (+900): Experience head coach in Bill Self, this Jayhawks teams have the 6th ranked efficient offensive and a top 25 ranking in terms of defensive efficiency.
#2 Auburn (+1600): This SEC team comes in with the 6th ranking in defensive efficiency to go along with a top 25 ranked offensive.
#2 Villanova (+2200): We get another experience head coach here in Jay Wright combined with a top 25 ranking in defensive efficiency and the 8th ranked offensive efficiency.
If you're looking for a larger number to lay some dollars down on here are the teams outside the top 1-3 seeds I think will provide some solid betting value:
#4 UCLA (+2800): UCLA made it to the finals of the PAC-12 tournament before following to future #1 seed Arizona. This team ranks 5th in offensive efficiency and 10th in defensive efficiency.
#5 Houston (+4000): Houston ranks in both top tens in terms of offensive and defensive efficiency.
To Reach Final Four
Because of the success of the top seeds, another great way to attack a future bet in the tournament is by taking a team to make the final four. March Madness is full of great stories, and underdogs and I think that's what we tend to remember most. Here are a few of my favorite bets, which I believe offer solid betting value, to reach the Final Four stage.
Baylor (+200)
Auburn (+350)
Villanova (+400)
UCLA (+600)
Houston (+800)
Now, if you really want to throw some darts and have that longshot dream in the back pocket here are some longer odds I think would make fun bets.
Arkansas (+1000), Alabama (+1400), Murray State (+3000), Vermont (+10000)