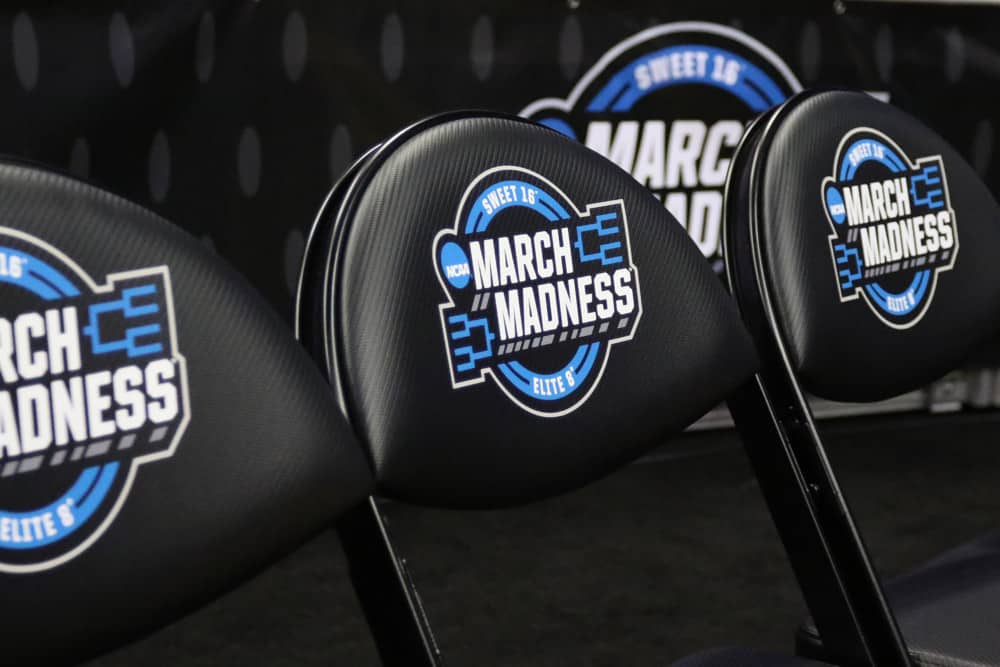 Tickets have been punched and bubbles have been busted. The 2022 NCAA Tournament field has been set and March Madness is here! I spent some time breaking down the West Region of the bracket. March Madness is a great time of year with the NCAA Tournament. Let's break down the West Region with the top seeds, potential bracket busters, and more! I also give my personal prediction for how the West Region of the NCAA Tournament will shake out, and finally, some round one leans. Let's dive into the West Region!
EXCLUSIVE SGPN MARCH MADNESS CONTENT
March Madness Guide: How To Win Bracket Pool & Betting Strategies
NCAA Tournament East Region Preview: Favorites, Bracket Busters, Predictions
NCAA Tournament West Region: Favorites, Bracket Busters, and Predictions
NCAA Tournament: West Region Favorites
#1 Gonzaga
West Coast Conference
Record: 26-3
Odds
Championship: +300
Final Four: -160
Sweet 16: -650
Gonzaga comes into the tournament as a top seed for the second straight year. The Zags are looking to avenge their loss in the finals last season to Baylor. This season is a little different for the Zags, as they won't have the burden of a perfect season hanging over their heads. They bring back their leading scorer in Drew Timme, averaging 17.5 points per game. They also bring back their point man in Andrew Nembhard, averaging 5.7 assists per game. Of course, it's the Zags, and no Zags team would be complete without a 7-footer. Chet Holmgren, a great name, maybe an even better player, has been an asset for the Bulldogs all season. He is a solid rim protector averaging almost 4 blocks a contest, but he is also dangerous from the perimeter.
The Bulldogs are a top ten team in both offense and defensive efficiencies according to Kenpom. They will have their hands full in what I believe is the toughest region on the bracket. Once they get past Georgia State they will see a tough matchup with the winner of the Boise St/Memphis game. Also in their region are the #5 seed UConn, the #4 seed Arkansas, the #3 seed in Texas Tech, and the #2 seed Duke. There will be a stiff test laid out in front of them if they want to get back to the final four.
They say Gonzaga's real season starts in late March and we are about to find out just how good they really are. It will be a tough task, and as a top seed, they'll certainly have a target on their back. It will be interesting to see how they perform knowing anything less than a final four appearance would likely be considered a flop.
#2 Duke
Atlantic Coast Conference (ACC)
Record: 28-6
Odds
Championship: +1600
Final Four: +400
Sweet 16: -250
The obvious headline here is the final ride of legendary coach Mike Krzyzewski. This Blue Devils team has to have a bad taste in their mouths, after losing to arch-rival UNC at home in Coach K's final home game. Combined with their loss in the conference finals to Virginia Tech, Duke's attention turns to Coach K's last tournament run. You have to wonder if this overarching storyline is fuel for the fire or a blanket of pressure for these kids that provides more stress than motivation.
"I think our group overall had a terrific year," Krzyzewski said Sunday. "The thing that waned at the end was a lack of practice time. I thought our guys got worn out and we compensated by trying not to wear them out as a result. I thought our defense really took a dip. Before this next game, we have to get back to playing Duke defense."
Duke at the #2 seed could be argued as a bit of an overseeding, I don't think I am alone in expecting them to be sitting at a #3 seed following their loss in the ACC finals. I think one could make the argument that Tennessee, a conference champion, should have been a #2 with Duke dropping to #3. Seeding aside, they should have a fairly easy time against CSU Fullerton as they rank 7th in terms of offensive efficiency according to Kenpom. After their first-round matchup, however, the talent takes a giant leap up. Duke will have the winner of Michigan St and Davidson waiting in the wings, likely favored against either opponent but a tough task nonetheless.
#3 Texas Tech
Big 12 Conference
Record: 25-9
Odds
Championship: +2200
Final Four: +450
Sweet 16: -280
Defense wins championships, that's the saying anyway. The Red Raiders may have lost their head coach Chris Beard to instate rival Texas, but the Red Raiders have kept that stifling defense. Kenpom has them rated as the #1 most efficient defense in the nation. The Red Raiders had a great season winning 25 games and making it to their conference championship before ultimately falling to Kansas.
Another thing they say about defense is that it travels, which is good for Tech as they'll head to San Fran to play their regional games. Like I keep mentioning this is a very tough region filled with a bunch of talent. I expect the Red Raiders to frustrate the heck out of the Big Sky Conference Tournament Champion, Montana State.
"We know it's March and any team is capable of winning," junior guard Terrence Shannon, Jr. said. "We've just got to prepare for them like we're preparing for a Big 12 team. We've just got to be ready for a fight on Friday."
#4 Arkansas
Southeastern Conference (SEC)
Record: 25-8
Odds
Championship: +20000
Final Four: +1400
Sweet 16: +140
Arkansas will have their hands full in their first-round matchup game against the #13 seed Vermont. The Vermont Catamounts have a top 10-scoring defense and allowed just 60.3 points per game this season. Their leading scorers are Ryan Davis, 17.2 points per game, and Ben Shangu, 16.2 points per game. Vegas has set the spread for this game at 5 with Arkansas being the favorite, by far the shortest spread of any of the #4/#13 matchups. I think this not only speaks to the overall strength of the region but also just how dangerous this Vermont team can potentially be.
What the Razorbacks have going for them to help combat the Catamounts is a strong defense. They are the 16th most efficient defense according to Kenpom, accomplished with a top 40 adjusted offensive efficiency. This makes them a tough out. Arkansas has dealt with adversity this season at one point losing to Hofstra on a stretch of losing five of six. Since Jan 8th, Arkansas has gone 15-3 anchored by their defense. March is all about getting hot and playing your best basketball at the right time, certainly looks like Arkansas is poised to do just that.
NCAA Tournament: West Region Bracket Busters
#8 Boise State
Mountain West Conference
Record: 27-7
Odds
Championship: +20000
Final Four: +4500
Sweet 16: +1300
I've talked at length about how tough I think this region of the bracket is. As a fan, I believe this sets us up for some potential upsets. This Boise State team has the length to matchup up with a team like Gonzaga, five guys in the lineup boast heights of 6'7 or taller with superb athleticism. They play great defense and have a knack for being able to slow the tempo of a game down which could hamper the playing style of a team like Memphis or Gonzaga. Boise has a potential pro prospect in 6'8 Emmanuel Akot. He has the length and shot 40% from the perimeter this season. Akot also managed to dish out almost three assists per game. Memphis and potential future opponents will have a tough task slowing Akot down. I realize it's the Mountain West and not one of the bigger conferences but the Bronco's were conference champs and I believe a live dog heading into this tournament.
#9 Memphis
American Athletic Conference
Record: 21-10
Odds
Championship: +10000
Final Four: +2800
Sweet 16: +1100
This team is LOADED with potential NBA talent, guys like Jalen Duren, Lester Quinones, Deandre Williams, and Earl Timberlake just to name a handful. They received a big boost when point man Alex Lomax returned to the team from injury towards the middle of January. Lomax has worked his way into the starting lineup and the Tigers have gone 11-1 since. These guys do a variety of things really well. My first two potential bracket busters do meet in the first round in what I believe is pretty close to a coin flip game. Whichever squad comes out of this round should give Gonzaga a tough game.
#11 Play-in Winner (Rutgers/Notre Dame)
This is sort of a double potential bracket buster, as we await the results of the play-in game. Notre Dame has a potential one-and-done player in Blake Wesley who is their leading scorer and arguably the team's best defender as well. Wesley shot 41.2% from the field this season, averaged over a steal a game, 2.5 assists, and averaged 14.6 points per game. Rutgers has a solid defense, the 31st most efficient defense over the teams in the tournament, according to Kenpom. It will be a fun test for Wesley to up against this Scarlet Knight defense, with a chance to send his team into the round of 64.
The other team fighting for the 11 seed in this one is the Scarlet Knights of Rutgers. Rutgers has had some head-scratching losses and some impressive wins this season. It has certainly been an up and down year for them. Rutgers managed to beat Big Ten Champion representatives Iowa and Purdue. However, they also managed to lose to a bad Lafayette team back in November. The Irish have a solid rotation of guys that can shoot from the perimeter. This talented Rutgers defense will have its hands full in this one and will have to really earn their way in.
Whoever moves on from this play-in game should give Alabama a tough test. At times the Tide's defense has left something to be desired. It's tough facing a team with a game under the belt and positive momentum. Alabama will have to be strong defensively or risk getting into a potential shootout.
NCAA Tournament: West Region Prediction
All eyes will obviously be on Gonzaga in March Madness, as they should be. However, a tough matchup is waiting for them on deck vs the winner of the #8/#9 game. The more I look at this region of the bracket, the more I see what a gauntlet it actually is. The path to the final four is going to be rigorous, as it should be in March.
Boise / Memphis is truly a coin flip game in my eyes, I make the game a pick-em. This is a first-round matchup I am really looking forward to. I am picking Gonzaga to narrowly beat the winner of this one for bracket purposes but I would not be shocked to see either team down the Zags.
UConn, Arkansas, Texas Tech, Michigan State, and Duke should all advance fairly easily. With a potential for a scare, especially early in store for Arkansas against Vermont. I then like UConn over Arkansas, Tech over Bama, and Duke to best Sparty in the round of 32.
The way I see this region shakeout is Gonzaga will get to the Sweet Sixteen before losing to Texas Tech. Texas Tech will beat Duke to reach the Sweet Sixteen. The Red Raiders will then advance to the final four, after beating Gonzaga. I think that matchup could be one of the better games of the tournament.

NCAA Tournament: West Region First Round Leans
Boise State +2.5 vs Memphis
Vermont +5.5 vs Arkansas
RUT/ND TBD vs Alabama
---