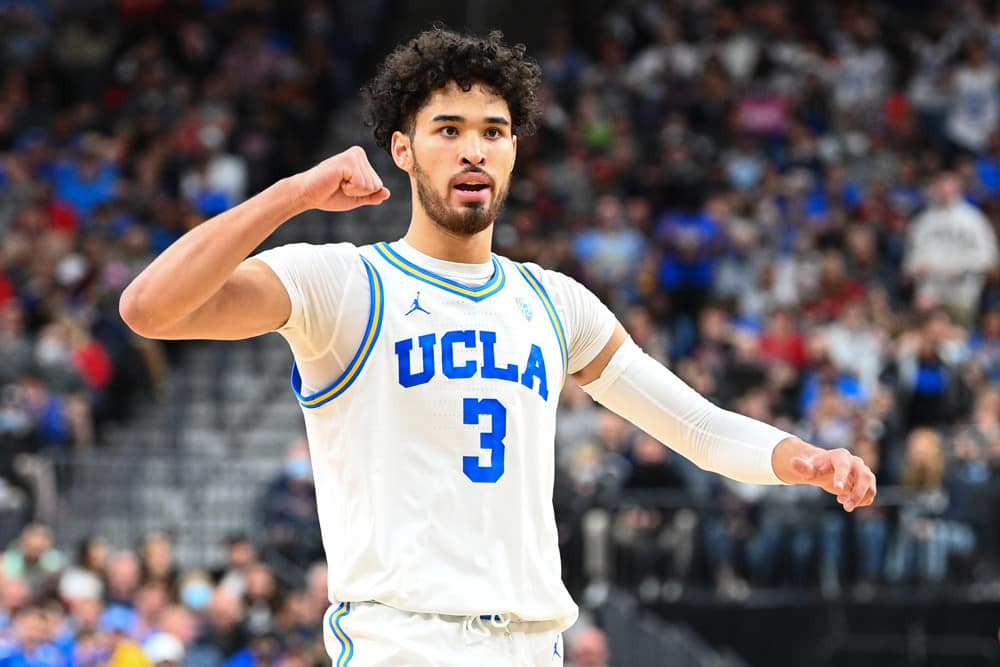 The wait is over, the NCAA tournament is upon us, and I am tasked with previewing the East region. It's a tough bracket loaded with blue bloods, dangerous mid-majors, and potential bracket busters. Just look at some of the programs in this region like Baylor, Kentucky, UCLA, UNC, Texas, and Indiana, oh my. This is March, start the madness.
Included in that list is half of last year's Final Four (Baylor and UCLA) and of course, the defending National Champion (Baylor). Both of these teams have their sights on another deep tournament run but it might be the Kentucky Wildcats who will be the most popular pick to reach New Orleans.
There's also the Purdue Boilermakers who lost a close one in the Big Ten Championship Game, the uber-talented Texas Longhorns, and one of the hottest teams in the country, Virginia Tech, who just dominated Duke to win the ACC Tournament.
This region of the NCAA Tournament is absolutely loaded so let's take an in-depth look at the favorites, the longshots, and the first-round games. Let's do this!!!
EXCLUSIVE SGPN MARCH MADNESS CONTENT
March Madness Guide: How To Win Bracket Pool & Betting Strategies
NCAA Tournament West Region Preview: Favorites, Bracket Busters, Predictions
NCAA Tournament East Region: Favorites, Bracket Busters, and Predictions
NCAA Tournament: East Region Favorites
#1 Baylor
Big 12 Conference
Record: 26-6
Odds
Championship: +1200
Final Four: +200
Sweet 16: -360
Scott Drew and Baylor deserve a ton of praise for earning a one-seed after losing so much of their National Championship team from a season ago. Not many schools could lose four starters and start the next season 15-0 like the Bears did this year. During that scorching start, Baylor knocked off top opponents like Villanova, Michigan State, Oregon, VCU, and others. After a surprising loss to Oklahoma in the Big 12 tourney, they may be primed for another big run in the NCAAs.
During the 2nd half of the season, the injuries began to pile up but Baylor persevered and still closed out winning their last five regular-season games. Forward Jonathan Tchamwa Tchatchoua is out for the season, LJ Cryer's return this week is questionable, and Kendall Brown may not be at full strength. Leading the short-handed team, the perimeter trio of James Akinjo, Adam Flagler, and Matthew Mayer have stepped up and impressed while big man Flo Thamba has held his own down low with the help of freshman Jeremy Sochan. Give Baylor a lot of credit for keeping things together but depth is a concern.
As we should come to expect from Baylor, they are a rock-solid team that's impressive on both ends of the court. They are ranked 9th in KenPom's Adjusted Offensive Efficiency and 14th in Adjusted D while also being a strong offensive rebounding team (7th in the country). Some possible areas for concern are free-throw shooting (238th) and the inability to consistently hit the 3-ball (113th). As you'd expect from an injury-riddled team, the bench is not a strength and Baylor only ranks 243rd in minutes continuity. Currently, at +200 odds to make the Final Four and +1200 to win it all, I'd pass on placing any futures on Baylor. There have just been too many obstacles to overcome this season.
#2 Kentucky
Southeastern Conference (SEC)
Record: 26-7
Odds
Championship: +800
Final Four: +200
Sweet 16: -310
Like Baylor, Kentucky also went through a mid-season stretch where health was a major concern. Unlike Baylor, the Wildcats are relatively at full strength heading into Thursday's matchup with Saint Peter's. The backcourt of Sahvir Wheeler and TyTy Washington both missed a handful of games but have been back-in-action for a couple of weeks. At full health, Kentucky as a trendy pick to reach the Final Four for the first time since 2015.
While the perimeter is a strength for Kentucky, big man Oscar Tshiebwe is a man-amongst-boys down low. The WVU transfer is averaging 17 PPG and 15 RPG and should be a first-team All American. Joining Tshiebwe in the frontcourt, and providing valuable experience, are upperclassmen Keion Brooks and Jacob Toppin. Additionally, SRs Kellen Grady and Davion Mintz provide shooting and defense on the outside. This isn't the typical John Calipari squad filled with one-and-dones. This is a veteran unit that might be better built for success in March than the last few teams from Lexington.
Oscar Tshiebwe wins SEC Player of the Year. Well deserved.
pic.twitter.com/9w0682CyaJ

— Barstool Bench Mob (@stoolbenchmob) March 8, 2022
Kentucky was 18-0 this season at Rupp Arena but struggled on the road at times, especially in conference play (only going 5-4). There was also a road loss to Notre Dame and neutral site L's to Duke to begin the season and to Tennessee in the SEC tournament. The latter might be most troublesome as Kentucky only shot 34% from the field and only 2-20 (10%) from 3. Another cold shooting performance like that and it could be an early exit.
Perhaps the poor shooting in Tampa was an aberration as Kentucky ranks as the 4th best offense in the country. A good portion of that success is Oscar Tshiebwe leading the 4th best offensive rebounding team in the nation. As far as shooting, KY has respectable but not impressive rankings of 43rd inside the arc and 95th from 3. Overall, I like Kentucky's talent, experience, and path to at least make the Elite 8. At +200 odds to make the Final Four and +800 to win it all, the Wildcats deserve real consideration.
#3 Purdue
Big Ten Conference
Record: 27-7
Odds
Championship: +2000
Final Four: +450
Sweet 16: -175
What to do with Purdue? As a 4-seed last year, the Boilermakers lost in the first round to North Texas in O.T. Can they avenge that upset loss or are they destined for another early round defeat? After the first eight games of this year, with big wins over UNC, Villanova, FSU, and Iowa, most of us had Purdue as one of the favorites to make the Final Four. However, the other 3/4 of the season was not as impressive.
Matt Painter's squad still had an excellent 2021-22 but they come into the tourney with just a 3-3 record in their last six games. On the positive side, Jaden Ivey is a future NBAer and the size of Zach Edey and Trevion Williams is tough to match up with down low. Ivey and Edey are sophomores but most of the other contributors are upperclassmen who surely remember the pain of last year's first round exit. Usually an experienced team rebounds from an upset loss and makes a deep run the following season.
Jaden Ivey in transition is the best show in college basketball. Seriously breathtaking pic.twitter.com/4l5a69FTAT

— Draft Dummies (@DraftDummies) March 12, 2022
The Boilermakers don't have many issues on the offensive side of the ball (ranked 3rd in KenPom) but too often struggle to defend – coming in at 100th in the country. Those rankings remind me of last year's Iowa squad (3rd in O, 75th in D) that lost in the second round to Oregon. Purdue struggles to get stops and is absolutely horrible at forcing turnovers – 346th in the country.
So here we have a team that isn't playing their best ball of the season and is potentially facing some dangerous offensive teams early in the tournament. I don't envision any issues with Yale but a potential second-round game vs the red hot Hokies could be tricky. If you are a Purdue fan, I'd rather play the lower seed Texas which struggles offensively. In the end, I see a Sweet 16 ceiling so I'm not biting on +450 odds to make the Final Four or +2000 odds to win it all.
#4 UCLA
Pac-12 Conference
Record: 25-7
Odds
Championship: +1800
Final Four: +450
Sweet 16: -180
UCLA is a higher seed than Purdue but they share the same +450 odds to make the Final Four and are only +1800 to cut down the nets. In my opinion, the Bruins have a much greater chance to make a run in the coming weeks. Don't forget – they were a buzzer beater away from playing in last year's national championship game and they basically return the same roster.
Johnny Juzang was one of the stars of last year's tournament and is just a bona fide shot maker. Jaime Jaquez is your all-around terrific basketball player that does all of the little things and you love Tyger Campbell as your floor general. The Bruins sport an all-upperclassman starting five that's rare for a major conference team these days. No other team in the region has UCLA's experience.
There was a stretch in early February where the Bruins, dealing with nagging injuries and COVID issues, lost three out of four games but have otherwise been as consistent as they come. Sure, they got swept by an average Oregon team, lost two of out three to Arizona, and got beat by Gonzaga by 20, but this team is built to succeed in the postseason. With a top 15 team in Adj O and Adj D, the Bruins check all the boxes.
While I'm singing UCLA's praises, they have a couple tricky games vs Akron and potentially Saint Mary's in order to get to the Sweet 16. Get past those and I feel confident they'll square off against Kentucky in the Elite 8. That's a coin flip game and with much juicier odds than the Wildcats, UCLA might be the best bet of the bracket.
NCAA Tournament: East Region Bracket Busters
#11 Virginia Tech
Atlantic Coast Conference (ACC)
Record: 23-12
Odds
Championship: +15000
Final Four: +2500
Sweet 16: +400
There are not many hotter teams entering the tournament than the 11-seed Hokies. They've won 13 of their last 15 games including four wins in four days to take the ACC crown and solidify their berth into the NCAAs. Back-to-back dominating performances vs UNC and Duke were extremely impressive and those wins place VT in an advantageous position to possibly win a couple more this week.
Like UCLA, Virginia Tech also has an all upperclassmen starting five. While there might not be any sure-fire NBA players on the roster, it's a balanced veteran team that fits the system Mike Young wants to run. Keve Aluma is a versatile big man that leads the team in scoring. Justyn Mutts is VT's version of Jaime Jaquez and Storm Murphy is similar to Tyger Campbell. Plus, Hunter Cattoor is one of the best 3pt shooters in the country who also just dropped 31 on Duke. If he gets hot from deep, watch out.
🔳 Career-high 31 PTS
🔳 ACC Tourney MVP

Virginia Tech's Hunter Cattoor balled out on the biggest stage 😤 pic.twitter.com/7hqRVn8SzT

— ACC Network (@accnetwork) March 13, 2022
#13 Akron
Mid-American Conference
Record: 24-9
Odds
Championship: +80000
Final Four: +20000
Sweet 16: +6000
Yes, I have UCLA advancing far into the tournament but I still think Akron could give them a game in the opening round. The Zips have been progressing throughout the year and are currently playing excellent defense. They've won eight in a row and just sliced through Buffalo, Toledo, and Kent State in the MAC tournament while limiting their opponents to less than 62 points per game. 6'8" F Ali Ali is a rising star and the Zips just lost by one point at Ohio State this year. Crazier things than Akron shocking the Bruins have happened in the month of March.
Murray St / San Francisco:
I placed both of these teams here because they play each other in the 7/10 matchup on Thursday in the NCAA Tournament. Murray State went 30-2 this year and won the OVC regular season and conference tournament. They also won games at Memphis and played well at Auburn way back in December. Led by 6-10 KJ Williams who averages 19-8, the Racers are a deep and athletic group that's accustomed to winning. The stage won't be too large.
On the other hand, San Francisco plays in the much-improved West Coast Conference where they went 24-9 on the season. Although they were swept by Gonzaga and Saint Mary's, wins over Davidson, UAB, and Arizona State outside the league prove they belong. Especially be on the lookout for the all senior backcourt of Jamaree Bouyea and Khalil Shabazz who combine to average over 30 PPG.
Good luck figuring out the winner of this matchup but whoever does has a real chance of scarring Kentucky in Round 2. I'm a Murray State lean in Round 1 but with only the 227th tallest team in the country, San Francisco (111th tallest) has a better chance of hanging with the Wildcats. Monitor the situation but you may want to at least take the points with Murray State or San Francisco in Round 2.
NCAA Tournament: East Region Prediction
With the exception of a couple of possible first-round matchups, the East might have one of the chalkier opening weekends in the NCAA Tournament. If you are eyeing the biggest potential upset, it's definitely Virginia Tech over Texas which is why Vegas has the line at Texas -1. If Indiana can get past Wyoming in the play-in game, the 5/12 matchup vs Saint Mary's could go either way. Other than that, we could see all of the top 4 seeds still active in the Sweet 16.
Things will get interesting at that point as I expect UCLA to topple Baylor and Kentucky to beat Purdue (or possibly VT). UCLA vs Kentucky for a berth in the Final Four – sign me up! With the more attractive odds, my bet will be UCLA to get to New Orleans.

NCAA Tournament: East Region First Round Picks
Indiana -4 vs Wyoming (Play In)
Baylor -21 vs Norfolk State
Marquette +3 vs North Carolina
Kentucky -17.5 vs Saint Peter's
Murray State -1.5 vs San Francisco
Akron +14 vs UCLA
Yale + 15.5 vs Purdue
Virginia Tech +1 vs Texas
Indiana/Wyoming vs St Mary's – TBD
---