In fantasy football, kickers matter. However, there are still significantly more important positions which are why kickers are a bit of an afterthought. As a result, it is common to select a kicker in the final round of the fantasy football draft. The kickers to stream strategy has its pros and cons.
On one hand, you get to secure quality depth at the other positions. On the other hand, you might end up with an unreliable kicker. Luckily, this article will provide you with a kicker strategy for the first few weeks of the regular season.
EXCLUSIVE SGPN FANTASY CONTENT
SGPN Fantasy Football Projections
SGPN Fantasy Football Rankings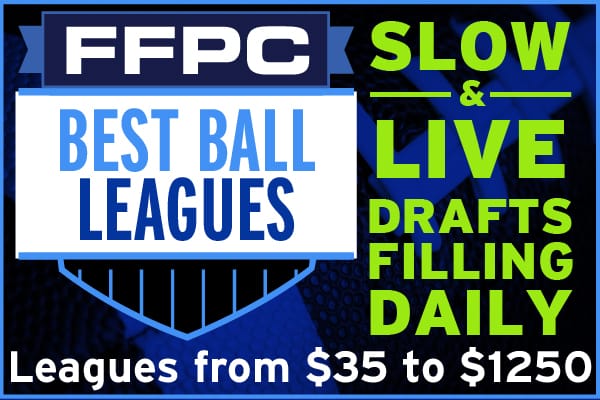 Kickers To Draft and Stream
Jason Sanders – Miami Dolphins
With elite kickers like Justin Tucker and Harrison Butker off the board already, targeting an underrated kicker has merit. Interestingly, neither Tucker nor Butker led kickers in fantasy points last season. That honor belonged to Jason Sanders. Last season, Sanders hit 92.3% of his field goal attempts including 88.9% from beyond 50 yards. For his efforts, he was rewarded with a five-year contract extension during the offseason. Therefore, it is safe to assume that Miami trusts him with the game on the line. As for fantasy football, he is surprisingly the seventh kicker being selected which means that he is tremendously undervalued.
Jason Sanders gives the @MiamiDolphins the lead! #FinsUp

📺: #MIAvsLV on @NFLNetwork
📱: NFL app // Yahoo Sports app: https://t.co/Gd3pMdskDl pic.twitter.com/RXS0BbZdmJ

— NFL (@NFL) December 27, 2020
Matt Prater – Arizona Cardinals
After finally pulling the plug on the Zane Gonzalez experiment, the Arizona Cardinals have themselves a reliable kicker. The Cardinals addressed their kicking concerns by signing Matt Prater in free agency to a two-year deal. At the age of 37, Prater still has one of the most powerful legs in the NFL and he should have a ton of field goal attempts due to Arizona's elite offense. Plus, the weather will not be a concern since he will be playing in a dome frequently.
MATT FREAKING PRATER! 59 YARD GAME WINNING FIELD GOAL!!! @Lions pic.twitter.com/WAMLrDrQKu

— Woodward Sports Network (@woodwardsports) November 15, 2020
Week Two Kickers To Stream
Jason Myers – Seattle Seahawks
In Week 2, the Seattle Seahawks have a home matchup against the Tennessee Titans. As a result, one can expect Seattle's offense to have a ton of success since Tennessee allowed 398.4 yards per game last season which was tied for the fourth-most in the league. If Tennessee's defense is still underwhelming, then expect Seattle to be in field goal range frequently throughout these four quarters. Plus, Jason Myers made all 24 of his field goal attempts last season so he can be trusted. Therefore, he should be a sneaky fantasy football play for Week 2.
61-yard field goal? 61-yard field goal. Big leg here from Jason Myers.pic.twitter.com/XuRkmxpmtz

— Pro Football Network (@PFN365) November 15, 2020
Brandon McManus – Denver Broncos
After traveling to New York to take on the Giants in Week 1, the Broncos travel to Jacksonville to take on the Jaguars in Week 2. As a result, one should expect Denver to look surprisingly sharp offensively since Jacksonville possesses one of the worst defenses in the league this season. Last season, the Jaguars allowed 417.7 yards per game which was the second-most in the league so I do not expect them to get many stops in this matchup. Plus, Jacksonville allowed 2.4 field goal attempts per game which ranked tied for the second-most in the league. As a result, I expect Brandon McManus to have a very productive day.
Que beleza, Brandon McManus!

O field goal mais longo de sua carreira: 58 JARDAS! #BroncosCountry #NFLBrasil pic.twitter.com/ov7vNGG25E

— NFL Brasil (@NFLBrasil) November 29, 2020
Week Three Kickers To Stream
Ryan Santoso – Carolina Panthers
There is a new face on special teams for the Carolina Panthers in 2021 as Ryan Santoso is now the starting kicker. In a surprising move, the Panthers cut former starting kicker Joel Slye due to his inconsistent results. While Santoso has never attempted a kick in the NFL before, Carolina traded a draft pick for him during the offseason so the Panthers clearly believe that he is the answer to their kicking problems. In Week 3, Carolina will travel to NRG Stadium to take on Houston. Last season, Houston's defense was a mess as it allowed 416.8 yards per game which were the third-most in the league. Carolina should generate a ton of big plays throughout this game as Santoso should have several field goal opportunities.
Ryan Santoso hits a 52-yard field goal!

📺: NFLN & WSOC pic.twitter.com/6aK0zkRYLD

— Carolina Panthers (@Panthers) August 28, 2021
Matt Ammendola – New York Jets
After a successful career at Oklahoma State, Matt Ammendola made quite the impression on the New York Jets as he won the starting kicker job. While it is always risky to gamble on a rookie kicker, New York's matchup against Denver in Week 3 is a great spot to take a shot with him. Last season, Denver allowed 2.6 field goal attempts per game which were the most in the entire league so I expect Ammendola to attempt several field goals over these four quarters. Plus, this game will be played in Denver so the altitude should allow him to attempt extremely far-field goals.
Matt Ammendola is GOOD from 54 yards out! @nyjets lead 3-0.

📺: #NYJvsGB on @nflnetwork (or check local listings)
📱: https://t.co/cpzdYUarjZ pic.twitter.com/lNZjaJvAyM

— NFL (@NFL) August 21, 2021
Week Four Kickers To Stream
Dustin Hopkins – Washington Football Team
Since 2015, Dustin Hopkins has been the starting kicker for the Washington Football Team. While he has been a mediocre fantasy football option, he seems to always have a few big weeks over the course of any given season. One of those big weeks should occur in Week 4 when Washington travels to take on Atlanta. Last season, Atlanta's defense was unable to get many stops as it allowed 398.4 yards per game which were tied for the fourth-most in the league. As a result, I expect Ryan Fitzpatrick to find some holes in this leaky secondary which should result in several possessions within opposing territory. Plus, the weather will not play a factor since this game will be played in Mercedes-Benz Stadium.
DUSTIN HOPKINS FOR THE WIN! #HTTR pic.twitter.com/XFThXj3JfJ

— uSTADIUM (@uSTADIUM) November 24, 2019
Josh Lambo – Jacksonville Jaguars
Statistically speaking, Josh Lambo might be the most underrated kicker in the entire league. Lambo has made at least 90.5% of his field-goal attempts in each of the last four seasons and yet he is owned in less than 32% of ESPN fantasy football leagues. If you are in desperate need of a kicker in Week 4, then I recommend using Lambo since he has a prime matchup against Cincinnati on Thursday night. Last season, Cincinnati allowed 2.4 field goal attempts per game which were tied for the second-most in the league. As a result, I expect Lambo to attempt several field goals in this matchup.
JOSH LAMBO FROM THE PARKING LOT 🦵
pic.twitter.com/PoCOnwlM1W

— PFF (@PFF) November 8, 2020
More Fantasy Football Content
DraftKings NFL Thursday Night Football Picks: Cowboys vs. Buccaneers
Impact Rookies to Draft for 2021
Week 1 Fantasy Football Injury Report