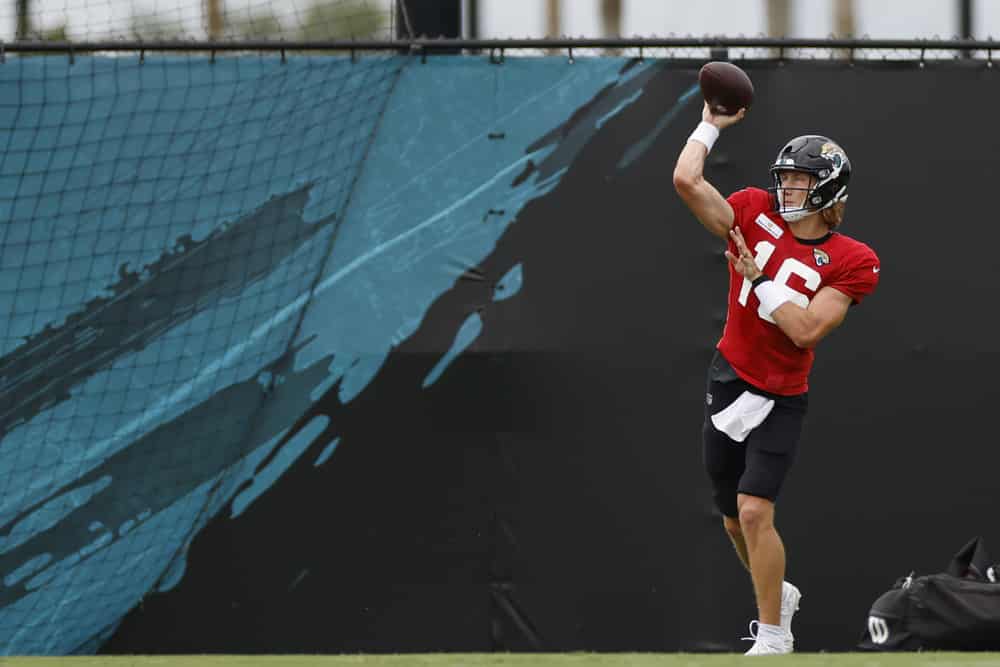 Jacksonville Jaguars – Best Bets 2021
2020 Jacksonville Jaguars Review
Looking at the stats for last season may not fill you with confidence. The Jacksonville Jaguars finished 30th in points per game scored (19.1) and 31st in points per game allowed (30.8). Unsurprisingly this added up to a record of 1-15. Where the Jags were competitive was against the spread, going 7-9. If the books don't catch up with an improving Jags side early this season, however,  I can see ATS wins being a feature for Jacksonville. Look sharp.

What's New for 21/22
Short answer, everything. Head Coach Urban Meyer will usher in the new dawn for the Jags. He'll look to use a run-first offense. The appointment of the offensive coordinator is the intriguing one here. Darren Bevell is an experienced groomer of quarterbacks and has shiny new toys to play with, however, I see Meyer retaining the balance between the pass and the run while everybody finds their feet.
On the field, the big addition is QB Trevor Lawrence. A three-year starter and National Champion for Clemson, Lawrence is one of the most talked-about prospects in recent years. His college teammate Travis Etienne is a draftee who will add multi-role use from running back.
On the ugly side of the ball, the Jags look to have made some solid progress. Tyson Campbell and Andre Cisco were drafted to help out the secondary and I like the look of both, complementing the addition of veteran Shaquill Griffin. The D-Line also has some free agent reinforcements., namely Jihad Ward, Roy Robertson-Harris, and Malcolm Brown. They are not without hope.
Strength of Schedule
The Jags schedule ranks 18th overall, 10th in the AFC, and second in the AFC South. Their schedule to me seems to be a bit of a donut. They have opponents with playoff pedigree, but then get five opponents who had an average winning record of 4.2 games in 2020. There's not much in the middle. The schedule breaks down pretty evenly between home and road games.
Season odds
Super Bowl +13000
AFC  +6000
AFC South  +750
To Make Playoffs  +300
Win Total  o/u 6.5 -110
It's an obvious 'no thanks' to the fancy odds here. There will be progress, but there has to be a few bumps along the road too and we won't be seeing Jacksonville in the postseason. This leaves us with the win total of 6.5. I'm in. The Jags are Week 1 favorites vs the Texans in a game I think they can get us on the board. They can take down at least some of the Jets, 49ers, Falcons, and Bengals. Throw in some hot-weather Floridian wins, and a couple of dead rubbers in the late weeks. I'll do the math, it's seven or eight wins. Get in the queue.
Pick: Over 6.5 wins –110
Shop around and you can find odds on the exact finishing position of the Jaguars in their division. This is the one that looks too good to be true. I can't see anywhere they can finish other than third – there seems to be a two game buffer on either side. Bet this and forget it, it will pay for some of your other terrible decisions.
Best Bet! Pick: Jags finish 3rd in AFC South +120

Jacksonville Jaguars Player Prop Bets
Trevor Lawrence Passing Yards – o/u 4150.5
Lawrence is the talking horse. The hype is huge and with good reason. My concern here is with the opportunity that Lawrence will be afforded, not his talent. Jacksonville ranked 32nd in rush attempts last season – that's going up. Lawrence should get plenty of looks as the Jags will be behind a lot, but he'll be facing nickels and dimes. As upbeat as I've been so far about the Jags season, I think the hype train can do us a favor here and we can be circumspect on this total. Only 10 QB's last season went beyond this number, and that stat alone is enough for me to take the under.
Pick: Trevor Lawrence Passing Yards – under 4150.5 -110
James Robinson Rushing Yards – o/u 650.5
Robinson was the bright spot for Jacksonville last season. Taking over from Leonard Fournette, the undrafted free agent topped 1000 yards in the 14 games in which he featured. So you might be wondering why the line is at 650? The answer to that is Travis Etienne. Etienne joins from Clemson along with his QB and looks to take at least committee duties with Robinson if not usurping him outright as RB1. The byword here is uncertainty, and I like that as a bettor. I'd be happy to take the form in the book over the question marks of the rookie. Even in a backfield split, Robinson can get the yards per game to get to this number. As previously mentioned, the Jags ranked 32nd in rush attempts last season. Urban Meyer will address this, and as a result, Robinson will be a beneficiary.
Pick: James Robinson Rushing Yards – over 650.5 -110
Fantasy
Nick Dant has done the legwork here so we don't have to (click here!). Trevor Lawrence looks to be a fade as the consensus 14th QB off the board. There is more value elsewhere. I'd also be fading James Robinson in a PPR format. I do think he gets enough run to cover his total, but it's the presence of Travis Etienne that will be a more valuable fantasy asset. He'll get the check-downs as well as lining up occasionally at WR. His ADP is 63, take him there, or later as a bonus.
Draft: Travis Etienne
Fade: Trevor Lawrence, James Robinson
Good Luck!