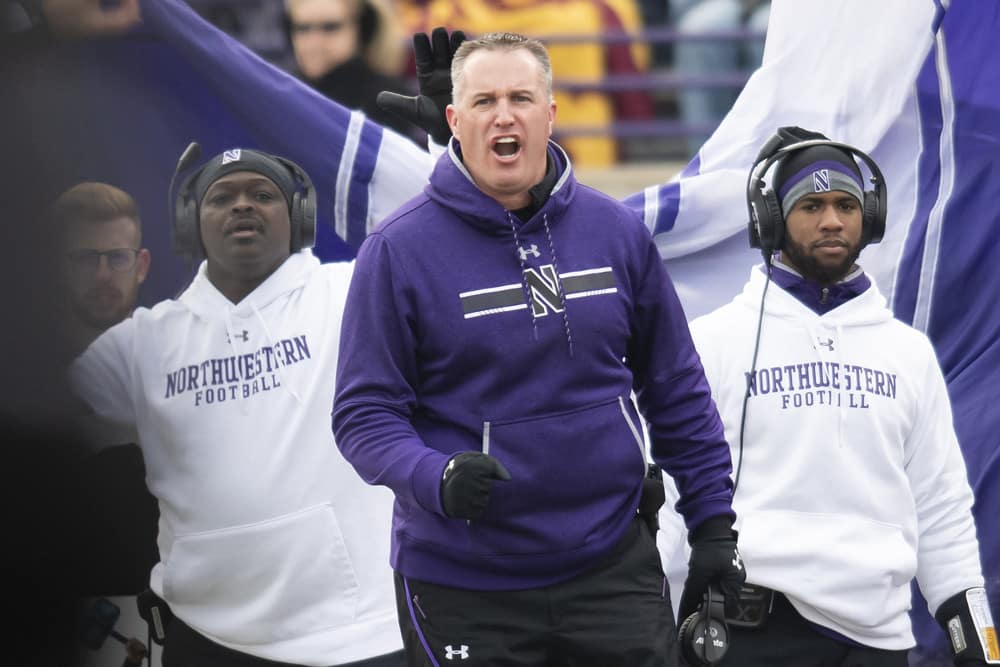 Over the course of the week, we've been ranking the top 130 coaches in college football. We're finally down to the top 25.

Ranking the college football coaches from 1-130 is never easy. It's complex in this sport and when I see other people suggest their list of their top 10 coaches I'm always baffled.
Take Nick Saban for example. He's obviously doing an amazing job at Alabama, but that's a school that spends a ton of money and has long been a blue blood in college football. So does that make him the best coach or the best at a school that's known for bringing in top talent? I think the question that I want to pose to readers is how would Saban or Kirby Smart do at a job where winning isn't a normal thing.
College Football Coach Rankings (101-130)
College Football Coach Rankings (76-100)
College Football Coach Rankings (51-76)
College Football Coach Rankings (26-50)
Saban was at Michigan State for five years and was 34-24-1 and, although he did win 9 games in his final season in East Lansing, you could make the case that perhaps some of these other coaches are doing more with less and programs that haven't been used to winning. Regardless, I find Saban to be a Hall of Fame coach and one that is leaving a remarkable run in Tuscaloosa. But I think there are coaches out there that perhaps are doing more with less than some big name coaches.
Here is my list of the 1st to 25th best college coaches in the country.
Fitzgerald has won the Big Ten West in two of the past three seasons and most likely would have compiled another double-digit win season last year if it weren't for COVID-19. The Wildcats had two first-round picks in this year's NFL draft so Fitz and his player development staff should certainly be noted. Northwestern was maybe the worst program before Pat Fitzgerald played linebacker under Gary Barnett in the mid-'90s but since Fitz has taken over as head coach of the Wildcats he's had three 10 win seasons and two 9 win seasons. The Wildcats were 7-2 last year after losing to Ohio State in the Big Ten Championship. I really don't think there are many coaches in America that could do what he's doing at Northwestern.
2. Nick Saban (Alabama)
It's a fine-tuned machine right now and the Crimson Tide are breaking records with getting players drafted to the NFL. One must wonder just how long Saban will remain dominating the SEC and College Football. Last year they really weren't even tested other than maybe the Ole Miss game but they even won that one by double digits.
3. Mike Leach (Mississippi State)
Coach Leach dropped a few spots in our rankings but when you consider that traditionally it takes him a couple of seasons to get the ball rolling with his air raid concepts. Then add in the no spring ball due to COVID-19 and a shorter camp and you can see why Mississippi State had a tough season. Still, Leach's career speaks for itself he's been a winner everywhere he's ever been including his days as an OC. Leach won 11 games at Texas Tech & Washington State! I'm not sure there's another coach in America who could accomplish that and I expect Mississippi State to start having winning seasons soon. Leach's stamp on the sport is everywhere and his coaching tree is absolutely insane.
4. Matt Campbell (Iowa State)
It recently came out that Campbell turned down a 68 million dollar team from the Detroit Lions to stay in Ames, Iowa. If that doesn't get you pumped up to think about the fate of the ISU program then I don't know what will. Campbell has also turned down several college football jobs to remain in Ames. Iowa State was known as a school where it was impossible to win. The Cyclones were 80-117 in the 2000's before hiring Matt Campbell. After Campbell's initial 3-9 season in Ames, he's added 4 winning seasons and a Big 12 Championship game berth. Plus if you look at his track record at Toledo the guy is a proven winner.
5. Kirk Ferentz (Iowa)
You could easily make the case for Ferentz being #1. He's been at Iowa since 1999 and he's only three losing seasons in that run and two of three were in the first two years. Ferentz has 6 double-digit win seasons! One 12 win season, two 11 win seasons and two 10 win seasons. That is unbelievable.
Dabo has completely dominated the ACC and we can't ever take that away from Swinney but can I make the case for being in the right time at the right place. Florida State, Miami & Virginia Tech have all lost their mojo which has led to the ACC being a disaster of a conference other than Clemson. Still, Swinney has taken advantage of that and created a gigantic talent divide within the conference. I mean the guy is 140-33! Perhaps he should be higher on this list but I do wonder how he would do at say Northwestern or Washington State.
Fleck is more so here for what he accomplished at Western Michigan where he was 13-0 in the regular season with the Broncos. That alone is one of the most impressive coaching jobs in the past decade. Fleck then headed to Minnesota where I think you have to throw out last year's terrible season. Minnesota was one of the few teams that played with like 30 players out with covid multiple times. Fleck went 11-2 in his last full Big Ten season in 2019 and capped off the great season with a nice bowl win over Auburn. Winning 11 games at Minnesota & going undefeated at Western Michigan has got have you charting somewhere in the top 10.
8. Kyle Whittingham (Utah)
Whittingham is one of the most slept on coaches in America. Coach Whit has only two losing seasons in 15 years and even those losing seasons weren't awful with both losing seasons ending at 5-7. Whittingham has a 13-0 perfect season which resulted in a bowl win over Nick Saban's Crimson Tide. All in total Coach Whit has 5 double digit win seasons in 15 years at Utah! That's incredible. His teams constantly overachieve which is why he should be in everyone's top 10.
Franklin was at Vanderbilt for three years and he reached a bowl game in all three years but what's most impressive is he has two 9 win seasons at Vanderbilt. At Vanderbilt! That alone should place him in the top 10. Then when you consider that at Penn State he's only had one losing season and that was mostly due to covid-19 and key players sitting out at the last minute. Franklin has three 11 win seasons and a Big Ten Championship under his belt.
10. Gary Patterson (TCU)
Patterson has been the man for TCU since 2001 and he's only had 4 losing seasons in his tenure and even with that those weren't horrible seasons. 6-7, 5-6, 5-7, and a bad 4-8 but Gary has 11 double-digit win seasons! Eleven! You'd be hard-pressed not to have Patterson among the top coaches in college football with such a winning pedigree. Patterson also has a 6-3 record against Texas.
Mullen has Florida back to where they are supposed to be. Contending for SEC Championships and although Mullen has zero of them perhaps he hasn't seen his best coaching days yet. Mullen has been a head coach since 2009 and has three double-digit win seasons but his best accomplishment was going 10-3 at Mississippi State in the tough SEC West. I'm not sure how many coaches could accomplish that at Miss State. Dan only has two losing seasons as a head coach so winning should continue. Mullen has work to do at Florida though to really be considered a top 5 coach in my opinion.

12. Brian Kelly (Notre Dame)
You could certainly make the case that Kelly should be higher considering he's won two division 2 titles and had an undefeated season at Cincinnati. Since coaching in the FBS Kelly has had 9 double-digit win seasons and has Notre Dame the best they've been since the Lou Holtz era. The question is though will Kelly ever be able to grab a postseason win with the Irish?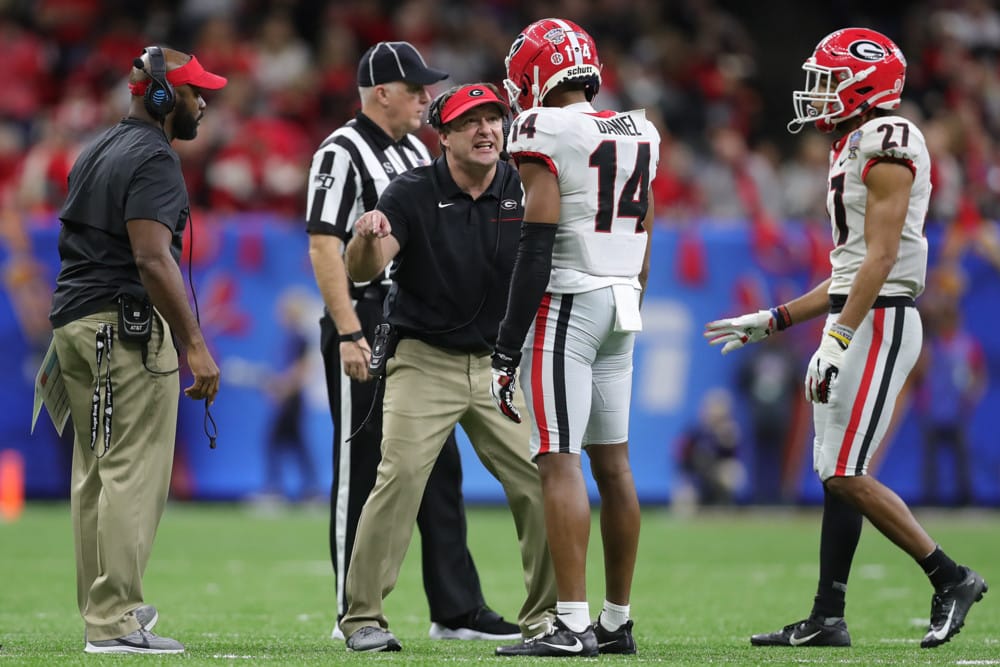 13. Kirby Smart (Georgia)
Smart has been recruiting at an unbelievable level at Georgia. He's also had three double digit win seasons and almost won a national championship. This is a huge year for Smart because despite him being a great coach he does have a worse record than Mark Richt after his first 5 seasons. Georgia should be a national champion contender this year but will they live up to the hype?
14. Mack Brown (North Carolina)
Brown has quickly made North Carolina a top 15 school and when you look at his whole career you'd be hard-pressed not to have him in the top 20. Brown has 12 double-digit win seasons a national championship and just 5 losing seasons out of 30 seasons. Brown has UNC recruiting at a big-time level and the Tar Heels are developing as the best contender to Clemson in the ACC.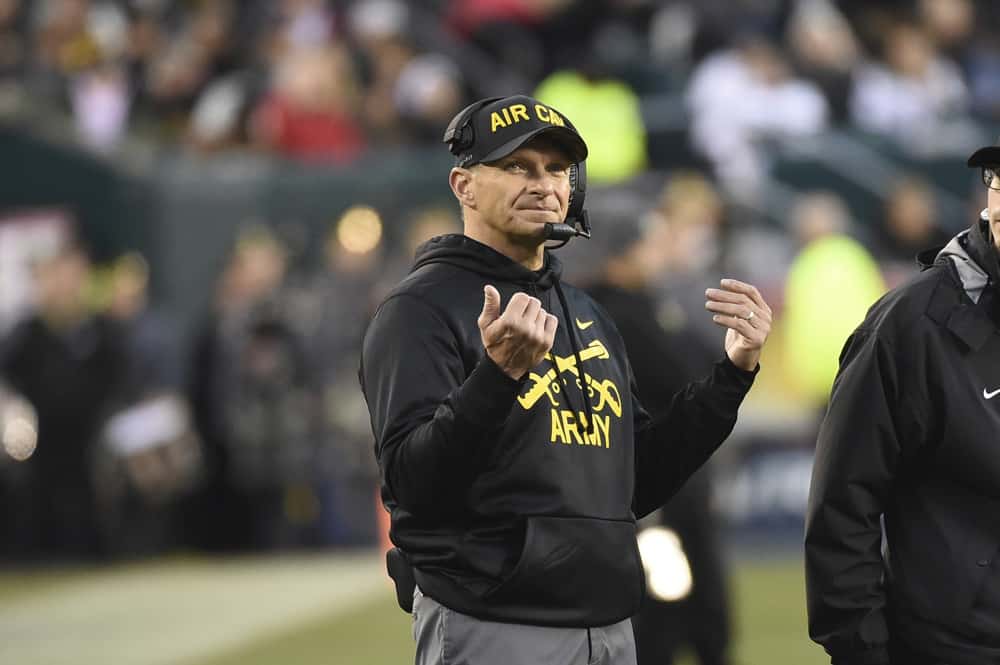 15. Jeff Monken (Army)
Monken is perhaps the most slept on coach in America. Army was one of the worst teams in college football before Monken arrived and now Jeff has put together three double-digit win seasons at Army. Mix that with what he accomplished at Georgia Southern where he had three double-digit win seasons in four years and Monken needs to be a name known. Monken has only had two losing seasons as a head coach and Army should continue being a winner as long he's their head coach.
16. Jimbo Fisher (Texas A&M)
Jimbo has had a lot to say this offseason and perhaps it's time A&M hit that next level. Fisher had a great tenure at Florida State but also left that program in shambles and left right before the storm hit. Fisher stepped in at College Station and did decently but nothing Sumlin wasn't doing until last season where A&M went 9-1 and deserved a chance to play for a national championship if only we had a better and bigger playoff system. This is a big year for Jimbo and he's never heard a double-digit win season at A&M. Could this be the first?
17. Mike Gundy (Oklahoma State)
Gundy has a knack for seeming to never get Oklahoma State all the way over the top but when you consider what the recruiting level is he certainly gets the most out of his teams. Gundy has only had one losing season out of 15 and that was his first season in Stillwater. Gundy has 5 double digit winning seasons and is always a tough out in Big 12.
18. Bronco Mendenhall (Virginia)
Mendenhall is criminally underrated. He's been a head coach for 15 years and he's only had 2 losing seasons and both were his first two at UVA with the second being a 6-7 bowl season where the Wahoos lost to Navy. Mendenhall has had 5 double digit win seasons and his teams always overachieve.
Fickell did a 6-7 season as interim head coach of Ohio State that has me shaking my head but other than that he took over a bad Cincinnati team and has instantly made them contenders. Coming off a 9-1 covid season where the Bearcats probably should of went undefeated. Fickell also has two double-digit win seasons to go with his 9-1 season a year ago. He's only been in Cincinnati for 4 years!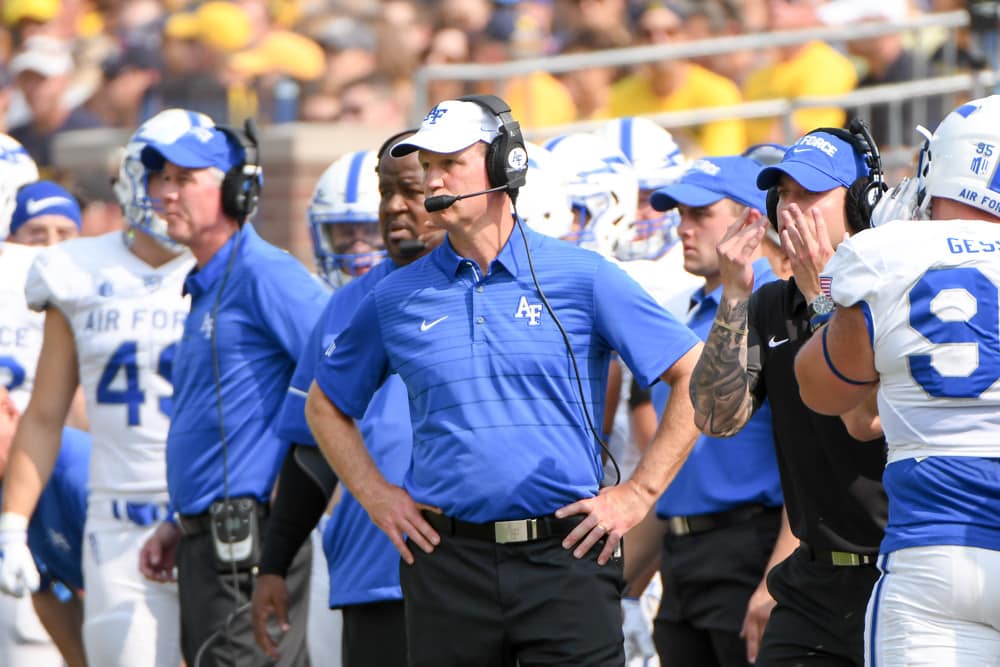 20. Troy Calhoun (Air Force)
Calhoun is one that most don't even think about but he's kept Air Force as a good football team for far too long not to be mentioned here. He's had 3 double-digit win seasons in 13 years as head coach of the Falcons and for a minute there was the only team really messing with Boise State. Calhoun only has 4 losing seasons in 13 years and most of those seasons were 6-7 or 5-7 seasons where the team narrowly missed out on a winning season.
Harbaugh hasn't been able to win the big one at Michigan and sure he had a horrible covid season with the Wolverines. However, Jim was the guy to resurrect the Stanford football program and had a 12-1 season in Palo Alto. He's also had 3 ten win seasons at Michigan so you know the guy can coach. Can Captain Comeback finally get over the hump at Michigan? We'll see but his track record is too good not to mention.
22. Lincoln Riley (Oklahoma)
Look, I'm an ECU guy and I want to root for Riley. Sure, he's been able to maintain what Stoops had built in Norman but Riley's regular seasons traditionally have a loss to a team they shouldn't have and his playoff appearances haven't been amazing. Still, three double-digit win seasons in four years is nothing to shake a stick at but can Riley get the Sooners to the promised land.
23. Hugh Freeze (Liberty)
Freeze is a winner wherever he goes. Yes, he left Ole Miss with problems but the guy has had 10 win seasons at Arkansas State, Ole Miss, and now Liberty. This year's Liberty Flames team should be pushing for yet another double-digit win season. The guy can flat out coach just ask Nick Saban and Alabama fans.
24. Ryan Day (Ohio State)
Day is 23-2 as a head coach at Ohio State so there's hard to find anything to complain about other than the fact he hasn't won a national championship yet. However, Day did walk into a perfect situation so if you're wondering why he's back this far it's because we need to see more.
25. Dave Doeren (NC State)
Doeren was 23-4 as head coach of Northern Illinois which is really impressive. He took NIU to the Orange Bowl although he did not coach that game. Since arriving at NC State he's had six winning seasons out of eight years. They may not be winning ACC titles but the guy is a consistent winner in Raleigh.