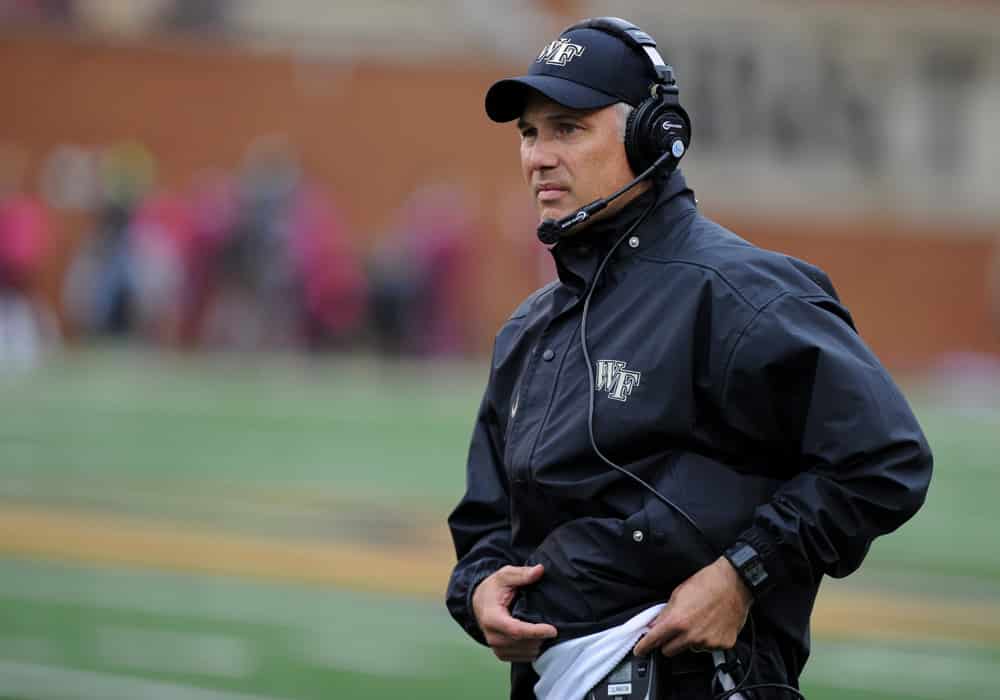 Over the course of the week, we'll be ranking the top 130 coaches in college football.

Ranking the top college football coaches is never easy and the list can change as the years go. This list has some great coaches that I believe are on the verge of doing great things at their universities but based on their track record I could only rank them where I think they belong.
College Football Coach Rankings (101-130)
College Football Coach Rankings (76-100)
College Football Coach Rankings (51-76)
Here, in my opinion, are the 26th to 50th best coaches in college football
26. Dave Clawson (Wake Forest)
Clawson is one of my favorite college football coaches in America. The former Williams University defensive back is a proven winner at every stop he's been. Clawson has had double-digit win seasons at Fordham, Richmond, and Bowling Green. He's had two eight-win seasons at Wake Forest and has had the Demon Deacons bowling 5 years in a row.
27. Ken Niumatalolo (Navy)
Sure, Navy had a tough season last year but he's had two losing seasons in three years. However, Niumatalolo has had three double-digit win seasons in Annapolis and he's got the Midshipmen bowling 10 of his 13 years as head coach.
28. Lance Leipold (Kansas)
Leipold is fresh to Lawrence, Kansas but I'm sure he'll make an immediate impact. Leipold has won 5 national championships on the division 3 level and has had Buffalo bowl eligible for the past 4 years.
29. Gus Malzhan (UCF)
Malzhan has won an SEC Title. He also had two double-digit win seasons in the SEC West plus two 9 win seasons including one at Arkansas State. You could make the case he never deserved to be fired at Auburn. If Malzhan adds a few 10 win seasons in Orlando he'll probably break the top 15 coaches in America.
30. David Cutcliffe (Duke)
Coach Cut is one of the most underrated coaches in America. He has been the head coach of two FBS programs Ole Miss and Duke. He's had a 10 win season at each school! Cutcliffe has taken Duke to 6 bowl games in the past 9 years and has won the ACC Coastal division once in that time frame. This man can flat out coach and if Duke fans are thinking it's time for a change then they need to look back at just how bad the Blue Devils were prior to Cutcliffe arriving.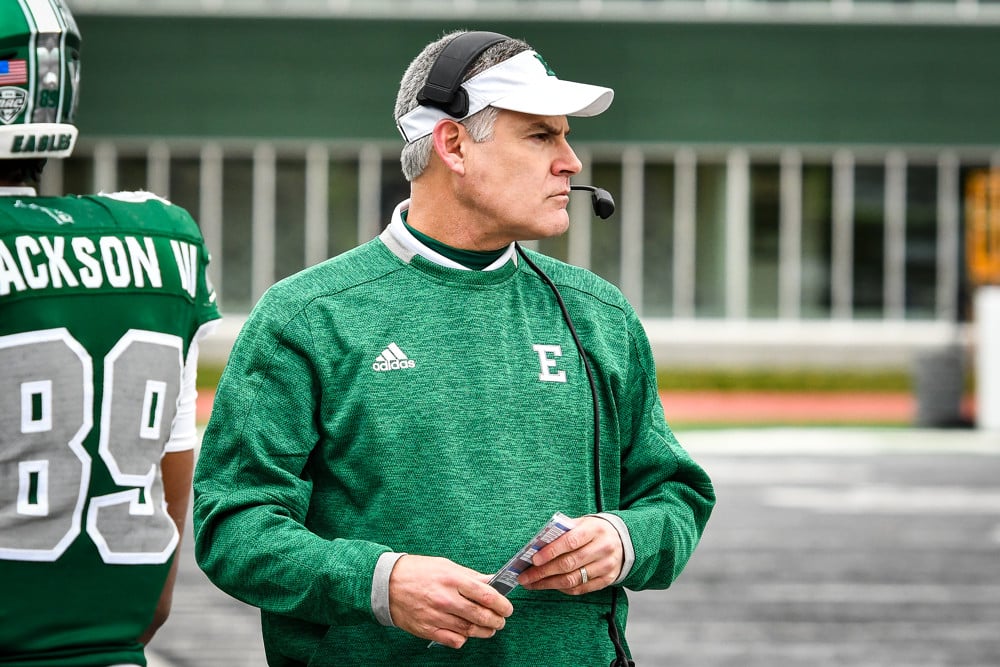 31. Chris Creighton (Eastern Michigan)
Before Creighton arrived at Eastern Michigan it was the worst program in the FBS and most experts would have said it's the hardest job in American to win at. Enter Chris Creighton who has now taken the Eagles to three bowl games in the past five years. Sure, he's 30-51 at EMU but it took a few bad seasons to get the ball rolling. Creighton has also beaten 3 Big Ten opponents in the past 4 seasons. The guy can flat-out coach.
I'm really surprised Brennan is still the head coach in San Jose. I mean I love the fact he's back to coaching the Spartans but I figured Arizona was going to hire him. Brennan is doing a remarkable job in San Jose. The Spartans are coming off a Mountain West Championship and look to be a big-time contender yet again this year. Just like Creighton and Eastern Michigan, it's taken some time to get things rolling but Brennan is 12-8 in his past two seasons with a win over Arkansas in their stadium.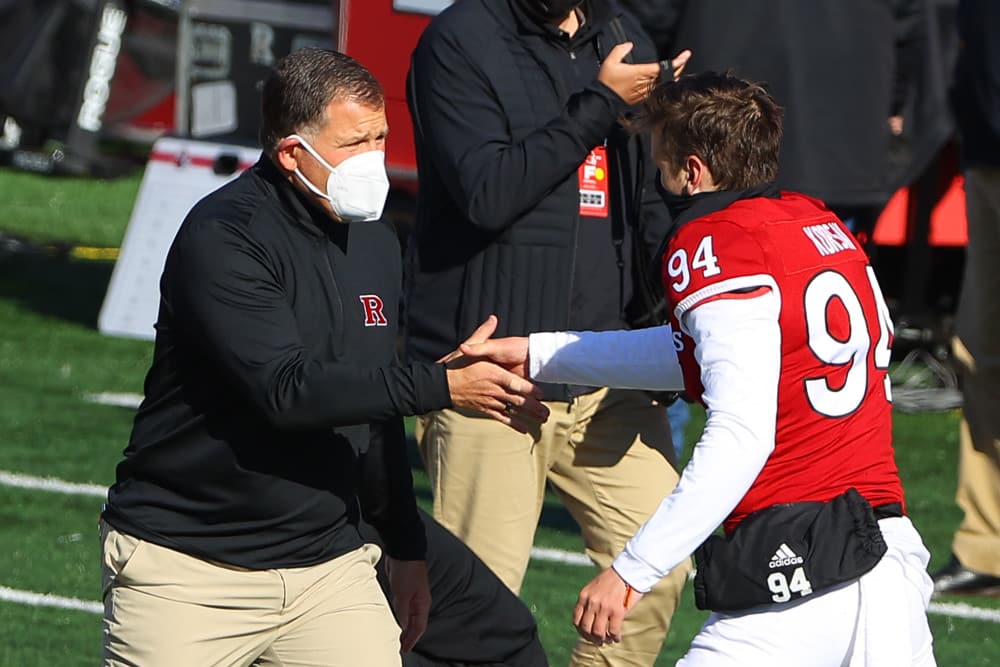 33. Greg Schiano (Rutgers)
I still can't believe Tennessee ruined the Schiano hire. That was a home run hire and they blew it and there's probably a solid chance Coach Schiano deserves to be way higher on this list. He's only of an FBS program twice and both have been Rutgers. Last year was his first year back and considering the issues with COVID I was really impressed with the impact he had on the Scarlett Knights. Then when you see what he did in his first stint with Rutgers and you can't be unimpressed. Schiano had Rutgers in the top 10 and had 6 winning seasons in 7 years including an 11-2 season in 2006.
34. Mark Stoops (Kentucky)
Stoops has had 4 winning seasons in the past 5 years at Kentucky. If that doesn't say enough then perhaps the 10 win season in 2018 should. This is Stoops only stop as a head coach so we can only base his coaching on this experience but judging by the years prior to Stoops this has been a great hire and he's doing a great job.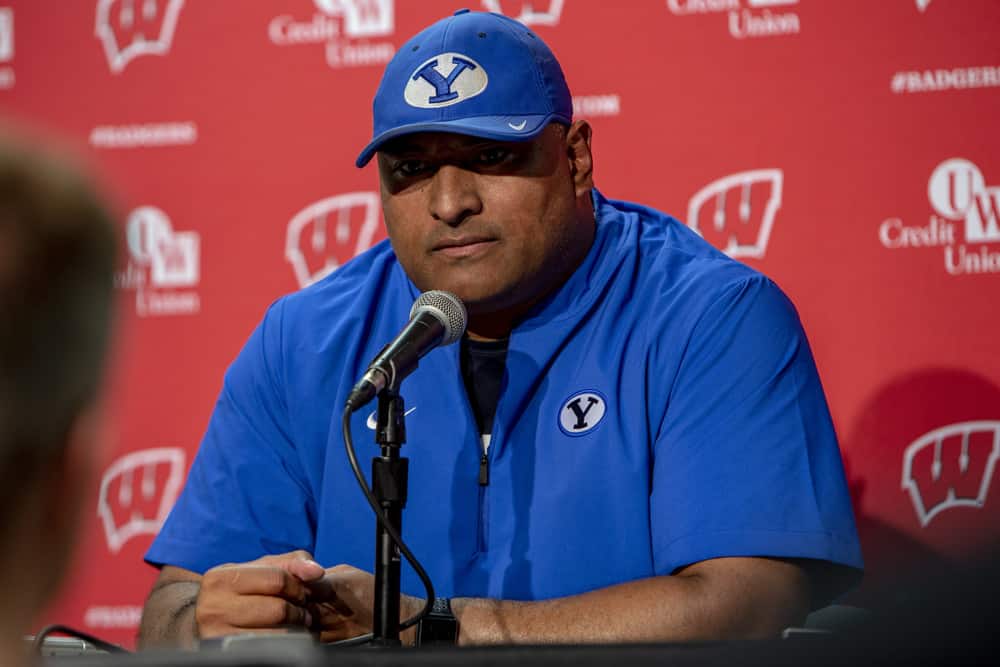 It's funny, before last season the average BYU fan wanted Sitake fired which always blew my mind. BYU schedules incredibly tough and they simply don't have the talent level as some of their opponents but yet Sitake was giving out really good performances despite their losses. Sitake has been to 4 bowl games in 5 years and is coming off an 11-1 season that was a yard away from being undefeated. The guy can flat-out coach.
36. Billy Napier (Louisiana Lafayette)
Napier is 28-11 in three seasons at Louisiana. This is his first head coaching job so that's all we have got to go on but he's been bowl eligible every year. He's had back-to-back double-digit win seasons which also included a major win over a ranked Iowa State team.

37. Jamey Chadwell (Coastal Carolina)
Chadwell is coming off a monster year at Coastal Carolina and is one of the hottest coaching candidates heading into the next season and with great reason as he just had an 11-1 season. Chadwell is a proven winner with his short stints at North Greenville and Charleston Southern.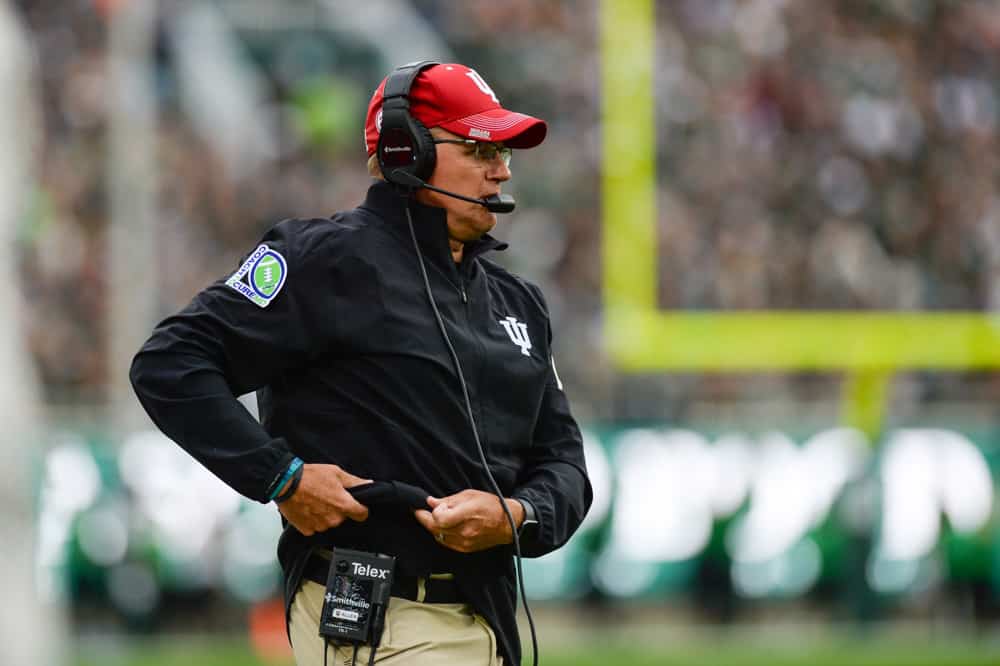 38. Tom Allen (Indiana)
Coach Allen finally got his first head coaching gig a few seasons ago and he's not wasting the opportunity. Allen has had two winning seasons in a row in Bloomington after two 5-7 seasons to start his head coaching career. The program trajectory seems to be going in the right direction and with a loaded team back it should be three straight bowl games for the Hoosiers.
39. Scott Satterfield (Louisville)
If you take away the COVID season, Satterfield is doing great but last year was a tough year. The Cardinals lost a good amount of close games and ended the season with a 4-7 record. I personally think they were better than that but needless to say, Satterfield is 12-12 in his two seasons at Louisville. However, in his eight years as a head coach Satterfield has been bowl eligible 6 of the 8 years which is why I believe Louisville should be a team to watch for this season. Plus Satterfield has had three double-digit win seasons during his 8 years of head coaching.
40. Willie Fritz (Tulane)
Fritz is a proven winner and one of my favorite coaches to bet the win total over on. Fritz won at Central Missouri, then won at Sam Houston State, then won at Georgia Southern, and now is winning at Tulane where he's taken the Green Wave to three straight bowls.
41. Craig Bohl (Wyoming)
Bohl is the guy who built North Dakota State into what they are. During his time with North Dakota State, he won three national championships before taking the Wyoming job where he's had four bowl-eligible seasons in the past 5 years. Last year he lost his starting QB for the season in the first quarter of the first game which led to his first losing season in 5 years. Bohl has three 8 win seasons with the Cowboys and I expect them to be bowling again this year.
Kelly is entering year 4 at UCLA and the first two seasons were really bad and then came last season a 3-4 season but the team finally showed flashes of what we were expecting when the Bruins hired him. Kelly was 46-7 as head coach of Oregon and had a double-digit win season every year in Eugene. This year UCLA brings back the most talent of any Power 5 school so I expect UCLA to have a winning season.
43. Chris Klieman (Kansas State)
Klieman much like Bohl is a proven winner. It's no wonder that Klieman worked under Bohl at North Dakota State. When Bohl left Klieman became the head coach and then rattled off 4 National Championships with the Bison. Then came year one at Kansas State where he took the Wildcats to an 8-4 season. Last year COVID hit and probably hit Kansas State more than almost every school in the nation. Klieman ended the season with a 4-6 season but I'm not sure any coach could have guided the Wildcats to a winning season with the way things went down.
44. Ed Orgeron (LSU)
Orgeron won a National Championship just two years ago while going 15-0 and he's had two double-digit win seasons at LSU but at the same time this is a guy who really struggled at Ole Miss and well LSU was just 5-5 last season. This is a big year for Coach O. The talent is there but will the wins be.
45. Eli Drinkwitz (Missouri)
It's really hard to get a great gauge on Coach Drinkwitz. He's only 38 years old and was known around the college football world as a great coordinator. Then he landed his first head coaching job at Appalachian State and went 12-1 with the Mountaineers. Then he took over Missouri but never got spring ball with the COVID situation but ended up going 5-5 in an SEC-only schedule. He overachieved in year one in my book but the jury is still out but the facts are he's never had a losing season as head coach.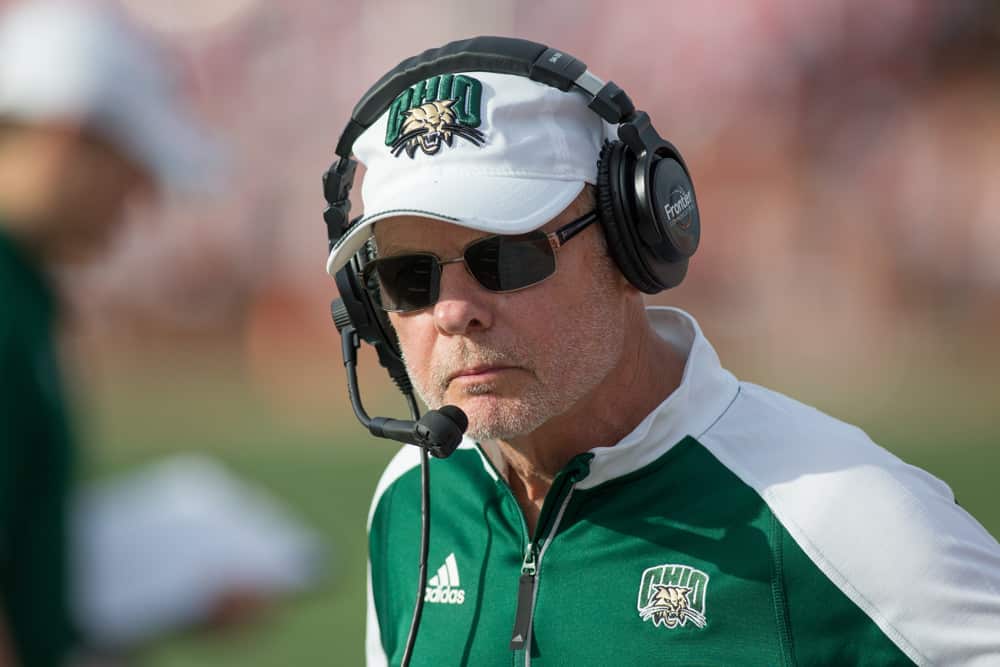 Solich should probably be a lot higher considering he hasn't had a losing season in 13 years! In fact, he's only had two losing seasons in 21 years of being a head coach so perhaps he should be top 25. Plus Nebraska fired him for going 9-3! What they wouldn't give for a 9-3 season right now. Solich has had 4 double-digit winning seasons in his 21 years as head coach and has a career record of 173-101.
Harsin is an impressive 76-24 as a head coach including 5 double-digit win seasons in Boise. Still, Boise State seemed to go down a level once Peterson left. I think Harsin is a good head coach but we'll see how it works out in the SEC West.
Dorrell has been an FBS college football coach for 7 years and he's never once missed the postseason. Sure, he has one 6-7 losing season at UCLA but when you consider he's 39-29 as a head coach of power 5 programs you realize that's not so bad. Last year Dorrell was hired so late he basically had no chance to control the team he wanted but he still had an impressive season going 4-2 in his first year at Colorado.
Rolovich won me over when he took over Hawaii after some truly awful years under Norm Chow. Instantly he took Hawaii to a bowl game in year one which was one of the better coaching jobs that year. In his 4 years at Hawaii, he took the Rainbow Warriors to three bowl games in four years and had a 10 win season in his final year on the island. Sure, he went 1-3 last year in his first year in Pullman but the team was devastated by COVID and actually played better than the record indicates.
Frost is just 12-20 while at Nebraska and needs a big year to even be their coach next year but let's not forget the great turnaround job he did at UCF where he took over a winless team and took them to a bowl in his first year and followed that year with an undefeated season before going to Lincoln.