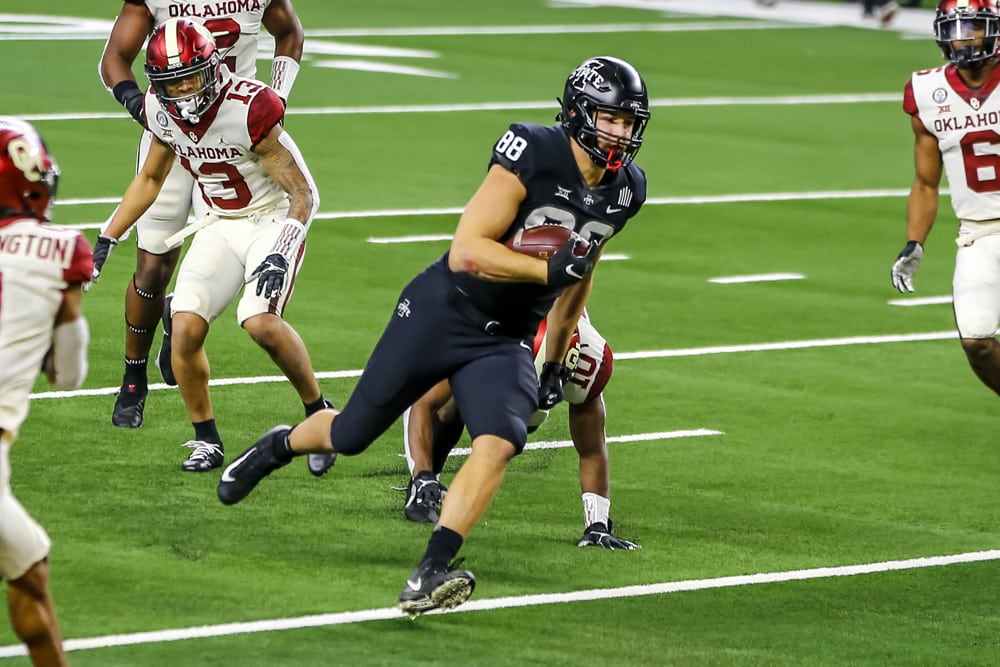 The tight end position has become one of the most important in fantasy football. The rise of crazy athletic players like Travis Kelce, Darren Waller, and George Kittle is the reason why. I would say in most startups today the leagues are leaning toward a tight end premium scoring standard. This bonus per reception makes the tight end even more valuable, this is where knowledge of the best tight end prospects can give you the edge in your league. I have compiled the top 10 devy tight ends and ranked them, lets dive into the trenches!
MORE DEVY POSITIONAL RANKINGS
Devy Fantasy Football: Top 20 Quarterback Rankings
Devy Fantasy Football: Top 20 Running Back Rankings
Top 20 Devy Fantasy Football Wide Receivers

Top 5 Devy Tight End Rankings
1.) Charlie Kolar– Iowa State, Draft Year: 2022
Kolar was not highly recruited coming out of Norman North high school. He had great size at 6-6 and 227 pounds, with good all-around talent. His production levels were great as well as he produced more than 2,400 yards and 30 touchdowns in three seasons. There were clear mismatch issues at all levels of the field, he was great in contested catch situations as well as high pointing the ball. His lack of speed is most likely what hurt him the most. 247 Sports had him ranked as the 57th tight end of the 2017 class. Out of his six offers he would choose to attend Iowa State.
As a freshman, Kolar would produce  137 yards on 11 receptions. Even with his lack of usage, it was clear he could be effective at the college level. As a sophomore, he would finish top 10 in the Big-12 in receptions with 51 (10th) and touchdowns 7 (6th). As a focal point of the Iowa State offense, it was clear Kolar was becoming one of the best tight ends in the country. This past season Kolar finished top five in three categories: receptions with 44 (5th), receiving yards with 591 (5th), and touchdowns with 7 (3rd).
As 2021 approaches it is clear Kolar will be a focal point in the Iowa State offense. As well as the improvements we have seen each season I believe he will be a Mackey award finalist at the end of next season. This combo will pay huge dividends for any devy owner. He should be the top tight end prospect for 2022 so as a dynasty player remember his name.
2.) Michael Mayer– Notre Dame, Draft Year: 2023
Coming out of Covington Catholic in Kentucky, Mayer earned the second-best tight end ranking of the 2019 class from 247 Sports. His prototypical tight end frame of 6-4 and 232 pounds, his great hands, and solid route running ability created problems at the high school level. He was able to produce more than 1,900 yards in two seasons and had back-to-back double-digit touchdown seasons. This would earn him 16 offers from colleges all over the nation, his choice would be Notre Dame.
This past season as a freshman he played in 12 games for the Irish. In those games, he produced 450 yards which were second on the team and almost double of what fellow tight end Tommy Tremble produced. His mixture of size and athleticism is very hard to cover for any player in CFB.  The flashes he showed in this offense are something to marvel at, his upside is undeniable.
As 2021 approaches he should be the top target for any devy owner. This offseason running mate Tremble entered the NFL Draft freeing up even more targets for this soon-to-be sophomore talent. The offense will run through Mayer so I expect big totals from him for the next two seasons. This will also put him on the radar as one of the best tight ends in the 2023 class.
3.) Arik Gilbert– Florida, Draft Year: 2023
Arik Gilbert attended Marietta High School in Georgia and earned the top tight end recruit ranking in the 2019 class from 247 Sports. His 6-5 and 253-pound frame allowed him to be a huge mismatch at any level. This mismatch allowed him to produce more than 3,500 receiving yards and 35 touchdowns in his three years. It was clear his size and speed were a problem for defenses and colleges loved this raw talent. He would receive 26 offers from schools around the country, he eventually decided to attend LSU.
This past season in Baton Rouge he would start eight games for the tigers. His production was not off the charts in an offense that saw a huge downtick from the year prior. Gilbert's 368 yards were fourth on the team and his two touchdowns were tied for sixth. However, in his limited production, he really did flash on the field. It was clear he was still a mismatch for any player who tried to cover him. This mix of size and athleticism is something truly special and will help him develop into a top tight end in CFB.
In 2021 Gilbert will trade in his purple and gold for the orange and blue as he transferred to Florida. This seems like a good move for him, as he will have the ability to play in an offense that has been using the tight end as their focal point for years now. Gilbert will step in and take over the tight end position from day one and have two years of college production left for your devy teams.
Coming out of Phillips Academy, Billingsley did not have the production numbers some of the other top tight end prospects in the country had. He had limited varsity playing time as he only played in 6 games, however, he did produce 337 yards in those games. This 18.7 yard average per catch was not surprising as you could tell he was explosive just by watching him. 247 Sports ranked him as the 11th best tight end of the 2019 class. He would earn 24 offers from schools all over the nation, he would ultimately choose Alabama.
As a freshman, he only saw the field in three games and only recorded two receptions for 16 yards. The 6-4, 216-pound tight end would emerge this past season as a reliable target for Mac Jones. This season he produced 287 yards on only 18 receptions, he also added three touchdowns. He has proven to be a field stretcher and makes big plays when called upon.
As we enter 2021 the Alabama offense will look completely new as most of the 2020 starters are leaving for the Draft. This opens a window for Billingsley to make his claim for more targets. If he can impress in spring training and show he deserves more targets the sky is the limit for his upside. He is a solid option for any devy owner to target as the breakout feels eminent.
5.) Jeremy Ruckert– Ohio State, Draft Year: 2022
Ruckert coming out of Lindenhurst high school was ranked as the best tight end in the 2018 class by 247 sports. He had produced over 1600 yards and 15 touchdowns in two years at the varsity level. His 6-5, 238-pound frame was a serious mismatch problem at the high school level. Also, he possessed good hands, route-running ability, and after-the-catch abilities. He would receive 29 offers from schools all over the nation, he chose to attend Ohio State.
In 2018 as a freshman he did not see much game action.  However, in 2019 he would play in 9 games and produce 142 yards on 14 receptions. This led all the tight ends at Ohio State. Ruckert would also add four touchdowns. This past season Ruckert would continue his success at the position as he produced 151 yards on 13 receptions. This was done in only 5 games due to a shortened covid season. This mark would lead the tight ends from Ohio State again, he was also third on the team with 5 touchdowns.
This upcoming season I expect Ruckert to have a good role in the offense as we saw an uptick last season. He has proven he can be effective with his limited touches and deserves more. I think Ruckert's safe floor of 150 yards will be very good to have for any devy owner. As a dynasty player, we should keep an eye on him as he could be the best tight end come this time next year.

The Top 10 Devy Tight End Rankings
RELATED CONTENT
NFL Mock Draft 2021 1.0 – Adam Pelletier
Devy Fantasy Football: Top 20 Quarterback Rankings
Fantasy Football Dynasty Trade Value Chart – March 2021 Update
Devy Fantasy Football: Top 20 Wide Receiver Rankings