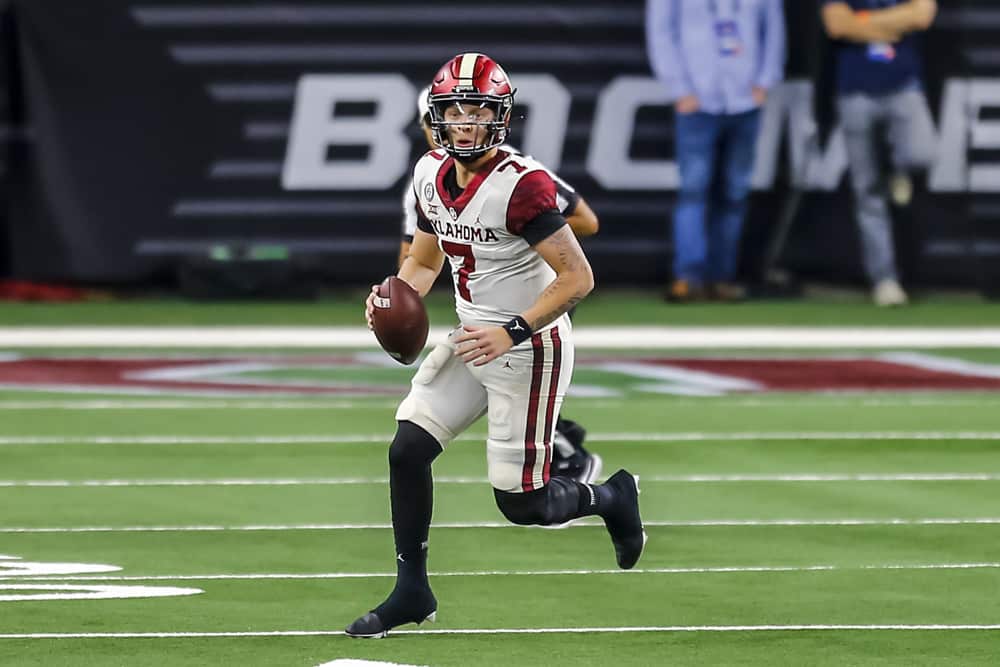 The "Superflex" era is upon us! It is no better time to start learning about potential franchise quarterbacks sooner than now. I have assembled a list of my early top 20 devy quarterbacks to add to any roster. As dynasty managers, we should be keeping an eye on these guys as well to help us when their draft year arrives. Let's dive into the top 20 devy quarterback rankings and have some fun!
Top 5 Devy Quarterback Rankings
1. Spencer Rattler – Oklahoma, Draft Year: 2022
Spencer grew up in Phoenix, Arizona, where he attended Pinnacle High School. It was here that he threw for more than 11,000 yards becoming the first high school quarterback in Arizona history to do so. He would also add 116 passing touchdowns and 33 interceptions. He also added a little something with his legs, he would rush for more than 1,000 yards and added 14 touchdowns. All of this would lead 247 Sports to rank him the ninth-best quarterback in the nation, and number one in the state of Arizona. Rattler would receive 14 offers from colleges all over the country, he settled on Oklahoma.
Rattler and his 6-1, 198-pound frame came to Norman in the hopes of being the next great college quarterback. He possesses great skills in the passing game from a quick release and pinpoint accuracy, to the ability to make off-schedule throws as well as the ability to extend plays. However, he needed to clean up his loose play at times which could lead to trouble. In 2019 he would not play much, however this past season he burst onto the scene, he threw for a Big-12 leading 3031 yards and 28 touchdowns. Both of these marks were good enough for the top ten in the nation as well. Also, he would show off his accuracy by leading the Big-12 in completion percentage(67.5%) and passing efficiency rating (172.6).
As the 2021 season approaches the hype for Rattler has increased, as it is deserved. He is my clear-cut number-one quarterback for devy and dynasty in the upcoming years, with a huge upside.  The Oklahoma offense seems primed for a big year in 2021 and you will want to own Rattler and any other playmaker in that offense in as many leagues as possible.
2. Sam Howell – UNC, Draft Year: 2022
Sam has always had North Carolina on his mind as he grew up in Monore and attended Sun Valley High School. He passed for more than 13,000 yards and 144 passing touchdowns, against just 39 interceptions. Howell had some real dual-threat to his game though as he would add 3,000+ yards rushing and 59 touchdowns to his resume. 247 Sports had him ranked as the third dual-threat quarterback in the class and best in North Carolina. He would receive 32 offers from schools all over the nation, but staying true to his roots he chose North Carolina.
Howell came in as a freshman and started 13 games with success. He would finish top 10 in the ACC in almost all passing categories. His 3,641 passing yards were good enough for second in the ACC in 2019. He would lead the ACC and finish top five in the nation with 38 touchdowns. Last season Howell continued his success as he led the ACC in passing yards, fourth in the nation, with 3,586 yards. He would also lead the ACC for the second year in a row in touchdowns with 30. His career passing efficiency rating of 168.8 ranks him first in the ACC since 1956.
As 2021 approaches this 6-1, 225-pound quarterback is in prime position to be one of the top prospects in the 2022 NFL Draft. He is a player that will have a huge turnover at the skill positions as UNC's top two running backs and wide receivers are leaving for the NFL draft this spring. I think Howell will find success with this next batch of players, and he will help lead many devy teams this fall. Howell could end up being the top quarterback in devy and dynasty rankings for years to come.
3. DJ Uiagalelei – Clemson, Draft Year: 2023
Uiagalelei grew up in Bellflower, California, and played for St. John Bosco High School would produced numbers. He produced more than 10,000 yards passing and 1,000 yards rushing in three seasons there. He would also add 125 touchdowns through the air while only surrendering 11 interceptions. As a result, 247 Sports had him ranked as the number one pro-style quarterback in the 2020 class. He would receive 30 offers from schools all over the nation, he would ultimately choose to take his talents to Clemson.
As a freshman this past season we did not see much of Uiagalelei as Lawerence was the starting quarterback. However, in his limited action, he showed great promise in Swinney's offense. He would start two games for the Tigers in which he produced more than 700 yards passing, 4 touchdowns, and no interceptions. This included a 400-yard game against a good Irish defense as well.
Uiagelelei is set up to be the next great Clemson quarterback, his 6-5, 245-pound frame is in the prototypical category for NFL quarterbacks. The sky is the limit for this young strong-armed and accurate quarterback. All of this plus being in Swinney's offense will lead to huge success at the college level, in turn, he will reward devy managers. As a dynasty player, he is a player you need to keep an eye on as an up-and-coming top-tier quarterback in the devy rankings.
4. Bryce Young – Alabama, Draft Year:2023
Young grew up in Santa Ana, California and played at Mater Dei High School performed at a high level, and actually played against Uiagalelei. The two will be connected for many years to come. Young produced more than 13,000 yards and 152 touchdowns while only throwing 21 interceptions. He also added more than 1,000 yards rushing and 26 touchdowns on the ground. As a result, 247 sports ranked him as the top player in the nation for the 2020 class! Out of the 28 offers he received he would choose to attend Alabama.
As a freshman this past season we did not see much of the 5-11, 183-pound dual-threat quarterback. He was able to get into some game action and produced 156 yards on 22 attempts. This was good for him to get a feel for the speed of the college game. This is important as a key part of his game is scrambling to extent plays, this is where he is most comfortable. Young has a great pose and collectiveness to his game, as a result, he never looks fluster or uncomfortable. Also, he adds a quick release and good velocity to his throws.
Young will continue to develop into a great college quarterback for the next few years. Most Saban run teams have produced some great statical years from players like Mac Jones and Tua Tagovailoa to name a few. As a result devy owners will reap the rewards. For the dynasty owner's out there, he is someone to watch as he will be at the top of the 2023 draft board.
5. JT Daniels – Georgia, Draft Year: 2022
Daniels grew up in Santa Ana and attended Mater Dei High School quickly showed he was destined for success. Throwing for more than 12,000 yards and 152 touchdowns in three years at Mater Dei. As a result, 247 Sports ranked him as the second-best quarterback prospect in the nation. At 6-2, 205 he was your prototypical pocket passer. He would receive 18 offers and ultimately commit to USC.
Daniels would win the starting role at USC and become the second true freshman in school history to start the season opener. He would go on to throw for 2,672 yards and 14 touchdowns. These were not terrible numbers for a true freshman as he was top 10 in the PAC-12 in all statistical categories for quarterbacks. In 2019 he would again win the starting job over young surprise Kedon Slovis. However, in the season opener, he tore his ACL versus Fresno State. As a result, Slovis would take over and become a star himself. Daniels joined the transfer portal after the season and moved on to Georgia. This past season he threw for 1231 yards in four games while adding 10 passing touchdowns, which was good enough for tenth in the SEC. Daniels also had a QBR of 178.5 the highest of his young career.
This season Daniels will enter his second season at Georgia and I expect big things. Just this week Georgia lost its top weapon in George Pickens to a torn ACL. This will hurt Daniels some. I think Daniels will have much success feeding off the great run game Georgia has. Daniels will help many devy owners this season and could be a top name for dynasty owners next spring come draft day. Daniels provides some top-end value in the devy quarterback rankings at a lower price.
The Top 20 Devy Quarterback Rankings
| | | | |
| --- | --- | --- | --- |
| Rank | Player | School | Draft Year |
| 1 | Spencer Rattler | Oklahoma | 2022 |
| 2 | Sam Howell | UNC | 2022 |
| 3 | DJ Uiagalelei | Clemson | 2023 |
| 4 | Bryce Young | Alabama | 2023 |
| 5 | JT Daniels | Georgia | 2022 |
| 6 | Kedon Slovis | USC | 2022 |
| 7 | CJ Stroud | Ohio State | 2023 |
| 8 | Jayden Daniels | Arizona St. | 2022 |
| 9 | Kyle McCord | Ohio State | 2024 |
| 10 | Caleb Williams | Oklahoma | 2024 |
| 11 | Sam Huard | Washington | 2024 |
| 12 | Tyler Buchner | Norte Dame | 2024 |
| 13 | Desmond Ridder | Cincinnati | 2022 |
| 14 | Matt Corral | Ole Miss | 2022 |
| 15 | Carson Strong | Nevada | 2022 |
| 16 | Tyler Shough | Oregon | 2022 |
| 17 | Phil Jurkovec | BC | 2022 |
| 18 | Harrison Bailey | Tennessee | 2023 |
| 19 | Graham Mertz | Wisconsin | 2022 |
| 20 | Dillion Gabriel | UCF | 2022 |
RELATED CONTENT
Devy Fantasy Football: Top 20 Wide Receiver Rankings
Devy Fantasy Football: Top 20 Running Back Rankings
Fantasy Football Dynasty Trade Value Chart – March 2021 Update