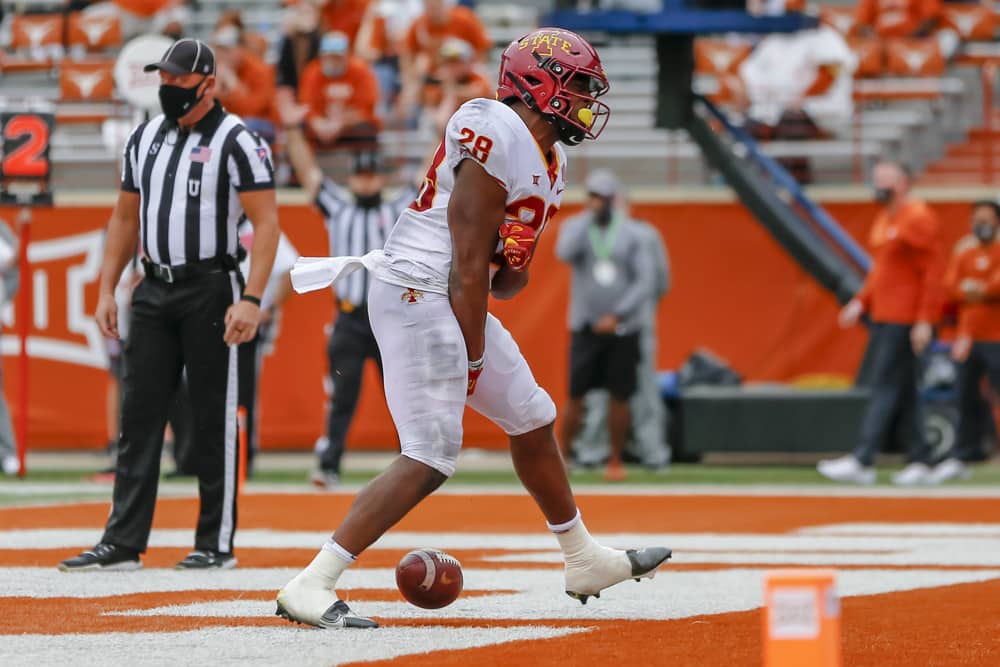 The NFL running back landscape is constantly evolving, every year there is the next best thing. This impacts us as fantasy managers whether we play dynasty or devy. Well, I'm going to give you a leg up on your league mates. I have compiled a list of the top 20 running backs in college football as of today. Being able to know who to look out for amongst a large number of talented running backs in the nation, will help you know what games to focus on this college season.  Let's dive right into the March edition of the devy running back rankings!

1. Breece Hall- Iowa State, Draft year: 2022
Hall is a 6-0″, 215-pound tough yet agile back out of Wichita, Kansas. 247 Sports had a composite ranking of 22 in his class of running backs. However, he was the second-best player in the state of Kansas. At Northwest high school he would produce over 4000 yards rushing and over 700 yards receiving in two seasons.
As a freshman at Iowa Hall would produce 897 yards on 186 attempts in their 12 games, good enough for fifth in the Big-12. He started showing a good ability to get involved in the passing game as well, producing 252 yards with an average of 11 yards a reception. In 2020 Hall really burst onto the scene for Iowa. He would lead the Big-12 in seven running back categories, rushing attempts(279),  rushing yards(1572),  rushing touchdowns(21), plays from scrimmage(302), yards from scrimmage(1752),  touchdowns(23), and total points(138). His 1572 yards rushing and 279 attempts also led the nation.
It was very clear that Hall had arrived on the scene and cemented his stance as the top running back for the 2022 class. The combination of power and agility he possesses is second to none. Combine this with NFL-level vision and he is set up for serious production this season out of the Big-12. He should be a preseason Doak Walker Award nominee as well as a possible Heisman nominee. Hall can help you win on the devy side this season and next year he will take your dynasty roster to the next level.
2. Bijan Robinson- Texas, Draft year: 2023
Robinson is a 6-0″, 222 pound monster from Tuscon, Arizona.  247 sports had him ranked as a five-star recruit coming out of Salpointe Catholic High School, as well as the number 1 running back in the nation. While at Salpointe he produced over 7000 yards rushing and over 100 touchdowns in his four years. He produced three 2000 yard seasons in as many years from his sophomore year to senior year. He is more than a rushing threat though as he added over 800 yards receiving and nine touchdowns through the air.
In 2020 he took his talents to Texas where he continued to assert his dominant physical running style on everyone. As a Freshman he would produce 703 yards on 86 carries in nine games, good enough for third in the Big-12. This 8.2 yards per carry led the Big-12 and was good enough for third in the nation, ahead of all the 2021 eligible running backs. He also continued his dual-threat ability adding 196 yards through the air. His six total touchdowns were good enough for fourth on the Texas roster. Sam Ehlinger had eight rushing touchdowns as he was used in the red-zone as a dual-threat.
I can foresee that Robinson will get more chances to add to his Touchdown totals in 2021 as Ehlinger departs for the draft. Also in 2021, I believe Robinson will get the keys to the offense. Texas will most likely game plan around leaning on their star running back, this is good for devy production as well as helping him prepare for NFL success. This is one player you will want to try and acquire as soon as possible as his talent is worth the price of admission.
3. Tank Bigsby- Auburn, Draft year: 2023
Tank is a 6-0″, 210-pound running back who lives up to the name. He is a physical, strong runner who also has quick feet and an ability to make people miss. Playing at Callaway High School in Georgia, Bigsby produced 0ver 2000 yards in 2018 while scoring 22 touchdowns. 247 Sports had him as the fourth-best running back of his class and I have him third in my devy running back rankings.
As a freshman at Auburn, this season Bigsby worked his way into a lead-back role. His vision and overall fluid style of play allowed him to produce 834 yards on a not-so-great offense. This is very impressive considering he was facing top-end SEC defenses. This was also good enough for fifth in the SEC, he would also finish top ten in rush attempts with 138(8th), and rushing yards per attempt with a 6.0 yard per carry average(4th).
Tank should see a large increase in his role in the Auburn offense this upcoming season. He is their best offensive weapon. This is great news if you own him in a devy league as he should be a large part of their offense for two years. He can help your devy team win now and may turn out to be a huge upgrade to your dynasty depth carts come 2023.
4. Jahmyr Gibbs- Georgia Tech, Draft year: 2023
Gibbs may be the most all-around back in this top 5, he is very stout at 5-11″, 200 pounds. Coming out of Datyon, Georgia he produced 4882 yards rushing with 70 touchdowns in high school. He also added 459 yards receiving along with two touchdowns. His senior year he ran for 420 yards and eight touchdowns in three quarters in a blowout win. 247 Sports had him as a 4-star recruit, and fourth in the running back rankings in the 2020 class, a sought-after devy pick.
This year as a freshman at Georgia Tech, Gibbs was able to show off his elite skills in the running game and in the receiving game. He looked noticeably quicker than most of the players, showing off his quick burst and ability to change speeds quickly. Gibbs produced 460 yards on 89 attempts rushing while scoring four touchdowns. The one thing that sets Gibbs apart from a lot of the top running backs is his receiving ability. He would add 303 yards through the air on 24 receptions while adding three touchdowns.
In 2021 I see a huge increase in work for Gibbs, he is much better than any player on the field. Georgia Tech should feature him in the next few seasons creating large amounts of devy production. I may be more excited about his dynasty outlook though, his passing game upside in PPR leagues will create Kamara or Ekeler type numbers. This is someone I want to buy into now before the price gets too high in devy leagues.
5. Isaiah Spiller- Texas A&M, Draft year: 2022
Spiller is a big back at 6-1″, 225 pounds and he plays like it very physical and punishing style of play.  Originally from Spring, Texas, he played at Klein Collins high school. He would produce over 3000 yards rushing there, along with over 400 yards receiving. Coming into college 247 Sports had him ranked as a four-star recruit. Spiller was 12th in the running back rankings and 232nd player in the nation making him a value devy pick.
Since joining the Aggies in 2019 Spiller has finished top 10 in the SEC in rushing yards and rushing touchdowns in both seasons. As a freshman, he ran for 946 yards good enough for ninth in the SEC, while adding 10 touchdowns, which was fifth in the SEC. As a Sophomore this season he rushed for 1036 yards, good enough for third in the SEC. In his two years in the NCAA, he has remained very constant with a 5.4 yards per carry average in 2019 along with a 5.5 yards per carry average in 2020.
In 2021 I would like to see Spiller work on some small running techniques that you can see on film. Hopefully, he can start to run with a touch lower center of gravity to help finish runs harder. This will also help his contact balance which can be an issue at times. Improving his patience and vision will only help him as well. With Mond leaving for the NFL Draft, I can see Spiller being a focal point in the Aggies offense next season. This should produce solid devy numbers along with helping us see if he has what it takes to be effective at the next level.

Full Top 20 Devy Running Back Rankings
This concludes the top five running backs in college football. You will want to remember these names as Saturdays roll around this fall, as you'll want to keep a close eye on these future stars! Below you can see the rest of the top 20 ranked running backs, along with their school and draft year.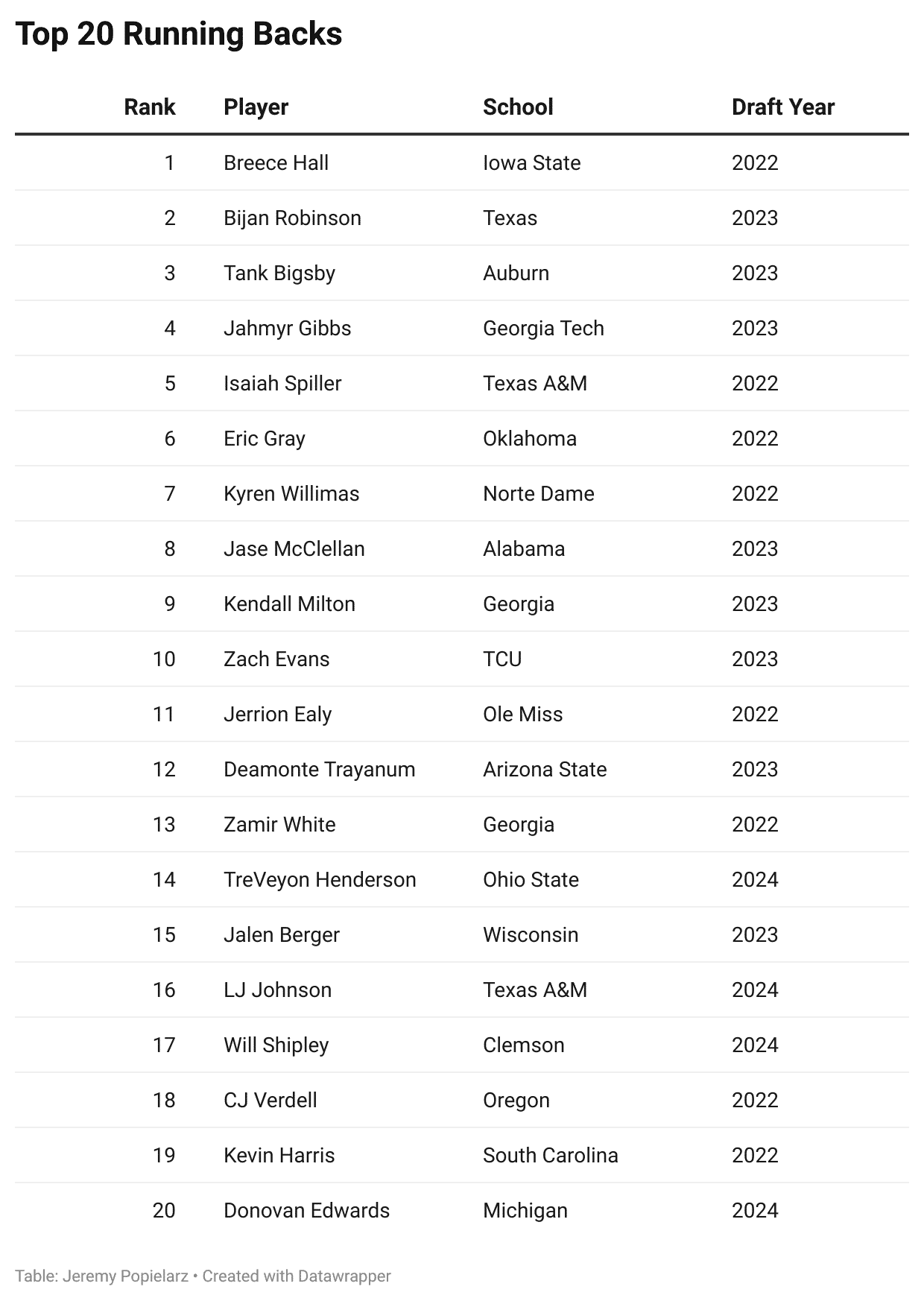 RELATED CONTENT
Fantasy Football Dynasty Trade Value Chart – March 2021 Update
FFPC Best Ball Draft 2.0 (Ep. 967)
First SGPN FFPC Best Ball Draft Analysis