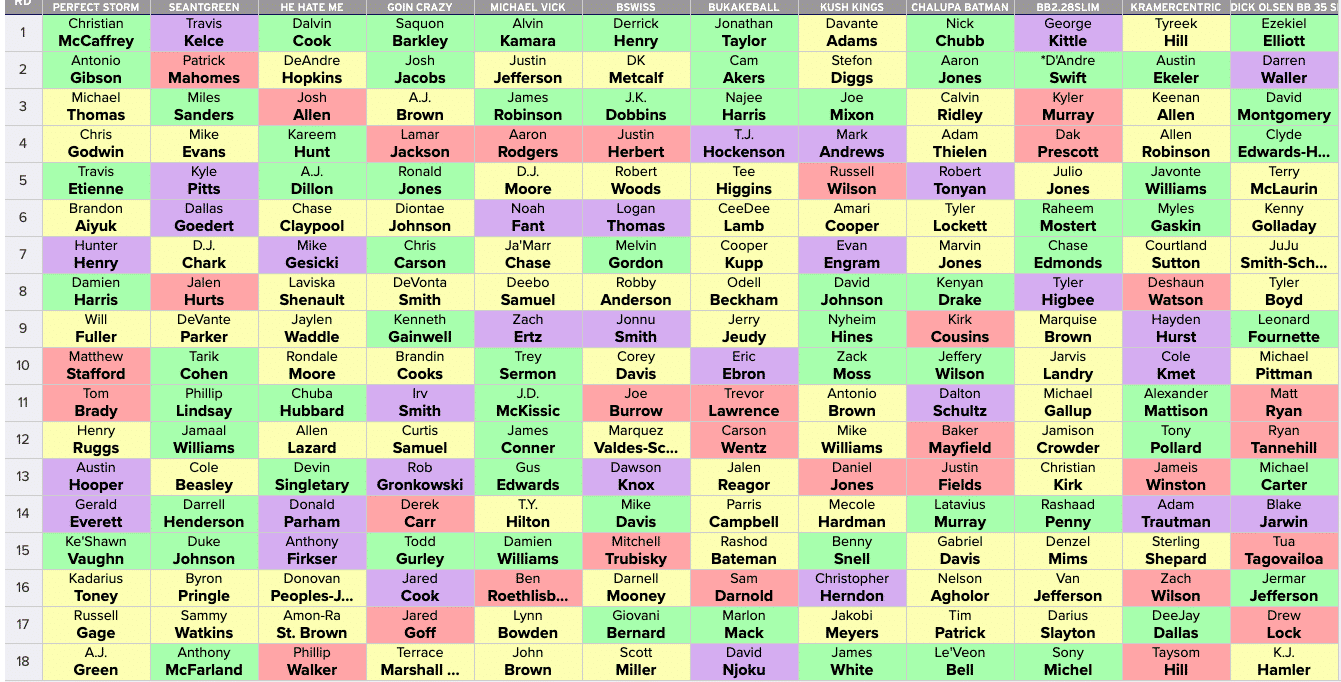 Ladies and gentlemen, it is that time of year again. March is here and that means we are only six months away from the start of the NFL season. That means it is time to start prepping for your fantasy football season. Best ball leagues are drafting now and the only place to play really is at FFPC in one of their $35 best-ball leagues. Like Kramer always says, you can do a mock draft that no one cares about or your can get down for money and improve your season-long strategy. This FFPC best ball draft may be the earliest in SGPN history and we have to look at how #DegenNation did drafting prior to the draft and free agency.

FFPC Best-Ball Draft Basics
The basics of an FFPC best-ball contest are pretty simple. First, you draft a roster of players, for this exercise, it was 18-man rosters, 1 QB, 2 RB, 2 WR, 1 TE, and 2 FLEX start each week from your roster, and the best score at the end of the season wins. Scoring is standard, except for a premium on tight end receptions at 1.5 PPR. With such a premium on tight ends and the need to play for upside, you can get some weird picks happening. Looking at how Degen Nation ran their best ball draft there are some things you should copy. And also some things to avoid like the plague.
$25 OFF ANY FFPC ENTRY! PROMO CODE SGP
The Early Rounds
Like many drafts, the early rounds of the SGPN best ball draft were loaded with running backs. Surprisingly, there was never a heavy pivot to wide receivers despite FFPC utilizing PPR scoring. This was confusing as a target-monster like Stefon Diggs falling into the second round behind guys like Darren Waller, Aaron Jones, and Austin Ekeler. Sure, Waller, Jones, and Ekeler all had solid 2020 seasons and seem primed for a repeat. However, all three of those players are in uncertain situations.
With Waller, will the Raiders be able to target him as heavily as they did in 2020? He may finish as a top-five tight end, but there were better picks available at 2.01. Austin Ekeler has another new coaching staff coming into Los Angeles and with a rookie in Josh Kelley and several other backs in the fold, could Ekeler see a diminished role? Lastly, Aaron Jones is a free agent and with Green Bay up against the cap, there is a chance he does not return. Will he be as productive in a new system? Maybe, but 2.04 seems early to take a chance on him with better players still available.
https://twitter.com/brgridiron/status/1338185932391014408
A best ball draft is all about hitting on guys who will win you weeks and have several "boom weeks." The steal of the first three rounds has to be David Montgomery. After the bye week, Monty averaged 25.7 PPR points per game. That absolutely blistering pace may not be possible to hold, but he still finished as RB04 in 2020. Any back who gets that kind of usage and produces at an absolutely elite level should be a top-20 pick. Instead, Degen Nation waited until pick 36 to take him. Well done Mr. Olsen.
The riskiest pick of the early rounds was without a doubt Najee Harris. Rookie running backs are notoriously dependent upon their situation to establish value. Clyde Edwards-Helaire was not highly-regarded as a fantasy player until the Chiefs picked him. Harris could be a breakout star. He could also end up in a timeshare where he fails to get enough work to be worth his 3.07 draft position.
Middle Round Slog
It is possible to have success in best ball by going heavy on the running back position early. Almost no position has as much week-to-week volatility as wide receiver. In a best ball draft, you could pick up two running backs early. Then later, start a run on mid-tier receivers who could blow up in a given week. After going light on the receivers in the first three rounds, the SGPN draft took a hard run after wide receivers and tight ends. Sean Green went all-in on his tight end-heavy strategy picking three in the first six rounds. Kyle Pitts and Dallas Goedert provide some nice boom-bust options next to the ever-reliable Travis Kelce.
Alabama's Jaylen Waddle
5'10" 175
-Elite speed meets elite ball skills
-Waddle stacks with ease and deletes any kind of angle a defender might have.
-Great hands and is shifty as they come
-Was on a historic pace prior to his ankle injury https://t.co/7lsndPIt6P pic.twitter.com/fOIkQ7zRZ0

— Chris Mallee (@mallee_chris_24) February 25, 2021
The middle rounds also provided a heavier investment in talented rookies who folks believe will produce regardless of their situation. Jaylen Waddle was an absolute monster at Alabama and figures to have an incredibly pro-ready game. Recent years have shown that talented rookies can go out and perform. Players like CeeDee Lamb, Tee Higgins, and Justin Jefferson put up ridiculous numbers when they landed in the right situation. Waddle could be that player in 2021 and there are several great spots for him to land. He has the talent to be a WR1 and could make that happen in the right situation, an absolute heist at 9.03.
So FFPC is a tight end premium scoring system, but sometimes you do not need to reach for a tight end. Unfortunately, the Degen picking at 9.05 missed that memo and picked Zach Ertz. Ertz has only played a full 16 games once since 2014 and is now on the wrong side of 30. Additionally, he is in line to potentially be a cap casualty. Sure, he is one year removed from five straight 100+ target seasons, but he will not be on another team completely devoid of receiving talent. Add in a high likelihood of missing games and that is a recipe for disaster for anyone relying on Ertz.
Late Round Lottery Tickets
In a best ball draft, it is even more important than in a standard draft to take shots at lottery ticket players. These are guys who need a few things to break right to be an absolute breakout year. These are your out of nowhere veterans who get hot for three weeks and dark horse rookies who break out late in the season and carry you to glory. This draft happened the day before the Vikings released Kyle Rudolph. This means that Irv Smith was criminally under drafted. Going at pick 11.04, Smith is likely to close in on the 100 target mark with Rudolph no longer in the fold. This could have him in the top half of the top-ten tight ends. As always, getting value like that in the 11th Round is a league-winning move.
Sure, Cole Beasley may have finished 2020 as WR27. However, he was someone who went for more than 100 yards five times and had double-digit targets five times. Of his 107 total targets, Beasley finished with 82 catches and just shy of 1000 yards. In best ball you are looking for guys who go off in a big way a few times per year. Beasley is that kind of guy and an absolute steal at pick 13.02.
donald parham, tall human@Jiggydd_49 | #BoltUp pic.twitter.com/b79MRuPe7m

— Los Angeles Chargers (@chargers) October 4, 2020
As of now, the Chargers are on track to lose both Hunter Henry and Virgil Green. They do have about $31 million in cap space but have many more pressing issues than at tight end. This could leave the door open for XFL superstar Donal Parham. Parham carved out a nice role for himself over the Chargers' last two games and could have done enough to earn himself the starting job. At 6-8 Parham would be an absolute matchup nightmare for defenses. After you add in the bevy of offensive weapons the Chargers are running out and Parham will be facing soft coverages all year. Parham has top-ten upside and may end up being the steal of this best ball draft at pick 14.10.

RELATED CONTENT
FFPC Best Ball Draft (Ep. 962)
Best Ball Fantasy Football Strategies
Fantasy Football Hits And Misses + 2021 League Winners (Ep. 959)
Full FFPC Best Ball Draft
| Overall Pick | Draft Round | Round Pick | Team Name | Last Name | First Name | Position | Team |
| --- | --- | --- | --- | --- | --- | --- | --- |
| 1 | 1 | 1 | Perfect Storm | McCaffrey | Christian | RB | CAR |
| 2 | 1 | 2 | SeanTGreen | Kelce | Travis | TE | KC |
| 3 | 1 | 3 | He Hate Me | Cook | Dalvin | RB | MIN |
| 4 | 1 | 4 | Goin Crazy | Barkley | Saquon | RB | NYG |
| 5 | 1 | 5 | Michael Vick | Kamara | Alvin | RB | NO |
| 6 | 1 | 6 | BSwiss | Henry | Derrick | RB | TEN |
| 7 | 1 | 7 | Bukakeball | Taylor | Jonathan | RB | IND |
| 8 | 1 | 8 | Kush Kings | Adams | Davante | WR | GB |
| 9 | 1 | 9 | Chalupa Batman | Chubb | Nick | RB | CLE |
| 10 | 1 | 10 | BB2.28slim | Kittle | George | TE | SF |
| 11 | 1 | 11 | KramerCentric | Hill | Tyreek | WR | KC |
| 12 | 1 | 12 | Dick Olsen BB 35 Slim | Elliott | Ezekiel | RB | DAL |
| 13 | 2 | 1 | Dick Olsen BB 35 Slim | Waller | Darren | TE | LV |
| 14 | 2 | 2 | KramerCentric | Ekeler | Austin | RB | LAC |
| 15 | 2 | 3 | BB2.28slim | Swift | D'Andre | RB | DET |
| 16 | 2 | 4 | Chalupa Batman | Jones | Aaron | RB | GB |
| 17 | 2 | 5 | Kush Kings | Diggs | Stefon | WR | BUF |
| 18 | 2 | 6 | Bukakeball | Akers | Cam | RB | LAR |
| 19 | 2 | 7 | BSwiss | Metcalf | DK | WR | SEA |
| 20 | 2 | 8 | Michael Vick | Jefferson | Justin | WR | MIN |
| 21 | 2 | 9 | Goin Crazy | Jacobs | Josh | RB | LV |
| 22 | 2 | 10 | He Hate Me | Hopkins | DeAndre | WR | ARI |
| 23 | 2 | 11 | SeanTGreen | Mahomes | Patrick | QB | KC |
| 24 | 2 | 12 | Perfect Storm | Gibson | Antonio | RB | WAS |
| 25 | 3 | 1 | Perfect Storm | Thomas | Michael | WR | NO |
| 26 | 3 | 2 | SeanTGreen | Sanders | Miles | RB | PHI |
| 27 | 3 | 3 | He Hate Me | Allen | Josh | QB | BUF |
| 28 | 3 | 4 | Goin Crazy | Brown | A.J. | WR | TEN |
| 29 | 3 | 5 | Michael Vick | Robinson | James | RB | JAC |
| 30 | 3 | 6 | BSwiss | Dobbins | J.K. | RB | BAL |
| 31 | 3 | 7 | Bukakeball | Harris | Najee | RB | FA |
| 32 | 3 | 8 | Kush Kings | Mixon | Joe | RB | CIN |
| 33 | 3 | 9 | Chalupa Batman | Ridley | Calvin | WR | ATL |
| 34 | 3 | 10 | BB2.28slim | Murray | Kyler | QB | ARI |
| 35 | 3 | 11 | KramerCentric | Allen | Keenan | WR | LAC |
| 36 | 3 | 12 | Dick Olsen BB 35 Slim | Montgomery | David | RB | CHI |
| 37 | 4 | 1 | Dick Olsen BB 35 Slim | Edwards-Helaire | Clyde | RB | KC |
| 38 | 4 | 2 | KramerCentric | Robinson | Allen | WR | CHI |
| 39 | 4 | 3 | BB2.28slim | Prescott | Dak | QB | DAL |
| 40 | 4 | 4 | Chalupa Batman | Thielen | Adam | WR | MIN |
| 41 | 4 | 5 | Kush Kings | Andrews | Mark | TE | BAL |
| 42 | 4 | 6 | Bukakeball | Hockenson | T.J. | TE | DET |
| 43 | 4 | 7 | BSwiss | Herbert | Justin | QB | LAC |
| 44 | 4 | 8 | Michael Vick | Rodgers | Aaron | QB | GB |
| 45 | 4 | 9 | Goin Crazy | Jackson | Lamar | QB | BAL |
| 46 | 4 | 10 | He Hate Me | Hunt | Kareem | RB | CLE |
| 47 | 4 | 11 | SeanTGreen | Evans | Mike | WR | TB |
| 48 | 4 | 12 | Perfect Storm | Godwin | Chris | WR | TB |
| 49 | 5 | 1 | Perfect Storm | Etienne | Travis | RB | FA |
| 50 | 5 | 2 | SeanTGreen | Pitts | Kyle | TE | FA |
| 51 | 5 | 3 | He Hate Me | Dillon | A.J. | RB | GB |
| 52 | 5 | 4 | Goin Crazy | Jones | Ronald | RB | TB |
| 53 | 5 | 5 | Michael Vick | Moore | D.J. | WR | CAR |
| 54 | 5 | 6 | BSwiss | Woods | Robert | WR | LAR |
| 55 | 5 | 7 | Bukakeball | Higgins | Tee | WR | CIN |
| 56 | 5 | 8 | Kush Kings | Wilson | Russell | QB | SEA |
| 57 | 5 | 9 | Chalupa Batman | Tonyan | Robert | TE | GB |
| 58 | 5 | 10 | BB2.28slim | Jones | Julio | WR | ATL |
| 59 | 5 | 11 | KramerCentric | Williams | Javonte | RB | FA |
| 60 | 5 | 12 | Dick Olsen BB 35 Slim | McLaurin | Terry | WR | WAS |
| 61 | 6 | 1 | Dick Olsen BB 35 Slim | Golladay | Kenny | WR | DET |
| 62 | 6 | 2 | KramerCentric | Gaskin | Myles | RB | MIA |
| 63 | 6 | 3 | BB2.28slim | Mostert | Raheem | RB | SF |
| 64 | 6 | 4 | Chalupa Batman | Lockett | Tyler | WR | SEA |
| 65 | 6 | 5 | Kush Kings | Cooper | Amari | WR | DAL |
| 66 | 6 | 6 | Bukakeball | Lamb | CeeDee | WR | DAL |
| 67 | 6 | 7 | BSwiss | Thomas | Logan | TE | WAS |
| 68 | 6 | 8 | Michael Vick | Fant | Noah | TE | DEN |
| 69 | 6 | 9 | Goin Crazy | Johnson | Diontae | WR | PIT |
| 70 | 6 | 10 | He Hate Me | Claypool | Chase | WR | PIT |
| 71 | 6 | 11 | SeanTGreen | Goedert | Dallas | TE | PHI |
| 72 | 6 | 12 | Perfect Storm | Aiyuk | Brandon | WR | SF |
| 73 | 7 | 1 | Perfect Storm | Henry | Hunter | TE | LAC |
| 74 | 7 | 2 | SeanTGreen | Chark | D.J. | WR | JAC |
| 75 | 7 | 3 | He Hate Me | Gesicki | Mike | TE | MIA |
| 76 | 7 | 4 | Goin Crazy | Carson | Chris | RB | SEA |
| 77 | 7 | 5 | Michael Vick | Chase | Ja'Marr | WR | FA |
| 78 | 7 | 6 | BSwiss | Gordon | Melvin | RB | DEN |
| 79 | 7 | 7 | Bukakeball | Kupp | Cooper | WR | LAR |
| 80 | 7 | 8 | Kush Kings | Engram | Evan | TE | NYG |
| 81 | 7 | 9 | Chalupa Batman | Jones | Marvin | WR | DET |
| 82 | 7 | 10 | BB2.28slim | Edmonds | Chase | RB | ARI |
| 83 | 7 | 11 | KramerCentric | Sutton | Courtland | WR | DEN |
| 84 | 7 | 12 | Dick Olsen BB 35 Slim | Smith-Schuster | JuJu | WR | PIT |
| 85 | 8 | 1 | Dick Olsen BB 35 Slim | Boyd | Tyler | WR | CIN |
| 86 | 8 | 2 | KramerCentric | Watson | Deshaun | QB | HOU |
| 87 | 8 | 3 | BB2.28slim | Higbee | Tyler | TE | LAR |
| 88 | 8 | 4 | Chalupa Batman | Drake | Kenyan | RB | ARI |
| 89 | 8 | 5 | Kush Kings | Johnson | David | RB | HOU |
| 90 | 8 | 6 | Bukakeball | Beckham | Odell | WR | CLE |
| 91 | 8 | 7 | BSwiss | Anderson | Robby | WR | CAR |
| 92 | 8 | 8 | Michael Vick | Samuel | Deebo | WR | SF |
| 93 | 8 | 9 | Goin Crazy | Smith | DeVonta | WR | FA |
| 94 | 8 | 10 | He Hate Me | Shenault | Laviska | WR | JAC |
| 95 | 8 | 11 | SeanTGreen | Hurts | Jalen | QB | PHI |
| 96 | 8 | 12 | Perfect Storm | Harris | Damien | RB | NE |
| 97 | 9 | 1 | Perfect Storm | Fuller | Will | WR | HOU |
| 98 | 9 | 2 | SeanTGreen | Parker | DeVante | WR | MIA |
| 99 | 9 | 3 | He Hate Me | Waddle | Jaylen | WR | FA |
| 100 | 9 | 4 | Goin Crazy | Gainwell | Kenneth | RB | FA |
| 101 | 9 | 5 | Michael Vick | Ertz | Zach | TE | PHI |
| 102 | 9 | 6 | BSwiss | Smith | Jonnu | TE | TEN |
| 103 | 9 | 7 | Bukakeball | Jeudy | Jerry | WR | DEN |
| 104 | 9 | 8 | Kush Kings | Hines | Nyheim | RB | IND |
| 105 | 9 | 9 | Chalupa Batman | Cousins | Kirk | QB | MIN |
| 106 | 9 | 10 | BB2.28slim | Brown | Marquise | WR | BAL |
| 107 | 9 | 11 | KramerCentric | Hurst | Hayden | TE | ATL |
| 108 | 9 | 12 | Dick Olsen BB 35 Slim | Fournette | Leonard | RB | TB |
| 109 | 10 | 1 | Dick Olsen BB 35 Slim | Pittman | Michael | WR | IND |
| 110 | 10 | 2 | KramerCentric | Kmet | Cole | TE | CHI |
| 111 | 10 | 3 | BB2.28slim | Landry | Jarvis | WR | CLE |
| 112 | 10 | 4 | Chalupa Batman | Wilson | Jeffery | RB | SF |
| 113 | 10 | 5 | Kush Kings | Moss | Zack | RB | BUF |
| 114 | 10 | 6 | Bukakeball | Ebron | Eric | TE | PIT |
| 115 | 10 | 7 | BSwiss | Davis | Corey | WR | TEN |
| 116 | 10 | 8 | Michael Vick | Sermon | Trey | RB | FA |
| 117 | 10 | 9 | Goin Crazy | Cooks | Brandin | WR | HOU |
| 118 | 10 | 10 | He Hate Me | Moore | Rondale | WR | FA |
| 119 | 10 | 11 | SeanTGreen | Cohen | Tarik | RB | CHI |
| 120 | 10 | 12 | Perfect Storm | Stafford | Matthew | QB | DET |
| 121 | 11 | 1 | Perfect Storm | Brady | Tom | QB | TB |
| 122 | 11 | 2 | SeanTGreen | Lindsay | Phillip | RB | DEN |
| 123 | 11 | 3 | He Hate Me | Hubbard | Chuba | RB | FA |
| 124 | 11 | 4 | Goin Crazy | Smith | Irv | TE | MIN |
| 125 | 11 | 5 | Michael Vick | McKissic | J.D. | RB | WAS |
| 126 | 11 | 6 | BSwiss | Burrow | Joe | QB | CIN |
| 127 | 11 | 7 | Bukakeball | Lawrence | Trevor | QB | FA |
| 128 | 11 | 8 | Kush Kings | Brown | Antonio | WR | TB |
| 129 | 11 | 9 | Chalupa Batman | Schultz | Dalton | TE | DAL |
| 130 | 11 | 10 | BB2.28slim | Gallup | Michael | WR | DAL |
| 131 | 11 | 11 | KramerCentric | Mattison | Alexander | RB | MIN |
| 132 | 11 | 12 | Dick Olsen BB 35 Slim | Ryan | Matt | QB | ATL |
| 133 | 12 | 1 | Dick Olsen BB 35 Slim | Tannehill | Ryan | QB | TEN |
| 134 | 12 | 2 | KramerCentric | Pollard | Tony | RB | DAL |
| 135 | 12 | 3 | BB2.28slim | Crowder | Jamison | WR | NYJ |
| 136 | 12 | 4 | Chalupa Batman | Mayfield | Baker | QB | CLE |
| 137 | 12 | 5 | Kush Kings | Williams | Mike | WR | LAC |
| 138 | 12 | 6 | Bukakeball | Wentz | Carson | QB | PHI |
| 139 | 12 | 7 | BSwiss | Valdes-Scantling | Marquez | WR | GB |
| 140 | 12 | 8 | Michael Vick | Conner | James | RB | PIT |
| 141 | 12 | 9 | Goin Crazy | Samuel | Curtis | WR | CAR |
| 142 | 12 | 10 | He Hate Me | Lazard | Allen | WR | GB |
| 143 | 12 | 11 | SeanTGreen | Williams | Jamaal | RB | GB |
| 144 | 12 | 12 | Perfect Storm | Ruggs | Henry | WR | LV |
| 145 | 13 | 1 | Perfect Storm | Hooper | Austin | TE | CLE |
| 146 | 13 | 2 | SeanTGreen | Beasley | Cole | WR | BUF |
| 147 | 13 | 3 | He Hate Me | Singletary | Devin | RB | BUF |
| 148 | 13 | 4 | Goin Crazy | Gronkowski | Rob | TE | TB |
| 149 | 13 | 5 | Michael Vick | Edwards | Gus | RB | BAL |
| 150 | 13 | 6 | BSwiss | Knox | Dawson | TE | BUF |
| 151 | 13 | 7 | Bukakeball | Reagor | Jalen | WR | PHI |
| 152 | 13 | 8 | Kush Kings | Jones | Daniel | QB | NYG |
| 153 | 13 | 9 | Chalupa Batman | Fields | Justin | QB | FA |
| 154 | 13 | 10 | BB2.28slim | Kirk | Christian | WR | ARI |
| 155 | 13 | 11 | KramerCentric | Winston | Jameis | QB | NO |
| 156 | 13 | 12 | Dick Olsen BB 35 Slim | Carter | Michael | RB | FA |
| 157 | 14 | 1 | Dick Olsen BB 35 Slim | Jarwin | Blake | TE | DAL |
| 158 | 14 | 2 | KramerCentric | Trautman | Adam | TE | NO |
| 159 | 14 | 3 | BB2.28slim | Penny | Rashaad | RB | SEA |
| 160 | 14 | 4 | Chalupa Batman | Murray | Latavius | RB | NO |
| 161 | 14 | 5 | Kush Kings | Hardman | Mecole | WR | KC |
| 162 | 14 | 6 | Bukakeball | Campbell | Parris | WR | IND |
| 163 | 14 | 7 | BSwiss | Davis | Mike | RB | CAR |
| 164 | 14 | 8 | Michael Vick | Hilton | T.Y. | WR | IND |
| 165 | 14 | 9 | Goin Crazy | Carr | Derek | QB | LV |
| 166 | 14 | 10 | He Hate Me | Parham | Donald | TE | LAC |
| 167 | 14 | 11 | SeanTGreen | Henderson | Darrell | RB | LAR |
| 168 | 14 | 12 | Perfect Storm | Everett | Gerald | TE | LAR |
| 169 | 15 | 1 | Perfect Storm | Vaughn | Ke'Shawn | RB | TB |
| 170 | 15 | 2 | SeanTGreen | Johnson | Duke | RB | HOU |
| 171 | 15 | 3 | He Hate Me | Firkser | Anthony | TE | TEN |
| 172 | 15 | 4 | Goin Crazy | Gurley | Todd | RB | ATL |
| 173 | 15 | 5 | Michael Vick | Williams | Damien | RB | KC |
| 174 | 15 | 6 | BSwiss | Trubisky | Mitchell | QB | CHI |
| 175 | 15 | 7 | Bukakeball | Bateman | Rashod | WR | FA |
| 176 | 15 | 8 | Kush Kings | Snell | Benny | RB | PIT |
| 177 | 15 | 9 | Chalupa Batman | Davis | Gabriel | WR | BUF |
| 178 | 15 | 10 | BB2.28slim | Mims | Denzel | WR | NYJ |
| 179 | 15 | 11 | KramerCentric | Shepard | Sterling | WR | NYG |
| 180 | 15 | 12 | Dick Olsen BB 35 Slim | Tagovailoa | Tua | QB | MIA |
| 181 | 16 | 1 | Dick Olsen BB 35 Slim | Jefferson | Jermar | RB | FA |
| 182 | 16 | 2 | KramerCentric | Wilson | Zach | QB | FA |
| 183 | 16 | 3 | BB2.28slim | Jefferson | Van | WR | LAR |
| 184 | 16 | 4 | Chalupa Batman | Agholor | Nelson | WR | LV |
| 185 | 16 | 5 | Kush Kings | Herndon | Christopher | TE | NYJ |
| 186 | 16 | 6 | Bukakeball | Darnold | Sam | QB | NYJ |
| 187 | 16 | 7 | BSwiss | Mooney | Darnell | WR | CHI |
| 188 | 16 | 8 | Michael Vick | Roethlisberger | Ben | QB | PIT |
| 189 | 16 | 9 | Goin Crazy | Cook | Jared | TE | NO |
| 190 | 16 | 10 | He Hate Me | Peoples-Jones | Donovan | WR | CLE |
| 191 | 16 | 11 | SeanTGreen | Pringle | Byron | WR | KC |
| 192 | 16 | 12 | Perfect Storm | Toney | Kadarius | WR | FA |
| 193 | 17 | 1 | Perfect Storm | Gage | Russell | WR | ATL |
| 194 | 17 | 2 | SeanTGreen | Watkins | Sammy | WR | KC |
| 195 | 17 | 3 | He Hate Me | St. Brown | Amon-Ra | WR | FA |
| 196 | 17 | 4 | Goin Crazy | Goff | Jared | QB | LAR |
| 197 | 17 | 5 | Michael Vick | Bowden | Lynn | WR | MIA |
| 198 | 17 | 6 | BSwiss | Bernard | Giovani | RB | CIN |
| 199 | 17 | 7 | Bukakeball | Mack | Marlon | RB | IND |
| 200 | 17 | 8 | Kush Kings | Meyers | Jakobi | WR | NE |
| 201 | 17 | 9 | Chalupa Batman | Patrick | Tim | WR | DEN |
| 202 | 17 | 10 | BB2.28slim | Slayton | Darius | WR | NYG |
| 203 | 17 | 11 | KramerCentric | Dallas | DeeJay | RB | SEA |
| 204 | 17 | 12 | Dick Olsen BB 35 Slim | Lock | Drew | QB | DEN |
| 205 | 18 | 1 | Dick Olsen BB 35 Slim | Hamler | K.J. | WR | DEN |
| 206 | 18 | 2 | KramerCentric | Hill | Taysom | QB | NO |
| 207 | 18 | 3 | BB2.28slim | Michel | Sony | RB | NE |
| 208 | 18 | 4 | Chalupa Batman | Bell | Le'Veon | RB | KC |
| 209 | 18 | 5 | Kush Kings | White | James | RB | NE |
| 210 | 18 | 6 | Bukakeball | Njoku | David | TE | CLE |
| 211 | 18 | 7 | BSwiss | Miller | Scott | WR | TB |
| 212 | 18 | 8 | Michael Vick | Brown | John | WR | BUF |
| 213 | 18 | 9 | Goin Crazy | Marshall Jr. | Terrace | WR | FA |
| 214 | 18 | 10 | He Hate Me | Walker | Phillip | QB | CAR |
| 215 | 18 | 11 | SeanTGreen | McFarland | Anthony | RB | PIT |
| 216 | 18 | 12 | Perfect Storm | Green | A.J. | WR | CIN |