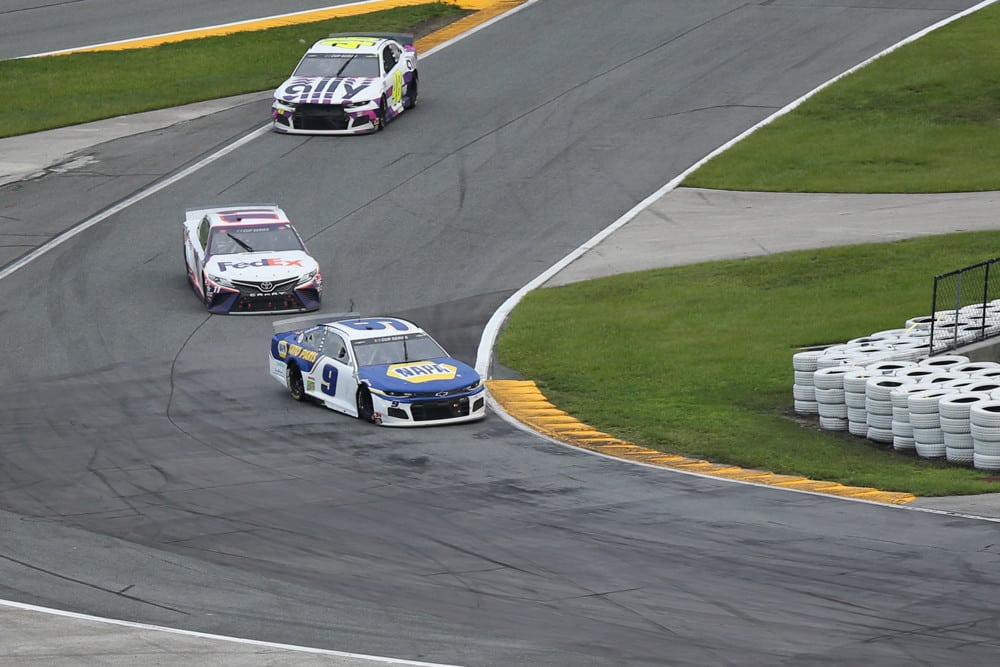 After a thrilling late-night finish, NASCAR stays at Daytona International Speedway to take on the road course layout with the O'Reilly Auto Parts 253 on the demanding 3.61-mile track. It provides another exciting opportunity to get involved with NASCAR DraftKings.
Here are all the important stats and picks you'll need to help you with your DraftKings lineups.
Key O'Reilly Auto Parts 253 Stats
Top 5 Average Finish – All Road Courses (Since 2017)
Chase Elliott – 6.8
Denny Hamlin – 8.5
Martin Truex Jr. – 8.7
Kevin Harvick – 8.9
Alex Bowman – 9.3
Top 5 Laps Led Leaders – All Road Courses (Since 2017)
Chase Elliott – 244 Laps
Martin Truex Jr. – 193 Laps
Kevin Harvick – 93 Laps
Brad Keselowski – 77 Laps
William Byron – 71 Laps
Top 5 Stage Point Leaders – All Road Courses (Since 2017)
Chase Elliott – 105 Points
Martin Truex Jr. – 86 Points
Denny Hamlin – 80 Points
Brad Keselowski – 70 Points
Ryan Blaney – 67 Points
O'Reilly Auto Parts 253 NASCAR DraftKings Picks
Chase Elliott – $10,700
Even with his differential points upside capped as the pole sitter, there's no reason why Chase Elliott shouldn't be the most expensive driver in DraftKings. He leads all drivers in all road course categories. He's won the last four road course races on the NASCAR schedule and had one of the fastest cars at this year's Busch Clash. Even without the differential upside, he should lead a ton of laps to make up for the difference. Don't overthink it. Play Chase Elliott in DFS this week.
Alex Bowman – $9,000
Many wouldn't think of Alex Bowman as a road course ringer. But he's continually produced solid finishes at road courses. Bowman has never finished lower than 14th at any road course he's come to. He also has five Top 10's in 9 attempts. Bowman starts 36th in the field and should have no problem improving his position for positional and differential points.
William Byron – $8,800
It seems like the entire Hendrick team has these road courses figured out. William Byron has three straight Top 10 finishes at road course races. He also led 50 laps combined at the last two Charlotte Roval races, which is essentially a smaller version of the Daytona road course track. Like his teammate, Byron should have no problems weaving his way up the leaderboard for positional and differential points. Byron is the kind of reliable driver you want in your NASCAR DraftKings lineup.
Aric Almirola – $7,900
Aric Almirola is certainly not the flashiest name on a road course, but he can be a useful piece of a DFS lineup this week. Since joining Stewart Haas Racing, Almirola has finished outside the Top 20 at a road course only twice. Almirola starts 26th on Sunday and has an opportunity for solid returns with differential points.
Tyler Reddick – $7,500
Over the years, Tyler Reddick has improved as a road course racer. In his final year in the Xfinity Series, Reddick finished inside the Top 5 in all four road course races. He finished 12th and 18th in both road course races in his rookie season and finished 4th in the most recent Busch Clash on the Daytona Road Course. Reddick starts 24th on Sunday, and can easily improve upon that by the end of the race.
Daniel Suarez – $5,700
Daniel Suarez is for those with a relatively expensive lineup and who are looking for a cheap driver to put up net positive points. Despite equipment limitations, Suarez starts deep in the field and has the road course talent to at least improve on his starting position. In both road course races last season for Gaunt Brothers Racing, Suarez improved 15 spots total from his starting spot. There are also several weak drivers starting ahead of him that he should be able to finish ahead of. For those with limited budgets for their final slot, Suarez is a decent option. His low price-point and high-upside make him a great end-of-lineup add to bolster your NASCAR DraftKings entry.
RELATED CONTENT
2021 NASCAR Season Preview and Championship Picks
Daytona 500 DFS: NASCAR DraftKings Picks
Scotties Tournament of Hearts – Curling Odds and Picks
Avalanche vs. Golden Knights At Lake Tahoe: Odds, Trends, And Best Bets