We are officially halfway through what seems like the longest week in the history of the world but don't fear everyone, playoff football is just 3 days away. It has been fun to watch the fantasy football world start to really pick up steam in regards to these playoff contests. The FFPC Playoff Challenge (link to sign up below) already has both its $200 and $35 contests more than halfway full. The Playoff Bestball contest "The Gauntlet" over at Underdog Fantasy filled up on Tuesday night (they have since released a $5 contest called "The Mitten"). And if the playoff-long stuff wasn't enough, DraftKings has TWO SEPARATE Milly Maker contests this weekend for each of the 3-game wild card slates. The excitement in the air is palpable and I cannot wait for these games to kick off on Saturday morning.
Enter the FFPC Playoff Challenge For Only $200!
Today, we are going to dive into part 3 of our FFPC Playoff Challenge Strategy Series. Here are the links to the first two parts of the series, for those of you who may have missed them.
I'm not going to recap where we currently stand with our lineup construction, so I would encourage you to just peruse the previous articles to help get a feel for where we are at heading into Part 3. As with the previous two versions, I got most of my raw data from @FantasyMojo.
This is going to be the most important section because we are going to be talking about the money-making skill positions of Running Back, Wide Receiver, and Tight End (who *spoiler alert* is not so Premium). I am going to try and guide us through where the best leverage spots are this year, and talk about which position we want to target on teams that we think can make the Super Bowl. As I talked about in the podcast with Ryan and Sean on Monday, it's important to fill out your playoff bracket and then craft your lineup around how you think the games will play out. This analysis should help you focus on which players to target based on how you think the outcomes of the games will go.
RELATED CONTENT
FFPC Playoff Challenge – Strategy Session Part 1: Kickers & Defenses
FFPC Playoff Challenge – Strategy Session Part 2: Quarterbacks and FLEX Position
FFPC Playoff Challenge Picks – Sports Gambling Podcast (Ep. 934)
FFPC Playoff Challenge – Strategy Session Part 3
Leverage is Key, where do we Find It?
Hopefully, everyone has a feel for the variance/range-of-outcomes concept, but if not, we will take a look at the most extreme example from last season. The San Francisco 49ers had locked in the #1 seed, and not a lot of their skill position players were creating much buzz coming into the playoffs. As such, Jimmy Garoppolo went basically unowned, and George Kittle was incredibly chalky (77% owned) compared to Raheem Mostert (9.8%) and Deebo Samuel (5.9%). This should have been a warning sign since football is an incredibly high-variance sport, and fantasy players rely on extremely small sample sizes to try and predict outcomes.
When the dust settled after Super Bowl 54, George Kittle was merely the 6th highest scoring player on his own team (28.7 pts), behind Mostert (80.4), Deebo (47.1), Robbie Gould (46.1), Jimmy G (39.7), and Tevin Coleman (32.8). I'm not saying that we should have been able to predict that George Kittle was going to get outscored by his kicker and backup running back, but I know for certain nobody would have been confident enough to say that 77% of the time Kittle was going to be the highest scorer on his team (which is what you are basically saying if you roster him at that ownership).
This high variance can help us lead right into some sweet leverage spots. I mentioned it at the beginning of the Part 2 article, but let's use some real numbers this time to talk about leverage. Since Kittle was so highly owned and then proceeded to get outperformed by his teammates (from a fantasy perspective), it put extreme pressure on the rest of the players rostered in Kittle lineups. The highest Kittle lineup finished 33rd last season and had to hit on 6 of the remaining 7 skill positions perfectly (meaning they selected the optimal skill player from 6 other teams). Meanwhile, the Raheem Mostert lineup that finished right above him in 32nd place was able to get away with rostering 3 sub-optimal players in their lineup (Aaron Jones, Mark Ingram, and Michael Thomas).
Looking at it through a different lens, only 4 of the 4997 George Kittle lineups placed in the Top 100 last season, equal to 0.08%. Meanwhile 85 of the 636 Raheem Mostert lineups cashed inside the Top 100 (13%). As I said, this is one of the most extreme examples of variance and leverage, but it is a great way to help illustrate these concepts through real results on the field.
Leverage Spots in the 2020-21 Playoffs
Based on this theory of variance, I wanted to dive into whether the teams who go farther in the playoffs provide more leverage options vs teams that get knocked out early. Here is a chart showing how these chalky players did relative to expectation in the Top 100 finishers over the last two seasons. Because we want our position players to be on teams who will be playing on Divisional Weekend, I did not consider players who lost in the Wild Card round.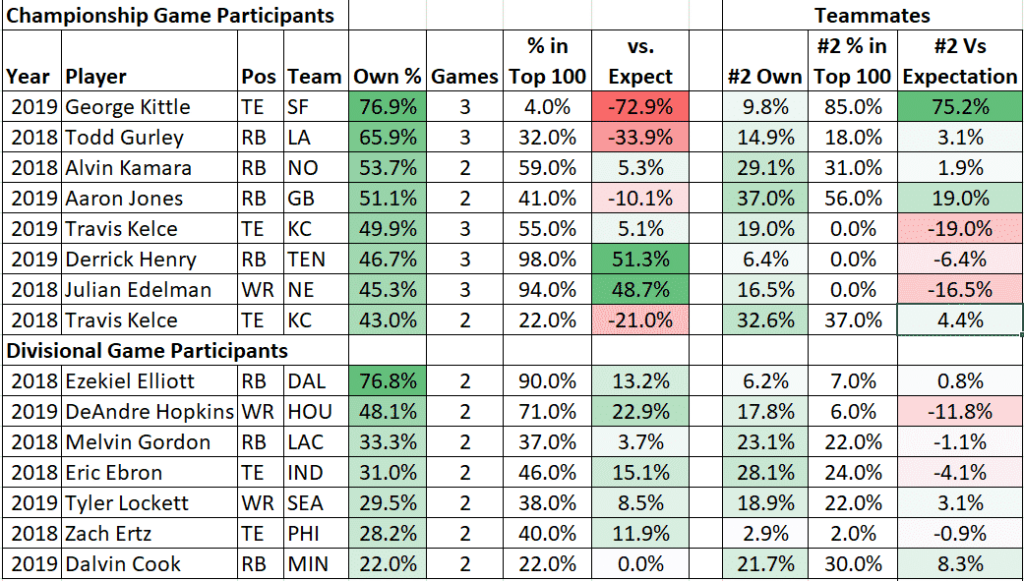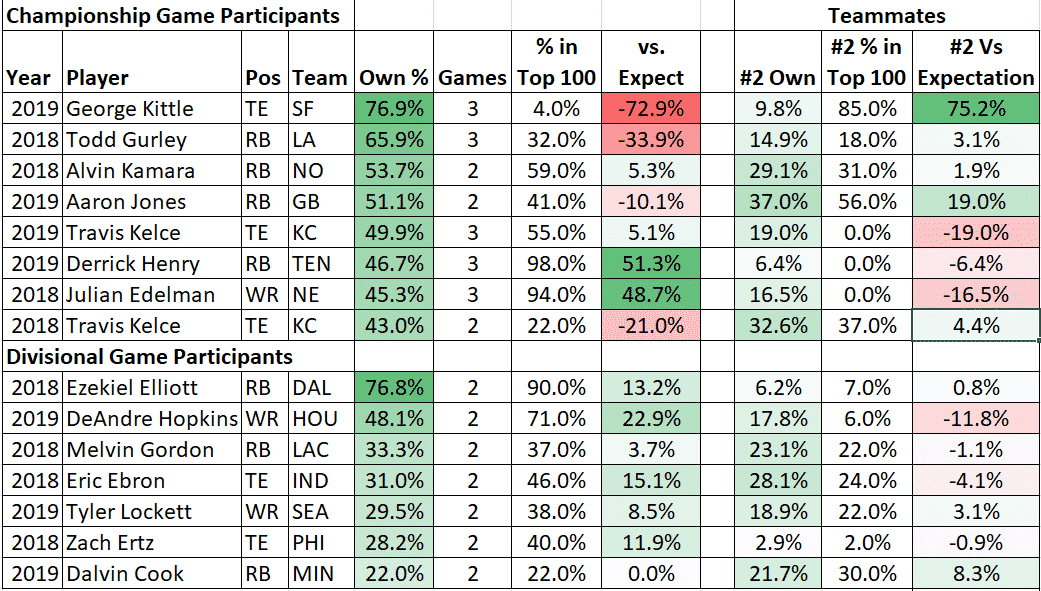 The results here are pretty substantial. Half of the chalky players who played in a conference championship over the last two years appeared in Top 100 lineups at a massively low rate compared to their expectation. In addition to this, five of the eight leverage options (next most owned player) exceeded their ownership expectations in Top 100 lineups.
It was the exact opposite for chalky players who only played in the Divisional Round. All seven of them (Lamar Jackson was the 2019 BAL chalk), performed at or above expectation in Top 100 lineups while four of the direct leverage options underperformed.
This is a pretty stark contrast and one that will be worth tracking in future years to help expand on this small sample size. For now, we can definitely use this information to help us make decisions for this year's FFPC Playoff Challenge.
Bad Chalk: Based on Establish The Run's Ownership and Expected Games
Alvin Kamara (NO Expected Games: 2+, Projected Ownership 60+%) – Kamara does seem to fit the 2019 Derrick Henry mold, where if the Saints do well it will be because Kamara is rolling. However, we know what a healthy Michael Thomas is capable of (see 2019 fantasy regular season) so he is a great leverage choice against Kamara.
Travis Kelce (KC Expected Games: 2+, Projected Ownership 60+%) – We already talked yesterday about how Patrick Mahomes is a unicorn when it comes to Quarterbacks, and now he is in a great leverage spot against Kelce. Sign me up.
Stefon Diggs (BUF Expected Games: 2+, Projected Ownership 60+%) – Josh Allen is the obvious leverage spot here, but if you think the Bills have any shot at being bounced by the Colts on Saturday (I don't), then maybe you pick John Brown or Zack Moss and hope for a Diggs dud.
Davante Adams (GB Expected Games: 2+, Projected Ownership 60+%) – We only have to look back to the DFS results from Week 2 of this season to see an example of Aaron Jones providing great leverage off of Adams and helping someone win a Milly Maker.
Good Chalk
Tampa Bay has the next highest expected game total in the NFC. However, their ownership is projecting to be pretty spread out. Not sure there will be any great chalk or leverage options here. Just pick and pray. If healthy, Mike Evans would be the guy for me.
DK Metcalf (SEA Expected Games: 2-, Projected Ownership 25+%) – He has been running pretty cold lately, and his matchup with Jalen Ramsey plus Tyler Lockett's 2 TD day in Week 17 could add up to Metcalf being even lower owned than projected.
Mark Andrews (BAL Expected Games: 2, Projected Ownership 30+%) – A lot of people will be picking the Titans to pull off the upset here, but you would expect that if Baltimore is able to jump out to a lead, its probably because Andrews was shredding the porous Titans middle defender group.
Pittsburgh is the AFC team with the 4th highest expected game total. However, they are similar to Tampa Bay in that their ownership should be pretty spread out. I like Diontae Johnson the most here if I had to choose.
Positions to Target in the Super Bowl
Now that we have a good grasp on which players to target as good chalk and which players to leverage off of because they are bad chalk, let's move our sights on to the Super Bowl where the points are doubled. If you are lucky enough to see your name up near the top of the FFPC Playoff Challenge leaderboard after the first three rounds, you want to make sure that you have some players who are set to explode in the big game. I took a look at the top 50 FFPC fantasy Super Bowl performances from the last nine seasons, and here are the results.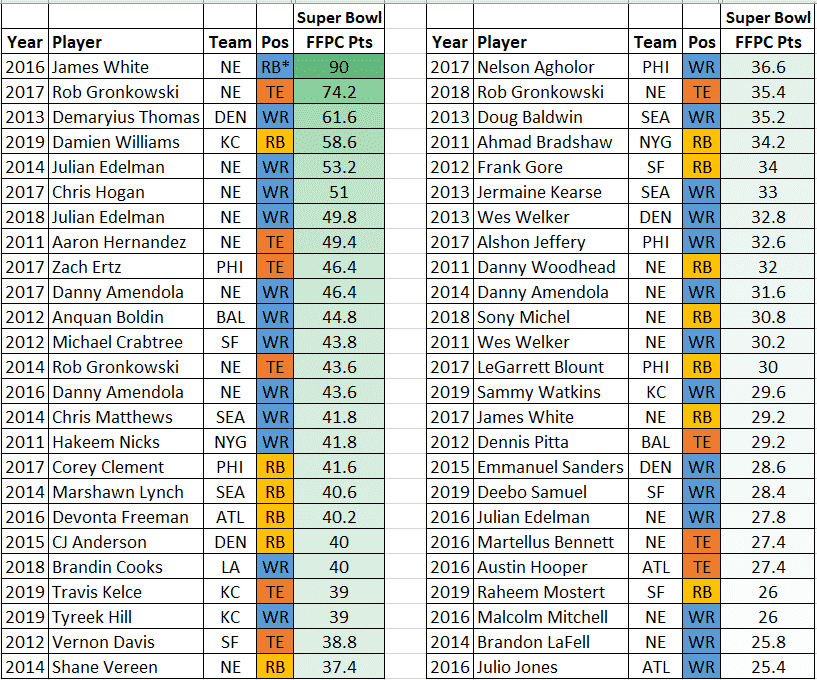 I think this is a pretty good sample size because it includes a variety of different offensive styles as well as a lot of different game script outcomes. As we can see from the chart, wide receivers are scattered all throughout the Top 50 and they really condense near the top of the list. It's important to consider that there are typically 2 WRs on the field for every 1 RB and 1 TE, so we should set a 2:1 ratio as our expectation. Also, for the purposes of this chart, I am considering James White a WR since he caught 14 passes in his record-setting 2016 Super Bowl performance.
Top 10 – WR to RB 6:1, WR to TE 2:1
Top 25 – WR to RB 2.2:1, WR to TE 2.2:1
Top 50 – WR to RB 2.1:1, WR to TE 2.7:1
No matter which way you look at it, wide receivers are clearly the most valuable players to have in the Super Bowl. You could make an argument for running back when looking at the ratios in the Top 25 and Top 50, but that argument goes away pretty quickly when looking at the Top 10. Remember, if we find our lineup bubbling up near the top of the leaderboard after the Conference Championship, we don't want to just do average in the Super Bowl. We want to have access to those Top 10 ceiling games that give us a chance to keep climbing!
Players to Target from Super Bowl Favorites
We find ourselves in a bit of a conundrum here as a couple of the players listed here also find their name in the bad chalk list above. Remember what I said about being contrarian though, you don't need to get super crazy. Pivoting off just one chalky player for leverage could be enough to separate yourself from the field.
Kansas City Chiefs (+200 Odds to Win the Super Bowl) – Tyreek Hill has the ceiling that we love to have in the Super Bowl, but he also has a low target floor. When it comes to these top-heavy contests, the ceiling is what we care about most.
Green Bay Packers (+450) – Davante Adams just set a ton of Green Bay Packers receiving records this season and he only played in 13.5 total games. Rodgers recently put compared Adams to Charles Woodson when talking about players who are the best at their position, and would any of us really be surprised by a 3 touchdown Super Bowl performance from him?
Buffalo Bills (+700) – Stefon Diggs has been a monster all season and he led the league in targets, receptions, and receiving yards. Seems like a pretty good bet to have a blow-up Super Bowl performance should Buffalo end up making it.
New Orleans Saints (+700) – Michael Thomas is the obvious receiving choice here, but he has some red flag health concerns coming into the postseason. Everything coming out of the Saints camp is saying that Thomas is a full-go but if he isn't 100%, Alvin Kamara has the receiving chops to put up a James White-Esque performance in the Super Bowl.
Are Tight Ends Really Premium?
The FFPC is famous for their Tight End Premium leagues, and after Travis Kelce's 2020 fantasy performance, you could definitely argue that he should have been the first player off the board back in the fall during the Main Event and Footballguys Championship drafts. However, when it comes to the playoffs, the Tight End position has been really hit or miss. Here is a chart from the three playoff years 2016-2019 showing how the TE performance in the postseason compared to the regular season.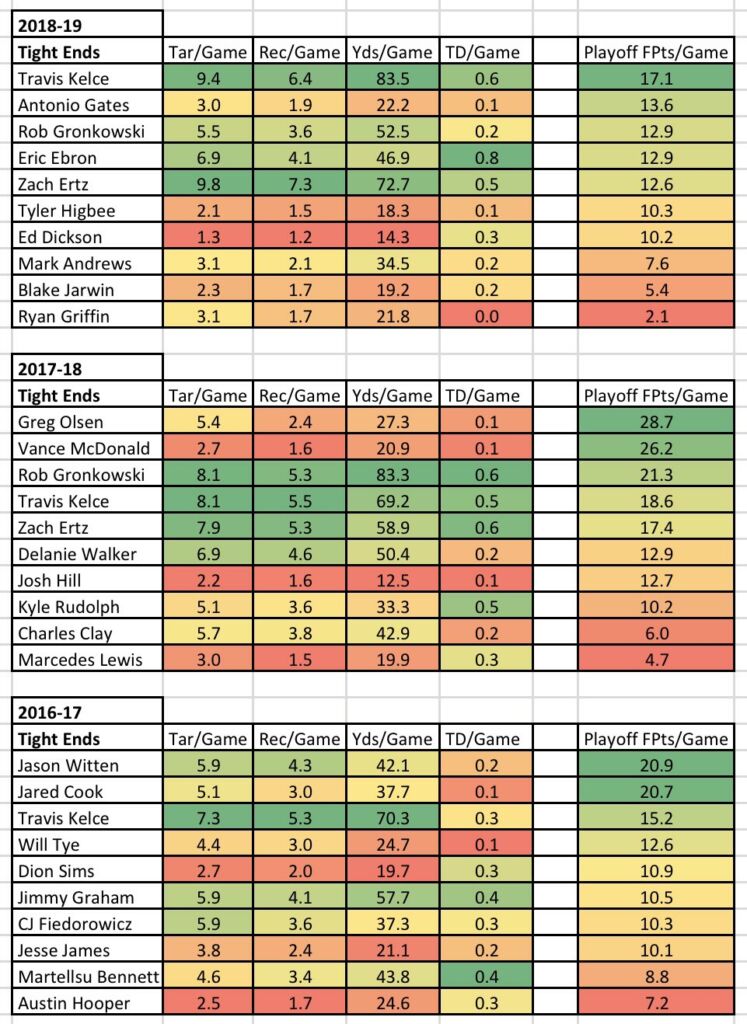 As you can tell, there are at most two tight ends who really distance themselves from the field each year and they often times aren't the ones you would expect based on their regular-season performance. With the 4 Flex spots this year, I would expect there to be a lot of 2 and 3 TE lineups, and I would caution all of you to be careful passing up more consistent pass-catchers on a team just to chase that TE Premium tag.
I don't think there are many Tight Ends that will completely bury you this year in the FFPC Playoff Challenge if you don't roster them (including Travis Kelce), so don't be nervous about missing out on the TE Premium upside.
TEs to Target (if you feel that you need to play multiple)
Travis Kelce (KC) & Mark Andrews (BAL) – At times during the season, you could argue that both of these guys were their team's primary receiving options. These are two players who have access to a ceiling with the TE Premium scoring.
Rob Gronkowski (TB) & Eric Ebron (PIT) – The TEs that have historically performed well in the FFPC Playoff Challenge have done so by exceeding or at least matching the fantasy output from their team's top WRs. Since the Buccaneers and Steelers both have a ton of receiving options this season, I think that either of these guys could have a game where they are the team's highest scoring pass-catcher. They could also post a zero. It's your risk if you want to chase the TE Premium.
And just like that my FFPC Playoff Analysis is complete. It feels like we were just getting started doesn't it? Clearly, I am a pretty big nerd about this stuff, so feel free to reach out to me on Twitter this week as you start building your lineups. I can definitely help clarify anything or provide insight when necessary!
If you have stuck it out this far, don't worry you won't leave without being rewarded. I have included a link to an excel spreadsheet that you can use as a tool to view the whole player pool while you are building your rosters. All you have to do is copy and "Paste Values Only" into the red box and the teams of players that you have selected will automatically get blacked out. I will probably be releasing a version of this spreadsheet on my Twitter feed later this week, which will include a reduced player pool of guys that I am targeting in my roster construction so stay posted for that as well!
Thanks for reading this strategy series, I had a ton of fun putting it together. I hope to see you near the top of the FFPC Playoff Challenge leaderboards come Super Bowl Sunday!
RELATED CONTENT
FFPC Playoff Challenge – Strategy Session Part 1: Kickers & Defenses
FFPC Playoff Challenge – Strategy Session Part 2: Quarterbacks and FLEX Position
FFPC Playoff Challenge Picks (Ep. 934)