Week 17 of the NFL Season hasn't even kicked off yet, but I know a lot of you have been spending this week feeling a little bit lost. Your season-long and best-ball leagues are all finished, you are most likely eliminated in your survivor pool, and the DFS slate this weekend isn't even worth looking at until Saturday morning because of all the late news we are due to receive. If you are anything like me, you have probably opened up your fantasy apps all week. Just aimlessly scrolling through them, trying to figure out what to do next. Fear not! The FFPC Playoff Challenge is here.
Enter the FFPC Playoff Challenge For Only $200!
Don't worry, the "Home of High-Stakes Fantasy Football" has you covered. The FFPC Playoff Challenge (with its $500,000 Grand Prize and a prize pool of over $1.0 million dollars) and the Footballguys Playoff Challenge (with its $100,00 Grand Prize and $35 entry fee) are just what you need to get the playoff juices flowing. Trust me, this is just about the most fun you can have with your pants on!
Over the next week, I am going to be writing up a multi-part strategy series that is specifically dedicated to the FFPC Playoff Challenge and historical trends, with the goal of providing you the edge that you need to help take on the huge player pool and come away with a meaningful chunk of that prize pool. All of the raw data that I will be using during this 3-part series is credited to @FantasyMojo who's website offers some of the most invaluable tools for the most serious FFPC players.
RELATED CONTENT
FFPC and Footballguys Playoff Challenge – Lineup Building Tool
FFPC Playoff Challenge – Strategy Session Part 2: Quarterbacks and FLEX Position
FFPC Playoff Challenge – Strategy Session Part 3: Leverage, WR/RB in the Super Bowl, and TE-Not-So-Premium
FFPC Playoff Challenge Picks – Sports Gambling Podcast (Ep. 934)
In Part 1 of the Playoff Challenge Strategy Series, I am going to help introduce the contest to anybody who is participating for the first time and then focus on the two one-off positions that are the least important.
As I am writing this, there are still technically 18 teams that are alive in the playoff hunt, but we know that 4 of these teams will be eliminated by end of day Sunday. With that being said, some of the Kickers and Defenses listed in this article have a chance at being eliminated before the playoffs even start, so I will make sure to update anything important in Parts 2 and 3 next week.
FFPC Playoff Challenge – Strategy Session Part 1: Kickers & Defenses
FFPC Playoff Challenge Overview
There is really only one rule for the Playoff Challenge, and it's that you can only pick 1 player from a team. That's it. No Draft, No Salary Cap, No Auction, it's simple. Since the playoffs have been expanded this year, the rosters for the FFPC contest have also increased. Your playoff roster will include 1 QB, 2 RBs, 2 WRs, 1 TE, 1 Kicker, 1 Defense, and 4 Flex positions (RB/WR/TE). In typical FFPC fashion, it is TE Premium scoring (1.5PPR), but all other scoring is pretty standard. I would encourage you to study the official rules here.
Lineups are due before the first Wild Card game kicks off (don't wait too long as they will fill up quickly), and they stay the same for the entire length of the playoffs. Points are doubled in the Super Bowl.
Overall Strategy
There are plenty of strategies and ways to overthink this contest, but the most important thing to do is to pick the 2 players who will have the highest fantasy score in the Super Bowl.
Ok…so maybe it's not just that easy. With fourteen playoff teams and only twelve roster spots, that means that you will need to fade two teams. To have your roster positioned to do well, you will also need to have 8 players still alive heading into the Divisional Weekend. In previous seasons, you could lock in the four bye week teams and then just bank on getting a 4-team Wild Card weekend parlay correct. This year, with only two teams getting a bye, you now have to hit on a 6-team parlay during Wild Card weekend to clear that 8-player roster hurdle. As I have said multiple times during the season in DFS, more variance just means more opportunity for us!
Another factor to consider is that you want to have four high-ceiling players left in your lineup on Conference Championship weekend. You want to ensure that you have access to a blow-up performance in the Super Bowl when the points are doubled. You don't want a kicker or defense to be one of the two players you are rooting for during the big game in February.
Don't forget about the Tight End Premium, if you have a TE in the Super Bowl who is getting you 3 points per reception that's going to be a big leaderboard gainer on the last weekend. Even though the TE position has been extremely tumultuous this season, it still may make a lot of sense to include a couple of TEs on your roster (more on that next week).
One final thing to keep in mind is the player's projected points relative to their other teammates. The drop off from Travis Kelce to Tyreek Hill is small compared to the drop off from Alvin Kamara to whichever wide receiver ends up being healthy enough to suit up for the Saints on Wild Card weekend. You obviously want to have the player from each team that scores the most, but it's important to not miss on the guys who have a large projected scoring gap. Make sure you have a good mix of chalky players and contrarian plays as typically all contrarian plays will be too much risk for not a lot of reward.
Explanation of Player Graphs and Statistics
Prepare yourselves, everyone I will be showing a lot of data and graphs during this series. I am using the results of the last two playoffs to help pave the way for a successful strategy this season. I will mainly be referencing the larger $200 Main Event contest, and I will dive into how often players finished in the Top 100 or Top 600 (min cash) compared to their relative number of entries. As with all historical analysis, I think it is more important to focus on the known variables that we have coming into a tournament, rather than diving into the reactionary data that we can find after it is completed. It's also important to compare successful lineups for a player relative to the rest of the lineups in the field, which is what you will see in a few of these charts.
Background on Kickers
I like to start building these playoff rosters using a process of elimination, which usually means working backward and starting with some of the more meaningless positions. Kickers are first on the list.
Historically, it has been just fine to eat the chalk at the Kicker position. Below are the results from the last two years of the FFPC Playoff Challenge.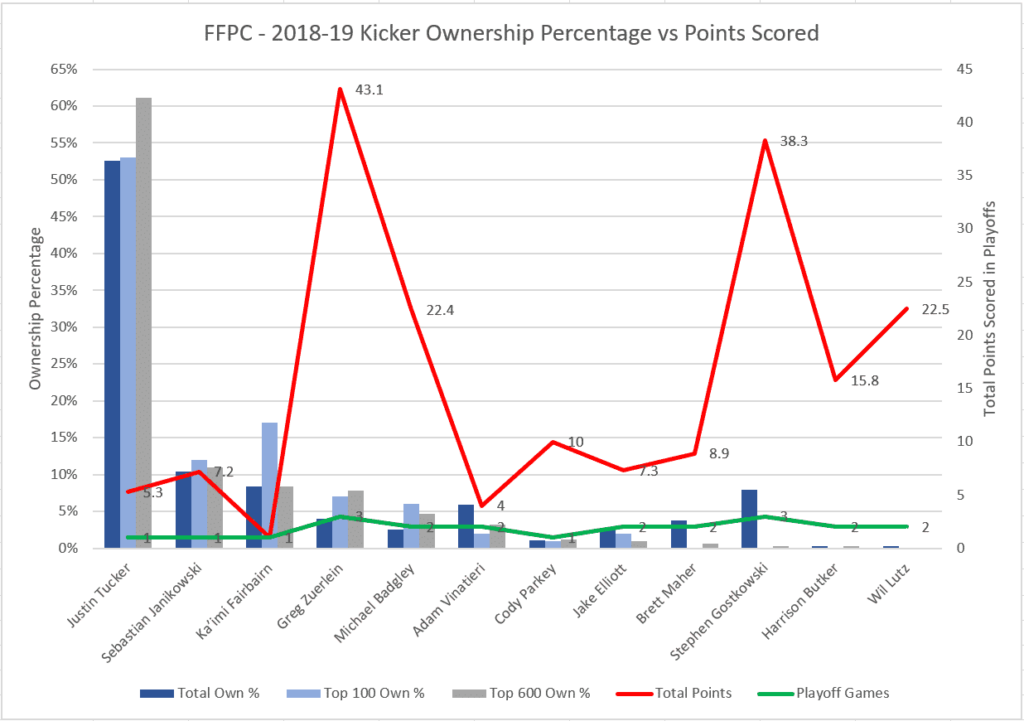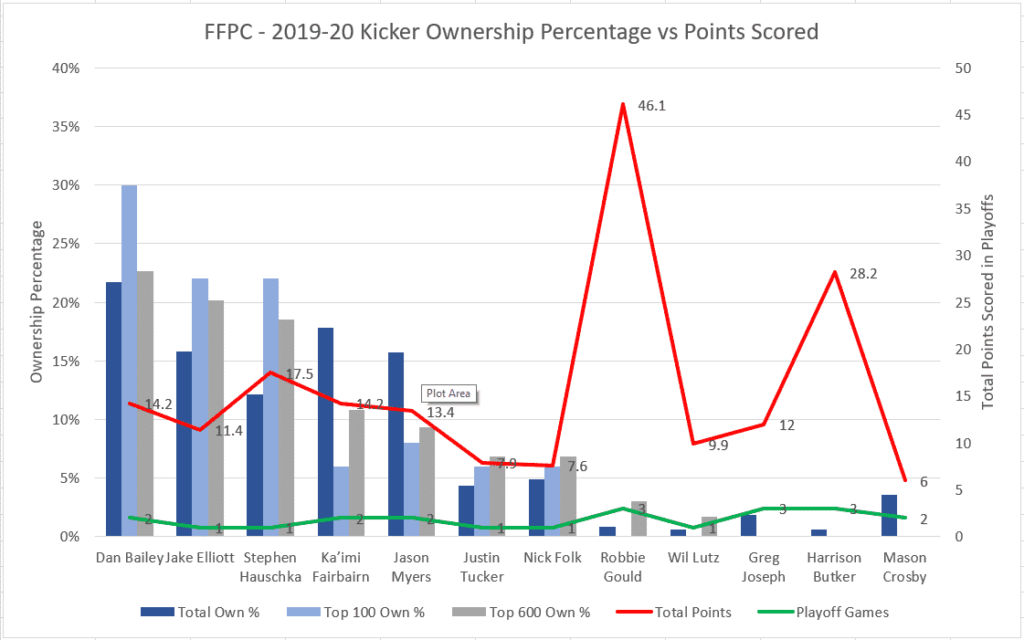 As you can see, most of the kickers in the top 600 finishing lineups usually end up only playing one game. This makes sense because if a team only plays one game, the position players on that team have less of an opportunity to distance themselves from the kicker. As you can see from the red line below, we don't necessarily care about the kicker scoring the most points relative to the other kickers, we care about their performance relative to their own teammates.
This chart shows past kickers and is sorted by Percent Owned in the Top 600. It also includes two columns on the left side showing how the kickers performed relative to the first and second-highest scoring player on their team that playoffs.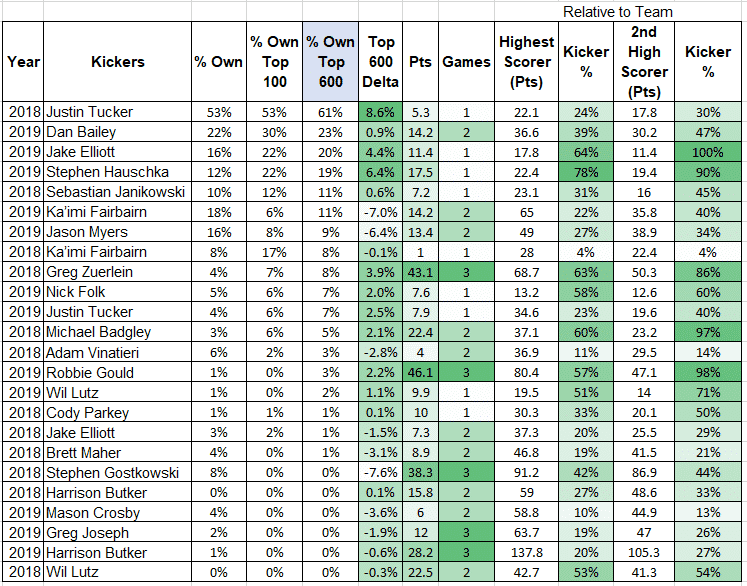 The kickers who overperformed relative to the field ("Top 600 Delta" column), usually had a high Kicker % relative to their teammates' fantasy output (with the exception of Justin Tucker in 2018 who was just extremely chalky). Also, we can see that it typically doesn't pay off to have a kicker who plays in more than one game. In 2019, Ka'imi Fairbairn and Jason Meyers still ended up in a good amount of Top 600 lineups. Their Delta compared to the field is really small because they played that 2nd game. This made their points relative to their team also decrease, which is the opposite of a winning recipe.
Here are how the 18 kickers still alive in the playoffs have done relative to their highest-scoring teammates this season on a per-game basis (FFPC scoring).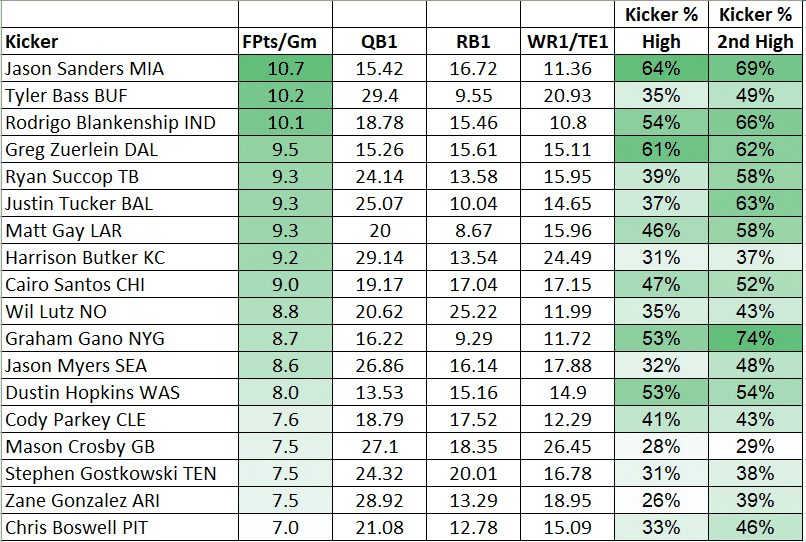 Kickers to Target
Jason Sanders (MIA) – Sanders has an ugly QB situation that could be prime for a one and done. He also scores extremely high on the season relative to his teammates.
Greg Zuerlein (DAL) – If Dallas finds a way to squeak into the playoffs, they will probably get bounced on Wild Card weekend. Since Dallas spreads the ball out so much to its weapons, Zuerlein makes for an interesting choice when the field may opt for a skill position player.
Graham Gano (NYG) and Dustin Hopkins (WAS) – It really seems like whichever NFC East team gets into the playoffs may end up being the chalkiest pick at Kicker. This is perfectly okay given all three kicker's points per game relative to their teammates.
Rodrigo Blankenship (IND) and Cairo Santos (CHI) – both of these guys are projecting to be on the outside looking in when Wild Card weekend kicks off, but if either team makes it I don't think it would be much of a surprise to anyone to see them struggle offensively. The kicker relative scoring stats back it up as well.
*This is a pretty lengthy kicker list, but a lot of these guys are on fringe playoff teams so I will make sure and update this once the seeds are locked in*
Defenses
When reviewing the defenses in cashing lineups, there are a lot of similarities to the kickers. Here are the same charts for the last two FFPC Playoff Challenges.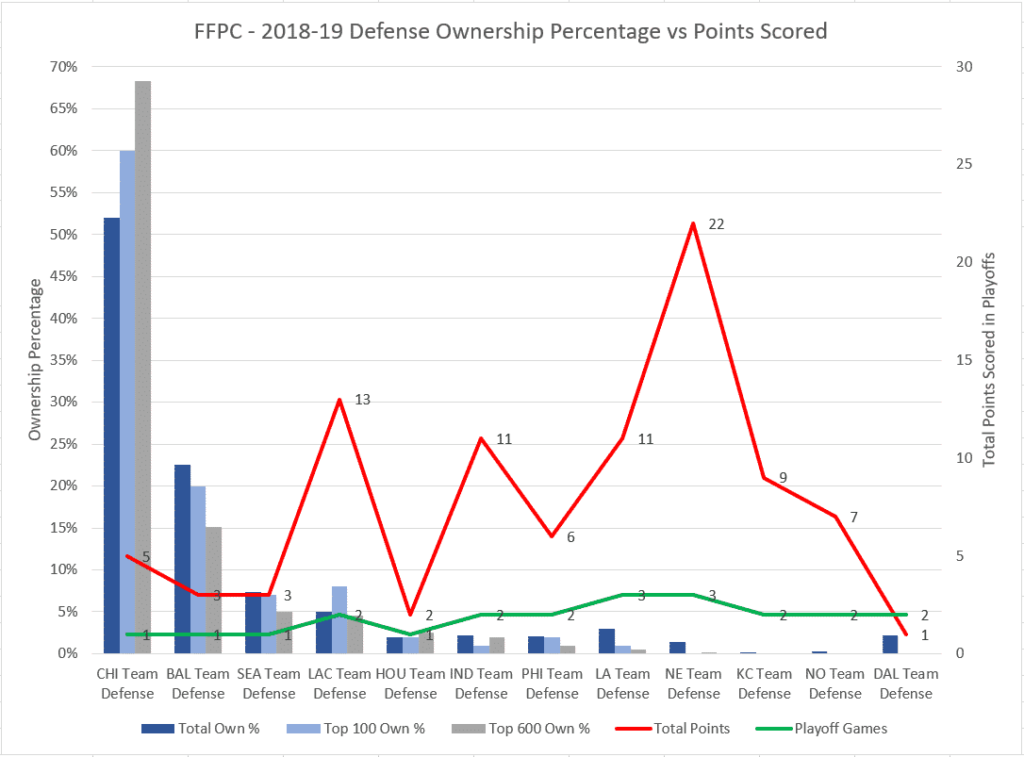 As you can see, ownership really condenses at the defense position, even more so than it does at kicker. The field has done a really nice job narrowing in on teams they think are going to be eliminated on wildcard weekend. They also identify teams who are void of the position player studs. Since Defense is the lowest scoring position in the FFPC format, it is really important for your defense to only play one game. I did find it interesting that regular-season fantasy points per game really played a factor over the last two seasons as Chicago and New England (two outlier fantasy defenses) both performed well relative to the field in the FFPC Playoff Challenge.
With that in mind, here's how the defenses that are still alive in the playoffs have done on a per-game basis.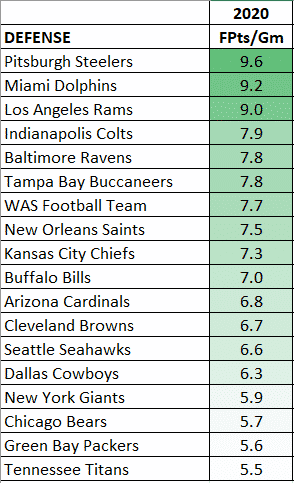 Defenses to Target
Pittsburgh Steelers – I don't think it would surprise anybody if the Steelers get bounced in the Wild Card weekend, based on their recent performances. This will be a really contrarian play, and will ultimately come down to matchup for me. This will especially hold some weight if the field is pretty spread out on their offensive weapons.
Miami Dolphins and Los Angeles Rams – These are the other two teams that are clearly a tier ahead of the rest, but both have to hang on this weekend to get it. If wild card weekend shakes anything up, I will make sure to update this section next week.
Summary: Post-Week 17 Analysis
Now that the playoff field is set, I think it's important to review the process of elimination here for lineup construction. Specific to this year's playoff structure, we know that there are going to be six teams that lose on Wild Card weekend, but if we choose correctly, we can have a lineup that only loses four players. In order to do this, we need to fully fade (pick no players) from two of the teams that will lose on Wild Card weekend. Its important to also fade the two teams who we think will not score many points on Wild Card weekend, that way we don't get bit by fading a team who had one player blow up for one game. The teams that are in the full fade conversation are Washington, Chicago, Cleveland, and Los Angeles. Once we decide who to fade, we should then pick a kicker from a team that we think will lose, but will still be able to get their kicker some good points relative to the team's other position players. If a team loses 21-9, that's the ideal situation because we know the kicker scored a minimum of 9 points, and no position players scored a touchdown. Based on my analysis above, the teams that fall into this category for me are Indianapolis, Washington, and Chicago. Once we have picked a kicker, then it's time to pick a defense from a fourth team that we think is going to lose. Similar to kicker, we want to make sure position players on their team do not score a lot of points, and we also would like to target a defense that performed well from a fantasy standpoint during the season. Based on my analysis above, the teams that fall into this category for me are Los Angeles, Cleveland, and Indianapolis, and Washington.
It seems like the pathway to team fades and kicker and defense selections will be pretty popular this year, as we have some pretty big underdogs on Wild Card weekend. This will no doubt make the ownership condense at these positions. As I mentioned above, having popular choices at these positions (as well as with the fade teams) is not a bad thing. We would much rather have a popular kicker and defense who lose in the first round and everything goes according to our plan, than go out on a limb and be contrarian and then end up with one of these positions playing in the divisional round.
That does it for my Part 1 analysis. I will be back next week once the playoff seeds are finalized to breakdown all the more fantasy-relevant positions.
RELATED CONTENT
FFPC and Footballguys Playoff Challenge – Lineup Building Tool
FFPC Playoff Challenge – Strategy Session Part 2: Quarterbacks and FLEX Position
FFPC Playoff Challenge – Strategy Session Part 3: Leverage, WR/RB in the Super Bowl, and TE-Not-So-Premium
FFPC Playoff Challenge Picks – Sports Gambling Podcast (Ep. 934)