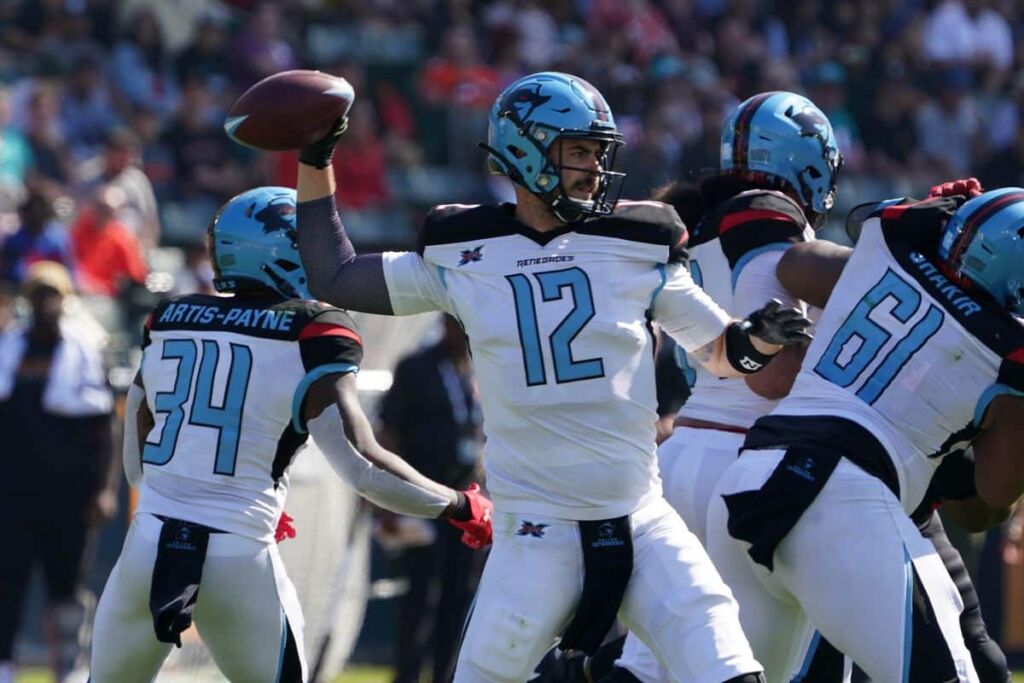 As we delve into Week Four of the XFL, the teams are beginning to define themselves by separating themselves in the standings (in one direction or the other), all while others are just now starting to discover their identities a couple weeks later into the season.
From a Daily Fantasy perspective we've begun to define a number of our lock-button favorites, with the Houston Roughnecks starting to ascend the pack into compliments insinuating parallels to the NFL 2019 World Champion Kansas City Chiefs.
READ ALSO!
Check out our sortable stats for XFL page
XFL Fantasy Football Week 4 Waiver Wire Pickups
XFL DFS for Week 4: Daily Fantasy Football Picks, Advice, Lineups
[Albeit a bit of a reach, the fact of the matter is this compliment also provides a nod to the resonation of the XFL with the masses (despite lower ratings following Week One), by even making a comparison to the NFL product in general.]
While the 0-3 Tampa Bay Vipers would need a hell of a turnaround through the remaining seven games, that's not to say they can't provide some excellent DFS plays the rest of the way as well.
Let's look at some of the best DraftKings Daily Fantasy Football picks for Week 4 of the XFL…
Landry Jones, DAL (QB, $9,800)
The once-removed quarterback of the Pittsburgh Steelers has since found a rhythm in his first two XFL games as the gunslinger they'd hoped for in Dallas (following his injury absence Week One), Renegades' resurgent Landry Jones is proving he's got the firepower to keep this Dallas team in the playoff hunt while chalking up some sweet fantasy numbers.
Landry Jones is going to have to continue his 40.5 Passing Attempts per game average in order to hang in there with the Houston Roughnecks in this XFL Texas showdown, which doesn't appear to be a problem so long as his one-two punch in the backfield tandem of Cameron Artis-Payne and Lance Dunbar keep up the change-of-pace success in the ground game.
Jones is averaging 19.5 DraftKings Fantasy points in his Week Two and Three outings, totaling 579 passing yards through the two games and going tick-for-tack on the touchdown to interception ratio (4 TD, 4 INT).
The Houston Roughnecks are allowing 22.66 points and 247.33 passing yards per game and let the struggling Tampa Bay Vipers back into the game via the pass. Landry Jones has a discount opportunity to shine on both the XFL field, as well as among the DFS landscape in Week Four.
Cam Phillips, HOU (WR, $11,700)
Mr. Phillips, you have our attention.
Thundering onto the XFL scene in dominant fashion, and helping P.J. Walker look like even more of a bad ass than he already has been, Cam Phillips has been a lightning rod to this Houston Roughnecks offense and has yet to disappoint in any daily fantasy week. In fact, he seems to only get better (although his 48 DraftKings Fantasy Points in Week 3 may be a tall order to surpass).
Averaging nearly ten targets per game along with 6.66 receptions, 2.33 touchdowns (Dear God), 108 receiving yards, and 32.33 DKFP, Cam Phillips is your proverbial lock button chalk play and I don't believe it's going to even be close on a week-to-week basis.
Phillips will likely be facing his stiffest opponent yet in the Dallas Renegades defense, allowing 15 points and just under 200 passing yards per game, so the production may be more difficult to come by for he and fellow Houston receivers.
But Cam Phillips, although a lofty $11,700 and most expensive player on the slate besides his quarterback P.J. Walker ($12,000), is evidenced to be the most explosive player in the league thus far and worth every penny in GPP ceiling potential.
Christine Michael, STL (RB, $5,700)
This is much more an opportunity play than anything else, but when trying to afford Cam Phillips on every roster you have to find some frugal finagling in order to do so. And should St. Louis Battlehawks leading rusher Matt Jones miss suiting up in Week Four due to a knee injury, the door swings open wide for Christine Michael to finally make an appearance worthy of all the hype post-Seahawk.
Besides a touchdown he stole away from a since-injured Matt Jones last week against the New York Guardians, Christine Michael added 44 rushing yards on 13 attempts and a 10.4 DKFP total anchored by said touchdown.
Enter Week Four, where Matt Jones did not practice Tuesday due to his knee injury sustained in the 29-9 victory over the New York Guardians. Michael not only still has managed 28 carries in the past two weeks (along with two receptions), but this was with Jones as the primary rusher and producing soundly.
At a discounted price tag in comparison to most other starting running backs this week, Christine Michael appears to be a bargain play if he can turn those 2.3 yards-per-carry around and take advantage of a Seattle Dragons team allowing 122 rushing yards per game in their last two outings played.
Tre McBride, LA (WR, $8,100)
The LA Wildcats have finally begun to find their stride in this XFL debut season, securing their first victory of the year in a convincing win over the DC Defenders 39-9. Not only was Tre McBride among the star performers of that home win, but he now looks to be the leading receiver in Week Four with Nelson Spruce sidelined.
In his Week Three debut McBride was an absolute beast: tallying five receptions on six targets, 109 receiving yards, and two touchdowns, he made a DFS Kool-Aid Man entrance with 31 DraftKings Fantasy Points and at a mere $3,300 price tag.
With Nelson Spruce ailing a knee injury sustained in Week Three, the Questionable-designated Tre McBride is deemed almost certain to be suiting up and faces a New York Guardians defense that's been struggling since their Week One win over Tampa Bay.
While the target distribution from Spruce's absence could very well be spread across the other members of the Wildcats offense, I suspect they will feed Tre McBride as often as possible given his sheer explosive ability to get open.
Flynn Nagel, DAL (WR, $4,800)
At the same time that I would love to advocate for Donald Parham here, the fact of the matter is [much like mentioned earlier] money is of the essence when it comes to roster construction, and we'll have to find places to spend down in order to spend up elsewhere. And despite the fact I will get to plenty of Parham in other lineups, Flynn Nagel comes in producing quite the noteworthy numbers and also at half the cost of his receiver mate.
Securing five receptions on six targets and tying with Cameron Artis-Payne for third-most targets behind Lance Dunbar and Donald Parham, Nagel managed to produce 39 yards and a touchdown in their victory over Seattle. He's put up double-digit fantasy points in two of his three games played this season, and averaging 4.5 catches on five targets per game.
Considering his discounted salary cost allowing the ability to pair a stack of himself, Landry Jones, and another Dallas offensive member, Flynn Nagel is the sub-$5K talent who fits perfectly into any roster construction and providing an affordability route to the top-tier talents.
READ ALSO!
Check out our sortable stats for XFL page
XFL Fantasy Football Week 4 Waiver Wire Pickups
XFL DFS for Week 4: Daily Fantasy Football Picks, Advice, Lineups