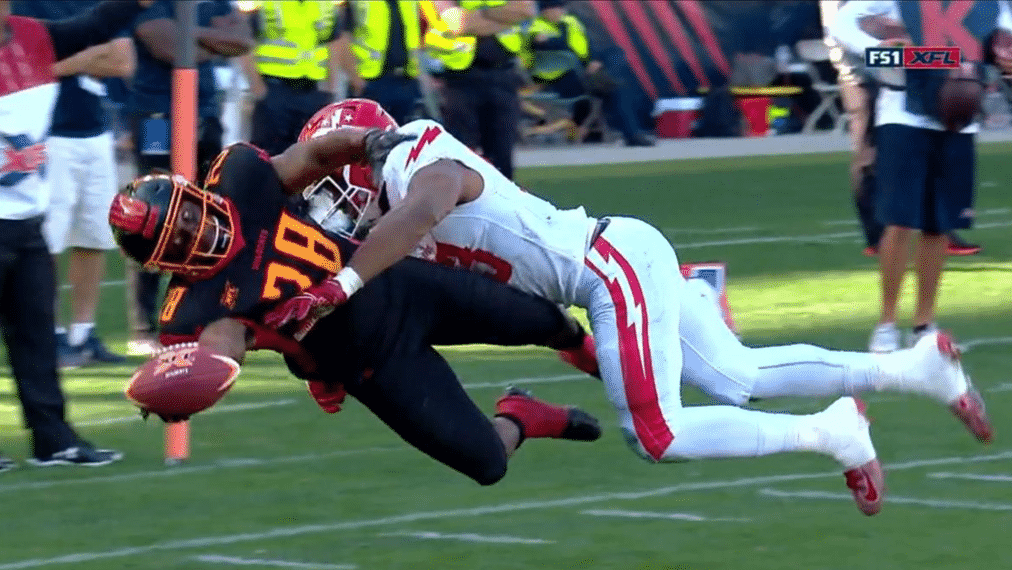 Week 3 of the XFL has come and gone, some have tasted the agony of defeat, others the sweet taste of victory! Since there is only one of Camp Phillips and PJ Walker, everyone else is trying to pick up who they can to remain competitive on the season.
The waiver wire is starting to get thin, but based on the data from altfantasysports, there are still quality players out there. Look back at past waiver wire columns, those guys are still out there in many leagues and continue to perform week after week.
Heading into Week 4, we are halfway through the regular XFL fantasy season, now is the time to make a move to set yourself up for playoff contention with smart waiver wire moves this week.
Check out our sortable stats for XFL page
Austin Duke – WR New York Guardians
THERE WE GO! @PerezLuisQB finds @TheAus10Duke on the 8-yd reception for the Guardians TOUCHDOWN 🔥#OnDuty | #ForTheLoveOfFootball pic.twitter.com/Rdf2MPKEOw

— New York Guardians (@XFLGuardians) February 23, 2020
Austin Duke had one of the most productive weeks for a Guardians' receiver in Week 3. His 4 catches for 43 yards and a touchdown helped him finish as WR8 on the week. This was the first top 10 finish for any New York receiver and the second-highest point total for ANY Guardian on the season. Both Luis Perez and Marquise Williams looked his way, given that Matt McGloin seems to be falling quickly out of favor with Coach Gilbride, and that chemistry can be expected to continue throughout the rest of the season giving him solid Flex value.
Martez Carter – RB Los Angeles Wildcats
Hat trick for @ThatManCarterIV 🎩

DC 3 | 39 LA#TheWildcatWay pic.twitter.com/R7kQGLPruB

— Los Angeles Wildcats (@XFLWildcats) February 24, 2020
Carter had not touched the ball until this week for the Wildcats offense, but boy oh boy did he make an entrance this week. The front-flipping, tackle-dodging, touchdown-scoring Carter did everything for a Los Angeles offense that had a coming-out party against what was a highly regarded Defender's defense. Carter put up the most points by a running back all season. Let that sink in for a second, a guy we could not guarantee would get the majority of the running back touches for his team that week set a new bar for XFL running backs. If you are sitting there with #1 priority for the waiver wire, put in a claim on Carter to be an RB2 over the rest of the season.
And the man can hit a back handspring with the best of them as well. Damn.
Jalen Tolliver – WR Tampa Bay Vipers
9️⃣ to 1️⃣7️⃣ for the big pick up! pic.twitter.com/fRMj7yeIRn

— Tampa Bay Vipers (@XFLVipers) February 22, 2020
Quick, who are the top three most targeted receivers/tight ends in the XFL? If you answered Cam Phillips, Nelson Spruce, and Jalen Tolliver. Spruce and Phillips are obvious candidates to lead the XFL in receiving, but Tolliver is sneakily holding his own. As a matter of fact, three of the top ten in targets are Tampa Bay Vipers. Tolliver bounced back from a down week in Week 2 to a strong eight catch 104-yard performance on 13 targets. The Tampa offense is confusing and its lack of success as a team is something to unpack. That being said, look for Tolliver to carve out a weekly role as a WR2 in a pass-happy offense that often finds itself trailing.
Tre McBride – WR Los Angeles Wildcats
Oh my goodness @Uno_Dos_Tre3 😱 The WR's 2nd TD of the day!

DC 0 | 20 LA#TheWildcatWay pic.twitter.com/lXa1GlztxR

— Los Angeles Wildcats (@XFLWildcats) February 24, 2020
Everyone had circled Week 3 as a revenge game for a receiver who was traded by his team during the preseason and who subsequently felt slighted by the team that had drafted him. Little did we know the receiver who would ball out would be Tre McBride. McBride torched his former Defender teammates to the tune of five catches for 109 yards and two touchdowns. Many were unsure where McBride would fall in the pecking order with Nelson Spruce, Jordan Smallwood, and Adonis Jennings. Few could have predicted him completely upending what we thought we knew about the Wildcats offense. Los Angeles looks dangerous offensively and McBride does a ton to make them so potent and land him squarely in the WR2 conversation.
Khalid Abdullah – RB DC Defenders
Abdullah continues to carve out an ever-expanding role in DC. Last week it was three carries for five yards, this week he had eight carries for 47 yards and added in two catches for 11 yards. Abdullah, Donnel Pumphrey, and Nick Brossette all had eight carries against the Wildcats. However, it seems that Abdullah and Pumphrey will be the dominant forces in the DC backfield looking ahead. Look for Abdullah to be efficient with his touches and give you nice upside from the Flex position.
Quarterback Controversy and Tight End Opportunity
'Quise keeping the play alive on fourth down! 💯@1MjWilliams2 ➡️ @Teo_Redding #ForTheLoveOfFootball pic.twitter.com/hzMbmnZzaT

— XFL New York (@XFL_NewYork) February 23, 2020
We all know Donald Parham has been a revelation at tight end, but you might not know that Jake Powell (TE Guardians) is actually second in targets for tight ends so far on the season. At a shallow position, consistent targets are valuable. You could do a lot worse than him with a waiver wire claim…
Pay attention to what Kevin Gilbride says all week in New York about the Guardians' quarterback situation. McGloin appears to be nowhere near the answer as a starter. The question is, who will be the beneficiary? Luis Perez or Marquise Williams, both carry some upside as well as limitations. McGloin owners should be ready to add one before someone else does…
Brandon Reilly (WR BattleHawks) carved out a nice 19% target share Sunday in the BattleHawks win. He also was on the receiving end of a nice bit of trickery on a successful two-point conversion play. There are a lot of receivers in St. Louis, but Reilly carved out a larger role this week that could be indicative of things to come.