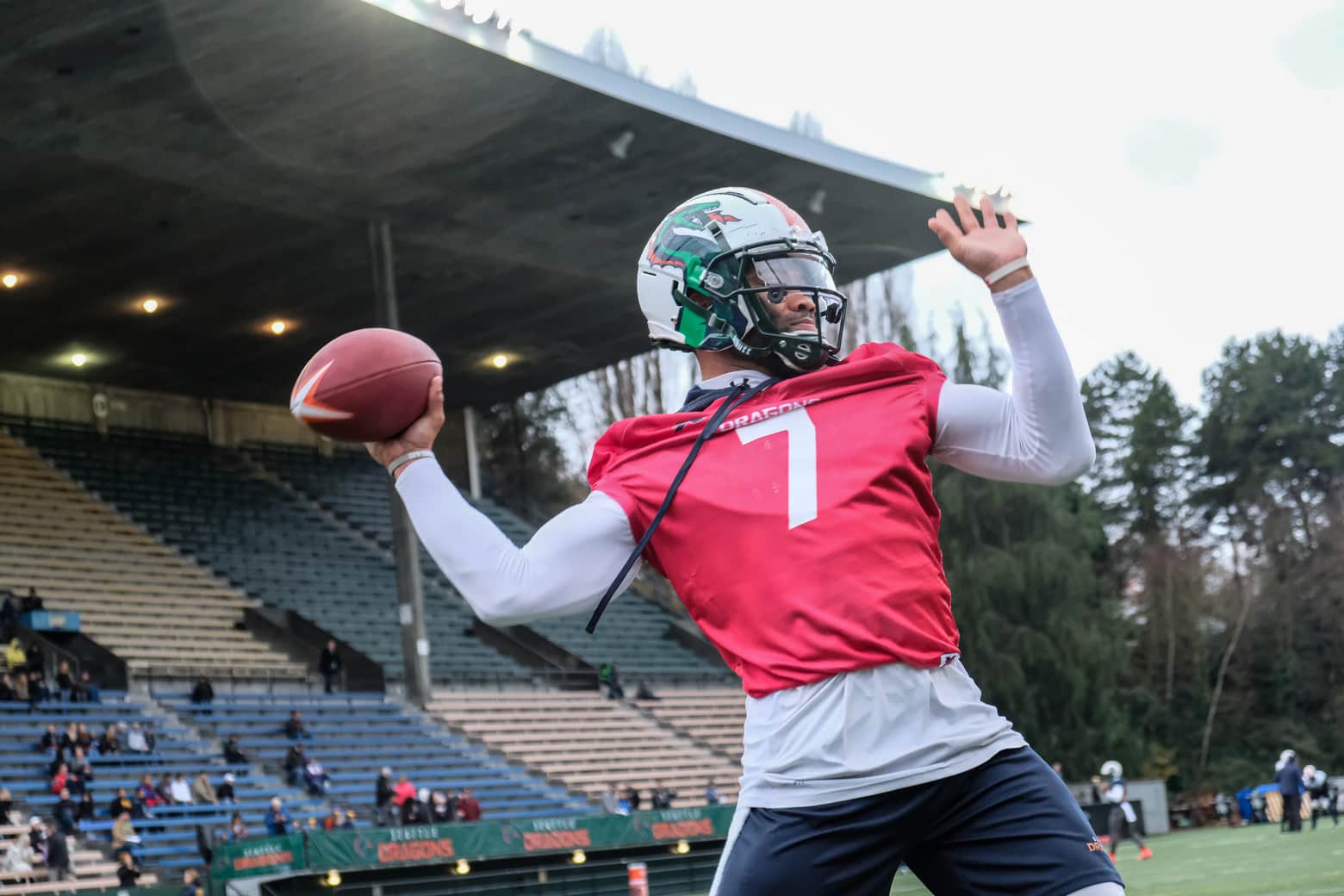 Week 1 of the XFL is in the books! It was one hell of an entertaining weekend, and as we head into Week 2, here are some Waiver Wire Targets for you to go after in season-long leagues.
Check back later in the week for a new batch of rankings as well, or look at last week's season long rankings if you still need to draft!
Quarterbacks
BJ Daniels (QB – Seattle Dragons)
Daniels had no real stats, but he may be the starter next week against Tampa if Brandon Silvers is hurt. Daniels had dynamic moments in the preseason, and his rushing ability should provide a solid floor.
If the Dragons can start to open up their rushing offense, then it should give Daniels some cleaner looks in the passing game. Daniels will have value if he is a starting QB purely because he will be a starter.
Quinton Flowers (QB – Tampa Bay Vipers)
Flowers completed one of the two passes he attempted for 37 yards. He also added 34 yards on 5 carries.
Flowers seemed to provide sparks at times for a Vipers offense that piled on the yardage. When he was in at quarterback, it really seemed to open up the rushing offense for De'Veon Smith and Jacques Patrick.
If Murray continues to stagnate, look for Coach Trestman to incorporate more of Flowers into the offense. If his carries continue to trend upwards, he may be a waiver wire target if you are desperate.
Running Backs
Trey Williams (RB – Seattle Dragons)
Williams is firmly entrenched in the Three-Headed Dragon committee in Seattle. He had 7 total touches (3 rushes, 4 catches) for 43 total yards and a touchdown catch, good to be RB2 for the week.
Running back seems to be an interesting proposition, so anyone who will average at least 7 touches a week will be a solid flex play. Williams looked dynamic and shifty when he got the ball in space so look for him to continue to capitalize on that, he should have enough touches to maintain as a Flex play as we head into Week 2.
James Butler (RB – Houston Roughnecks)
Butler could be the breakout star of Week 1. The former Nevada and Iowa back balled out. Butler finished with 11 touches, best of all Houston's backs, and he took one of his nine rushes for a touchdown, as well as one of his two catches to the house as well.
Butler was the most effective Houston back, and his versatility will certainly earn him more playing time in June Jones' offense. If he continues to show a nose for the end zone as well, look for Butler to continue to be an RB1 and prime waiver wire target.
Jacques Patrick (RB – Tampa Bay Vipers)
Patrick was a clear second-fiddle to De'Veon Smith, but he proved he would be capable of helping Smith shoulder the load in Tampa. Patrick had 8 carries and was targeted twice in the passing game, including several snaps in the red zone.
Tampa struggled to punch the ball across the goal line against a stout Guardians defense, but look for Patrick to continue to get opportunities in close, his size and capable hands will make sure he continues to get looks in critical areas of the field, these looks could set him up as a touchdown-dependent Flex play.
Matt Jones (RB – St. Louis BattleHawks)
Jones led all running backs with 21 carries and 85 yards, the next closest had 16 and 79. He's clearly the focal point of a run-first BattleHawks offense.
He did not haul in his only target in the passing game, but his NFL career indicates he is a capable receiver. If Jones continues to own the backfield and carrying the ball more than 15 times per game, he may finish the season in the top six of running backs.
He may already be owned in your league, but many thought Christine Michael would be THE guy in St. Louis, so there's a chance you can steal an RB1 as a waiver wire target this week with Jones.
Darius Victor (RB – New York Guardians)
Victor proved he is the physical runner many thought him capable of being after several punishing runs in the preseason. On 12 touches, 9 carries and 3 catches, Victor gained 67 yards and left at least one defender per touch flat on his back. He seeks out contact and runs through it, the 5'6" 230 pound back is a physical runner who will continue to punish defenses.
Although Tim Cook may be technically listed as the starter, Victor was the guy the Guardians turned to throughout the game, and he rewarded them by picking up yards in chunks. Look for New York to continue to utilize Victor as the season goes on in the run and pass game, and make him an RB2 or Flex play.
Wide Receivers – First Tier
Austin Proehl (WR – Seattle Dragons)
Proehl was a late climber on the depth chart for Seattle. Throughout the first week, Brandon Silvers looked his way ten times, second-most in Week 1. Proehl only caught five of them, but he took two of them to the house and totaled 88 yards.
If he can improve his hands as the season goes along, he will continue to be a productive option. Proehl looks to be the go-to guy in Seattle for Brandon Silvers and he proved to be capable of making plays with the ball in his hands. As an added bonus Proehl also handles some return duties for Seattle, making Proehl an early WR1, time will tell if he can maintain that status.
Dan Williams (WR – Tampa Bay Vipers)
When depth charts dropped last week, many people were wondering, "Who the hell is Dan Williams?" After one week, many should begin to get acquainted with the 6'3" Jackson State product.
Williams caught six passes for 123 yards on nine total targets, making him the most efficient and most productive Viper receiver. Tampa was behind for much of the game, but that did not stop them from accumulating the most yards, 394 total, in the XFL.
As the receiver who was responsible for almost half of his team's passing yards, and accounting for a 25% target share, Dan Williams should be owned in all leagues. Look for him to continue dominating and being one of the preferred targets for whoever starts at quarterback for the Vipers, he has WR1 potential and should be your #1 waiver wire target.
Wide Receivers – Second Tier
Alonzo Russell (WR – St. Louis BattleHawks)
The BattleHawks leaned on the running game throughout the day, but Russell was still targeted five times, including a nine-yard touchdown reception in the fourth quarter. Rusell caught three passes for 49 yards, good for second behind De'Mornay Pierson-El on St. Louis.
Although St. Louis did not take to the air as often as the other XFL teams this week but still had a 74% completion percentage. If Russell can maintain his target share and get red zone looks, he will be a strong Flex play week after week.
Jordan Smallwood (WR – Los Angeles Wildcats)
It is unclear how the Wildcats' passing attack will look when Josh Johnson returns from injury, but Smallwood appears to be LA's primary red-zone receiving threat. The 6'2" Oklahoma State product was targeted seven times, catching three, for 28 yards and a touchdown.
In addition to that, he had another red-zone target, as well as bringing in a two-point conversion reception. Red-zone and conversion targets will matter and contribute to fantasy relevance. This may also be a buy-low opportunity if he is owned in your league after not grabbing the headlines in Week 1. The Wildcats figure to look like a much more prolific offense when Josh Johnson returns to the field and Smallwood could be a big beneficiary of that, look for him to maintain Flex value as the season continues on.
Nick Holley (WR/RB – Houston Roughnecks)
Holley became a darling of social media when his sideline interview after a stellar catch in traffic embodied everything the XFL is trying to be, focusing on players who just love to play football. He was a quarterback/wide receiver/running back in college, and showcased some crisp route-running ability on Saturday as he caught four of his five targets for 50 yards.
With so many weapons in Houston, it may be difficult to guarantee reliable targets for Holley week-to-week, but the Roughnecks still threw the ball 39 times. In closer games, Houston may throw the ball even more and Holley will likely continue to feast in the middle of the field if his 13% target share continues, Holley will be a solid waiver wire target and Flex option for your fantasy lineups.
Marcus Lucas (TE – St. Louis BattleHawks)
Lucas is technically listed as the starter for the BattleHawks, but he was a relatively unknown entity heading into Week 1. The journeyman receiver-turned-tight-end paced all tight ends with four catches for 40 yards. St. Louis QB Jordan Ta'amu targeted his tight ends eight times in the win and figures to continue to turn to his big-bodied tight-ends when under pressure. If Lucas continues to dominate the tight-end targets and Ta'amu will look at his tight-ends on 30% of passes, look for Lucas to step into the TE1 conversation.