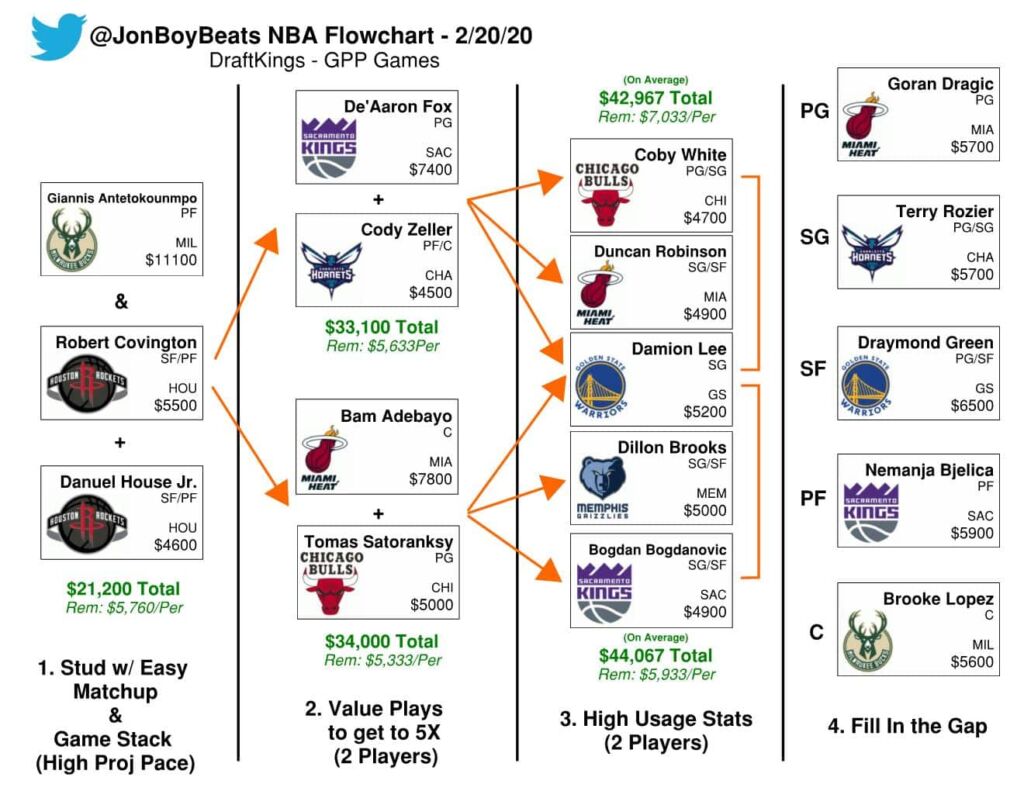 It's been a long week without any real NBA action! Luckily, All-Star weekend was packed with good basketball from the Rising Stars Challenge, to the All-Star Saturday night, and then got capped off by one of the most competitive 4th quarters in NBA All-Star history. Those poor refs had LeBron, Harden, and CP3 all complaining from the same team. Looking at the 6-game slate that we have coming back from the break, I think there are some great matchups and some angles to exploit. This year, we have done a lot better with the flowchart and ranking sheets on nights where the number of games are less than seven, so I'm excited to get back into the action today! Here's my breakdown and flowchart for the Thursday 2/20/2020 games. For those who didn't read the initial article with all the explanations, you can find it here.
Stud with an "Easy" Matchup
Fresh off a 25pt, 11reb, 4ast, 3blk performance in the All-Star game, Giannis Antetokounmpo has an enticing matchup with the Detroit Pistons. Since Andre Drummond got traded, the Pistons are a bit of a mess in the big man position with Thon Maker, John Henson, and Markieff Morris all getting significant playing time. I don't think they are ready for the storm that comes when Giannis and the Bucks come to town. Since the trade deadline, the Pistons are giving up 15% more 3 pointers, 34% more assists, and 21% more blocks to Power Forwards, so I think Giannis has some triple-double potential here.
Game Stack w/ High Projected Pace
The matchup between Houston and Golden State features the highest Vegas total of the day with an Over/Under of 232.5. In addition, Memphis plays with the 5th highest pace while Portland comes in just outside the Top 10 at 11th for the season. We know this game has a chance to be high scoring, so let's look at where we can find the best matchups. Robert Covington has been an absolute animal in the Rockets new small ball lineup, posting a 12/7/3/3/4 stat-stuffing line in their last game against the Celtics. With Eric Gordon still questionable for tonight's game, Danuel House Jr. should still see close to 30 minutes of playing time. He has been a consistent contributor for Houston while Gordon has been out, and I think his $4600 price tag has a lot of value.
Bargain Players to get to 5X Value
Since we saved some money in our game stack, we can add in another higher priced stud to pair with Giannis in our lineup tonight. De'Aaron Fox leads one of our paths in the flowchart and draws a matchup with Ja Morant and the Memphis Grizzlies. While Memphis is actually pretty good defensively against PGs, I like Fox here at $7400 because this is his lowest price on DraftKings in almost a month. Usually, he is closer to the $8k range and he has consistently touched 40 DK Pts this year, so we have clear 5X Value potential. The other path of the flowchart is headlined by Bam Adebayo, who is fresh off a Skills Challenge win on All-Star Saturday night. Adebayo's Miami Heat face off against the Atlanta Hawks who are the worst team in the league against Centers over the last two weeks. Bam is priced at $7800 tonight and is in a stretch of games where he's broken 40 DK Pts in nine of his last ten outings. I think that streak continues against the Hawks and we see him hit the 5X Value mark pretty easily.
High Usage Players
With Kris Dunn still sidelined, I like both of the Chicago Bulls Point Guard options tonight. Coby White is the cheaper of the two, and makes our flowchart under the usage column. With Dunn out during the whole month of February, White is averaging just under 30 mins a game. He's had an impressive 23% usage rate and is averaging 0.85 DK Pts/Min. This projects him to clear 25 DK Pts tonight, and in a matchup against the poor guard play of the Hornets, there is always potential for more. Another guy I want to highlight for tonight is Dillon Brooks who draws a matchup against Buddy Hield and the Sacramento Kings. Hield is far below league average in many defensive metrics, and Brooks has been able to have some success against the Kings this year averaging 15/3/3 in their first two matchups. Sacramento is currently the 6th worst defensive team against SGs this year, so let's root for a 20+ pt performance for Brooks like we saw during his hot stretch in the last week of January.
I have included all the data sheets for today down below. I post these sheets everyday on my Twitter page, so if you find them useful and can't wait until next Wednesday's article to scratch the NBA DFS itch, make sure to check it out!