Daily Fantasy Plays for Wednesday, January 22
With the NFL season nearly in the rear view mirror (one heck of a Super Bowl still left), it's time to start digging in deeper to the NBA Daily Fantasy landscape.
The NBA has a lot to offer when it comes to the DFS scene including many contest types every night, large player pool with tons of variance, and chance for explosive 10x Value nights. However, this league is not without its disadvantages; nightly "Load Management", lineups decisions not being made until 30 mins before tip-off, and a chance for any blowout games to adversely affect your star player's scoring. Just like we did for football this year, I am going to try to walk you through a way to develop a consistent approach to building an NBA DFS lineup every night. For NBA, I will focus more on Cash Games and will report mainly on the flowchart's results in those contests.
Play at DraftKings and use promo code SGP for a deposit bonus up to $500
Start with a Stud that has an "Easy" Matchup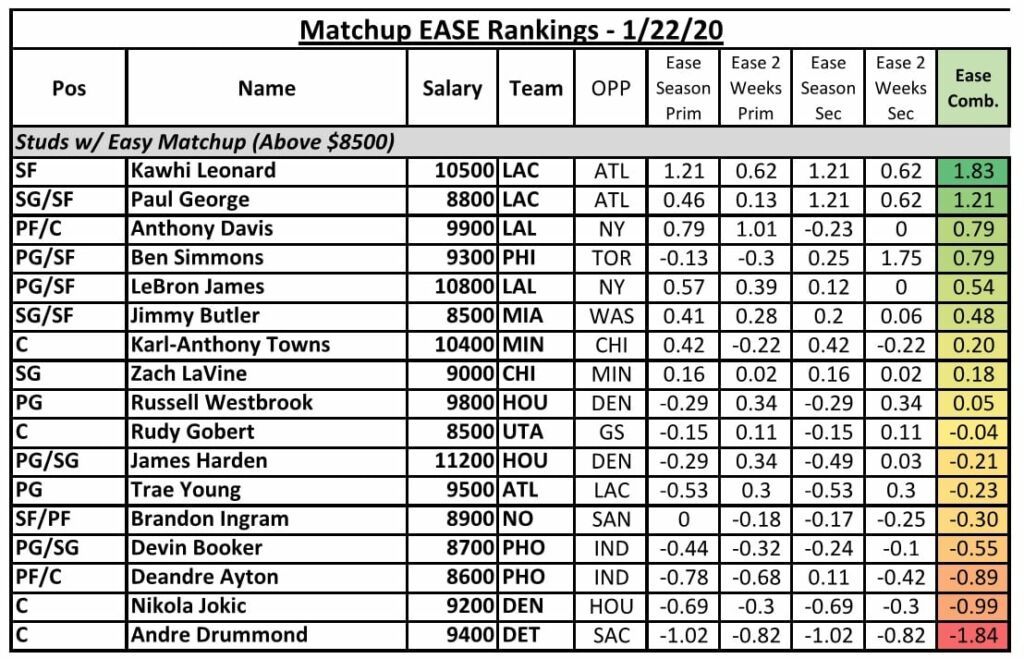 The Ease stats I use come from the Basketball Monster website and it represents the stats allowed by each team relative to their previous opponents' strength. By looking at both the season long and the last 2 week trends we can get an understanding of whether a team has been defending a particular position poorly due to a recent injury or lineup change. This is similar to the typical DvP stats, but I like being able to combine the players primary & secondary positions into one number for each matchup. Generally, I will target anybody who is above $8500 here so we can lock in at least one star player into our lineup. Today, we are going with Kawhi Leonard.
Game Stack of Two Players from a Projected High Pace Game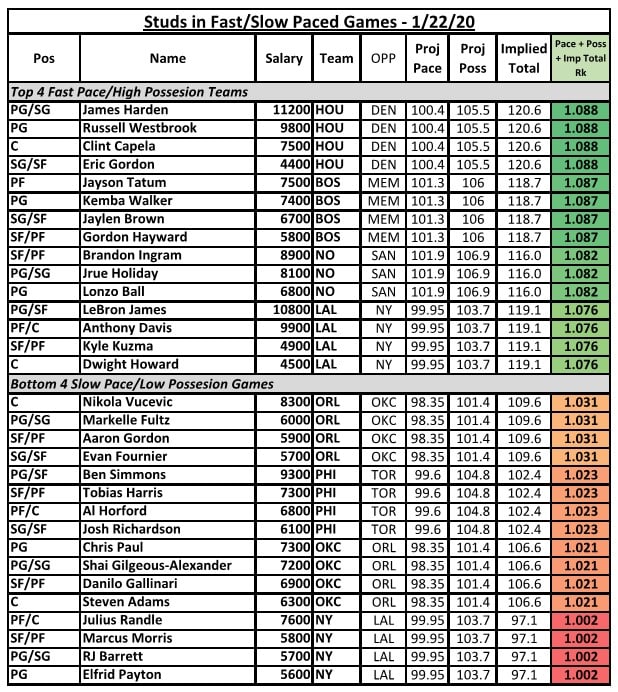 Similar to a QB/WR Stack in football, you greatly increase your lineup scoring upside if you can hit on a game stack of two players who get hot on any given night in the NBA. In order to try and capitalize on this potential, we are going to select two players from a game that is projected to have a fast pace and who's team is projected to have a high implied total. It's important to note that the Implied Total here is based off my NBA Over/Unders Model (future article) rather than the current Vegas Total. For today's slate we are stacking Gordon Hayward & Marcus Smart who are matching up against a Memphis team who ranks 3rd in the league in pace.
Two Players who are Most Likely to get to 5X Value
Understanding how DFS Value is calculated is important in understanding some of the basic strategy of DraftKings. In the case of the NBA, a player's nightly value is calculated by dividing their salary by 1000, and then dividing their score from that night by Salary/1000. Generally, if all your players are hitting 5X Value or greater you will have a tough time missing out on the money. For this part of the ranking sheets, we look at a player's past performance over the last two weeks as well as the projected amount of possessions that night in order to understand which players are projected to have the best and worst chance of hitting 5X Value. I will always try to make sure one of the sides of the flowchart is going in a more budget-friendly route. Today we have JJ Redick & Dwight Howard leading the budget-friendly side while Lonzo Ball & Serge Ibaka round out the other side of the chart.
Two Players who have High Usage Rating
Since the NBA has such high variance when it comes to playing time and lineup combinations, it is important to target players who have a high floor due to their large usage rates. I created a composite usage rating number, which doesn't have any statistical significance, but it's a good way to combine everything that is under the usage umbrella. We are looking at Average Minutes per night, Actual Usage Rate, DKPts/Min, and DKPts/Poss to create a list of players we think will have a high floor for that day's slate. While the players in this part of the flowchart might not sync up perfectly with what's shown on the ranking sheets, it's important to factor in positions available and salary remaining during this step. Really like Dejounte Murray & Pascal Siakam in today's games.
Fill in the Gap
At this point you should be left with one roster spot to fill and depending how you inputted your lineup up to this point there will be a lot of potential to swap positions to make room for key players. For this step, I will give out a player who is a good combination of all the above metrics as well as someone who is within the general budget remaining. The idea is that however you decided to fill out your bracket, you can choose one of these guys to help plug into that last open roster spot. If you have your own hunch on a player for that night's games, now is a good time to plug him in.
I will most likely be posting two or three flowcharts per week on my Twitter feed, and then writing up a longer article for the largest game slate every week! I wish everyone continued NBA DFS success!
Play at DraftKings and use promo code SGP for a deposit bonus up to $500