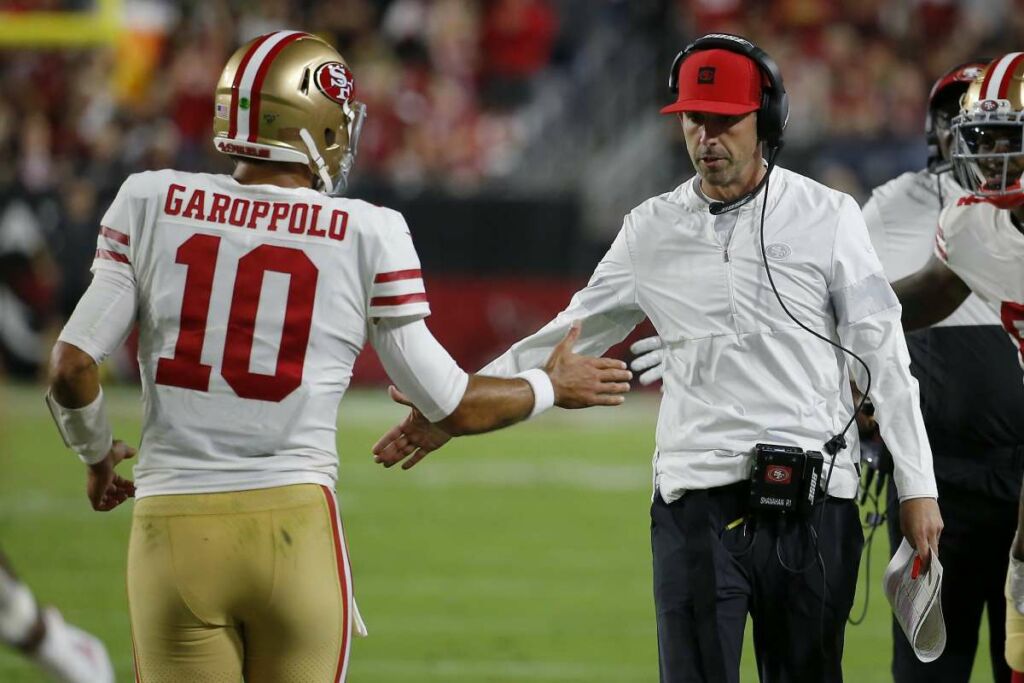 Let's get right down to business. This Super Bowl matchup between the Kansas City Chiefs and the San Francisco 49ers is going to be the best game of the year!
At the start of every season, that's exactly what you hope for, but oftentimes the final game doesn't deliver. I don't think we are going to have any issues with this matchup delivering. Both of these offenses have a real shot and scoring in bunches and the list of explosive players on each side of the field is lengthy.
Let's take a look at some angles, gambling odds, and some facts that you should know before laying down your bets on Sunday.
1. If this game is going to be close, it's going to be real close
A lot of people expect this to be a close Super Bowl. The game opened as a pick'em and over the last two weeks it has consistently stayed as a 1 or 1.5 point line in favor of the Chiefs.
If you agree with Vegas and think that this will be a close game, we should look at an angle that is easier to bet on than picking a side and has the ability to hit in the first quarter. I want to look at how these teams did in close games, and how often there was a tie after 0-0.
In eight one-score games this season, San Francisco was in a tie game after 0-0 in six of the contests. Likewise for Kansas City, in seven of the nine games that ended within one-score there was a tie after 0-0. At pretty fair odds, this is a great bet to have in your pocket especially if you are impartial and just rooting for a close game.
The Pick: Tie AFTER 0-0, YES -130
2. Jimmy Garoppolo cannot run the ball…
Everybody is already talking about Patrick Mahomes success rushing the ball this postseason. If you didn't believe in the 24 year old gunslinger's ability to tuck the ball and run, you should definitely be aware of it after his 27 yard touchdown run in the AFC Championship game.
On the other side of the ball, Jimmy G has no interest in rushing. This season, Garoppolo averaged 3.5 yards per game rushing, In 8 different games, he registered less than 2 yards.
Since the rushing props on Mahomes have been quite popular this week and have been bet up past 30 yards in some books, I think there is a more valuable line to look at when comparing both QBs.
The Pick: Mahomes Rushing Yds -22.5 vs Garoppolo -135
Go here for more info on online betting.
3. But don't forget, Jimmy G can throw it!
It's easy to think of Garoppolo as the guy who threw for a combined 208 yards in San Francisco's first two playoff games. However, let's take a look at how he did in some of the Niners higher scoring games this year. Against New Orleans (104 combined pts), he threw for 349 yards and 4 touchdowns. When they faced the Cardinals (62 points), he had 424 yards and 4 touchdowns. And when they played Cincinnati (58 points), he tallied 297 yards and 3 touchdowns.
The Niners relied on the run so much in their previous two playoff games because it was working (6.8 yards/rush against the Packers). I don't expect the Niners to be able to rely only on the run this game and be able to keep up with the Chiefs. I think Shanahan is going to have a lot in the bag of tricks for Jimmy G, and I think he will have a big day in the passing game.
The Pick: Jimmy Garoppolo o237.5 Passing Yards -125
4. It won't be easy for this dominant Niners defensive front to sack Patrick Mahomes
Another popular storyline this week has been how dominant the Niners defensive line is up front and how they are able to sack the quarterback at one of the higher clips in the league. When third down rolls around, the Niners jump up to a 16% sack rate (which is a full 6% points ahead of the #2 defense).
However, the Chiefs are the #1 offense in the NFL in 3rd down sack rate, and they have only allowed a 3.3% sack rate in first half third downs.
The Pick: San Francisco u2.5 Total Sacks -125
5. The Chiefs use their speed to open a lot of Pre-Snap Motion opportunities
The Kansas City Chiefs use pre-snap motion on 55% of their offensive plays and the Niners haven't faced a team with this much movement since their Week 13 loss to the Ravens. In the playoffs alone (both pretty convincing Niners wins), the Vikings and Packer still had more than 2 Yards per Attempt more and a 56 point bump in their numbers compared to plays when they didn't use pre-snap motion.
With all of these speedy receivers running back and forth around the line of scrimmage, I think Andy Reid will do a good job of mixing it up in the run game. Look for Hardman, Hill, and even Robinson to all have potential carried on end-arounds or sweeps.
The Pick: Kansas City Players w/ a Rush Attempt o4.5 +100
Play at DraftKings and use promo code SGP for a deposit bonus up to $500
6. The Niners don't let teams into the red zone, but when they do, they allow a lot of points
The Niners allow only 2.4 red zone trips per game, which is the second lowest rate in the NFL. However, when a team does make it into the red zone against San Francisco, they are having a ton of success.
The Niners allow a 61% red zone TD rate, which is ranked 25th in the league. In the last three games that San Francisco has played, over 75% of the opponent drives that reached the red zone have resulted in a touchdown.
The Chiefs are 10th in the NFL in red rone trips for game and are averaging almost 30 points per game.
The Pick: Kansas City Total Touchdowns o3.5 +105
7. As with the rest of the playoffs, 1 yard touchdowns happen a lot in the Super Bowl
I touched on this stat in my article prior to the Championship games, and it hit in both games two weekends ago. Looking back specifically at Super Bowls, there has been a 1 yard touchdown in five of the last seven matchups. With the amount of red zone opportunities we expect to see in this game, this one is once again going to be a fun one to root for.
The Pick: Shortest TD u1.5 Yds -140
8. These teams are used to scoring points and 40 pts are within each team's reach
One of my absolute favorite bets of this game is taking an alternate total and rooting for both teams to score 40 pts. Both the Niners and the Chiefs scored 40 points three times this year and each played in one game where it broke the 80 pt barrier.
I know it's a long shot, but who doesn't want to be betting on a longshot prop for the entire game with these explosive offenses at work. Let it ride!
The Pick: Alternate Total o79.5 +1500
READ ALSO
Printable Super Bowl 54 Squares Grid
Printable Super Bowl Party Props Sheet
NBA Odds Pod Frauds Contest: Free Entry, $500 to First Place!