Super Bowl time is here again!  Rejoice, rejoice!!
Here's 54 reasons why the San Francisco 49ers will win Super Bowl LIV.
1) Surprise – their offense is actually superior
29.9 points/game vs 28.2 for the Chiefs.
2) Their defense is pretty awesome too
They only allowed two more points this season than the Chiefs – that's nothing.
3) Killer running game
Second best ground game in the league vs 23rd best for the Chiefs. If they can get out to a quick lead, they can eat up the clock.
4) Screw the oddsmakers
What's 1.5 points anyhow?!
5) The Chiefs are racist
Chiefs for your name?! The "arrowhead chop"?! Cultural appropriation at its finest.
READ ALSO
Printable Super Bowl 54 Squares Grid
Printable Super Bowl Party Props Sheet
6) Jimmy Garoppolo pulls porn stars
Just like the president!
7) San Francisco is a better city
Where would you rather live, San Francisco or Kansas City? Case closed.
8) Screw flyover country
The coast are the most, right?
9) History
The 49ers are perennial Super Bowl winners. The Chiefs are not.
10) Sacks
49ers are 5th best in the league in sacks – they're going to be getting after Patrick Mahomes.
11) Screw Richard Christy
It'll fun to make him cry.
12) Home field advantage
There are surely more 49er fans in this world than Chief fans, right? Should be more San Fran supporters in Hard Rock Stadium then.
13) Well roundedness
Dominant defense, very good offense.
14) 6-2 ATS
The Niners have done well against the spread recently, and the spread here is only 1.5 points, so beating the spread would probably mean winning the game.
15) Jimmy G is pretty good too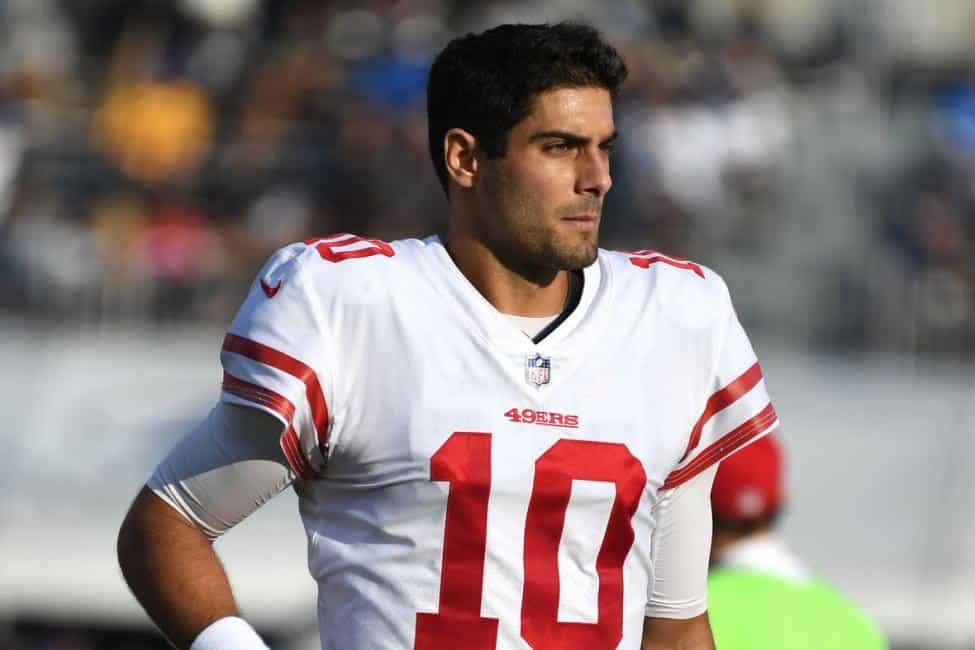 While Mahomes gets all the ink, Jimmy G had himself a solid year also, throwing twice as many touchdowns than interceptions.
16) Three headed running monster
In Raheem Mostert, Tevin Coleman and Matt Breida the 49ers have three runners who all outgained any player on the Chiefs.
17) George Kittle
They may be known as a running team, but don't sleep on receiver Kittle, who went for over 1000 yards this season.
18) Blowouts
SF were second best in the league in scoring margin, outscoring teams by an average of 11.3 points. Get a big lead on Sunday and make KC play risky catchup ball.
19) The Golden Gate Bridge
The GG Bridge is iconic. What does KC have that's iconic?!
20) The Gold Rush
The 49ers are named after the famed gold rush of 1849. Bodes well for this year's rush for the gold (even if the Lombardi trophy is completely made of silver – close enough).
So what if KC is #1?!
They only gave up 278.6 yards per game, which will come in handy against Mahomes and co.
23) Rushing, rushing, rushing
Yes, we already mentioned they're good on the ground – now some stats – #1 in rushing TDs/game, #2 in rushing yards/game.
24) Passing defense
Best in the league in opponent's yards/pass, best in league in opponent's passing yards/game.
25) Thieves
Fourth best in NFL in takeaways/game.
26) Twin sack monsters
In Nick Bosa and Arik Armstead the 49ers have two top ten sack machines.
27) The Mouth of the West
Don't forget about the air raiders – Richard Sherman ranked in the top five in interceptions.
28) Kyle Shanahan's play calling
Bold play calls by Shanahan got them this far.
29) Jimmy G revenge tour
Take that Patriots! Time for Jimmy to come out from Brady's shadow.
30) Raheem Mostert revenge tour
Raheem versus the world!!
31) Kyle Shanahan revenge tour
Get that Atlanta Super Bowl gaffe back.
32) George Kittle is the new Gronk
Hopefully he doesn't damage the Lombardi though.
Now some nuggets from the bosses on our podcast gambling preview for the 49ers:
33) Jimmy G has a 84.0 QBR in 4th quarter in game's with one possession – best in NFL
34) Jimmy G – 115.7 passer rating while trailing – best in NFL
35) Jimmy G – 60% completion on passes over 15 yards – best in NFL
36) Jimmy G might be a "game managing" QB, but that means he's winning games
37) Chiefs won't be able to stop their running game
38) Jimmy G lead NFL in EPA and success rate when targeting TE and slot receivers
39) Dominant pass rush that the Chief's offensive line will have trouble containing
40) Officials swallow the whistle in the Super Bowl, and the Niners are physical on D
41) George Kittle's pregame ritual (have to listen to the podcast to hear it – pretty wild)
42) Jimmy G allegedly has a waiver form for his women, like Derek Jeter (hey, Jeter won plenty of titles rolling with that)
43) Niners are fast starters, Chiefs are slow
44) Chiefs defense is weak through the slot
45) Their special guest predicts a Niners win (so what if he's a homer)
46) Tevin Coleman looks healthy enough to play on Sunday
47) to 54) Huey Lewis, E-40, Andy Samberg, Dana Carvey, Rob Schneider, Jennifer Garner, Danny Glover
These, among many others, are celebrity fans of the Niners. And celebrities only want to be associated with winners, so the 49ers have to win. Right?!
READ ALSO
Printable Super Bowl 54 Squares Grid
Printable Super Bowl Party Props Sheet