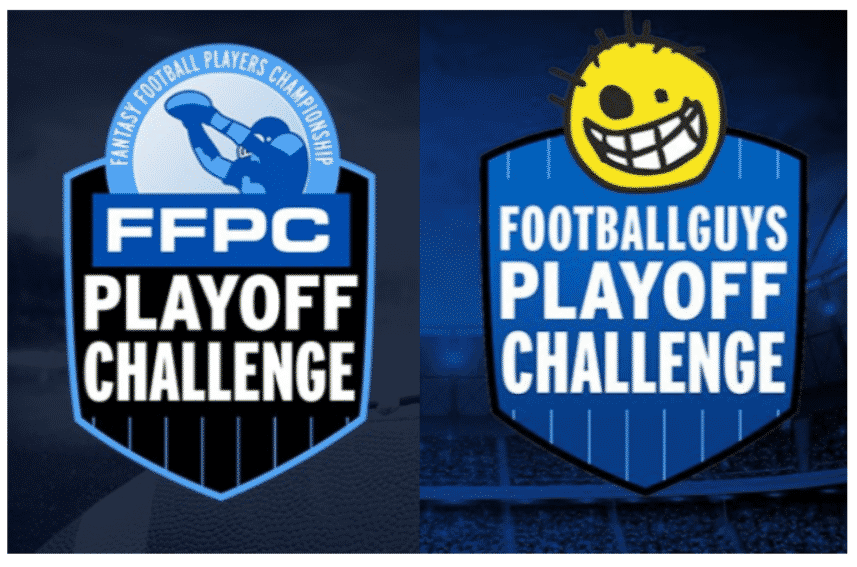 Well it's officially been one day since the 2019-20 NFL Regular Season ended, and I know everyone is trying to figure out what to do with their free time now that all their Fantasy Leagues, Best Ball drafts, Weekly Pickems, and Office Survivor Pools are over.
Don't worry, the "Home of High-Stakes Fantasy Football" has you covered. The FFPC Playoff Challenge (with its $500,000 Grand Prize and prize pool of over $1.1 million dollars) and the Footballguys Playoff Challenge (with its $100,00 Grand Prize and $35 entry fee) are just what you need to get the playoff juices flowing. Trust me, this is just about the most fun you can have with your pants on!
FFPC Playoff Challenge Overview
There is really only one rule for the Playoff Challenge, and it's that you can only pick 1 player from a team. That's it. No Draft, No Salary Cap, No Auction, it's simple. Like the rest of the FFPC season long leagues, it is a 2 Flex lineup and is also TE Premium (1.5 PPR).
Lineups are due before the first Wild Card game kicks off (don't wait too long they will fill up quick), and they stay the same for the entire length of the playoffs. Points are doubled in the Super Bowl.
Strategy
There are plenty of strategies and ways to overthink this contest, but the most important thing to do is to pick the 2 players who will have the highest fantasy score in the Super Bowl.
Ok…so maybe it's not just that easy. With 10 players in your lineup and 12 total playoff teams, it's critical that you don't pick more than two players from one of the four Wild Card game losers. You want to have 8 players in your lineup going into the Divisional Round!
Most importantly, you want to have 4 high ceiling players left in your lineup on Conference Championship weekend. Don't end up with a Kicker in the Super Bowl (although maybe 6 point FGs wouldn't be so bad?)
Also, don't forget about the Tight End Premium, if you have a TE in the Super Bowl who is getting you 3 points per reception that's going to be a big leaderboard gainer on the last weekend. With all of the stud TEs who are on playoff teams this year, it will most likely be necessary to include two of them in your lineup.
Another thing to keep in mind is the player's projected points relative to their other teammates. The drop off from Michael Thomas to Alvin Kamara is small compared to the drop off from Zach Ertz to whichever local plumber the Eagles are suiting up this week at Wide Receiver. You obviously want to have the player from each team that scores the most, but it's important to not miss on the guys who have a large projected scoring gap. Make sure you have a good mix of chalky players and contrarian plays as typically all contrarian plays will be too much risk for not a lot of reward.
Lineup Building Tool
I put together a lineup building spreadsheet that you can download here which is nice tool to help visualize the player pool that is still remaining as you build your lineups. Make sure to "Paste Values Only" otherwise you will get some weird formatting issues.
I would recommend getting your feet wet with a couple of the $35 Footballguys entries to get yourself some variability and understand the concept. Once you think you have a prime lineup, fire off the $200 entry fee and I hope to see you holding that $500,000 check in early February!!