Last season the Bears were probably the most positive surprise in the NFL. Some might have thought they were going to get better with a new coach but I don't remember any saying they were going to be better than the Vikings and Packers. In the end it wasn't even close.
Coming into 2019 it looks like there is more expected balance in the NFC North. The expectation generally is that everything went the Bears' way last season and those things tend to event out from year to year, tougher schedules have their impact too. I still see Chicago as the class of the division but the gaps is not that great, especially when you have a Hall of Fame quarterback with a contender. The NFC North should be interesting this season.
Chicago Bears
2018 Record: 12-4
Everything came together for the Bears last season. They pulled off the big deal to get Kahlil Mack, who had a monster year, and one of the best defenses in the league led them to 12 wins. It kind of made first year coach Matt Nagy look like a whisperer and now he is challenged to back that up with at least another division title. They also have to get over how the season ended.
To continue their ascent they are hoping for more from the offense this season. They might have been 9th in scoring at 26ppg but they were just 21st in yards. Mitch Trubisky improved but he is not surrounded with a glut of playmakers. Tarik Cohen is an interesting cover whether getting the ball handed to him or catching it but there is only so much he can do. They need to scheme to develop more weapons.
Key Departures
Jordan Howard (RB); Cody Parkey (K); Adrian Amos
Key Additions
Ha Ha Clinton-Dix (S); David Montgomery (RB)
Season Win Total
Over -110 / Under -110 9 Wins
Prediction: 11-5
The natural reaction is to assume that last year's success cannot be duplicated. Before you get there assume the defense is going to be good again and then look at their schedule. It is pretty light which is why I am not forecasting much of a dropoff. They can easily start 5-0 before their bye week after which they get a couple of coin flip games at home. Unless Trubisky back slides or there are injuries the Bears are going to be right where they were a year ago. Just hoping for better bounces in the playoffs.
Fantasy Radar: David Montgomery
Montgomery was a big part of the success at Iowa State over the last couple of seasons. He might be a nominal starter, sharing duties with Cohen but he is a tough runner they can use when ahead and in goal line situations. He has also looked good in camp so far. 1000 yards and 10 TDs do not look like a stretch for this rookie.
Minnesota Vikings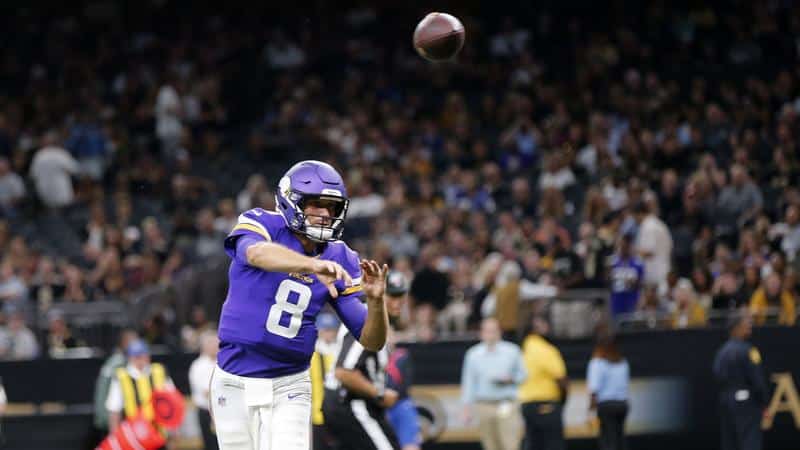 2018 Record: 8-7-1
Kirk Cousins threw for more than 4200 yards but the Vikings took a step back last season. Cousins is fast becoming a lightning rod for empty calories as his splits against good and bad teams reveal. They finished a smidge over .500 last season it seems like that might be the destiny of this group which is led by its defense, a group that finished 4th in the league a season ago.
Usually a team built the way they are would be able to run the ball well to try and limit possessions but that is not the way that Minnesota plays. Dalvin Cook has proven to be fragile and not the home run hitter they thought they were getting when they drafted him. Overall the running game was 30th in the league. They need to balance that because asking Cousins for a lot, against good teams has not gone well.
Key Departures
Tom Compton (OG); Latavius Murray (RB); Sheldon Richardson (DT);
Key Additions
Josh Kline (RG); Shamar Stephen (DT); Garrett Bradbury (C)
Season Win Total
Over -120 / Under +100 9 Wins
Prediction: 9-7
I am not high on the Vikings being much better than they were a year ago. They can turn that tie into a win and at 9-7 they are going to be in the hunt for a playoff spot. They have some really tough road games in at KC, at Dallas and at Seattle, all in a four game stretch. Unless you believe Cousins is going to morph into a super clutch performer they are probably just going to win the games they are supposed to and nothing more.
Fantasy Radar: Alexander Mattison
It seems like the lower a running back is drafted the better chance they have of playing significant role, or something like that. Dalvin Cook has been a disappointment and he seems to always be hurt. Mattison is 220 pounds and can take a little pounding. He might vulture some TDs and be the kind of pile mover a team with a good defense is supposed to want. I am seeing 700/7.
Green Bay Packers

2018 Record: 6-9-1
The Packers moved in a different direction on the sidelines with Matt LaFleur coming in as the new coach. He is in his first gig looking to get the Packers back to the playoffs. Green Bay is still going to look like the same team with Aaron Rodgers at the helm. He had one of his best seasons with close to 4500 yards and just two interceptions. He has never been the problem except for when he gets hurt.
The defense is lacking and especially so when compared in the division to Chicago and Minnesota. That is why they invested their top two picks on defense at the draft. That is a commitment that might yield dividends as soon as this season. Last year they had four losses and a tie that might have flipped to be wins if they had been more reliable on that side of the ball.
Key Departures
Randall Cobb (WR); Clay Matthews (LB); Nick Berry (LB)
Key Additions
Adrian Amos (S); Preston Smith (LB); Za'Darius Smith (LB); Billy Turner (RG); Darnell Savage (S)
Season Win Total
Over -110 / Under -110 9 Wins
Prediction: 10-6
The Packers, Bears and Vikings are all lined at 9 wins this season so it should be no surprise that they final records are pretty close to each other too. Green Bay has the big advantage of quarterback in that group but the worst defense. Their schedule lines up a little better than Minnesota's this season and they get a little bump from fresh ideas and some potentially impactful personnel changes. It is going to be very tight though.
Fantasy Radar: Geronimo Allison
He is a big receiver with a great catch radius. The job of top target is take by by Davante Adams but after him there is opportunity for someone to emerge as a real secondary threat, especially with Randall Cobb gone. Look for Allison to get at least 50 catches this season. That might include 8 TDs as well.
Detroit Lions
2018 Record: 6-10
Detroit is still trying to figure out what combination of talent they can put around Matt Stafford that will make the team a winner. Last year the defense made some strides under new coach Matt Patricia but the offense was nothing special and they were never really in the hunt for a division title or a Wild Card berth. Stafford has never really been the problem but he is not the solution either.
Detroit has turned over a lot of players in search of more success this season. That happens a lot in football where you can plug and play a little more than other sports. I am unconvinced it is going to lead to more success. Patricia won't be the first former New England coordinator to get a coaching gig and not do much with it. Detroit is not in a good spot coming into the season.
Key Departures
Ezekiel Ansah (DE); LeGarrette Blount (RB); Glover Quin (S); Levine Toilolo (TE)
Key Additions:
Trey Flowers (DE); Jesse Hames (TE); TJ Hockenson (TE)
Season Win Total
Over -110 / Under -110 7 Wins
Prediction: 6-10
Detroit hasn't improved much as far as I can tell and they are the only team in the NFC North projected to not have a winning record. I agree with that assessment. The schedule is tough too with home games against Kansas City and the Chargers thanks to the setup. Those are some losses plus I am not sure they win a game within the division this season. The defense can be as good as it was a year ago but unless the offense really steps forward there is not much to like here.
Fantasy Radar: Kerryon Johnson
Johnson was a sleeper but only put up 641 yards with a few touchdowns. If everything goes according to plan he could double this figures this season. The presence of Theo Riddick will limit his role in the passing game but those numbers can only go up too. He will be second tier at the position by the end of the season.
Division Previews
NFC West
 Full Preview – Podcast
NFC East
Full Preview – Podcast
NFC North
Full Preview – Podcast
NFC South
Full Preview – Podcast
AFC West
Full Preview – Podcast
AFC East
Full Preview – Podcast
AFC North
 Full Preview – Podcast
AFC South
Full Preview – Podcast
NFC Training Camp Questions (Ep. 705)