The AFC West is never boring and this season will not be the exception.
Amazingly, the Broncos and the Raiders have two of the toughest schedules in the league, while the Chiefs and Chargers definitely do not.
There are many pressing questions regarding all four teams in this division. Will Patrick Mahomes be able to avoid the rare sophomore slump AND the Madden curse? Is this Philip Rivers' last chance at a Super Bowl? Can Joe Flacco turn over a new leaf in Denver? And will the Raiders' love affair with over-hyped wide receivers let them down again?
KANSAS CITY CHIEFS
2018 Record: 12-4
The Chiefs fired their defensive coordinator and lost both defensive back coaches along with both linebackers coaches. Yikes. It will undoubtedly take time for Steve Spagnuolo to implement his 4-3 defensive.
By finishing 12-4 and just a score away from a Super Bowl birth with a rookie QB at the helm, it appeared that the sky was the limit for this young team. Alas, that 31st ranked defense amazingly got even worse somehow in the off-season.
Key Departures
Dee Ford (DE), Justin Houston (DE), Eric Berry (S), Spencer Ware (RB)
Key Additions
Frank Clark (DE), Carlos Hyde (RB)
Season Win Total
Over (-110) / Under (-120) 10.5 Wins
Prediction: 11-5
The surprising first pick in the Chiefs draft was Mecole Hardman. They clearly needed defenders, but decided to go with the elusive receiver and return specialist from Georgia.
Fantasy Radar: Sammy Watkins
With the loss of Chris Conley to the Jaguars, Watkins will get more targets in 2019. The oft-injured receiver started to develop a rapport with Mahomes, especially in the playoffs last year. If Watkins drops to the later rounds don't hesitate to snatch him up.
LOS ANGELES CHARGERS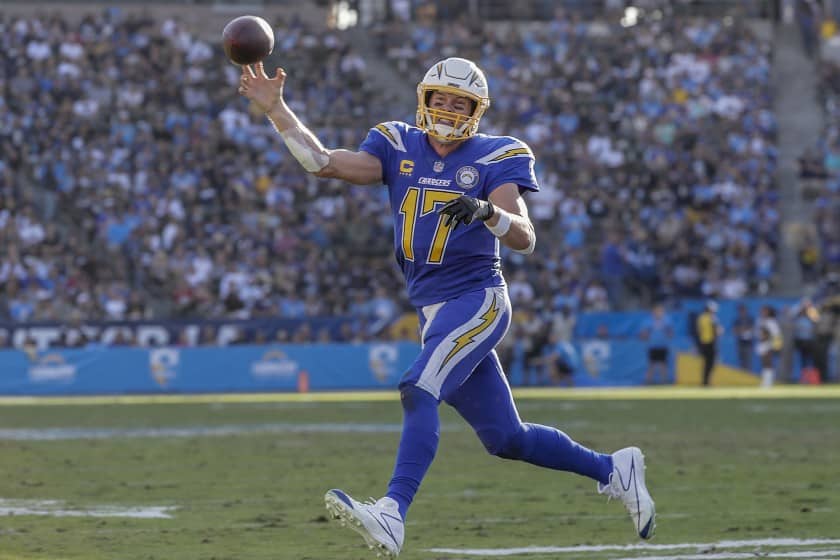 2018 Record: 12-4
Despite last year's favorable schedule the Chargers still lost three "home" games.
The week three contest versus Houston will be their lone home field advantage at the not-so-friendly-confines of Dignity Health Sports Park. Ah yes, the ol' Dignity Health – it just rolls off the tongue doesn't it?
The Chargers were dominated by the Patriots in the Divisional round because of their lack of depth at the linebacker position. However, this year everybody is back and they have added the veteran Thomas Davis. The Chargers are loaded at every position which allowed them to pick the best players available in the draft.
Key Departure
Tyrell Williams (WR)
Key Addition
Thomas Davis (LB)
Season Win Total
Over (-155) / Under (+125) 9.5 Wins
Prediction: 10-6
I expect the Chargers to go 5-3 at home again in 2019. Last year they overachieved on the road at 7-1. Expect them to lose two AFC West road contest this year.
This could very well be Philip Rivers' last chance to win a Super Bowl and he is in a position contend, unfortunately for the Chargers, they will end up as a wild card again despite being one of the best teams in the NFL.
Fantasy Radar: Austin Ekeler
With Melvin Gordon in contract purgatory to start the season, Austin Ekeler is the presumptive starter over upstart Justin Jackson due to his superior pass-catching ability. Ekeler could end up being this years James Conner if the Chargers and Gordon can't come to a deal.
DENVER BRONCOS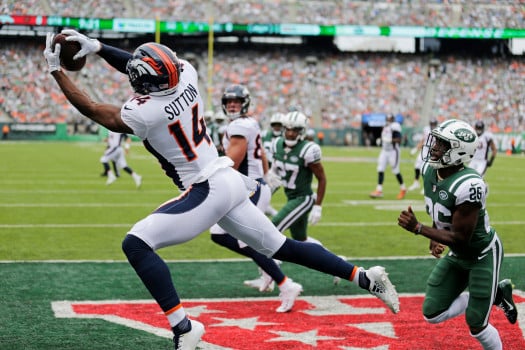 2018 Record: 6-10
Joe Flacco will not be the savior that Coloradans seem to think he will be. In fact, he has not been a top 15 quarterback in five years.
On defense they remain a one-trick pony because a dominant pass rush can only get you so far against the multidimensional offensive talent in this division.
Key Departures
Brandon Marshall (LB), Bradley Roby (CB)
Key Additions
Joe Flacco (QB), Kareem Jackson (DB), Ja'Wuan James (T)
Season Win Total
Over (-110) / Under (-120) 7 Wins
Prediction: 6-10
With one of the toughest road schedules in the NFL there is a very good chance the Broncos only win a single game away from Mile High. I still like the value in the Under. Flacco has one of the more astounding home/road splits of any QB with a career passer rating of 90.5 at home, 78.2 on the road.
Fantasy Radar: Courtland Sutton
It sure is slim pickings for the Broncos offense. Courtland is the type of receiver that Flacco loves: big play ability, physical, and great hands. In this offense, Sutton has the potential for 1,000 yards receiving and 10 TDs, especially with 32-year-old Emmanuel Sanders suffering a season ending torn Achilles tendon in 2018.
OAKLAND RAIDERS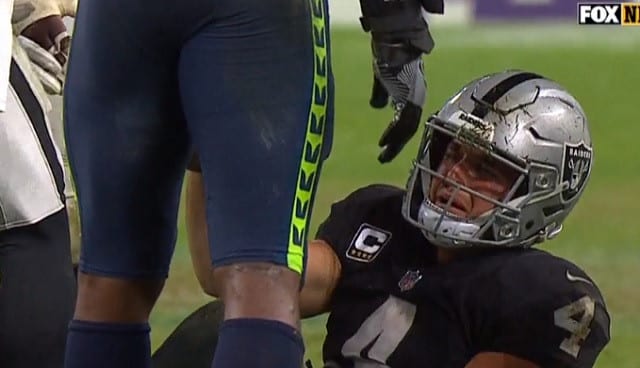 2018 Record: 4-12
Derrick Carr finished 19th in yards per attempt in 2018. Expect that number to rise with the most improved receiving corps in the NFL. The question remains: who is going to block for him? Carr was sacked 51 times last year, and none too happy about that statistic.
Key Departures
Donald Penn (T), Kelechi Osemele (T,G)
Key Additions
Antonio Brown (WR), Tyrell Williams (WR), Vontaze Burfict (LB)
Season Win Total
Over (-105) / Under (-125) 6 Wins
Prediction : 6-10
Both the Raiders and Broncos have improved from last year, but not enough to contend with the Chargers and Chiefs. This division is extremely top heavy in talent.
Fantasy Radar: Tyrell Williams
With his best football likely still ahead of him, Williams seems to be the right fit in Oakland. His big play ability should compliment Antonio Brown nicely, giving the Raiders a great one-two punch.
Division Previews
NFC West
 Full Preview – Podcast
NFC East
Full Preview – Podcast
NFC North
Full Preview – Podcast
NFC South
Full Preview – Podcast
AFC West
Full Preview – Podcast
AFC East
Full Preview – Podcast
AFC North
 Full Preview – Podcast
AFC South
Full Preview – Podcast
AFC West Preview Video