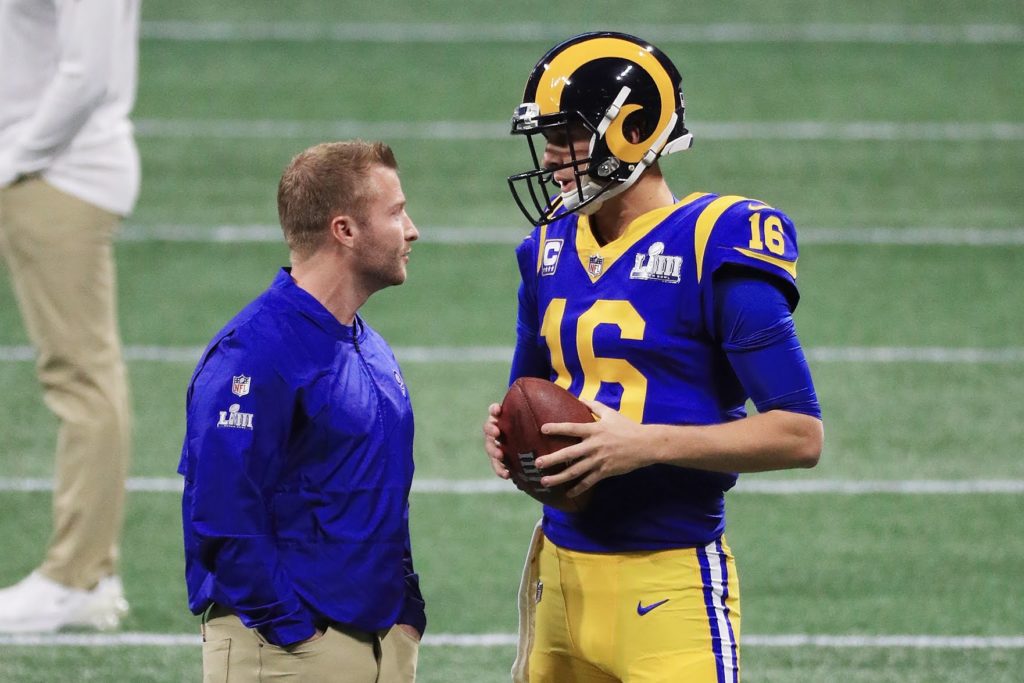 The NFC West is jammed with interesting storing lines for 2019.
Will the Rams be able dominate wire-to-wire like last year? Will Kyler Murray be able to live up the hype that comes with being the #1 pick in the draft? Can the Seahawks contend with a run-first mentality? And can Jimmy Garoppolo play long enough to lead a resurgence in the Bay Area?
LOS ANGELES RAMS
2018 record: 13-3
The Rams face the tall task of bouncing back from a Super Bowl defeat. Los Angeles is the clear favorite in the NFC West. The main question facing the Rams and head coach Sean McVay is if they can maintain their explosiveness on offense despite the loss of two veteran starters on the line and the defensive adjustments teams will throw at them.
Through creative shifting and play design, McVay's offense was the second-most efficient offense in the league. But the Rams will have to replace Rodger Saffold and John Sullivan in the interior of the line. And it remains unclear if workhorse running back Todd Gurley can still carry the load after a knee injury last season limited his effectiveness and snaps in the postsesaon.
The Rams have perhaps the best collection of wide receivers in the NFL with Cooper Kupp (back from ACL tear), Robert Woods, and Brandin Cooks. This talented group, led by Jared Goff, put 32.9 points per game in 2018.
On defense the Rams were merely average in 2018 and they likely won't be any better in 2019 after losing Ndamukong Suh and Mark Barron. Teams were able to run away from Aaron Donald quite effectively last season. Free agent acquisitions Eric Weddle (34) and Clay Matthews (33) have big name value but it remains to be seen how much they have left in the tank.
Key Departures
Rodger Saffold (OG), C.J. Anderson (RB), John Sullivan (C), Mark Barron (LB), Ndamukong Suh (DT)
Key Additions
Eric Weddle (S), Clay Matthews (LB)
Season Win Total
Over 10.5 -125, Under 10.5 +155
Prediction: 10-6
The Rams will take a step back in 2019, but will be able to hold on to take the division crown again. New England showed the blueprint for stopping McKay's offense, limiting the Rams to only three points in The Super Bowl. But they still have the firepower to outscore most of the league.
Fantasy Radar: Cooper Kupp
All signs point to Cooper Kupp being ready to go in week 1. According to McVay, he has looked more explosive in camp than he did last season. Kupp had 40 catches for 566 yards and 6 touchdowns in only 8 games last season. Krupp could knock on the door of 100 catches and 1200 yards serving as the security blanket for Goff.
SAN FRANCISCO 49ERS
2018 record: 4-12
It's year three of the Kyle Shanahan and John Lynch regime. The pressure is on to produce this year after a disappointing 2018 season that saw Garoppolo go down with in an ACL tear after only three games.
The 49ers return basically everyone from last year's squad, including all five starters on the offensive line. Garoppolo has teased us with his potential in only handful of games. Shanahan made even CJ Beard look like a decent quarterback at times last year so the expectations are high for Garoppolo this year.
The 49ers have a young crop of wide receivers, led by second-year receiver Dante Pettis and rookies Jalen Hurd and Deebo Samuel.
On defense the 49ers have the deepest defensive line in the division. With the addition of free agent EDGE Dee Ford and rookie Nick Bosa, they should have one of the best pass rushes in the NFL this season. The secondary is a definite weakness but it may not matter if the pass rush truly is elite.
Key Departures
none
Key Additions
Dee Ford (EDGE), Nick Bosa (EDGE), Tevin Coleman (RB), Deebo Samuel (WR), Jalen Hurd (WR)
Season Win Total:
Over 8 -150, Under 8 +120
Prediction: 8-8
The pressure is on Shanahan and Garoppolo to deliver a high-powered offense. We will finally get to see how good Garoppolo is this season. But the 49ers lack explosive options at wide receiver. They will take a step forward behind their stout pass rush but they need a breakout season from one of their young wide receivers to contend for a playoff spot.
Fantasy Radar: Tevin Coleman
Running back Tevin Coleman is an excellent fit for Shanahan's offense as he excels catching balls out of the backfield and operating in an outside zone running scheme. Look for Coleman to eventually to take over the starting role from incumbent Matt Breida as the season goes along.
SEATTLE SEAHAWKS
2018 Record: 10-6
The Seahawks are a throwback team, choosing to run the ball as the rest of the league passes more and more. With Russell Wilson at quarterback, it's a less than optimal strategy considering he throws one of the best deep balls in the NFL.
But Pete Carroll and offensive coordinator Brian Schottenheimer don't want to "dink and dunk" so the Seahawks will continue to "establish the run" early in games. Wilson threw for 35 touchdowns last year, suceeding in spite of the overly conservative game plans.
The defense loses several key contributors, headlined by the departaures of safety Earl Thomas and EDGE Frank Clark. Throughout Carroll's reign in Seattle the defense has been a strength, but they were merely average in 2018, finishing 14th in defense efficiency. They will need their home-grown talent to step in fill the void of talent on the defensive line and the secondary.
Key Departures: Earl Thomas (S), Frank Clark (EDGE), Justin Thomas (CB)
Key Addtions: Ziggy Ansah (EDGE), D.K. Metcalf (WR), L.J. Collier (EDGE)
Season Win Total:
Over 8.5 -125, Under 8.5 -105
Prediction: 8-8
While the defense takes a step back in 2019, the Seahawks will find themselves in more shootouts than they are accustomed to. Wilson will have to bail them out time and time again. With the bottom-dwellers both improving, the Seahawks will be staring right at .500 and sitting on the sidelines for the playoffs.
Fantasy Radar: D.K. Metcalf
Metcalf was one of the combine stars, showcasing his 4.33 speed in the 40 while measuring 6-3, 228. Metcalf is raw but he can get deep, a good match with Wilson's strength.
ARIZONA CARDINALS

2018 record: 3-13
The Cardinals were the worst team in the NFL in 2018 so there is nowhere to go but up this year. They dumped their coach after one season and went all in on the Air Raid offense by hiring Mike Leach disciple Kliff Kingsbury and drafting quarterback Kyler Murray with the first pick.
Arizona had the 32nd most efficient passing game and 31st most efficient running game in 2018 so Kingsbury has his work cut out for him.
The offensive line is s big question mark so it will be up to Murray to make quick decisions with the football. His ability to improvise and create plays on his own will be put to the test.
The defense is improved on paper with several free agent acquisitions, including ageles pass-rushing specialist Terrell Suggs (36), linebacker Jordan Hicks, and safety D.J. Swearinger. The Cardinals brought in former Broncos' coach Vance Joseph to rejuvenate the defense. With Chandler Jones and Suggs, the Cardinals should at least have a solid pass rush. Standout cornerback Patrick Peterson is suspended for the first six games so their depth in the secondary will be tested early.
Key Departures
Josh Rosen (QB), Antoine Bethea (S)
Key Additions
Kyler Murray (QB), Desmond Harrison (OT), Terrell Suggs (EDGE), Jordan Hicks (LB), D.J. Swearinger (S)
Season Win Total
Over 5 -140, Under 5 +110
Prediction: 6-10
It's going to be a long season in the desert. Kingsbery is a great college offensive mind but we saw this same story in Philadelphia with Chip Kelly a few years back. Kyler Murray will be exciting to watch but this team will only be relevant for your fantasy football team in 2019.
Fantasy Radar: David Johnson
Johnson should see a big boost in productivity as he will likely be featured much more catching the ball. Kingsbury will find creative ways to get him in space and running backs typical see a boost when they are paired with running quarterbacks.
Division Previews
NFC West
 Full Preview – Podcast
NFC East
Full Preview – Podcast
NFC North
Full Preview – Podcast
NFC South
Full Preview – Podcast
AFC West
Full Preview – Podcast
AFC East
Full Preview – Podcast
AFC North
 Full Preview – Podcast
AFC South
Full Preview – Podcast
NFC West Preview Video