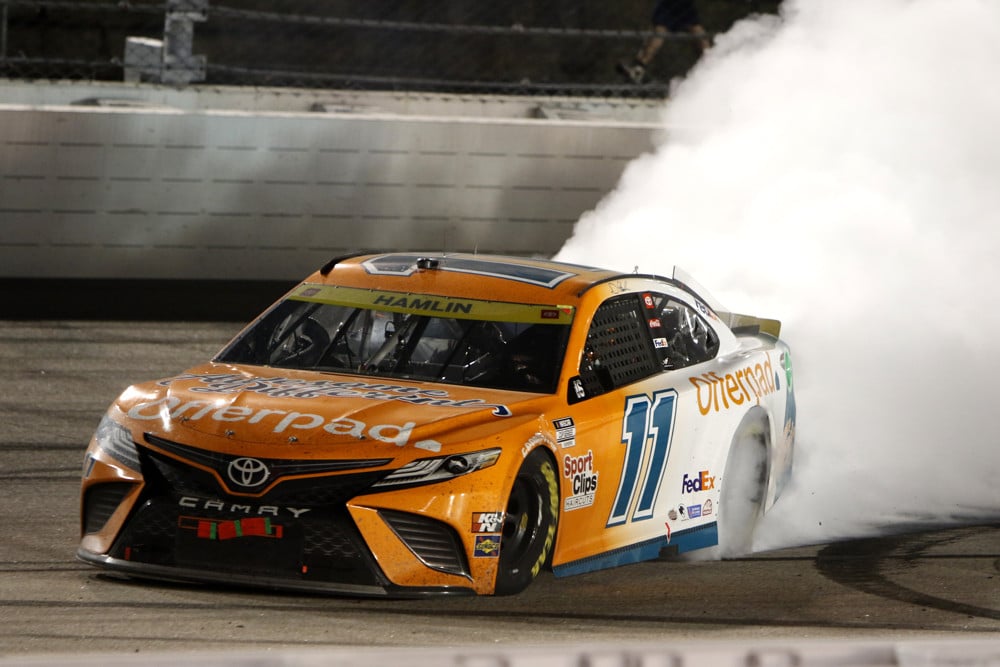 Welcome to throwback weekend in NASCAR at Darlington Raceway! Before we dive into that, how about that race at Kansas Speedway? An all-time event that included a record 37-lead changes (actual new leaders across the start-finish line), the most ever in a 400-mile event on a 1.5-mile track (not counting Atlanta).
There were comers and goers all day. Chevrolet's seemed faster on the short runs, with Toyota's having the long run speed. But, in the end, it was Denny Hamlin snapping his 33-race winless streak in a last-lap pass of Kyle Larson to tie Tony Stewart at 49 wins for 15th on the all-time wins list.
This week at Darlington, we're expecting another great race. Like Kansas, the tires will wear faster, and it will be blistering hot (a forecasted high of 93 on Sunday). The "Lady in Black" or the "Track too Tough to Tame" are common nicknames for this tortuous track.
Located in Darlington, South Carolina, the 1.366- mile track is egg-shaped with turns 1-2 wide, sweeping, and flat, and turns 3-4 tighter, narrower, and steep to accommodate the minnow pond they promised the farmer they wouldn't disturb. This makes the track even more tricky to set the cars for. At the end of Sunday's race, the "Darlington Stripe" will be left on the side of many cars.
As we do each week, let's take a look at five of my favorite bets using a budget of $5,000. Then, be sure to tune into the NASCAR GAMBLING PODCAST for a full breakdown and picks for the Cup, Xfinity, and Truck Series that are all in action on this throwback weekend.
Go here for free NASCAR picks!

Goodyear 400 at Darlington Raceway NASCAR Best Bets
$2,500 – AJ Allmendinger Over Chase Briscoe (-130 Caesars Sportsbook)
If you followed along last week, #FadeBriscoe was also my biggest bet of the day, taking Josh Berry over him. Despite Berry's rough day, there may not have been a slower car on the track than Briscoe. His performance this season on intermediate-sized track has been downright horrendous. 20th at Auto Club, 28th at Vegas, 30th at Dover and 32nd at Kansas. The 14-car has just been downright slow, and I don't expect that to change this week.
In his two trips to Darlington last year, Briscoe finished 27th and 20th. It's been since 2018 that Allmendinger was last at Darlington in a Cup car, but at the same intermediate tracks this year, he's had finishes of 36th at Auto Club, 18th at both Vegas and Dover, and 14th last week in Kansas. So I can trust AJ to get a solid top 15-20 finish while Briscoe is hanging out with BJ McLeod at the back of the pack. This is an easy Allmendinger for me.
$1,000 – Christopher Bell Over Ross Chastain (+105 Superbook)
Ross Chastain has been very good lately. However, he's had a rough go of it for the most part at Darlington. Chastain's aggressive driving style isn't suited as well for a track that will make you pay for the slightest of mistakes. Last season Chastain finished 30th and 20th in the two races here. He did have a third-place finish in 2021, but 15th or worse in his other four starts here.
Christopher Bell's teammates, Denny Hamlin and Martin Truex Jr, have won the last two races, and other than getting caught up in a spin last week, Bell has been having a stellar season. Last season's strong finishes of fifth and sixth place have me much more confident in Bell this week. Adding on the fact that he's plus money in this matchup is just the icing on the cake.
$500 – Chase Elliott to Win Group B (+330 Superbook)
This is a pure value play here. This group is full of heavy hitters (Reddick +245, Byron +245, Bell +280). Any of these guys can win this race, and if all of them survive, the wrecks should be top five or top ten cars for most of the day. Getting Chase Elliott at +330, and all he has to do is beat these three other drivers to cash this.
Had that final caution last week at Kansas not come out, Elliott could have continued to lead, and maybe he would have won the race. Instead, as we talked about this week on the NASCAR Gambling Podcast, at Darlington, he either finishes last or is in the top five. For this type of bet, you are just hoping this is one of the good days and letting a great driver cash this bet for you.
$500 – Austin Dillon Top 10 Finish (+240 Caesars)
In 13 career starts at Darlington Raceway, Austin Dillon has finished inside of the top 11 in seven of those starts. In the last seven races here, Dillion has an average finish of 12.5, putting him just outside of that top 10 mark. Coming off of a strong 10th-place run at Kansas and heading to a track he's usually good on, I'm looking for Austin to have another solid run.
$500 – Denny Hamlin to Win (+600 FanDuel)
Denny is fresh off snapping his 33-race winless streak at Kansas Speedway. A few weeks ago, he called his shot that his team would catch fire, and they have. Now they head to a track where Hamlin has a nice 6.9 average finish over the last seven races to lead all active drivers. In that time, Hamlin has won two races and has four total victories at Darlington. With temperatures up to 97 degrees for Sunday's race, the heat is where Hamlin is most comfortable, and I think he goes back to back this week.
Goodyear 400 DraftKings DFS Driver to Watch
Kevin Harvick ($8,800)
One of NASCAR's 75 greatest drivers of all time deserves a mention here. The lack of Stewart-Haas Racing speed on intermediate tracks has been concerning this season. Harvick and crew chief Rodney Childers, however, seem to have things figured out and are a reliable pair most weeks.
Harvick had an exhaust issue at Darlington in the fall, giving him a poor result. Before that, Harvick had 13 straight top-10 finishes at the track dating back to May 2013. During that span, Harvick won here three different times. However, the attitude towards Harvick has cooled off in the last few weeks, and now is the time to jump on him before he becomes popular again.
Ryan Newman ($5,800)
Ryan Newman is making his return to the Cup Series this weekend with Rick Ware Racing. The 45-year-old hasn't competed since the season finale in 2021, the last race for the Gen-6 race car. Despite Newman not having any experience in this new car and being in Rick Ware's equipment, I still think he offers a lot of upside.
From May 2009 through the 2021 season over 16 races, Newman finished 23rd twice and never had another finish worse than 17th. He's a racer through and through and has always done a great job on this track; I think Newman could finish inside the top 20 this week and give you a great return on this cheap price tag.