The full 2023 NFL schedule release happened Thursday evening after they spent the past 24 hours teasing some games here and there. Now you can finally see the path your team has to the playoffs. Each week features big games and plenty of opportunities to make some cash. However, looking at the schedule, we thought we'd pick one NFL game to bet each week. The 2023 NFL games to bet each week list is now complete!
Obviously, you may want to bet more than one game a week. However, if not, this list is perfect for you. We've mixed a bit of the best games with some of the best storylines in order to choose the games each week. I threw in a little bit of my favorite games of the week as well, whether it's a great game to bet or not.
Go here for SGPN's 2023 NFL Betting Trends
Check out SGPN's 2023 NFL Schedule Grid
Check out SGPN's Things for Bettors to Watch for
Go here for SGPN's 10 Reactions to the Schedule Release
Go here for more NFL Content!
2023 NFL Schedule Release: One Game To Bet Each Week
Week 1 – Bears vs. Packers
The first game on my list of one game to bet on each week may be a bit of a homer pick, but hear me out. When the 2023 NFL schedule was released on Thursday, a lot of games jumped out at me. Even the first game of the season, the Lions vs. the Chiefs, is intriguing. However, I couldn't help but turn my attention towards the Chicago Bears and Green Bay Packers—the league's oldest rivalry, meeting in Week 1, with one major difference. There is no more Aaron Rodgers in Green Bay.
After 18 seasons with the Packers and many seasons of repeatedly beating Chicago, Rodgers is gone. The Chicago Bears finally have the advantage and will likely be favorites in Week 1. It seems like the tides are turning, and I think the Bears are going to show up in this game to start a new era. No matter your side, this will be a perfect game to bet.
Week 2 – Texans vs. Colts
Heading into Week 2 of the 2023 NFL schedule release, there's another good slate of games to bet on. This week, when I'm looking for one NFL game to bet on each week, I look at what could be a battle of rookies. The Texans will be looking to turn their franchise around, while the Colts have been looking for an identity for a while. Moving from quarterback to quarterback, have they finally found their guy, and will he start right away?
Rookie C.J. Stroud will be hoping to start piling up wins for the Texans while we will all wait to see how long it takes the Colts to turn to Anthony Richardson. These teams have tough Week 1 matchups against the Ravens and the Jaguars. I wouldn't say I like the odds in those matchups, so this may be their first opportunity to pull in a win. But will one of these franchises start 0-2? That's what makes this game so intriguing to bet on.
Week 3 – Patriots vs. Jets
Week 3 has one matchup, which I'm looking forward to betting on. Is it going to be the highest scoring? Probably not. However, it should be an exciting one to watch. My one NFL game to bet each week for Week 3 is the New England Patriots against the New York Jets. The Patriots have picked on the Jets recently. Actually, that may be an understatement. The Patriots have beaten the Jets twice in each of the last seven seasons. In addition, they've won 14 in a row.
However, the Jets are different this year. They've had a strong defense but have been looking for the right signal caller to help them. This offseason, they spent a small part of their future to acquire Aaron Rodgers. They wouldn't have done so had they not thought he could help them win games against rivals like the Patriots. This will be an exciting game to watch to see if Rodgers can get them over the hump or if it'll be the same old Jets.
Week 4 – Commanders vs. Eagles
Week 4 of the 2023 NFL schedule has a game football fans, in general, should be looking forward to. Last year Jalen Hurts only lost one game that he started and finished, aside from the Super Bowl. It was a Monday night football game against the Washington Commanders. That's why the Eagles and Commanders game falls on our list of one NFL game to bet on each week for Week 4.
The Commanders are turning over the reigns to Sam Howell. Or so we think. The Eagles have some coaching turnover, but otherwise, they are pretty much the same team, if not with a little more depth. Can the Commanders' defense stay strong against their division rival and beat the team few could last year? I know Commanders fans are hoping so, but this Eagles defense may be a team of destiny.
Week 5 – Steelers vs. Ravens
The Week 5 game I'm picking on the 2023 NFL schedule release isn't for the faint of heart. These two usually take turns seeing who can hit the hardest. We've seen multiple injuries come out of this game, and while we don't want to see any injuries, we do want to see the big hits and physical style of football. That's one of the reasons I'm excited to bet on the Steelers and Ravens game in Week 5.
Lamar Jackson got paid. The Steelers are in year 2 of the Kenny Pickett experiment. Both continue to make adjustments and improvements on their defense, though they both took some interesting people in the draft for their offense as well.
One of the main reasons this is on my list of one NFL game to bet each week is just because of the rivalry. These games always seem good, no matter which team is doing better that year, and I can't wait. Personally, I like the Steelers to be a little sneaky good this year.
Week 6 – Chiefs vs. Broncos
Thursday night football! That means you can bet right away and hopefully win. Especially win enough to keep betting through the weekend. In Week 6, I couldn't look any farther than the Broncos vs. Chiefs. A division rival, a Chiefs team that seems to be headed towards a dynasty team, and a Broncos team that has traded a lot of picks to get Russell Wilson and Sean Payton.
While I'm excited to see what the Broncos do this year with their new quarterback-coach combo, however, it may take a handful of games to move everything from paper to field and put it all together. Therefore I'm eyeing their matchup against the Chiefs. This is why the Broncos organization made these moves. To beat a team like the Chiefs. There are a lot of NFL games to bet this week, but this one is top of my list for one NFL game to bet each week for Week 6.
Week 7 – Chiefs vs. Chargers
I hate to roll with two Chiefs games in a row, but this is another exciting game to watch. The Chargers are another AFC team full of talent and with a great young quarterback at the helm, just like the Chiefs. Herbert, Mahomes, and Allen will likely all battle out the AFC for years to come, and it's exciting to watch every time they face each other. In Week 7, the Chargers face the Chiefs in what could end up beginning a playoff preview.
These games with big implications, even when we aren't even halfway through the season, are hard not to throw on my list of one NFL game to bet on each week. Will Patrick Mahomes and the Chiefs continue to reign over the league, or will another young gunslinger like Justin Herbert be able to dethrone them?
Week 8 – Packers vs. Vikings
Another NFC North game, just like Week 1, falls on my list for Week 8. The Vikings, who won the division last year, are against the rebuilding Packers. By now, in the season, we will likely know the answer to one specific question. Is Jordan Love the guy? If he isn't, this one could be ugly, and you should bet on the Vikings unless it's a ridiculous spread.
However, if he is showing some signs of being the guy, this could be another fun rivalry game to watch. Again, it's hard not to look at the rivalries for my list of one NFL game to bet each week, and Week 8 is no different.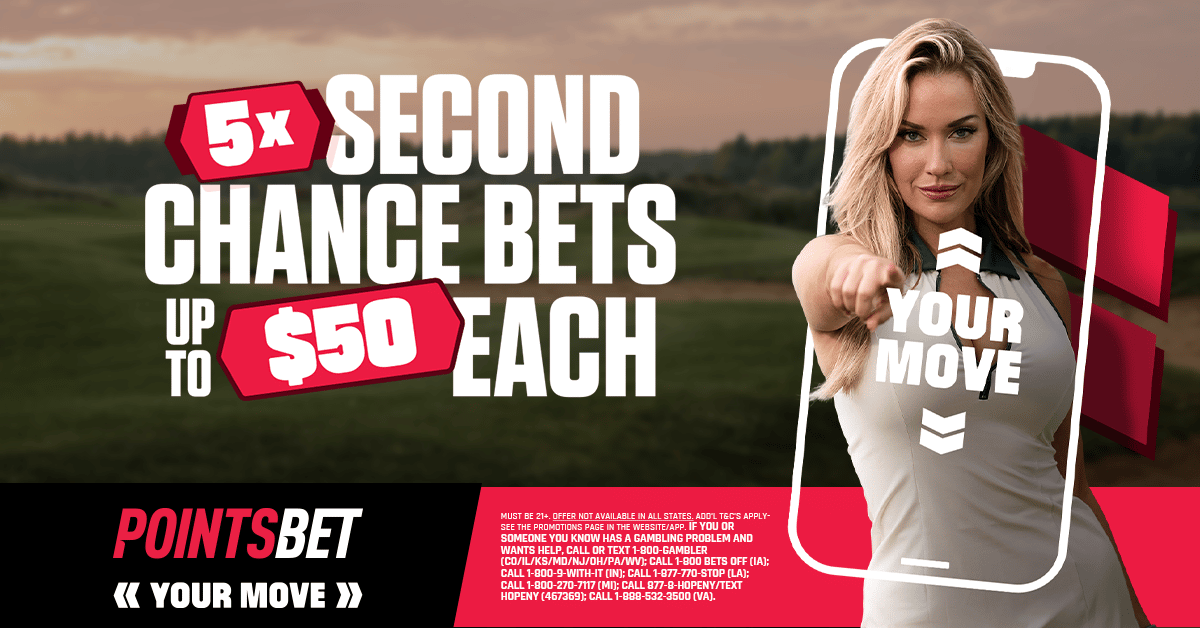 Week 9 – Bills vs. Bengals
Another AFC battle that fans should be looking forward to is a bit of a rematch from last year. While this could be an emotional game, given what happened when they faced last each other last year, the Bills vs. Bengals lands on my list of one NFL game to bet on each week for their matchup in Week 9. You have to believe when the 2023 NFL schedule release happened, fans and players circled this game.
While throwing in names like Justin Herbert, Josh Allen, and Patrick Mahomes earlier in the article, I have to apologize for not also mentioning Joe Burrow. Cool-Joe is another phenomenal quarterback in this loaded AFC that is a fun player to watch and makes this a fun team to bet on. Last year they looked ready to run up the score on the Bills just in the first quarter, moving the ball efficiently. We may never know how that game would end up, but we'll get to bet on how this one ends up.
Week 10 – Panthers vs. Bears
Go ahead and skip Week 10's read if you don't like me picking my own team for the second time. Let's be honest; I'll be betting on them every week. But I like the storyline of this one. The Panthers, who gave up pick 9, a 2023 second-rounder, a 2024 first-rounder, a 2025 second-rounder, and D.J. Moore to grab Bryce Young, now face the team they traded all that too. D.J. Moore faces his former team, the Panthers.
The story is great, the game is great, and I personally think this will be a feisty game. The Panthers organization will be pushing their guys to show the Bears and the nation that they made the right move. D.J. Moore will want to make the Panthers miss him. I like the Bryce Young and the D.J. Moore over props in this one, no matter what they are at. However, I like betting on the game as well because there will be added emotions. That's why it lands on my list of one NFL game to bet each week.
Week 11 – Chiefs vs. Eagles
We have to wait 11 full weeks before we see a major rematch. The rematch of the Super Bowl. How can the Eagles vs. Chiefs rematch not be on the list of one NFL game to bet each week? Neither of these teams look like they are taking a step back, and this game will be their chance to show it. While the Eagles will be looking for a little Super Bowl revenge, the Chiefs will be looking to prove they haven't missed a beat and have no Super Bowl hangover.
Patrick Mahomes and one of the best offenses in the NFL against the Eagles, one of the best defenses in the NFL. Which will bend first? Last year it was the Chiefs who overpowered the Eagles. Will that be the same case this year? This game will decide and answer all our questions. So despite what side you're on, I'm jumping on the over.
Week 12 – Commanders vs. Cowboys
Week 12 is the week of Thanksgiving. This means if you want to avoid talking politics with your family, you can watch three football games. In fact, if you want to avoid Black Friday shopping, you can even watch a game on Friday. I'll leave my feelings aside on the fact that Black Friday is for college football. What better way to celebrate Thanksgiving than the Cowboys against the Redskins. Oops, I mean the Commanders. We all know who they really are.
This division was competitive through the first 12 weeks of football last year. Will the Commanders be able to stay as competitive with Sam Howell at the helm? Will the Cowboys still push to be a top team in the NFC, or will they take a step back? Things are different now.
Zeke is gone, Pollard is RB1, and Dak hopes to prove he's still the answer as the Cowboys' franchise quarterback. But, of course, the Commanders' defense will want to show him differently, and it's your national duty to put this on your radar as one NFL game to bet each week.
Week 13 – 49ers vs. Eagles
Getting closer to the playoffs, two teams that have another chance of being NFC powerhouses are the 49ers and the Eagles. They face off in Week 13, a game that falls on my list of one NFL game to bet each week. If these teams perform as they did last year, this will be a tough one to pick a side on. These two had really successful seasons last year until the 49ers' quarterbacks started dropping like flies.
At this point in the season, we'll know if these two are playoff bound. We'll know if it's Brock Purdy, Trey Lance, or Sam Darnold leading the way for the 49ers. We'll know if the loss of Miles Sanders and the replacement of D'Andre Swift makes any difference in the Eagles' strong offense. But if these two teams do end up clicking like last year, this game could have both playoff and home-field advantage implications.
Week 14 – Bills vs. Chiefs
Another game that could have both playoff and home-field advantage implications falls in Week 14 with the Bills vs. the Chiefs. Again, this game has two powerful teams in the AFC, with two young quarterbacks. The battle between these two over the past couple of years has been fairly exciting, and I don't think this will be any different.
Despite what side you're on, I already like the over on this game. Both these teams can move the ball efficiently. That's one of the main reasons this game falls on my list of one NFL game to bet each week. This will likely be either a playoff preview or an AFC championship preview. In fact, this game may decide which of those it is.
Week 15 – Raiders vs. Bengals
Will Jimmy G be able to save the Raiders? We'll know the answer by Week 15. However, whether they're in a playoff race or not, most books think the Chargers will be in the playoff race. That makes this an important game for them as they try to position themselves ahead of teams like the Chiefs, the Bills, and the Bengals, as well as another handful of AFC teams that will be trying to make their playoff push.
So why does this game make the list of one NFL game to bet each week? It's not just the playoffs. It's the location. The Chargers have to go to the new-age stadium and try to make their mark by taking on a feisty Raiders team. This will be a good one; if the Raiders are a dog, they're a live dog.
Week 16 – Steelers vs. Bengals
Are the Steelers the subject of physical games, or is it just the division? The game in Week 16 that falls on one NFL game to bet on each week is the Bengals versus the Steelers. This is another physical game that will be great to watch and bet. If the Steelers' season pans out how they're hoping, this could be a game they need to win to make the playoffs as well.
If the season isn't going how they intend, this game could still be important to ensure Tomlin continues having winning seasons. The Bengals will likely be trying to get the highest playoff seed possible. Steelers are a live dog.
Week 17 – Saints vs. Bucs
I know these two teams already played once earlier in the year. However, the Saints-Bucs game is my favorite in Week 18. It makes the list of one NFL game to bet on each week because I feel it will be important for the division winner and the playoffs. This will be a tight division, even though the Saints and their new quarterback Derek Carr should be able to take it. Still, this will be competitive.
Do I think the Bucs will be in that mix, competing for the division winner spot? No. However, I think they'd love to play spoiler to the Saints if it's a close race. Give me Baker, scratch that, give me Kyle Trask and this Bucs team with nothing to lose to throw everything at the Saints.
Week 18 – Giants vs. Eagles
The last week of the season. The playoffs start the next week. So which game do I think has the biggest impact on the playoffs in Week 18? Which game falls on the list of one game to bet on each week because it's so important? It's the game between the Eagles and the Giants. Two locked-in franchise quarterbacks, two teams in the same division, and two teams that could possibly face each other in the playoffs.
The NFL script can't get much better than that. Will the Eagles be trying to gain a number one seed and get knocked out of it by the Giants? Will the Giants need this game to make it into the playoffs? Or, will the Giants exceed expectations this year, and this game decides the division winner? There are a lot of scenarios that could play out. But, regardless of team standings and the playoffs, this game is certain to be a good one.