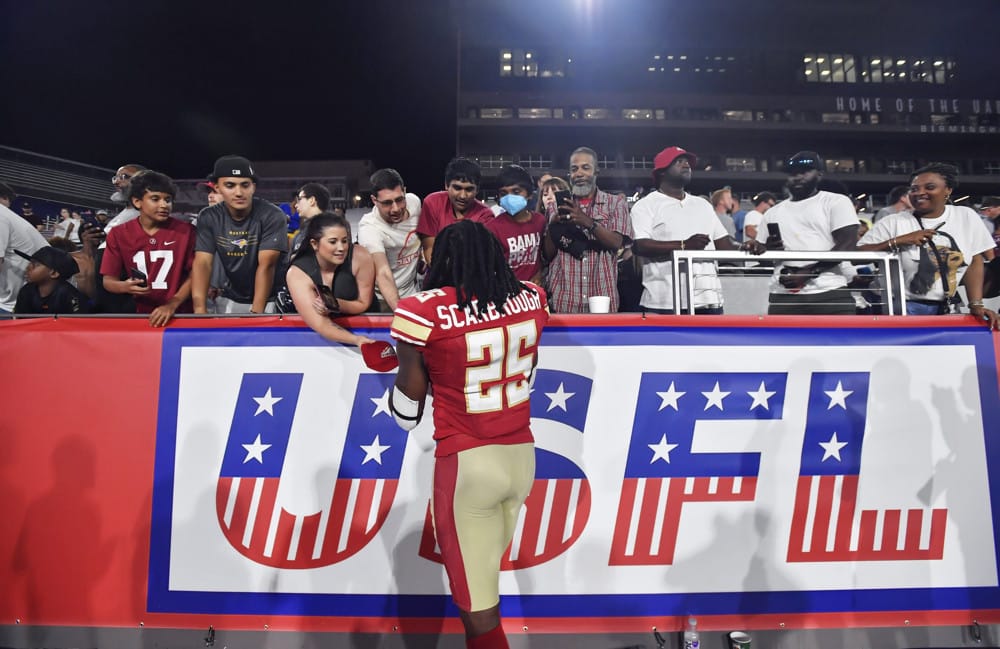 The USFL kicks off its highly anticipated 2023 season in a little over a week. Following a successful 2022 season, fans of the league cannot wait until kickoff next Saturday afternoon. With the excitement of a season also comes the anticipation of a fantasy league. Folks, yes, you can sign up and play in a USFL fantasy league via ALTFantasySports. They have all the tools you need to help you create, draft, and dominate your league.
After the 2022 league year, over 50 players signed NFL contracts and futures deals. With many of those players still signed to those contracts or off playing in other professional leagues, new faces have joined the USFL vying for their chance at stardom. Ranking these players, both new and old, is never an easy task.
Projecting players on new teams, new coaching staff, and new offenses is not an exact science. But someone must do it. I am honored to present my 2023 USFL fantasy rankings via SGPN. Let us get started on the rankings!

2023 USFL Season Long Fantasy Rankings
Quarterbacks – Get Smith, Cookus & MBT Early
QB1 J'Mar Smith BIN
QB2 Case Cookus PHI
QB3 McLeod Bethel-Thompson NO
QB4 Carson Strong MICH
QB5 De'Andre Johnson NJ
QB6 Kenji Bahar HOU
QB7 James Morgan PITT
QB8 Brady White MEM
QB9 Josh Love MICH
QB10 Kyle Lauletta NJ
QB11 Montell Cozart HOU
QB12 Ryan Willis MEM
QB13 Alex McGough BING
QB14 Cole Kelly MEM
QB15 Troy Williams PITT
QB16 Davis Cheek NO
Last season, the Birmingham Stallions emerged as the top team in the revamped USFL. Giving credit where it is due, Quarterback J'Mar Smith comes in at 1.01 for QBs in 2023. Hot on his heels are Case Cookus of the Philadelphia Stars and USFL newcomer McLeod Bethel-Thompson of the New Orleans Breakers.
Smith, a former Louisiana Tech product, finished with 1,573 passing yards and ten passing touchdowns in 2022. This was good for third-best in the league in each category. In addition, he tallied 187 rushing yards and two scores on the ground. Smith, who led the Stallions to an impressive 9-1 record en route to a championship, is a top-ten fantasy option in 2023. Smith enters the year as an MVP candidate league-wide, too.
Next up, Cookus and MBT come in as top-twenty options in fantasy, and both have versatile weapons to throw to this season. Cookus, who spent time with the Los Angeles Rams at the completion of the 2022 season, has two top-ten weapons at receiver. More on those guys later.
The former Northern Arizona product finished with 1,334 passing yards and 12 passing touchdowns while leading Philly to the USFL championship game last year. Philadelphia is in good hands with Cookus in 2023. He projects to be an MVP candidate heading into this season.
MBT is a Name to Remember 
For Bethel-Thompson, he has opted to go the USFL route via the New Orleans Breakers instead of returning to the CFL. Last season while suiting up for the Toronto Argonauts, MBT threw for just under 4,800 yards and 23 touchdowns. In doing so, he led the Argo's to a Grey Cup while being named an East All-Star.
While moving from the CFL to the USFL will be a significant slash to his paychecks, his expended production should remain the same. Coupling him with new HC and quarterback guru John DeFilippo should prove to be a home run for the Breakers.
QB3 though QB8
As we shift to the rest of the top-8, the former University of Nevada and USFL newcomer Carson Strong is my QB4. Strong, a UDFA signee of the Philadelphia Eagles last year, possesses ideal size and above-average arm strength. The six-foot-three quarterback has signed with the Michigan Panthers and will compete with returning quarterback Josh Love for the starting role.
This list assumes the Strong will emerge as the QB1 for the Panthers in 2023. Next up is New Jersey Generals quarterback De'Andre Johnson. Johnson started just four games for the Generals last season but projects to be the full-time starter this year. A dual threat at the position, I would expect Johnson to surprise some folks across the league this year.
Next, QB6 through QB8 is somewhat of a toss-up for fantasy purposes. Houston Gamblers QB Kenji Bahar, Pittsburgh Maulers QB James Morgan, and Memphis Showboats QB Brady White comprise this impressive group. Bahar will use his arm and legs to rack up points in Houston. Bahar is primed for a breakout year in 2023.
Morgan assumes the QB1 job in Pittsburgh. The 2020 fourth-round pick has bounced around the NFL, but he brings a wealth of knowledge to the Maulers. Finally, White, the former Arizona State University and TSL Alphas quarterback, will have stiff competition in the form of backups Ryan Willis and Cole Kelly.
The Rest of the Quarterbacks
As we shift to backup roles, Generals backup QB Kyle Lauletta and Willis highlight a group of players hungry for an opportunity. The fun part about USFL fantasy is the wildcards who will get a chance to start and not relinquish that chance for the remainder of the season. Whether through injury or inconsistent performance, a few of the top eight could very well sit toward the bottom of this list by the season's end.
Other streaming options throughout the year are Gamblers' perceived backup Montell Cozart, Pittsburgh Maulers backup Troy Williams, and Birmingham Stallions backup Alex McGough. Like most other spring football leagues, the USFL will have at least one backup quarterback finishing the year as a starter. These three players could be potential stash options on your fantasy team in 2023.
Running Backs – Scarborough and Victor are 1.01 and 1.02
RB1 Bo Scarbrough BING
RB2 Darius Victor NJ
RB3 Mark Thompson HOU
RB4 Reggie Corbin MICH
RB5 Alex Collins MEM
RB6 Trey Williams NJ
RB7 Madre London PITT
RB8 Matt Colburn II PHI
RB9 Garrett Groshek PITT
RB10 Anthony Jones NO
RB11 Dexter Williams PHI
RB12 CJ Marable BING
RB13 Stevie Scott III MICH
RB14 Justin Stockton MEM
RB15 Devwah Whaley HOU
RB16 ZaQuandre White BING
RB17 Darnell Holland PHI
RB18 David Hamm MEM
RB19 Ezra Gray NO
RB20 Wes Hills NO
As is the case with any fantasy football draft, running backs are always selected at the beginning. For USFL's sake, Stallions RB Bo Scarbrough and Generals RB Darius Victor duke it out for the top spot. Scarbrough, an integral part of the Stallions' 2022 playoff run, looks to improve last year's stellar performance. The former University of Alabama standout finished the year with 253 rushing yards and one touchdown in just five starts. I expect Scarborough to get the bulk of the carries in Skip Holtz's offense in 2023.
As for Victor, he led the USFL in rushing touchdowns with nine. While splitting carries with other talented backs, New Jersey's bell cow back finished third in rushing with 577 yards. While credited with zero starts in 2022, Victor played a significant role in the Generals' success last year. Victor comes in at RB2, having RB Trey Williams directly behind him on the New Jersey depth chart to start the year.
RB3 and RB4
RB3 and RB4 can both make a case to be higher. We will start with Houston Gamblers ball carrier Mark Thompson as the RB3. The former Florida Gator finished last season with 463 rushing yards and five touchdowns. While Houston may have questions at quarterback, their leading rusher from a year ago looks to be dominant in 2023.
Moving to RB4, Michigan Panthers RB Reggie Corbin has the potential to break out this year. The 2022 All-USFL back out of Illinois finished his impressive season with 519 rushing yards and two touchdowns. Corbin added just under 300 return yards to his tally as well. So while Michigan may air it out in 2023 with Strong at QB, they have an all-star in the backfield, too.
RB5 through RB8
As we move down the chart at the RB spot, RB5 through RB8 have plenty of intrigue and upside. First, we start with new Showboats RB Alex Collins. Collins is a well-known name in NFL circles, having been a former fifth-round draft pick of the Seattle Seahawks. His best years in the NFL came with the Baltimore Ravens from 2017 to 2018. During those two years, the former Arkansas Razorback rushed for over 1,200 yards with 13 touchdowns. I would expect Collins to be the feature back in Memphis for HC Todd Haley in 2023.
Next, we move into interesting territory with RB6 through RB8. With Victor projected to be the leading rusher in New Jersey, Williams makes his case. In 2022, Williams finished with 579 rushing yards, good for second in the USFL. He would start in all ten games for the Generals, averaging nearly five yards per carry.
It is a peculiar situation regarding carries and splits in New Jersey. The Generals have two number-one backs at their disposal. I believe Victor gets the upside given his success finding the end zone. Williams is a fantastic option at RB6 in 2023.
More Intriguing RBs
Rounding out this group of backs are RB Madre London and RB Matt Colburn II. London and Colburn II project to be starters for their respective clubs but will split carries in 2023. He will have RB Garrett Groshek handling some of the duties for London throughout the season. The duo combined for 744 rushing yards and two touchdowns last year. However, London is more explosive, so he gets the nod as RB7 heading into 2023.
As for Colburn II, he returns to the Stars with a clear number two back behind him. Former Green Bay Packers RB Dexter Williams will split carries with Colburn II this upcoming season.
Colburn II finished his 2022 campaign with 457 rushing yards and eight touchdowns. As for Williams, he will eat away at carries for Colburn II and the other backs on the Stars' roster in 2023. However, this duo could prove to be dynamic in Philadelphia's high-octane offense in 2023.
The Rest of the Backfield
With the top eight out of the way, the rest of the top 20 is loaded with talent. My RB10 is New Orleans Breakers projected starter Anthony Jones. The former FCF Zappers star has plenty of upside in what contends to be a productive offense this season. He is an excellent second-round draft pick in fantasy for 2023. RB12, RB13, and RB14 all have breakout potential this year.
While they project to be backups, you can expect massive production from this trio. RB CJ Marable of the Stallions, RB Stevie Scott III of the Panthers, and RB Justin Stockton of the Showboats are fantastic RB2 or Flex options in fantasy in 2023.
Lastly, rounding out the top 20, you will find some other intriguing backups scattered throughout the league. My RB15 is Birmingham Stallions backup, RB ZaQuandre White. A former South Carolina Gamecock and Tampa Bay Buccaneer, White has only scratched the surface of his potential. The USFL was made for players like him.
Though getting carries behind Scarbrough and Marable might be challenging, White should be able to carve out a role for himself in Birmingham. Another set of options for your Flex is both New Orleans Breakers backup running backs. RBs Ezra Gray and Wes Hills will get their first professional football experiences via the Breakers in 2023.
With a passing attack expected to flourish this year, it is tough to see either of these backs getting a ton of carries. But one of the two will emerge as the backup to Jones in 2023.
Wide Receivers – Who will be this year's Turpin?
WR1 Marlon Williams BING
WR2 Jonathan Adams NO
WR3 Jordan Suell PHI
WR4 Johnnie Dixon NO
WR5 Alonzo Moore NJ
WR6 Corey Coleman PHI
WR7 Derrick Dillon MEM
WR8 Bailey Gaither PITT
WR9 Osiris Mitchell MEM
WR10 Tre Walker PITT
WR11 Trey Quinn MICH
WR12 Teo Redding HOU
WR13 Deon Cain BING
WR14 Joe Walker MICH
WR15 Davion Davis BING
WR16 Rashard Davis MEM
WR17 Chris Rowland PHI
WR18 Vinny Papale MEM
WR19 De'Mornay Pierson-El NJ
WR20 Michael Dereus BING
When discussing options in USFL fantasy, you would be hard-pressed to find better situations than in Philly and New Orleans. But, for the WR1 heading into the season, Birmingham Stallions WR Marlon Williams holds that title. The five-foot-eleven, 204-pound receiver out of UCF lit it up in 2022 with the Stallions. He finished the season with 32 receptions for 457 yards and four touchdowns.
While he may not have led the league in any of these categories, he enters the 2023 season with tremendous upside and the potential to sweep these categories this year. Factor in no "clear-cut" number two behind him and an offense that can put up points in a hurry, and you can see why many people are high on Williams in 2023.
My WR2 is Jonathan Adams of the New Orleans Breakers: Adams, and my WR4, Johnnie Dixon, combined for 768 receiving yards and seven touchdowns. With MBT set to let it rip game after game, Adams will enjoy a fruitful 2023 campaign.
Other Top WR Options
Furthermore, WR5 and WR6 have insane amounts of potential in 2023. Starting at WR5, New Jersey Generals receiver Alonzo Moore is the de facto X receiver for Mike Riley's squad this year.
Coming off a season with 35 receptions for 365 yards and three touchdowns, he will not have to fight for targets this year. With 2022 USFL MVP KaVontae Turpin now in the NFL, Moore is the number-one receiver for the Generals. With Johnson looking his way early and often, Moore will thrive in New Jersey in 2023.
Much like New Orleans, Philadelphia has two, number one receiving threats entering the year. Yes, Suell will be the primary option for Cookus. But, enter former first-round draft pick Corey Coleman into the fold. A unique blend of size and speed, Coleman enters the 2023 season with perhaps the biggest "boom or bust" potential of any player in the league. I like his chances to show the league why he was drafted that high in 2016.
WR7 through WR9
WR7, WR8, and WR9 could easily be top-five receivers this year. While the Memphis Showboats have a quarterback controversy brewing with just a week and a half left in the offseason, their top two receivers are studs. First, Derrick Dillon returns to the team following an output in 2022 of 28 receptions for 386 yards and four touchdowns.
Pencil Dillon as my WR7 this year. Just two spots down from Dillon sit Showboats newcomer Osiris Mitchell. That name should sound familiar to USFL fans. He spent last season with the Stallions and then went to the NFL. He is back in the league and will look to have an even better 2023.
Next, My WR8 is another player who spent time in the NFL following a successful year in the USFL. That would be Mauler's wideout, Bailey Gaither. Despite the Maulers finishing a league-worst 1-9, Gaither was a bright spot for the franchise in 2022. While he will have to contend with Tre Walker and others in his WR room, Gaither has proven to be the premier slot receiver in the USFL. I would expect Gaither to have a breakout year in 2023 with an uptick in quarterback play in Pittsburgh.
Great Options at WR10 through WR12
Speaking of a Gaither teammate, Tre Walker comes in at WR10. The versatile pass-catcher out of San Jose State made a splash in 2022. He finished the season with 33 receptions for 362 yards and one touchdown. As a result, Morgan will have two fantastic options at his disposal in 2023.
My WR11 and WR12 have perhaps the most upside of any player in the entire league heading into 2023. But first, WR11 Trey Quinn is out of SMU. The former Washington Football Team receiver now finds himself in the USFL with much to prove.
A shifty playmaker at six feet, 200-pounds, look for Strong to target this promising young player this year. Then, shifting to WR12 Teo Redding, he inherits the number one role in Houston with the departure of Isiah Zuber. Redding finished 2022 with 17 receptions for 249 yards and one touchdown. The Gamblers receiver will get plenty of targets in 2023. He could very well be a top-eight receiver by the season's end. Redding is a name to target in rounds three or four, depending on your draft position.
The Rest of the Receivers
Rounding out the top 20, newly signed Stallions receiver Deon Cain is a player to keep an eye on. An NFL veteran who had a devastating knee injury in 2018 spent 2022 on the Philadelphia Eagles practice squad. He was a fan favorite who almost made the 53-man roster to start the year.
His potential for a breakout year in Birmingham is huge; therefore, he should be a hot commodity in fantasy for 2023. Moving down a few spots to WR14, Joe Walker looks to build on an outstanding 2022 with the Panthers. I like his potential to break out for Michigan with Strong's ability to throw the deep ball. Walker will use his big play ability to stretch the defense in 2023 and is a great player to add to your fantasy team.
The Final Few WR Spots
Lastly, at receiver, a few players look to provide key minutes as slot options or in specific packages using three wideouts. Stallions receiver Davion Davis and Stars receiver Chris Rowland fit that bill perfectly. Davis, a former XFL and NFL player, looks to settle into his role in Birmingham as an X receiver.
Rowland, a versatile speedster out of Tennessee State, will provide a key element to the Stars' offense as a vertical slot. Lastly, at receiver, a name that could shoot up draft boards is Generals receiver De'Mornay Pierson-El. With Moore as the clear-cut WR1 in New Jersey, Pierson-El can provide an additional spark to the offense. He's a slam dunk for your fantasy team in rounds four or five.
Tight Ends – The True Wildcard
TE1 Bug Howard PHI
TE2 Jace Sternberger BING
TE3 Sage Surratt NO
TE4 Cole Hikutini MICH
TE5 Brandon Barnes HOU
TE6 Matt Seybert PITT
TE7 Braedon Bowman NJ
TE8 Julian Allen HOU
TE9 Ryan Izzo PHI
TE10 Woody Brandom NJ
TE11 Daniel Helm MEM
TE12 Marcus Baugh MICH
TE13 Larry Dalla Betta PHI
TE14 EJ Bibbs NO
TE15 Josh Pederson HOU
TE16 Wes Saxton Jr. NJ
The tight end position in Spring Football is a fascinating one. Last year, guys like Sal Cannella, Cheyenne O'Grady, and Bug Howard were. It took the league by storm. One of those guys remains in the league in 2023. Howard, who finished first in the league among TEs in receiving yards and touchdowns, is the clear TE1 heading into this season.
TE2 is a newcomer to the league but is a familiar name nonetheless. Former Texas A&M tight end Jace Sternberger will get ample opportunity in 2023. Playing for the Stallions, Sternberger is a slam dunk pick for your top TE spot in fantasy this year.
Coming in at TE3 is USFL returnee, Sage Surratt. Surratt, who made a position switch to tight end before the start of the USFL season in 2022, looks to produce even better numbers in 2023.
In a high-powered offense with Adams and Dixon, Surratt will be the third receiving option in New Orleans. I have USFL newcomer Cole Hikutini as my TE4. Assuming the Panthers will air it out this season, Hikutini possesses a great skill set for the position. The former Louisville product should be on your radar for your tight-end spot in fantasy this year.
The Remaining Security Blankets
The remaining starting tight ends could easily be re-ranked depending on who you talk to and the team they root for. TE5, for me, is Houston Gamblers tight end Brandon Barnes. With Bahar rising in Houston, he will need a dependable target on second and third-down situations.
Barnes could make a massive jump in 2023 if the right situations present themselves for the Gamblers. Speaking of ideal situations, Pittsburgh Maulers tight end Matt Seybert is in a great one. With Morgan assuming the starting role in 2023, expect a big year for the six-foot-four target.
Next, trickling down the list of tight end options, a lot of uncertainty and question marks surround some players. While some teams use a decent amount of 12-personnel, other teams rely upon one just one tight end to carry the bulk of the work. I expect some rotation for Philadelphia, Birmingham, New Jersey, and Michigan.
Former New England Patriots tight end Ryan Izzo could benefit should the Stars use him in the red zone. The same goes for former TSL Aviators tight end Woody Brandom. As is always the case in football, particularly at tight ends, one or two players will emerge as superstars throughout the year. Keep an eye on Memphis Showboats' tight end Daniel Helm and New Orleans Breakers' tight end EJ Bibbs in 2023. While they may not be as well known to fans of the league, targets could come their way this season.
2023 USFL Fantasy Top 50
RB1 Bo Scarbrough BING
RB2 Darius Victor NJ
WR1 Marlon Williams BING
WR2 Jonathan Adams NO
RB3 Mark Thompson HOU
RB4 Reggie Corbin MICH
WR3 Jordan Suell PHI
RB5 Alex Collins MEM
WR4 Johnny Dixon NO
QB1 J'Mar Smith HOU
RB6 Trey Williams NJ
QB2 Case Cookus PHI
WR5 Alonzo Moore NJ
RB7 Madre London PITT
WR6 Corey Coleman PHI
RB8 Matt Colburn II PHI
TE1 Bug Howard PHI
TE2 Jace Sternberger
QB3 McLeod Bethel-Thompson NO
WR7 Derrick Dillon MEM
RB9 Garrett Groshek PITT
WR8 Bailey Gaither PITT
QB4 Carson Strong MICH
QB5 De'Andre Johnson NJ
WR9 Osiris Mitchell MEM
RB10 Anthony Jones NO
TE3 Sage Surratt BING
WR10 Tre Walker PITT
RB11 Dexter Williams PHI
RB12 CJ Marable BING
WR11 Trey Quinn MICH
TE4 Cole Hikutini MICH
RB13 Stevie Scott III MICH
WR12 Teo Redding HOU
RB14 Justin Stockton MEM
WR13 Deon Cain BING
WR14 Joe Walker MICH
QB6 Kenji Bahar HOU
RB15 Devwah Whaley
WR15 Davion Davis BING
WR16 Rashard Davis
TE5 Brandon Barnes HOUS
RB16 ZaQuandre White BING
RB17 Darnell Holland PHI
WR17 Chris Rowland PHI
TE6 Matt Seybert PITT
QB7 James Morgan PITT
RB18 David Hamm NO
WR18 Vinny Papale MEM
QB8 Brady White MEM
Wrapping Things Up
The 2023 USFL season kicks off on April 15 on Fox. The Philadelphia Stars will take on the Memphis Showboats in what should be a hotly-contested matchup. Week one will feature some outstanding games on primetime television. With it, fantasy lineups will be littered with talent. So, who do you think will finish as the 1.01 in the 2023 season? I have got my money on Scarbrough to lead the charge for the Stallions.
RELATED CONTENT