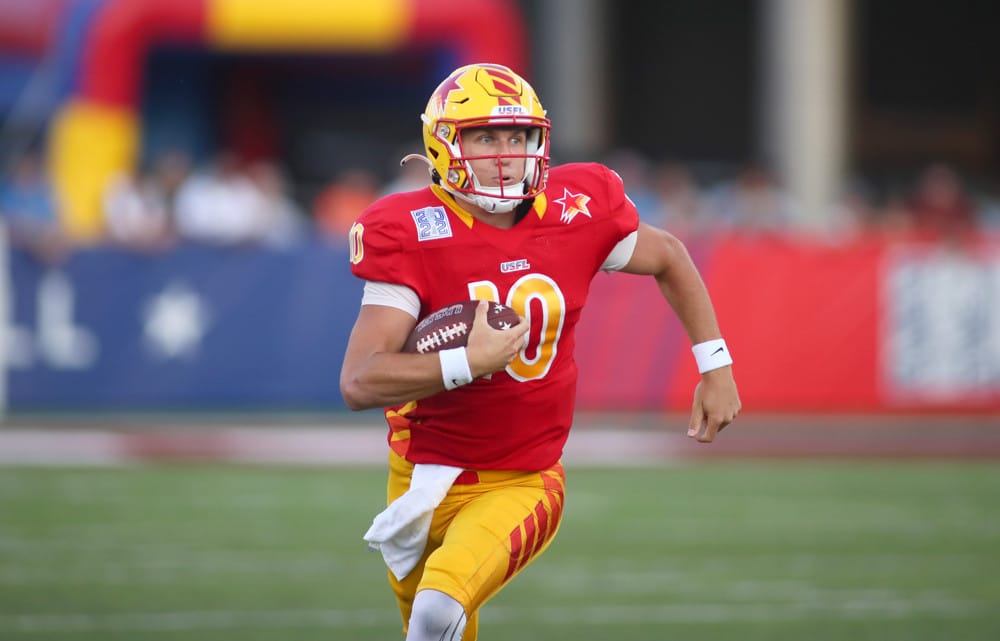 The second season of the USFL is right around the corner. Lucky for all of us degens who can't get enough, this means that your USFL fantasy football draft is right around the corner as well. Whether you played last year or you're going to try it out on Alt Fantasy Sports for the first time this year, this will serve as a little 2023 USFL fantasy football preview.
We will look at some of the top returning players as well as some of the new players that could make an impact. On top of that, we're breaking it down by position. Now, keep in mind there are only eight teams. This isn't the same as your NFL draft, and you will likely want to try and nab your quarterback first, given that there are only eight starters. Though if last year's USFL and this year's XFL have taught us anything, it's that nailing down the true starters can be difficult. Let's take a look at the USFL Fantasy Football preview.
Exclusive SGPN Content
The Alt Fantasy Sports Podcast
2023 USFL Fantasy Football Preview And USFL Fantasy Football Draft Prep
Quarterbacks
Returning Starters: J'Mar Smith
We will start our 2023 USFL fantasy football preview with a quarterback that won the championship. Returning to the Stallions, J'Mar Smith started as the backup last year. An injury to Alex McGough thrust him into the starting position, and he never looked back, aside from a series here and there once McGough was healthy.
It was no doubt this became Smith's team, though. Coach Skip Holtz coached J'Mar at Louisiana Tech and is very familiar with him. In fact, that may have been a big part of why Smith is returning to the USFL for his second year rather than potentially trying for another league like the XFL. McGough is still there, but I don't think there's any way they take this team from J'Mar after all the success he had last year.
Starting in seven games last year, Smith threw for 1,573 yards and 10 touchdowns. He ran for an additional 187 yards and two touchdowns. Smith is a pocket passer who should have another successful year. He may not be my 1.01, but he's definitely somebody I'm keeping an eye on.
DeAndre Johnson
The next quarterback to consider in your USFL fantasy football draft is DeAndre Johnson. For the most part, Johnson's ceiling hasn't been obtained yet. He split time with Luis Perez last year as a co-starter. With Perez now being passed around the XFL, Johnson should have full reigns of the offense.
Johnson only started four games, though he did play in nine. It was a true time-share with Perez. In those games, he threw for 772 yards and two passing touchdowns. Johnson also ran for 310 yards and four rushing touchdowns. Johnson is both a good passer and an excellent scrambler.
The former Florida State product will look to make a bigger impact this year as the starter and should be able to have bigger passing and rushing numbers. He isn't my 1.01 either, but he's got a lot of upside because of his rushing abilities.
Case Cookus
The guy that is my target 1.01 in the USFL fantasy football draft is none other than Captain Cookus. Case Cookus took over for Bryan Scott last year on the Philadelphia Stars and surprised us all. With a combination of abilities and Bart Andrus' system, Cookus performed very well and fell just short of a championship.
Last year Cookus threw for 1,334 yards and 12 passing touchdowns after starting seven games. The first three games were all Bryan Scott. Cookus can also run when needed, even though it isn't his first instinct. He ran for 217 yards and one rushing touchdown. Returning with some of the same backfield and receivers, the Stars added to their offensive line to help provide more protection.
Cookus was injured in the championship game last year with a knee injury. Fully recovered, he is expected to remain their starter. Cookus has unfinished business, and this could end up being the most productive team in the air.
New Quarterbacks: Cole Kelley
It wouldn't be a complete USFL fantasy football preview if we didn't talk about some new faces. One of my favorite new quarterbacks is Cole Kelley. Only a year removed from college, Kelley is a young talent that could develop into a star. The 6-7 gun-slinger started his college career at Arkansas before transferring to Southeastern Louisiana.
Kelley's last year of college is when he truly started to blossom. He threw for 5,124 yards, 44 touchdowns to ten interceptions, and had a 73.6% completion percentage. He also ran for 491 yards and had 16 rushing touchdowns.
If Cookus is gone, I am really considering Cole Kelley as my top quarterback in the USFL fantasy football draft. He's got the intangibles to be a star in a spring league if the Showboats hand him the reigns. They will hopefully improve their offensive line from last year's Bandits. Either way, I think Kelley is going to have better numbers than last year's quarterback, Ta'amu, had.
Running Backs
Returning Starters: Darius Victor
Darius Victor didn't lead the league in rushing last year. In fact, he didn't lead his team in rushing. However, I think he gets even more involved this year, and his counterpart, Trey Williams, is used as more of a change of pace back. One thing the Generals do well is run the ball, whether it's Victor, Williams, or their quarterback Johnson.
Victor became well known in the league due to having tree trunk legs on his way to rushing for 577 yards and nine touchdowns. The touchdowns are where he excelled, out-scoring Trey Williams nine touchdowns to two. He doesn't make as big of an impact in the passing game, but he's one of the stronger rushers in the league and a guy I'm considering as one of my top running backs in the 2023 USFL fantasy football draft.
Bo Scarbrough
Another returning starter that has to be included in the USFL fantasy football preview is Bo Scarbrough. Scarbrough wasn't signed to the Stallions until mid-season. In fact, he only started five games, which is half of the USFL season. That didn't stop him from finishing with the tenth most yards.
You read that right. Out of the eight teams, most of whom used multiple running backs, Scarbrough finished tenth in only half a season. He amassed 352 yards while averaging 4.2 yards per carry. Scarbrough only had one rushing touchdown; however, I think that's one of the areas in which his numbers grow drastically this year.
Skip Holtz has one of the best offenses in the league. Whether it's J'Mar Smith with his arm or Scarbrough with his legs moving the chains, I think this offense will be clicking. Scarbrough is somebody I'm considering as the top running back in the USFL fantasy football draft.
Matt Colburn
Last year Matt Colburn split time with Paul Terry and Darnell Holland. While Colburn only started four games, he led the backfield in rushing yards. I think this year, Bart Andrus will make Colburn a focal point of the offense, and he'll be the starting running back from the get-go. He's another player I'm keeping my eye on in my USFL fantasy football draft.
Colburn ran for 457 yards last year and had a 4.5-yard average. Not only did he find success rushing for yards, but he also ran for eight touchdowns, second best to only Darius Victor. Colburn can also catch out of the backfield. In 2022, he had 18 receptions for 150 yards and a receiving touchdown.
Out of the three backs talked about so far, Colburn is the most all-around back. He can run well and catch the ball out of the backfield well and should be a top target in your draft. There are other running backs to target of course, but we just wanted to highlight some. Keep an eye on when C.J. Marable, Reggie Corbin, and Mark Thompson fall as well.
New Running Backs: Alex Collins
You may be asking yourself, is this the same Alex Collins that played for the Seattle Seahawks? Yes, yes, it is. And that's why I have to include him in my USFL fantasy football preview. Over five years of play in the NFL, Collins has gained 1,997 yards and 18 rushing touchdowns. He's a strong runner that should be able to excel in the USFL.
Collins played college ball at Arkansas and rushed for over 1,000 yards in all three seasons from 2013 to 2015. In his final year, he rushed for 1,577 yards and 20 touchdowns. He finds himself on the Memphis Showboats, who were formerly the Tampa Bay Bandits. The Showboats need help in the run game, given that last year's leading rusher, Jordan Ta'amu, is not only in the XFL but was a quarterback. Collins is a strong runner with experience that should lead their backfield.

Wide Receivers
Returning Starters: Johnnie Dixon / Jay Adams
The New Orleans Breakers have two wide receivers to consider in your USFL fantasy football draft. "Jay" Adams finished fifth in the league in yards with 31 receptions for 406 yards and three receiving touchdowns. He had one of the best catches of the year as he went up and caught a one-handed ball from Kyle Sloter.
Even though Sloter is gone, this receiving corp is still very solid. It also includes Johnnie Dixon, who had 38 receptions for 362 yards and four receiving touchdowns. The Breakers tend to throw the ball a lot; therefore, I don't think you can go wrong with either of these guys. Quarterback and running back should be your priority, but when you move to receivers, consider either of these.
Jordan Suell / Chris Rowland
Our USFL fantasy football preview of wide receivers moves from the Breakers to the Stars. I already mentioned how I think Case Cookus is going to come back with unfinished business and have a successful year. He'll do that with two of his top receivers in, Jordan Suell and Chris Rowland.
Suell finished as the ninth receiver in yards after having 36 catches for 370 yards and three receiving touchdowns. The former Southern Oregon receiver is 6-6 and can out-jump corners with ease.
Cookus also has Chris Rowland to throw to. Rowland is a different type of receiver than Suell, standing at 5-8 and flashing a lot of speed. He had 21 receptions for 215 yards last year and a receiving touchdown. Rowland also got involved in the run game, rushing for 25 yards, as well as the kick return game. You can't go wrong giving either of these guys a look in your USFL fantasy football draft.
Marlon Williams / Peyton Ramzy
While I mentioned the Stallions run the ball very well, they can also move the ball in the air. A returning quarterback helps, but so does returning weapons. The first to talk about in the USFL fantasy football preview is Marlon Williams.
Williams was a standout at UCF and did well in the USFL last year. He finished with 474 receiving yards on 32 receptions, which was good enough for third in the league. He also had four receiving touchdowns, tied for second most in the league. Williams will look to build on last year's performance as the top receiving option for the Stallions.
Another receiver on the Stallions to consider is Peyton Ramzy. Ramzy may not have built up the stats like some of the previously mentioned players. However, with some of last year's receiving corps moving on, I think Ramzy could get an opportunity to step up and shine. Ramzy had 72 receiving yards last year on only two catches.
That shows his big play ability. He's a speedy receiver who I expect to get more involved with this year. The good news is you should be able to get him later in your USFL fantasy football draft. I already drafted Ramzy in my first draft of this year and will continue to target him.
New Wide Receivers: Corey Coleman
Another name you probably recognize but is new to the USFL is Corey Coleman. Coleman spent time with the Browns and the Giants but hasn't garnered any stats since 2018. Now he gets another opportunity to develop and show he can perform at the professional level in the USFL.
Coleman had 789 yards and five touchdowns in the NFL from 2016-2018. The majority of his yards came in his rookie season, where he shows a lot of promise. In 2019 Coleman tore his ACL when he was with the giants. While he stuck around on their practice squad, in 2021, he was suspended from the NFL for off-field issues.
While Coleman may find himself in a somewhat crowded receiving room, I think he can still make an impact and should be considered a late target for your 2023 USFL fantasy football draft.
Tight Ends
Returning Starter: Bug Howard
The returning starter to target at tight end for your USFL fantasy football draft is Bug Howard. Howard plays the tight end position but looks more like a wide receiver. In fact, he played wide receiver in college at North Carolina. He is a match-up problem on the field, and even though there are a lot of pass-catchers on the Stars, Cookus and Howard have good chemistry that should turn over.
While everybody was raving about Sal Canella last year, and for good reason, Howard actually finished with more fantasy football points. He had 30 receptions for 371 yards and four touchdowns. Howard finished seven in the league in receiving among all pass-catchers, and I expect he'll pick up where he left off.
New Tight End: Jace Sternberger
The new face to watch at the tight end position is former Green Bay Packer Jace Sternberger of the Birmingham Stallions. While he didn't accumulate a lot of stats in the NFL, 12 receptions, 114 yards, and a touchdown, he should be able to develop and get solid playing time in the USFL. Originally drafted in the third round, Sternberger should come in and play with a chip on his shoulder.
In his final year at Texas A&M in 2018, Sternberg finished with 832 receiving yards and ten receiving touchdowns.
Related Content