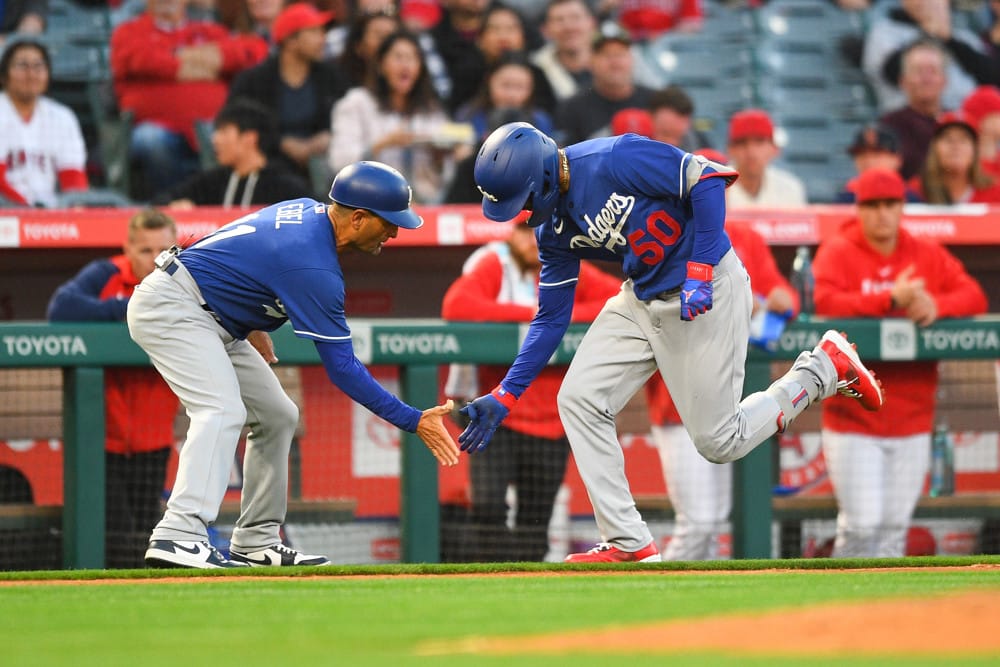 MLB Opening Day is almost here! Earlier this month, I looked at every American League team's win total with a pick or best bet. Now, with Opening Day approaching, it's time to conclude the two-part series with the Nationals League.
I'll kick things off with the five best bets before moving through the other ten teams, all listed alphabetically.

 
MLB Win Totals: Five Best Bets & Picks for every National League Team
MLB Win Totals: NL Best Bets
Chicago Cubs over 76.5 wins (-128)
The Cubs won 74 games last season and made several notable additions this winter. Dansby Swanson headlines a free-agent class that includes upgrades all over the roster.
Coming soon to a field near you: Dansby dingers!@LieutenantDans7 pic.twitter.com/0BvcTg0Mu7

— Chicago Cubs (@Cubs) March 27, 2023
The likes of Cody Bellinger, Trey Mancini, Jameson Taillon, and Michael Fulmer won't completely move the needle for the Cubs, but it should get them at least three more wins than last year.
Cincinnati Reds under 66.5 wins (-115)
Staying in the NL Central, the Reds aren't quite ready to take that next step forward. Hunter Greene and Nick Lodolo look like two promising young arms, but that's about all Cincinnati has to get excited about.
The Reds won 62 games last season and didn't make much noise in the off-season. I can't see them increasing their win total by five in 2023.
Los Angeles Dodgers over 94.5 wins (-110)
Everyone forgets about how good the Dodgers are. Sure, they've taken a few hits from last season with Trea Turner and Justin Turner leaving, but J.D. Martinez could have a resurgence in Los Angeles, and the Dodgers' starting rotation is still good enough to compete in a top-heavy NL West.
The Giants are going to be mediocre, the Diamondbacks are growing but not there yet, and the Rockies are, well, the Rockies. The Dodgers have won 104 or more games in four of the last five 162-game seasons and had an incredible 43-17 record en route to the 2020 World Series.
Miami Marlins under 76.5 wins (-110)
I like what the Marlins have cooking down in Miami with Jazz Chisholm Jr. and Sandy Alcantara anchors on either side of the ball. However, the Marlins haven't cracked 77 wins since Giancarlo Stanton's MVP season in 2017.
The Marlins won 69 games last year and 67 the year prior. They're not making an eight-game jump in a competitive NL East.
New York Mets over 91.5 (-115)
The Mets' win total opened this offseason at 94.5 and has since dropped by three, assumably due to the Edwin Diaz news. Even without their star closer, the Mets should be able to win at least 92 games.
New York won 101 games last year, and I don't think losing Diaz (and swapping Jacob deGrom for Justin Verlander) will cost ten games. The Mets will be able to beat up the Marlins and Nationals en route to another impressive win total.
"I can promise the fans that I always give everything I got every single time I'm out there. I know these fans are passionate and so am I." @JustinVerlander on getting to start the home opener at @CitiField. #LGM pic.twitter.com/MOda1qHl2S

— New York Mets (@Mets) March 26, 2023
---

MLB Win Totals: National League
Arizona Diamondbacks over 75.5 wins (-105)
The Diamondbacks won 75 games last season and are loading up on young talent. I'm not expecting a huge jump, but Arizona should be able to squeak out 77 or 78 wins.
Atlanta Braves under 95.5 wins (-105)
The Braves lost Swanson and are not yet giving youngster Vaughn Grissom the reins at shortstop. I don't know if that will cost them six wins from last year's 101, but I think there's enough rookie regression coming where the Braves may still finish in the 90s but in the lower-90s instead of closer to 100.
Colorado Rockies under 65.5 wins (-110)
Can you name a Rockies player? OK, can you name two Rockies players? Sure, Kris Bryant and C.J. Cron are big bats, but Colorado doesn't have the pitching to keep up with its opponents, especially at Coors Field.
Milwaukee Brewers under 86.5 wins (-134)
The Brewers won 86 games last season, and their win total is right around that mark in 2023. However, I'm not too impressed with their lineup, so despite a very good one-two punch in the rotation, I have to lean to the under.
Philadelphia Phillies over 86.5 wins (+100)
The Phillies lost Rhys Hoskins for the season, and Bryce Harper will miss at least the first several weeks of the year, but the addition of Trea Turner is huge for the Phillies. They won 87 games last year and got hot at the right time.
The Phillies hit 51 homeruns during spring training (Most in MLB)

Here are the majority of them: pic.twitter.com/B1sqmMDoe3

— Phillies HR Tracker (@PHI_HR_Tracker) March 28, 2023
Pittsburgh Pirates under 68.5 wins (-115)
I'm really tempted to take the over here with guys like Oneil Cruz, Ke'Bryan Hayes, and Andrew McCutchen returning, but they're still the Pirates.
San Diego Padres over 93.5 wins (-105)
Everything tells me to take the under here, but we're going with the over. The top of that lineup is just too good to take the under on, and the rotation is solid as well.
San Francisco Giants under 81.5 wins (-115)
The Giants finished .500 last season, and I could see a similar outcome here in 2023. If anything, though, I expect a bit of a step back after the Giants missed out on all the big free agents.
St. Louis Cardinals over 88.5 wins (-115)
This came close to being one of my best bets. The Cardinals are returning most of their 93-win team from last season, with Jordan Walker looking to be the second coming of Albert Pujols. The division is weak, and this lineup is strong.
Jordan Walker is winning 22 MVP awards confirmed

(via @JohnDenton555) pic.twitter.com/3qU1UKHz2e

— Talkin' Baseball (@TalkinBaseball_) March 28, 2023
Washington Nationals under 59.5 (-110)
I truly wonder how low this total would have to be to bet on the over.
RELATED CONTENT