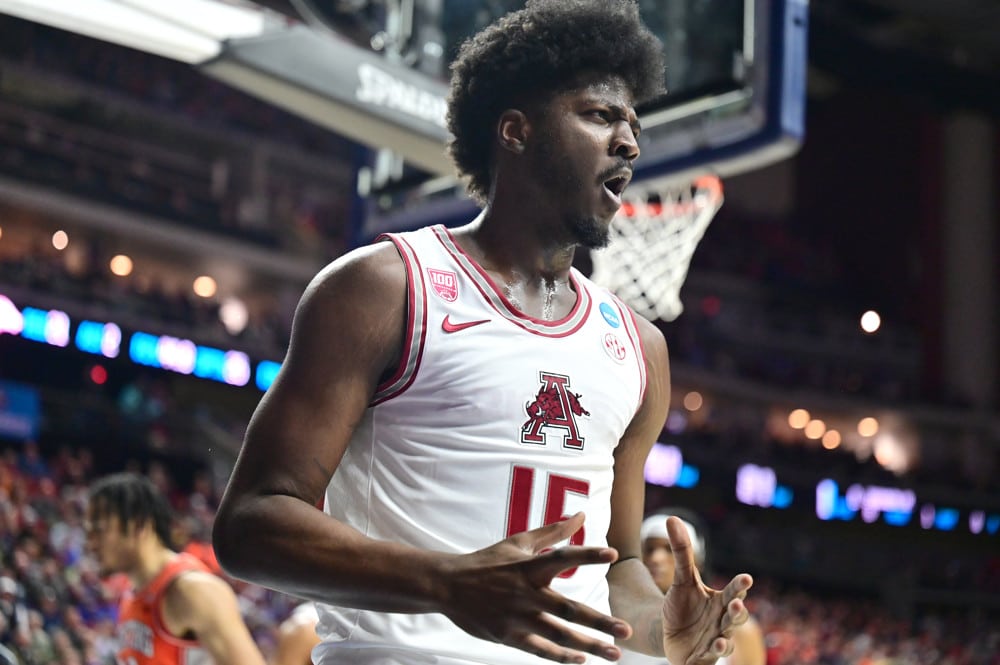 Sweet Sixteen Picks Thursday 3-23-23
The guys (@GamblingPodcast) give out their Sweet Sixteen picks for Thursday 3-23-23. The college basketball predictions podcast covers all the college basketball games for Thursday and they're joined by Colby Dant (@TheColbyD) from The College Basketball Experience. Plus the guys hit on the latest coaching news.
March Madness has been extremely exciting, with two one seeds already losing. This is not the only unsuspecting thing that happened though, as the first half under bets has turned into a chalky play this year as it is essentially even. Some big coaching news in college basketball has hit the airwaves as Rick Pitino will be the new head coach of St. John's.
As a native New Yorker, Pitino will try to restore the prowess of St. John's basketball program. Mike Bray also will be coaching at South Florida and will potentially bring some players with him. The current fade list has gotten much smaller and consists of just Miami, who has a strong offense but weak defense.
(21:31) Michigan State (-2) vs Kansas State
This line seems to be alluding to Michigan State having the experience of playing in big arenas in big games. However, Kansas State is 23-11 against the spread and has played some great ball this year in a good conference. Keyontae Johnson is a great player for them who has yet to have a good tournament game and is paired with Markquis Nowell, a really, really talented guard. Izzo has certainly been in similar spots before, but his team may not be up to the hype this year.
(26:52) UConn (-3) vs Arkansas
The MUSS BUS was live in the last game as he ripped his shirt off after his team pulled off the upset. UConn though has looked good in the tournament despite arguably weak opponents. Arkansas also has not played well against top adjusted defenses and UConn is 14th in adjusted defense. Coaching wise though, Arkansas is at the advantage.
(34:34) Tennessee (-5.5) vs Florida Atlantic
Tennessee is 1-7 in the Sweet Sixteen with the loss to Purdue in 2019 being coach Rick Barnes' only other appearance. Tennessee has a very physical style of play that could overwhelm Florida Atlantic, despite a strong defense on their part.
(38:29) UCLA (-2) vs Gonzaga
Gonzaga hasn't looked to impressive in their wins and UCLA should handle them. Even with injuries, UCLA should still be fine. If the refs are mindful of Drew Timme's hook, Gonzaga could be in trouble. UCLA is 14-1 in their last 15, with the one loss being in the PAC 12 Championship. Their core is very experienced and shouldn't stop now.
(42:44) College Basketball Bets
Kramer Lock: Arkansas
Kramer Dog: FAU ML
Sean Lock: UCLA -2
Sean Dog: Arkansas ML
Colby Lock: Arkansas +3.5
Colby Dog: FAU ML
March Madness Odds
| | | | | | | |
| --- | --- | --- | --- | --- | --- | --- |
| Time | # | Teams | Sprd | ML | 1H T | Tot |
| | | | | | | |
| 3/23 3:30 PM | 7 | Michigan State | -2 | -130 | | 137.5 |
| New York, NY (E) | 3 | Kansas State | | 110 | | |
| 3/23 4:15 PM | 8 | Arkansas | | 150 | | 139.5 |
| Las Vegas, NV (W) | 4 | UConn | -3.5 | -175 | | |
| 3/23 6:00 PM | 9 | FAU | | 205 | | 130.5 |
| New York, NY (E) | 4 | Tennessee | -5.5 | -245 | | |
| 3/23 6:45 PM | 3 | Gonzaga | | 115 | | 145.5 |
| Las Vegas, NV (W) | 2 | UCLA | -2 | -135 | | |
Podcast Transcription