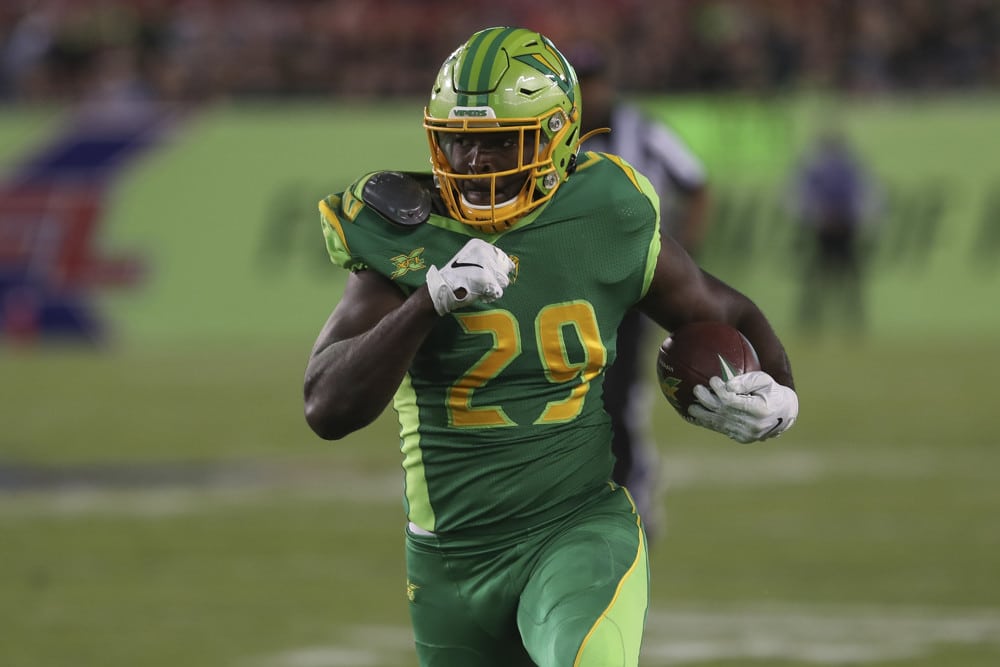 With Spring football back, you don't have to wait until August to get your fantasy football fix! The new XFL league starts on February 18th, which means your opportunity to participate in XFL fantasy football has arrived! You may have a lot of questions regarding spring fantasy football. How does it work? Is it the same as NFL fantasy football? Are there any places that host XFL fantasy football, or do I have to keep track on paper? In this article, you can learn all those things and more as we focus on how to set up your league on the best alternative fantasy football site out there, Alt Fantasy Sports.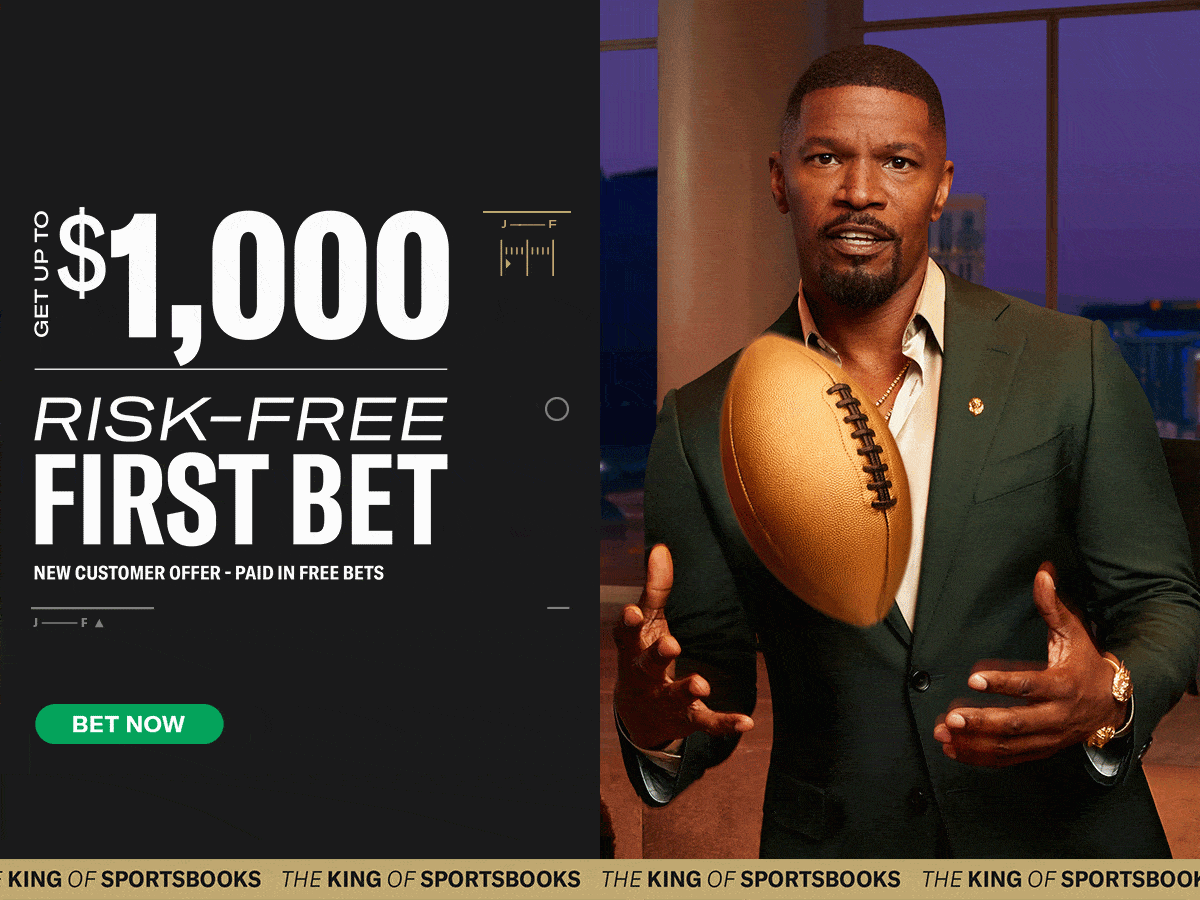 Exclusive SGPN Content
Spring Football Early Best Bets
XFL Players Most Likely To Make An Impact
XFL Fantasy Football: How To Set Up Your League Using AltFantasy Sports
Where Do I Play XFL Fantasy Football?
This is the easiest question to answer. Alt Fantasy Sports has everything you need to start an XFL fantasy football league. Or you can always find somebody already running one and join their league. And good news, set up couldn't be any easier. But first, let's start with the basics. You'll have to register yourself here first if you haven't already. All you need to do to register is provide your e-mail and create a password.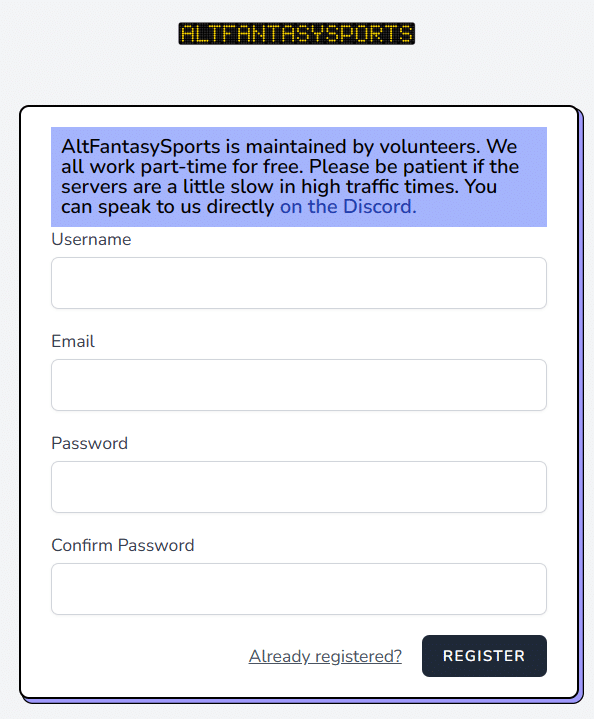 Now that you're registered it's time to create your XFL fantasy football league! Again, this couldn't get any easier as all you have to do is click the button on the dashboard page that says "Create XFL League". Once you click that button, it's time to decide your league's settings.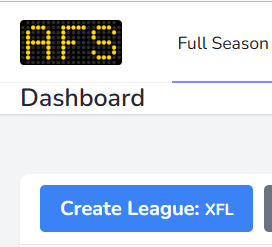 The Main League Settings
The first part of creating your XFL Fantasy league is easy. First, enter your league name. Notice the 2023 XFL player pool is already added. Second, determine how many teams you want. With only eight teams in the XFL, you likely won't want to exceed eight managers. This ensures everybody can draft a starting quarterback.
Then determine what type of league you want to run out of three options. The first option is head-to-head, where everybody will go head-to-head like a real football league and your record will be based on wins and losses throughout each week.
The second option is total points, where the person with the most total points, out of the line-ups they set each week, wins.  The third option is a best ball league. In best ball, you draft your entire team, and the best lineup will be automatically set at the end of each week, maximizing your points. The manager with the most points at the end of the league wins.
Last, don't forget to make your team name fun!

XFL Fantasy Football Roster Settings
Now, it's time to determine your league's roster settings. The most common setup will be one quarterback, two running backs, two wide receivers, one tight end, and one flex. Note that you can choose individual quarterbacks or a team quarterback. With a team quarterback you just select a team, and you get the quarterback points from that team despite who starts or finishes the game.
This would allow you to still get the backup's points that week. You can do the same thing for the kicker. You can also add a superflex. This would be a good option if your league only has four users in it.
You can also choose to have a kicker and a defense or to not include them. New this year, you can also select individual defensive players and opt to draft different defensive players instead of the team defense. The default bench spots are set at four.  But, with a league that may change quickly, you can always raise the number. At four, the waiver wire used to pick free agents will be more active. However, six spots could give your teams some more stability.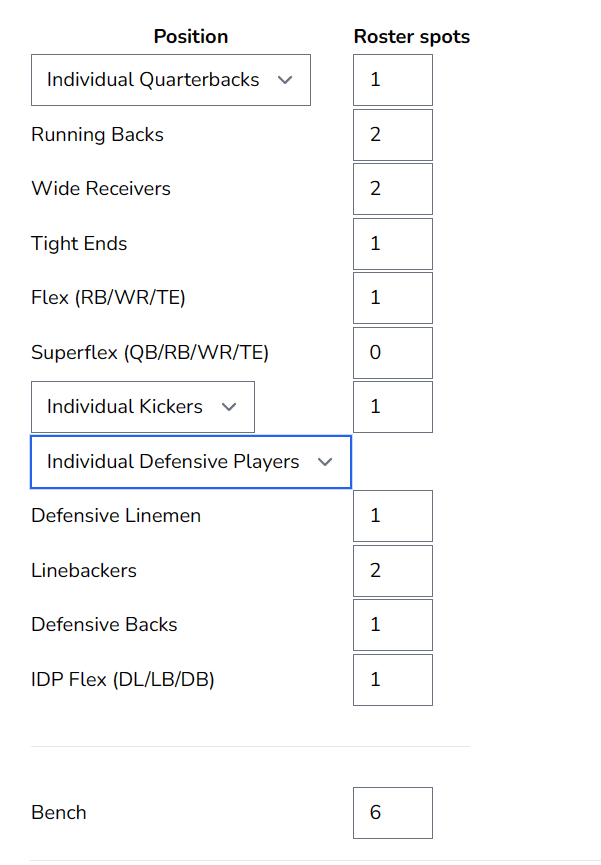 Offense Scoring Settings
The last thing to determine when setting up your XFL fantasy football league is the scoring settings. There are so many different ways you can set up your league that will affect the outcome of each week. The default settings follow pretty closely to most fantasy football leagues.
You get six points per rushing, receiving, or special team touchdown and four points per passing touchdown. A half a point per reception.  One point per 10 rushing yards and one point per 10 receiving yards. Passers get one point per 25 yards. Also, you will lose points if your player fumbles or throws an interception.
Defense Scoring Settings
The defense and kickers get points as well. Kickers score points based on the distance of field goals made. And kickers will also lose points for missed field goals. But don't sleep on the defense, as they can rack up points as well. The default setting has the defense starting at 10 points. However, they'll gain points for interceptions, fumble recoveries, blocked punts or field goals, safeties, and sacks. Furthermore, they'll lose points for allowing the opposing offense to score points. This would also alter the performance of your individual defensive players as well.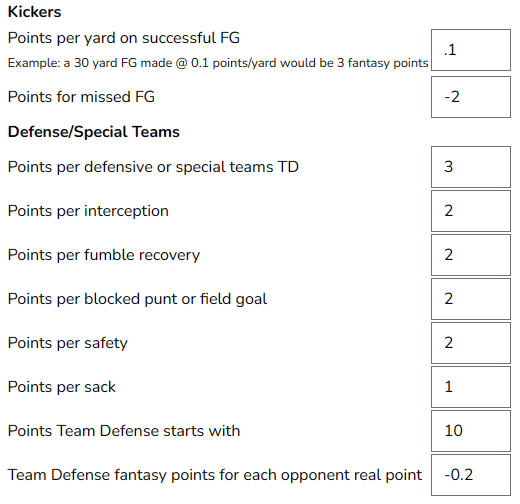 PPR or Non-PPR League
One of the most common things in all fantasy football leagues is whether to have your league be a PPR or non-PPR league. PPR stands for points per reception. If you choose to have a PPR league you can assign half a point per reception or one point per reception. You can also decide to have a non-PPR league and there will be no points per reception.
In a full-point PPR league, team scores will tend to be higher. Also, you may change your draft strategy to go after running backs that are effective at catching the ball out of the backfield. However, in a non PPR league, you may want to focus on running backs that will get the most goal-line carries.
Defenses Matter Too
While the default setting for defenses is very standard, maybe you want to add a little more excitement by inflating their numbers a little. After all, this is XFL fantasy football, and you should strive to make it extra fun since it is likely your first year! One way of doing this would be to put defensive touchdowns at six points each instead of the defaulted three.
I have also participated in a fantasy football league that gave three points each per interception and fumble recovery.  While this is only moving it up one point from the defaulted setting, it can start to change managers' strategies on when they want to start drafting a defense.
Determining Your XFL Fantasy Football League Size
Something to decide right away for your XFL Fantasy Football league is how many fantasy football manager's you'll have in the league. While Alt Fantasy Sports allows you to have one to 16 teams, it's important to remember there are only eight XFL teams. I would recommend eight being the max. Any more than eight and the extra teams won't be able to draft a starting quarterback.
Anywhere from four to eight seems reasonable. Even though eight would be the most competitive due to most managers not wanting to have to take the last quarterback, four teams would also be fun, especially if you add a Superflex.
Your XFL Fantasy Football Roster Construction
Your XFL fantasy football roster construction may be determined more by how many league managers you have. If you have four, as stated earlier, it would be fun to throw in a Superflex position so that each team would ideally target two quarterbacks. Some leagues may set up the requirement of only one running back, one wide receiver, one tight end, and three flex spots.
You could also decide to have a very limited bench, making the waiver wire more active, or you could extend your bench. Extending your bench spots could also change your draft strategy, depending on how you weigh key positions. For example, you may decide running back is more important and try to draft one for your bench before you fill your wide receiver or tight end positions.
XFL Fantasy Football and AltFantasy Sports
Regardless of how you determine to set up your roster construction, scoring, and league size, one thing is certain. XFL fantasy football is right around the corner and Alt Fantasy Sports has you covered for creating your league. Their platform is easy to use, and they are leaders in NFL-alternative football. So go out and find your fantasy football friends and create a league today.
Even if you don't know exactly who all the players are the Sports Gambling Podcast has plenty of articles to help you get to know each team and their players. And as always, good luck as you start your leagues and be thankful that Alt Fantasy Sports is making sure we can get our fantasy football fix!
Need More XFL Talk?
Maybe you decided to create a league, but it's not enough and you still want to chat spring football 24/7. Good news, you can. There are two different discords you can turn to. First, the Sports Gambling Podcast Network has a discord active in pretty much every sport. From Spring Football to a bar, this SGPN Discord has it all.
But wait, there's more. AltFantasy also has a discord too. Here you will not only be able to discuss XFL fantasy football with other users but talk with creators and mods that can help you with AltFantasy. Make sure you join the AltFantasy Discord as well.

Related Content