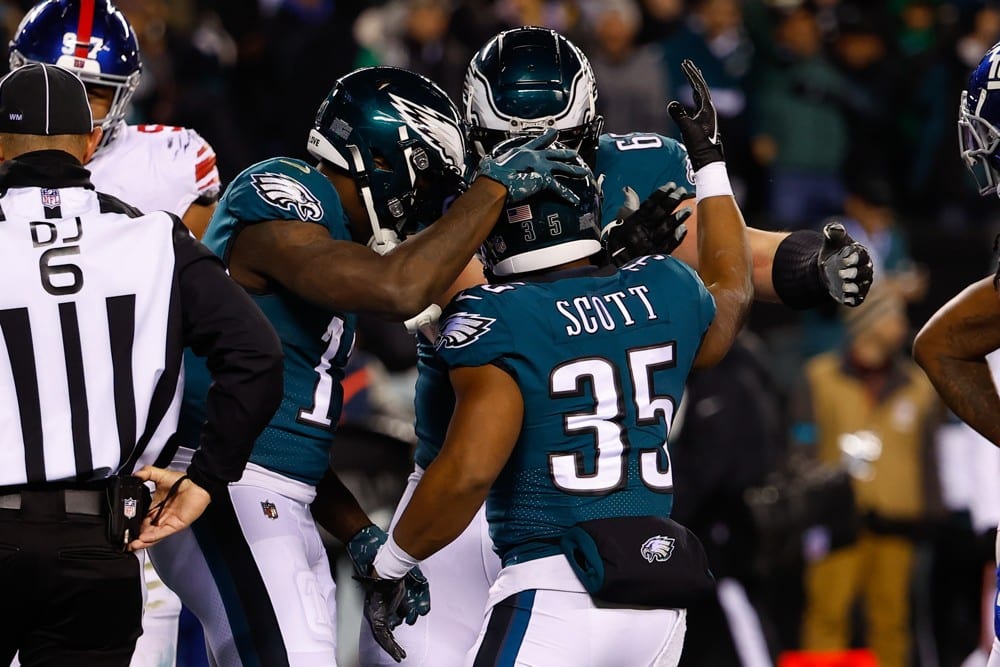 NFL Divisional Playoff Round Recap
The guys (@GamblingPodcast) break down all their profitable free picks in this NFL Divisional Playoff round recap podcast. Plus they break down the NFL Conference Championship odds for the San Francisco 49ers at the Philadelphia Eagles and the Cincinnati Bengals at the Kansas City Chiefs.
A truly beautiful way to end the weekend. pic.twitter.com/YLizBXDDHZ

— Sean Green (@seantgreen) January 23, 2023
NFL Conference Championship Odds via WynnBET
NFL Conference Championship odds via @WynnBET https://t.co/TwH4UPe956 #NFLPlayoffs pic.twitter.com/36RO7shZfR

— Sports Gambling Podcast (@GamblingPodcast) January 23, 2023
The Dallas Cowboys left us with an interesting ending to the NFL Divisional Playoff with their very interesting last second play. Mike McCarthy decided to lineup running back Ezekiel Elliot at center, probably in an attempt to catch a lateral. Obviously, this play did not work, and the Cowboys season ended at the hands of 49ers. In the weekend, the Chiefs, Eagles, Bengals, and 49ers were able to sneak away with wins.
Despite the loss, McCarthy's job should most likely be safe as he still finished as the top 3 in the NFC. Michael Gallup might not be as safe coming off a silent night where he is responsible for one of Dak's interceptions. If you happen to be harboring losses from bets this weekend and are just avoiding telling everyone, be fortunate there is time to recover, so avoid telling your spouse for now. In a sense of early lines, the Chiefs have come out as -1 favorites, a line that can be deemed questionable and could definitely change during the week.
Jacksonville was able to get a nice back door cover on the Chiefs that may seem like it was because Patrick Mahomes got hurt, but it was really because of the Chiefs soft pass rush. If they play like this against the Bengals, trouble is in their future. Joe Burrow still has a big chip on his shoulder, and he already beat Mahomes to advance to the Super Bowl last year.
Giants fans enjoyed their 1 week outside of the woodworks but were quickly sent back by the Eagles. Philly dominated with a big 38-7 win in which their offensive line dominated the Giants up front. The offense also didn't look to great either and shows the Giants still have plenty offseason questions to answer. Even with an injured Jalen Hurts, the Eagles did not ask him to throw much, and they still won, showcasing strong versatility.
The Bengals went into Buffalo and did well more than cover. The Bills looked a little discombobulated offensively in their last few games which could be the fault of their offensive coordinator Ken Dorsey, yet he is getting looks from other teams. Allen was a loose cannon this year and is being given excuses to protect his play.
Another loose cannon this year was Dak Prescott, who let two interceptions rip tonight. Kicker Brett Maher had his first kick blocked against the 49ers, but it certainly was not going to go in regardless. He was lucky to be getting a game check this week, but he will certainly be cleaning out his Dallas locker for good very soon.
The total for the Bengals vs Chiefs is at 47.5 which is surprisingly low for these strong offenses. The Chiefs at one point today were underdogs, but this has quickly changed and will probably stay this way. In the early game, the 49ers will visit the Eagles as +2.5 dogs and the game total will be 45.5. Both of these teams are viewed as somewhat complete, but the Eagles are playing at home. Brock Purdy in addition did not look as strong as usual and could be seeing ghosts in Philly this weekend if their pass rush can find a way to tee off.
Podcast Transcription