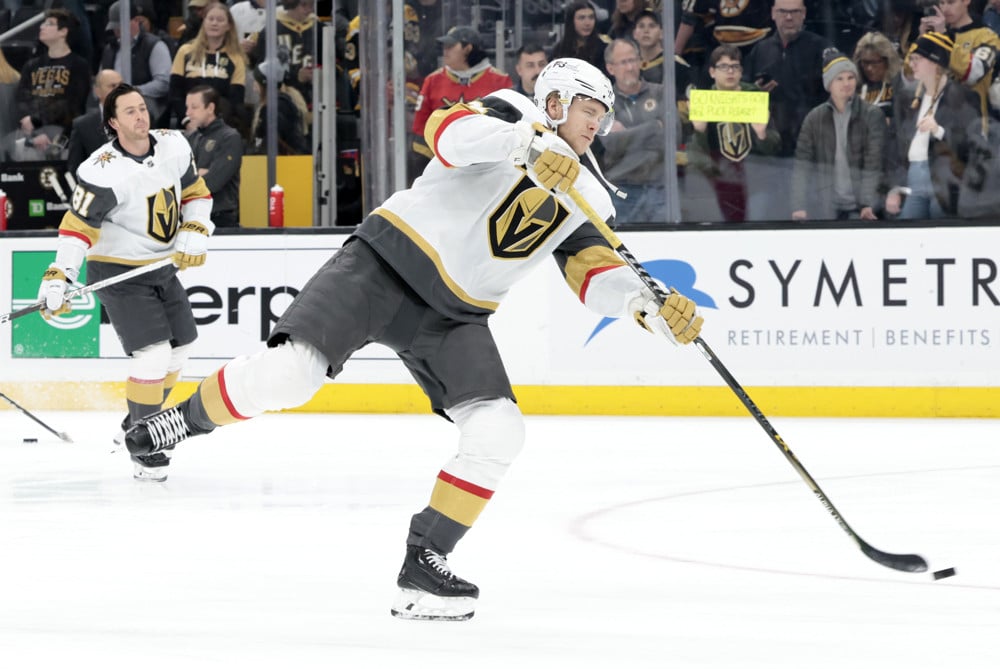 Are you asking for a bunch of fantasy hockey players from Santa this year for Christmas? If so, don't bother – there are plenty of quality players sitting on your fantasy hockey waiver wire for free, just waiting to be stuck in your stocking. Here are ten such players who can make the season jolly for you.
(only includes players rostered in 50% or less of Yahoo Fantasy leagues; stats listed are after Tuesday's games)
Best Fantasy Hockey Waiver Wire Pickups: Forwards
(7 G, 16 A, +1, 4 PPP, 67 SOG, 22 BLK)
Usually there's an abundance of forward candidates for the fantasy hockey waiver wire pickup list – this week, not so much. Vegas forward William Karlsson is the top recommended player this week. Skating in all 34 of the team's games thus far, his 23 points have him on pace for his best scoring output since 2018/19. This includes three assists over the past week. Centering the team's second line, he also gets power play and penalty kill minutes, so there are plenty of opportunities for him to pile up stats for you.
Phillip Danault – Los Angeles – C – 26% Rostered
(8 G, 14 A, -4, 8 PPP, 68 SOG, 36 BLK)
Veteran center Phillip Danault is right on track to equal or better his career high in points. With 22 in 35 games, he's not exactly setting the league on fire, but he's a steady player who helps you in many other categories. In fact, his profile is very similar to Karlsson's – second-line center, second-line power play, first-line penalty killer. Currently tied for fourth on the Kings in points, he also puts plenty of pucks on the net and blocks lots of shots for a forward.

Best Fantasy Hockey Waiver Wire Pickups: Defensemen
(0 G, 10 A, +14, 0 PPP, 49 SOG, 75 BLK)
Brayden McNabb makes it two Golden Knights to make the list, as he returns as the top available defenseman on waivers. If you're picking him up for scoring help, that's not a wise move. However, his +14 is tied for 20th in the league, he's fourth in blocked shots (after leading the league last season), he gets lots of hits, and even puts up a decent amount of shots on net for a defender.
Brady Skjei – Carolina – D – 29% Rostered
(6 G, 8 A, +11, 1 PPP, 71 SOG, 25 BLK)
Brady Skjei has been whipping up a storm on the Hurricanes' opponents over the past couple of weeks. In the last eight games, he had four goals, three assists, and a +4 rating. His six goals on the season are tied for 11th best among defensemen, and he's only three away from tying his career high from last season. His +11 is tied for sixth best for a defenseman, and his 71 shots on goal show he isn't shy to take his cracks at scoring.
---
Best Fantasy Hockey Waiver Wire Pickups: Goalies
Jake Allen – Montreal – G – 33% Rostered
(9 W, 70 GA, 611 SV, 0 SHO)
It's really become a fool's errand to try to find suitable goalies to suggest every week in this column. Montreal's Jake Allen remains the top-rated goalie out there, but that is mostly by default. He's lost two straight games, but at least he's the Habs' #1 netminder, right?! Let's find some positives – his 611 saves are 11th best in the league – that's something!
Craig Anderson – Buffalo – G – 18% Rostered
(7 W, 33 GA, 392 SV, 1 SHO)
See – we've resorted to offering you up 41-year-old goalies! But wait – Craig Anderson has been solid this season for the Sabres, especially lately, as he's won two straight. His .922 save percentage is tied for eighth best in the league, and his 2.65 goals against is also a solid number – 16th best in the NHL. Maybe ride the old horse while he's hot.
Other fantasy hockey waiver wire players worth checking out: Kevin Hayes, Nicholas Paul, Sean Durzi, Alec Martinez
---
Related Content: