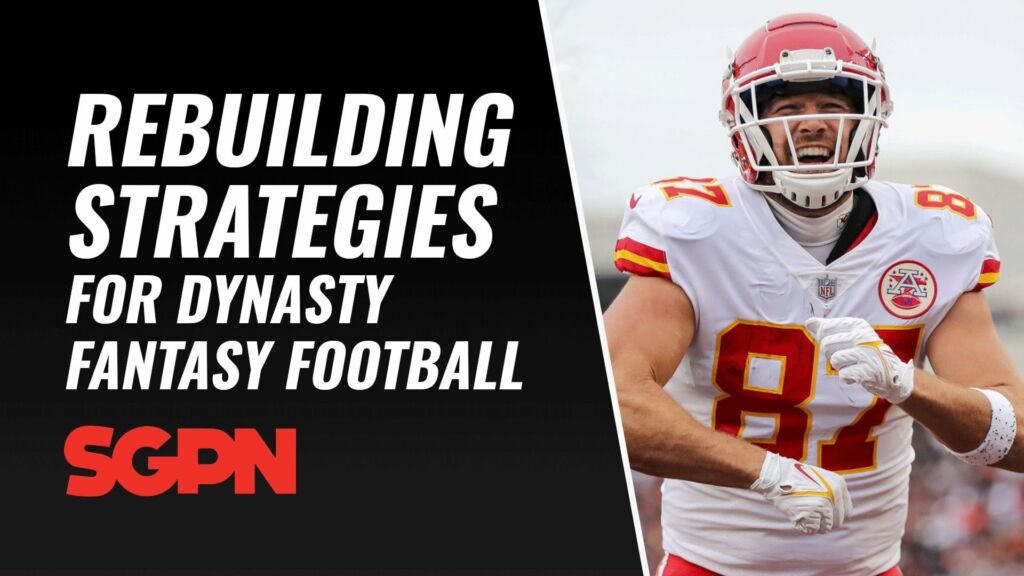 Your team is 0-5 and just lost Javonte Williams, now what do you do? It is time to rebuild, one of the most fun aspects of dynasty football. This article will explain how to set up the best dynasty football rebuild. In redraft, if you are 0-4 the season is pretty much done for you and a lot of people lose interest in the league. However, in the dynasty, this is where it gets really interesting. I am going to talk about some "Do's and Dont's" for the best dynasty football rebuild and trading in general. We are also going to talk about a blueprint to get you back on track.
First, we answer who we trade. One of the first things you will be doing in any rebuild is selling off any depreciating assets. Most of the time, which is going to be your running backs. This also includes any veteran that you project to have less value in a year or two. Let's go position by position to talk about positional peak values.

MORE SGPN FANTASY FOOTBALL CONTENT
---
How To Rebuild Your Dynasty Football Team
Quarterbacks
Quarterbacks really do not carry a lot of trade value in single-quarterback formats, but they can still be used as tradeable assets. Typically the peak age is 33, Tom Brady is the exception and not the rule. At this age, most of your rushing quarterbacks are unable to rush at the same rate or have suffered an injury. But, even your traditional pocket-passers see a drop in production. Some quarterbacks over the age of 33: Tom Brady (45), Aaron Rodgers (38), Matthew Stafford (34), Ryan Tannehill (34), Kirk Cousins (34), Russell Wilson (33), Derek Carr (31), Jimmy Garoppolo (30).
Running Backs
This one is frustrating and takes time to get used to for redraft players when transitioning into a dynasty football format. In the NFL, running backs enter their prime during their rookie season. In the past 10 seasons, 85% of the top 12 finishes have come from running backs between the ages of 22-28. Most of these players are between the ages of 23-26, over 65%. That means if you have a rebuild that is going to take 2 years, you will want to move those running backs that are 25 or older.
Here are the top running backs aged 25 or older: Mark Ingram (33), Cordarelle Patterson (32), Rex Burkhead (32), Melvin Gordon (30), Derrick Henry (28), Alvin Kamara (27), Aaron Jones (27), Austin Ekeler (27), Dalvin Cook, (27), Leonard Fournette (27), Ezekiel Elliot (27), James Conner (27), Kareem Hunt (27), Christian McCaffrey (26), Nick Chubb (26), Tony Pollard (26), Joe Mixon (26), Saquan Barkley (25), David Montgomery (25), Miles Sanders (25), and Damien Harris (25). Just looking at the list, you can see that you might be a year too late on selling and you lose profit by doing that.
---
Wide Receivers
Wide Receivers are usually in their prime between the ages of 23 and 30. This gives them much longer careers. You have to get used to this when you are new to dynasty football and why wide receivers go so early in startup drafts. The fun part is that there have been a lot of recent players that have produced early. You are not waiting 2-3 years for them to develop like you were in the past. The average age for the prime is around 27 and players that are in the 28-30 window will start losing value.
Age 28 hit Kenny Golladay and Allen Robinson pretty hard. Here are some top wide receivers at 28 or older: Adam Thielen (32), Keenan Allen (30), Tyler Lockett (30), DeAndre Hopkins (30), Allen Robinson (29), Cooper Kupp (29), Davante Adams (29), Brandin Cooks (29), Mike Evans (29), Tyreek Hill (28), Stefon Diggs (28), Amari Cooper (28), Mike Williams (28), and Michael Thomas (28).
Tight Ends
Tight ends are really difficult because there are just so few of them. It is much easier to move on from a veteran wide receiver with the recent influx of talent. Tight Ends start to decline between the ages of 30 and 32, even the best ones. We saw it with Jimmy Graham and with Rob Gronkowski. Mike Braude who writes for Apex Fantasy Leagues "88.7 percent of the peak seasons take place prior to the age 32 season."
This points directly at Travis Kelce and Zach Ertz who are 2 of the top tight end options, and of course Kelce who has been 1 or 2 for 5 of the last 6 seasons. Here are some tight ends age 28 or older: Travis Kelce (32), Zach Ertz (32), Darren Waller (30), Logan Thomas (30), Tyler Higbee (29), Moe Allie-Cox (29), Hayden Hurst (29), George Kittle (28), Evan Engram (28), Robert Tonyan (28), and Gerald Everett (28).
---
Dynasty Rebuild Do's
Initiate Contact – Do not just randomly start throwing guys on the trade block and expect people to come running into your DMs. Look at the standings, see who the contenders are, and go message them.
Move in Silence – The last thing you want is competitors. If you are selling a product, the last thing you want is a store to pop up a crossed the street selling the same thing. There is a limited market of buyers and you want to be the first one to the buyers.
Be active and do the work for them – Look at the four or six contenders, and evaluate the needs of the buyer and what would help them. Teams 1 and 3 need a quarterback, talk to them about a quarterback. Teams 2 and 5 need a running back, going to talk to them about a running back. Of course, see if they need anything else while they are buying.
Be creative – If a player is worth a 2nd, see if you can move a 2 nd and that player for a 1st. This helps you move up the board and on draft day you can make the decision to trade back. Trade away your FAAB for picks if there is a juicy one-year rental, or use your FAAB to get the player.
Do your homework – There are a lot of great tools out there to make this easier for you and your trade partner. Make this easy for them by knowing your values, knowing what you want, and understanding your values. A late 1 st and an early 1 st have very different values, do not just take a 1 st or 2nd without trying to get the pick with better value.
---
Dynasty Rebuild Don'ts
Don't burn bridges with bad offers – Every league has that guy; if your league doesn't, you are probably that guy. Going back to customer service, treat this like a business relationship. If you know that this guy is always trying to rip you off, you won't like to deal with him. There are only so many customers, don't blacklist yourself.
Don't take the first offer – If someone sends you an offer, they are most likely willing to pay more. They might not be willing to pay double, but it doesn't hurt to ask for a little more. Don't get greedy or start sending trade calculator screenshots, but asking for a little extra is okay. I have someone else interested, is that your best offer?
Don't Sell Low – Avoid selling injured players and players coming off of a bad week, never sell a player at their low point. Hold until there is a big week that opens up a selling window and take advantage.
Don't package all of your assets together – Most of the time you can get more for the individual parts, than making one big move. You only have so many pieces to sell, selling that one at a time will maximize your profits. Unless a team has a ton of draft capital and young players, you are going to lose profit.
Don't wait too long – I will discuss the age of apex and peak value for positions later on but don't wait too long. You have to sell something that people want to buy, the longer you wait the less you get in return.
---
Final Thoughts
As far as piecing together trades and setting up the best dynasty football rebuild; you'll need to be patient and get the best value that you can. If it's always nice when you can turn 1 asset into 2. This can happen in the trade by getting a younger player and a pick for an older player. You can then double up again by trading back in the draft, trading 1 pick for 2 picks. You can trade the player acquired as well. This is how you build and gaining as much high draft capital as possible allows you to keep turning profit. The last piece of advice is not to forget about 2024 draft picks.
Of course, prioritize the 2023 draft picks. Not just because the class is really talented, but because you want to jump-start this dynasty football rebuild. Just know that this is likely a 2-year rebuild and acquiring 2024 assets can help as well. If someone is offering a late 1st and you want a mid-1st, try to get 2024 1st or 2nd in the deal. When asking someone to add a little something to the trade, they are much more likely to add a 2024 asset vs 2 of their 4 draft picks. As always have fun, which is why we started playing. Good luck this season, or next if you are reading this and 0-4.
RELATED CONTENT