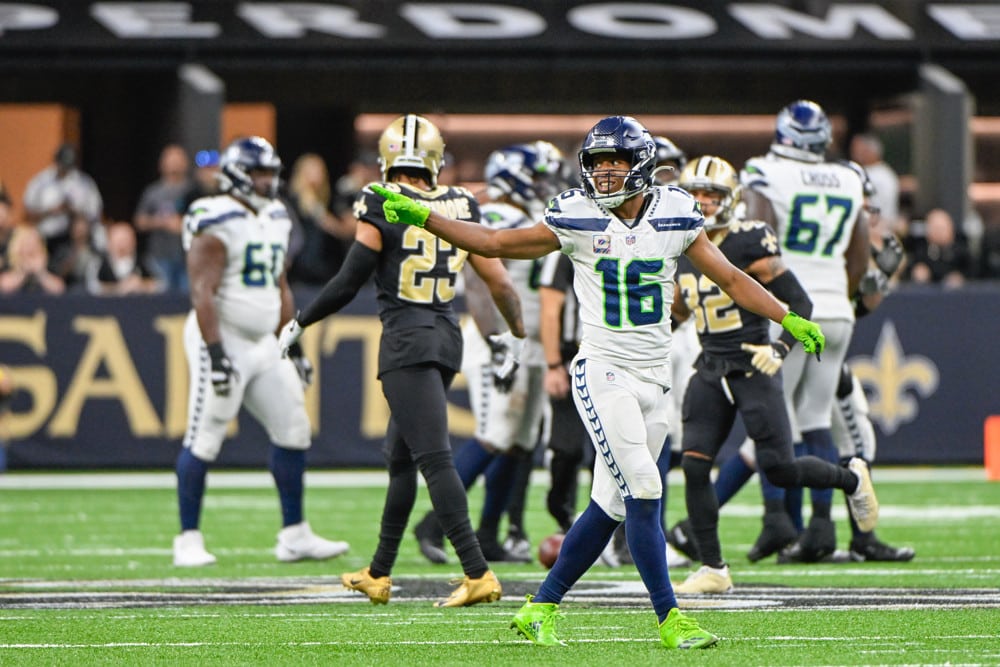 Welcome to the Sports Gambling Podcast Network's Top 10 Week 6 DFS stacks article!! Each week of the NFL season, I will be breaking down the DraftKings main slate to bring you the top 10 DFS stacks. 
"Stacks" in DFS can be defined as; playing two or more players from the same team in a single lineup. Stacking in DFS contests has become the predominant roster construction strategy, particularly for GPP tournaments, with various unique and creative ways to build stacks and maximize your scoring upside each week. 
The most popular stacking options include the skinny stack, the double-stack, the run-back stack, the full-on game stack, and the running back paired with a defense stack.

The skinny stack is traditionally a Quarterback paired with a skill position player. The double-stack includes the Quarterback and two skilled position players. The run-back stacks usually consist of a Quarterback and Wide Receiver from one team and an opposing Wide Receiver or Running Back.
A game stack can include up to five players from a single contest and a 3/2 or 4/1 team ratio, typically involving the Quarterback. The running back stacked with defense is just that. 
Each week the stacks in the top 10 will include a variety of these stacks based on the scoring upside and likelihood of cashing in GPP tournaments and cash games.
MORE SGPN FANTASY FOOTBALL CONTENT
---
Top 10 Week 6 DFS Stacks
Josh Allen (QB) Gabriel Davis (WR) Buffalo Bills with Travis Kelce (TE) Kansas City Chiefs
Josh Allen leads all NFL players in DraftKings points and is averaging over 32 points per game. He has scored over 30 points in four of five games. The Bills are second to only the Chiefs in points scored per game with 30.4. Vegas thinks this game is going to be a shootout. The 54-point total is the highest total by three points. Interestingly enough, 80% of the money is coming in on the Bills who are 2.5 road favorites.  The Chiefs' secondary ranks 26th in fantasy points allowed to the Wide Receiver position through five games. They have been torched by Wide Receivers for 824 receiving yards and seven touchdowns. They are tied for third worst with the Washington Commanders. 
I love Stefon Diggs this week, and every week, but we saw the matchup nightmare that Gabe Davis presents for the Chiefs' Cornerbacks after he exposed them for four touchdowns and 201 receiving yards. After a great opening game of the season, he missed Week Two with an ankle injury and struggled to find production in Weeks Three and Four. Davis bounced back in a huge showing last week catching three passes, two touchdowns, and 171 receiving yards. His yards per reception was 57!! He's officially back.  
Good Lord!!! Travis Kelce was a grown-ass man last week on Monday Night Football. If you were living in a cave or in a van down by the river, Travis Kelce caught four touchdown passes and scored 33.5 DraftKings points. He currently has scored 20 more points than the Tight End ranked second in scoring Mark Andrews. Kelce is the best weapon the Chiefs have and he will be needed if the Chiefs are going to stay competitive in this matchup with the high-scoring Bills.
---
Total Cost: $22,500
Players to pair with: Kenneth Walker III (RB) Rondale Moore (WR)
---
Patrick Mahomes (QB) Travis Kelce (TE) Kansas City Chiefs with Stefon Diggs (WR) Buffalo Bills
Patrick Mahomes has quietly been averaging over 25 DraftKings points through the first five games of the season. He currently ranks fourth, with four points per game more than the fifth-place Quarterback Carson Wentz. His primary weapon inflicting most of the damage against opposing defenses has been Travis Kelce. I'm not comfortable stacking Patrick Mahomes with any other of his weapons except Clyde Edwards-Helaire at this point in the season.  
Mahomes has thrown an NFL League-leading 15 touchdown passes through five games, but only two have been thrown to Wide Receivers. Nine touchdowns have been thrown to Tight Ends (seven to Kelce), and four to Running Backs. Follow the touchdown equity this Week and pay up for Kelce.
Stefon Diggs struggled last postseason catching three passes for only seven yards. The Chiefs didn't let him beat them, but that meant leaving Gabe Davis was free to run wide through their coverage scheme. 
Diggs is currently averaging 25.8 DraftKings points per game, second behind only Cooper Kupp. He leads all NFL wide receivers in touchdown receptions with four, is third in receptions, and fourth in receiving yards. Diggs is expensive at $8,400, so hopefully, he's not too chalky this week.  
Total Cost: $24,200
Players to pair with: Rhamondre Stevenson (RB) Eno Benjamin (RB)
---
Tom Brady (QB) Leonard F.ournette (RB) Chris Godwin (WR) Tampa Bay Buccaneers
Tom Brady is a man on a mission this year! Along the way, he is going to try to throw as many f****** touchdowns as he possibly can. 
So far he only has seven of them. Geno Smith has nine and Carson Wentz has thrown for 10. Eric Bickle of the DC-based Sports Junkies calls it the "Due Theory" and it's pretty self-explanatory if you ask me. I'm stacking Brady up with at least two of his top three weapons this week. 
Leonard Fournette is the seventh-ranked DraftKings running back, averaging 18.9 points per game. Last week Brady peppered him with 11 targets, which he turned into 10 receptions for 83 yards and a touchdown. Ultimately his performance was good for 35.9 DraftKings points, second behind only Austin Ekeler. The Steelers rank 19th against the Running Back position, giving up 22 points per game on average. The Buccaneers are not "average" though. They are currently eight-point road favorites in this matchup and should be able to slow down rookie Kenny Pickett and an ailing Najee Harris. 
According to PFF Chris Godwin has a big advantage this week against the Steelers' Cornerbacks. Cameron Sutton, Ahkello Witherspoon, and Levi Wallace all missed practice on Wednesday dealing with various injuries. Their only healthy Cornerback Arthur Maulet ranks 73th out of 104 PFF-graded defensive backs. Tom Brady connected on all six of his pass attempts with Godwin last week for 61 yards.
The Steelers' secondary ranks dead last against Wide Receivers, giving up 48.8 points per game. Josh Allen's Wide Receivers just ran all over the field on them, including two long touchdown passes given up. Running this onslaught stack out in medium-sized GPP tournaments makes the most sense.
Total Cost: $19,800
Players to pair with: Saquon Barkley (RB) David Njoku (TE)
---
Geno Smith (QB) Tyler Lockett (WR) Seattle Seahawks Marquise Brown (WR) Arizona Cardinals 
Just like we all predicted, Geno Smith is the seventh-highest-scoring DraftKings quarterback this year. Propping up not only DK Metcalf but also a surging Tyler Lockett, who for some god-forsaken reason has been priced at $5,600 this week instead of $6,500. The DraftKings algorithm error is in our favor, you know this pay-down stack will be popular with the KiDz. 
Tyler Lockett has come out of nowhere to be the 8th highest Wide Receiver through the first five weeks of the NFL season. Hell, I saw him on the waiver wire after Week 1 in my Maryland analyst league. He's averaged 21 points per game since then. Ouch to the guy who dropped him. My lips are sealed, but if you bend your ear on Twitter many are saying you can still hear him cursing himself for the fatal mistake. 
Adding Marquise "Hollywood" Brown as a run-back stack makes all the sense in the world given his offensive production through five games. He's currently WR6 in DraftKings points, scoring over 20 points per game. He's only projected for a 5% rostership, making him ideal to break up the chalk from Smith and Lockett.  
Total Cost: $18,600
Players to pair with: Saquon Barkley (RB) Cade Otton (TE)
---
Kirk Cousins (QB) Justin Jefferson (WR) Minnesota Vikings with Raheem Mostert (RB) Miami Dolphins 
The Miami Dolphins secondary has not been great against Wide Receivers this year. They ranked 25th in the NFL giving up close to 40 points per game to the position. Thankfully for us, and for Kirk Cousins, this game is not on in prime time. The Minnesota Vikings are averaging 40 pass attempts per game this season which is tied for the sixth most in the NFL. I have a sneaking suspicion that this game is going to shoot over the 44.5-point total and Captain Kirk will be a big part of that. 
Justin Jefferson has been averaging 13 targets per game in his last two outings. It makes sense you get the ball to the best Wide Receiver in the NFL as often as you can. In those weeks Justin Jefferson has scored 34 points and 33 points. The Dolphins' secondary has given up 867 receiving yards and five touchdowns to Wide Receivers this season. This means Cornerbacks Noah Igbinoghene and Nik Needham are in for a long day on Sunday. Just ask Marshon Lattimore. 
Raheem Mostert has taken over as the lead Running Back in the Miami Dolphins backfield. Last week he averaged 6.3 yards per carry and racked up 118 rushing yards and a touchdown against the New York Jets. Even in a game, the Dolphins were losing they continued to run the football, which I respect. Mostert is one of the most dynamic "plant his foot in the ground and go" guys in the league and he fits perfectly in Mike Mcdaniels' offensive scheme. Add only $5,700 he's a great value this week despite his 17% projected rostership. 
Total Cost: $20,600
Players to pair with: Leonard Fournette (RB) Travis Kelce (TE)
---
Lamar Jackson (QB) Mark Andrews (TE) Baltimore Ravens with Saquon Barkley (WR) New York Giants
Lamar Jackson has been volatile this season, to say the least. He has two 15-point games and two games he scored 40-plus points. This week he faces what many are saying is a fraudulent 4-1 New York Giants Team. Jackson has passed for 1067 yards and 12 touchdowns. He's also rushed for 374 yards, good for nine best in the NFL at the Running Back position. He can beat you with his arm or with his legs. In this matchup, I think he goes into the Big Apple and beats them with both.
The Giants have been pretty good against Tight Ends this year, but then they actually haven't faced any good Tight Ends this year. Mark Andrews will be a test for their defense this week. All Things Considered, his 94 DraftKings points are good enough for the seventh most points at the Wide Receiver position. At only $7,000 he's a steal given that he should see eight to 10 targets again this week.
Play Saquon Barkley! At only $7,700 he is a steal this week. He is basically averaging a point per touch this year. In the Giants are going to have any hope of winning this matchup against the Ravens, Saquon is going to need all the touches he can get. The great news is that he's game script-proof. If the Giants are winning they're going to pound it with Saquon. If the Giants are losing they are going to try to catch up with Saquon through the passing game. His current projected rostership is only 17%. I will be over the field as Alex Baker likes to say. 
Total Cost: $22,800
Players to pair with: Breece Hall (RB) Tevin Coleman (RB)
---
Aaron Rodgers (QB) Allen Lazard (WR) Green Bay Packers with Breece Hall (RB) New York Jets
Aaron Rodgers and his terrible haircut are pissed! Who can blame him? Have you seen his haircut and also his Wide Receivers? It's not good. When are people going to start calling him Haaron Rodgers? I'll let myself out. 
Lazard has seen eight targets in his last two games and has been the most consistent Packers Wide Receiver for Aaron Rodgers through five games. The Packers are seven-point home favorites and you know that Rodgers doesn't want to be shown up for the second week in a row by a team from the Big Apple. I expect Rodgers and his receivers to come out on the same page in front of the Lambeau Field faithful. Lazard leads all Packers Wide Receivers with 330 air yards. Expect Rodgers to take a few big shots downfield to test the young Jets cornerbacks. 
Speaking of young Jets players, rookie running back Breece Hall finally broke out last week. He rushed for 97 yards on 18 carries and turned his two receptions into 100 receiving yards. His 30.7 DraftKings points were the third highest on the DraftKings main slate in Week 5. This week his New York Jets are one touchdown underdogs to the Packers. All indications are that the Jets will be trailing and need to pass the football. This might sound crazy, but I think I might just know a guy who is great after the catch.  
Total Cost: $17,900
Players to pair with: Joe Mixon (RB) Jeff Wilson (RB)
---
Kyler Murray (QB) Marquise Brown (WR) Arizona Cardinals with Tyler Lockett (WR) Seattle Seahawks
Kyler Murray is currently projected for only an 8% rostership this Sunday, compared to 13% for his counterpart, Geno Smith. There's good reason for that, as Smith is currently $1,600 cheaper than Murray. Smith also has two functioning high-quality Wide Receivers in Tyler Lockett and DK Metcalf. I get it I get it. But still, I don't get it. Murray is the leverage in this game. 
Murray's most dangerous weapon this season has been Marquise Hollywood Brown. Brown is currently averaging 20 points per game and is the sixth-highest-ranked Wide Receiver in DraftKings points. His 55 targets are tied for second in the NFL with Justin Jefferson. He's averaging 11 targets per game in the highest-volume passing offense in the NFL. Kyler Murray is averaging 44 pass attempts per game this season, the most in the NFL. The total for this game is 51.5. It's the second-highest total on the main slate. 
I already said a bunch of great things about Tyler Lockett earlier go back and read that paragraph if you forgot it (Winks..blows kisses). 
Total Cost: $20,100
Players to pair with: Saquon Barkley (RB) Breece Hall (RB)
---
Rhamondre Steveson (RB) New England Patriots with David Njoku (TE) Cleveland Browns
I'll save you some time on this write-up. Rhamondre Stevenson is the only game in town for the New England Patriots this week when they face the Cleveland Browns. The Browns just gave up 171 rushing yards to Austin Ekeler. He averaged 10.8 yards per carry and amassed almost 40 DraftKings points.  Stevenson is going to be very chalky, like 30% levels. 
One way to sidestep some of that shock is to game stack with Cleveland Browns Tight End David Njoku. Who through his last three games, is averaging over 16 DraftKings points per game. He's averaging eight targets per game during that time as well. Methinks it's not a coincidence. I love playing him naked at only $4,000 Download, but stacking him with Stevenson is a great way to differentiate yourself and have a piece of this game stack.
Total Cost: $10,000
Players to pair with: Anyone
---
Joe Burrow (QB) Ja'Marr Chase (WR) Cincinnati Bengals with Alvin Kamara (RB) New Orlean Saints
Joe Burrow and the Cincinnati Bengals need Ja'Marr Chase to win this football game against the New Orleans Saints. I'm only stacking Joe Burrow with Chase and I'm not playing him in any other builds.  Tee Higgins's uncertainty and the inability to Target other options in the passing game will limit my exposure to Burrow.
Additionally, Marshon Lattimore is not what he used to be. Justin Jefferson just exposed him 2 weeks ago during the NFL's first London game at Tottenham Hotspur Stadium. Chase is going to do the exact same thing to Lattimore this week. At only $7,700, he is a bargain with a 25-point upside written all over him.
Last week Taysom Hill stole all the touchdowns from everyone on the New Orleans Saints roster. Despite not scoring a touchdown Alvin Kamara scores 27 DraftKings points on the back of 194 total yards. He rushed for over 100 yards people! Can you believe it? I had to double and triple-check the stats just to make sure it was accurate. It is.
I'm not banking on a Repeat Performance this week, but I think the Saints will need to score touchdowns to help them win this game against Cincinnati. I love this run-back stack as a lesser-rostered build.
Total Cost: $21,100
Players to pair with: Christian Kirk (WR) Irv Smith (TE)
---
RELATED CONTENT