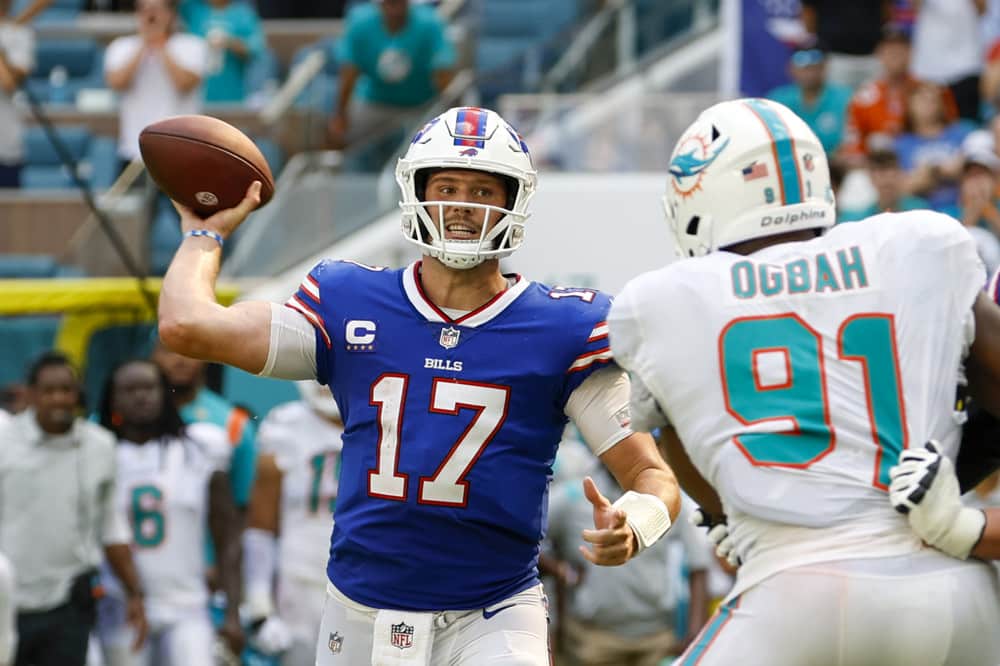 My dearest love, autumn has descended upon us with a shiver in the air that can only be warmed with DFS winnings. I hope this letter finds you well. Regrettably, I must inform you that the potential suitors drawn in by the smoke billowing from my chimney are endless and insatiable. Now compelled to keep fueling the inferno of DFS winnings, the intensity of the flames is no longer terrifying. It has been determined that I must put my eggs in this basket from now on. Good day, my dearest. Good luck.
Week 3 of the NFL season was our most fruitful to date. The stacks were mountainous, the values valuable. I was fortunate to identify the leverage value of the slate in DeVonta Smith. DFS tournament fields, large and small, were at the mercy of the expert lineup architecture of the SGPN DFS team.
The main slate in Week 4 offers a new set of clues to crack the lock to the bank vault. The flowchart tends to offer as much help to me as it does to you all. An organized river stream of ideas puts my core plays in sharper focus. Those core plays are often the reason DFS success finds your lineup instead of the field. I implore you also to build your own. Whether scribbled on a notepad or even a paper towel, it truly helps to visualize the ideas.
Week 4 is 12 games with intriguing values and sneaky opportunities to leverage the field. Here are my ideas on an attack plan with the DFS Flowchart. Good luck again this Sunday, even though I doubt you'll need it.

MORE SGPN FANTASY FOOTBALL CONTENT
---
Week 4 NFL Flowchart: DraftKings DFS
If It Ain't Broke…
The stacks are incredibly simple again this week. Don't get cute looking for more upside in better matchups than Josh Allen and Jalen Hurts because there are none.
There is a small contingent that is fading Lamar Jackson this week versus Buffalo, and their reasoning is very strong. The Bills almost never run man coverage or blitz the QB, which limits what Jackson can do to put up ridiculous stats.
Become Ungovernable
You would be surprised to hear how many times DFS lineups can win massive prizes by rostering the players who have been left for dead after a string of poor performances. The Panthers' stack this week makes a lot of sense against a horrendous Arizona secondary. DJ Moore is too good to keep down, and Baker Mayfield will have "larger windows" to throw into. Don't let the narrative get in the way of a slate-smashing leverage value.
---
Don't Chalk It Up
I truly hope that Cordarrelle Patterson suits up for the Falcons on Sunday. If he does, he is in line for a monster performance at home against the Browns. He is showing up as an optimal play on numerous sites from where I pull my data.
The Michael Pittman disrespect in the DFS lobbies is fine by me. The dude is great at football and enjoys some of the most consistent target volumes in the NFL.
I have a gut feeling another Mike Williams spike week is imminent, and won't hesitate to spend up on that possibility in my DFS builds. Zach Ertz and Robert Tonyan are two of my favorite TE plays for Week 4 and won't break the bank.
Baby, You're a Firework
When it comes to value plays, I'm all about the explosive capabilities of the player. Rashaad Penny has garnered the vast majority of the snaps and carries for Seattle and faces the second-easiest opponent versus RBs this week in Detroit. I won't scoff at his ridiculously-low salary figure.
The Jags' defense has been much better than expected this season so far but have been torched over the top on vertical routes a few times. Quez Watkins is the field stretcher for Philly and offers a beautiful double-stack option that fits nicely under the cap.
The Giants have zero healthy WR talent on the field Sunday and will once again feed their rookie starting TE. Daniel Bellinger is quite possibly the best points-per-dollar value on the slate.
The Cowboys are a glaring "value" at DST, even though they aren't priced down. They lead the NFL in pressures and sacks and are licking their chops at the sight of Carson Wentz rolling into town. Wentz has been sacked a ridiculous amount of times and still has not rid himself of the yips where he holds the ball much too long instead of firing it to open receivers. It spells disaster in my mind. Dallas is going to rip him apart and turn him over.
RELATED CONTENT