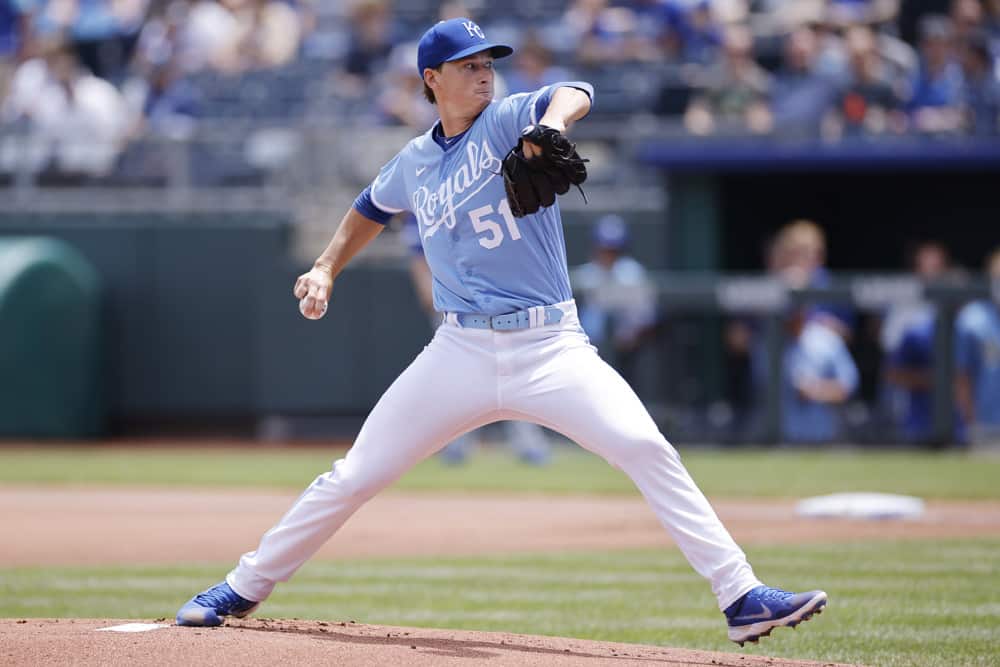 Looking for Pitching Streamers in Week 10? Need strong ratios, wins, or extra points to secure the bag? Lost Walker Buehler? No worries! The fantasy baseball season is young and you shouldn't be out of it yet. This is a marathon. League-mates may be getting fatigued and the 2nd half is where champions are born! We've got you covered with the tools to keep grinding:

Pitching Streamers of Week 10!
Monday 6/13 – Johnny Cueto (CHW) @ DET – 16% owned Yahoo | 12% ESPN | 32% CBS
Through his first five starts, Johnny is putting together a respectable run.  

All five were quality with a 3.23 ERA, 3.72 FIP, & 1.17 WHIP –

not far from his career numbers.

Came against strong competition with three games against NYY, TOR, and LAD. 

Not a big K guy with 7 per 9 on the year – which also isn't far from his career average.

Good chance he will stream for great ratios and a W in a favorable matchup vs DET.  
Tuesday 6/14 – Zach Davies (ARI) @ CIN – 5% Yahoo | 4% ESPN | 10% CBS
Coming off two great outings – both quality – where he's posted:

13.2 IP, 3 ER, 9 H, 3 BB, and 13 Ks – totaling just under a 1 WHIP and K per inning. 

They were easy matchups against PIT and Cincy – but he gets Cincy again on Tuesday. 

Solid numbers on the year with a 4.21 ERA (backed by a 3.56 xERA) and 1.21 WHIP.  

23rd in the league with a 22.4 GB%. 

Also not a big K guy with 7.3 per 9 for the record.

Opportunity for great ratios and a W in a winnable game for ARI making him one of the better pitching streamers.  
Wednesday 6/15 – Austin Gomber (COL) @ Home vs CLE – 4% Yahoo | 3% ESPN | 19% CBS
Big boom or bust guy here with some elite and awful performances as a streamer this year.

Oddly at Coors in 2021 he posted a strong 47.1 IP, 2.09 ERA, .95 WHIP, and 5-1 record.

His xERA, FIP, and xFIP are all in the 4s compared to his current 6.17 ERA.

Decent bet he brings momentum back home this week after a great start in San Fran.

Honorable Mention who is 50-60% owned in Yahoo & CBS . . . 

Spencer Strider is criminally under 20% in ESPN. 

Opportunity for free Ks, ratios, and wins if still available in your league.  
Thursday 6/16 – Rich Hill (BOS) @ Home vs OAK – 10% Yahoo | 6% ESPN | 11% CBS
This pick is mainly due to the easy matchup – as it often goes for streamers.  

Numbers aren't bad this year with a 4.38 ERA, 1.22 WHIP, and 7.3 K/9.  

Has been inconsistent along the way leading to an appropriate ownership %. 

Faced OAK on the road two starts ago and dominated.

6IP, 1 ER, 3 H, 0 BB, 5 Ks, and a W.  

Roll him out with confidence back home this week vs OAK again.  
Friday 6/17 – Zach Thompson (PIT) @ Home vs SF – 4% Yahoo | 3% ESPN | 7% CBS
In six out of his last seven starts:  

He let up 0 ER three times, one ER once, and two ER twice. 

Went at least five IP in each of those six games with a collective .87 WHIP.  

Also not a big K guy with 7 per 9.  But the point? 

Lately he's pitching better than his 4.60 ERA and 1.42 WHIP suggest. 

Worth a stream in this one despite the tough matchup.  

Three of those six games mentioned came against ATL, LAD, and STL.  
Saturday 6/18 – Brad Keller (KC) @ OAK – 13% Yahoo | 10% ESPN | 33% CBS

Keller came out booming in 2022 with a 1.74 ERA and .84 WHIP thru his first five starts.  

He's gotten hit hard since inflating his ERA to a 4.19 while the WHIP sits at 1.26.  

Meanwhile he's still going deep into games with 8 of 11 starts on the year quality.  

He's 28th in the league with a 53% GB%.  

Faced tough competition recently and gets a nice matchup this week to bounce back.

Sunday 6/19 – Brady Singer (KC) @ OAK – 23% Yahoo | 11% ESPN | 43% CBS
Singer, to me, is more than just another one of the pitching streamers. He's the man on this list most likely to stay in your lineup past Week 10. 

Since returning to the bigs in his last five starts he's walked just three batters. 

All 3 came in the same game which led to him earning the league's seventh best 2.8 BB%. 

He's 3-1 on the year with a 4.33 ERA and 1.16 WHIP with about a K per inning. 

Singer is also fifth in the league with a 33.8 CSW% and 13th with a 56.9 GB%.  

Catching my drift? Run him with confidence vs OAK and beyond.

Following this start he's projected to face OAK, DET, HOU, and DET. 

Honorable Mention – the lesser owned Dane Dunning is putting together a solid season for TEX with a 4.41 ERA, 4.24 xERA, 3.67 FIP, and 3.41 xFIP. 

He's matching Singer's 13th best 56.9% GB% and faces DET Sunday.
Related Content: