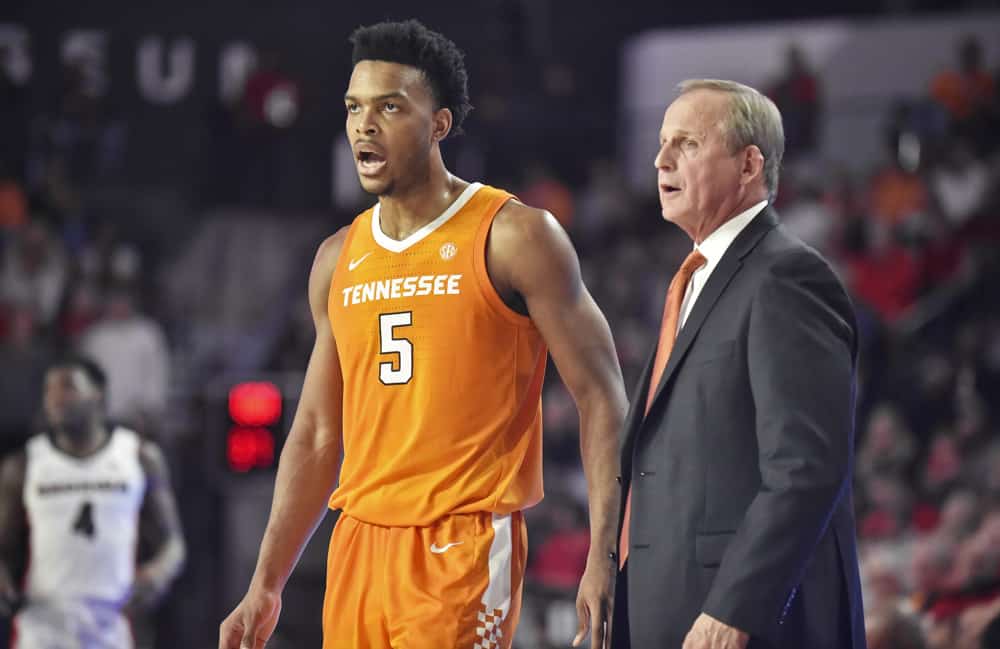 With all due respect for the play-in games in Dayton, now the real NCAA Tournament starts. If I can speak for all the degens out there – the opening Thursday and Friday of March Madness are two of the best days of the year. Plus, it's also St Patty's Day this year! Call in sick and stock up on Guinness. Let's take a deep dive into Thursday's games and pick some winners!
EXCLUSIVE SGPN MARCH MADNESS CONTENT
March Madness Guide: How To Win Bracket Pool & Betting Strategies
West Region Preview: Favorites, Bracket Busters, Predictions
East Region Preview: Favorites, Bracket Busters, Predictions
South Region Preview: Favorites, Bracket Busters, Predictions
Midwest Region Preview: Favorites, Bracket Busters, Predictions
NCAA Tournament Picks: College Basketball Best Bets For Thursday, March 17th
NCAA Tournament: Longwood vs. Tennessee
Time: 2:45 ET
TV: CBS
Spread: Tennessee -17
Total: 132
Longwood is a nice story and they had a terrific 26-6 season in the Big South this year. They won both the regular season and the conference tournament and have reeled off 8 in a row. In fact, they only have one loss in the 2022 calendar year. With that said, facing the red hot Tennessee Volunteers is an absolutely horrible matchup for them.
First, the Big South is almost always ranked towards the bottom of all the conferences and this year is no exception (27th out of 33). Second, over the last 10 games of the season, Longwood's margin of victory over conference opponents was only 4.3PPG. Give them credit for winning close games but if I'm going to back a 14 seed, I want to see domination against inferior opponents. Lastly, the only NCAA tournament team these Lancers played this season was vs Iowa and they lost by 33.
On the other hand, Tennessee has won 15 of their last 17 games which includes two wins over Kentucky and a defeat of Auburn. The Vols have the 3rd best defense in the nation according to KenPom and will absolutely stifle Longwood's pedestrian offense (115th in the country). To make matters worse, Longwood's defense is even worse (191st). In their two matchups vs major conference teams, the Lancers gave up 106 points to Iowa and 91 to an average Georgetown squad.
Kennedy Chandler is Tennessee's leading scorer and a top freshman in the country, but unlike last year – the Vols have a ton of experience that will serve them well this month. Josiah-Jordan James, Santiago Vescovi, and John Fulkerson are all upperclassmen who remember last year's first-round defeat to Oregon State all too well. Vols roll.
March Madness Pick: Tennessee -17
---
NCAA Tournament: Indiana vs. Saint Mary's
Time: 7:20 ET
TV: TBS
Spread: St Mary's -3
Total: 126.5
In recent years, the winner of a play-in game knocking off a first-round opponent is about as common as a 12 seed beating a 5. Here we have the best of both worlds with Indiana. The Hoosiers solidified their berth into the NCAAs with a run in the Big 10 tourney where they upset Michigan and Illinois before losing on a buzzer-beater to Iowa. That's three NCAA tournament teams plus they've already shaken off the "national stage nerves" by beating Wyoming on Tuesday.
Indiana has done it all season with a defense that ranks 18th in the country. Trayce Jackson-Davis and Race Thompson form an excellent frontcourt duo while Xavier Johnson has excelled at the PG position. Jackson-Davis just put up 29 and 9 on Wyoming and appears to be a man on a mission. St Mary's has an excellent overall defensive as well but has a tendency to give up too many 3's. The Hoosiers should be able to attack the Gaels from inside the arc and from deep.
Overall, in a tight game with two top 20 defenses, I like grabbing the points. Plus, the fact that the Hoosiers already have a game under their belt matters. Expect a close contest that goes down to the wire.
March Madness Pick: Indiana +3
---
NCAA Tournament: Vermont vs Arkansas
Time: 9:20 ET
TV: TNT
Spread: Arkansas -5
Total: 139.5
It's all about matchups in March and Arkansas isn't a good fit for a Vermont upset. The Catamounts dominated the American East conference and have a decent track record in previous NCAA tournaments (in 2019 when they lost by seven against 4-seed Florida State) but it'll be tough to keep this game close. As usual, Vermont is an efficient offensive team that shoots the ball well from deep and from the FT line. They are also a senior-laden team with the 4th most experience in the country.
That's about where the positives end. This matchup reminds me of last year's tournament when the Razorbacks faced Colgate in Round 1. If you recall, Colgate was up 33-19 before Arkansas stormed back to win by 17. This year, don't expect a mid-major to sneak up on Eric Musselman's squad.
Arkansas really progressed as the season went on winning 15 of their last 18 games. With the 5th ranked defense in the country, look for the Razorback athleticism to lock down on Vermont shooters. On offense, the Catamounts won't have an answer for the triple headed-monster of JD Notae, Stanley Umude, and Au'Diese Toney. What I especially love about this trio is the fact that they are all seniors.
If Vermont has the edge is experience, it's minimal. It's Arkansas that has the major edge in talent, athleticism, and size along with a coach who is used to success in the NCAAs. Look for the Razorbacks to pull away in the second half and cover the five.
March Madness Pick: Arkansas -5
---
First Half UNDERS – Every Single Freaking Game
If you haven't heard by now, we have a little thing over at SGPN and it's called hammering all 36 first half UNDERS. That includes the First Four and the First Round of the NCAAs. By the way, the 1H UNDERS were 2-0 on Tuesday.
#MarchMadness Betting Commandment #1

👼 THOU SHALL BET ALL 36 1H UNDERS 🏀💰#DegensOnly | #CollegeHoops pic.twitter.com/QhcaW4r8ie

— Sports Gambling Podcast (@GamblingPodcast) March 14, 2022

---