NHL All-Star Weekend is here! While it may not be for everyone, the All-Star Skills Competition and All-Star Game are fun events that can help grow the game. This year's NHL All-Star Skills & Game is taking place in Las Vegas, which should be fun for everyone involved.
All-Star Weekend kicks off on Friday night with the Skills Competition. There are seven events: five inside T-Mobile Arena, and two new outdoor ones that are something you could only do in Vegas.
NHL Futures: Best Bets to win Hart, Vezina, Norris, & Calder at All-Star break
Let's get right into it!
2022 NHL All-Star Skills: How To Watch, Participants, Events, & Picks
2022 NHL All-Star Skills Information
Date: Friday, February 4th
Time: 7:30 p.m. EST (4:30 p.m. local)
TV: ESPN, SN, SN Now, TVAS
Location: T-Mobile Arena, Las Vegas, NV
Weather: 54° high, 33° low | Winds NNE 8 mph | 0% Precipitation
---
NHL All-Star Skills: Fountain Face-off
(Pictured in the featured image)
Here is a description of the brand new event, from the NHL:
"The Fountain Face-off is one of seven events being held at T-Mobile Arena and classic locations in the city as part of the All-Star Skills. … The new event will take place in the famed Fountains of Bellagio and feature the participants being taken by boat to a "rink," where they will attempt to shoot pucks into five targets in the least amount of time."
"Vegas is the perfect place and backdrop to do something outside the venue as well as inside, and we did a fair amount of research," NHL chief content office Steve Mayer said. "We settled on what we think is one of the most iconic spots in Vegas, and that's the Fountains of Bellagio for one event.
The Bellagio Fountains span more than 1,000 feet and spray water as high as 460 feet. This is sure to be a fun event –– it'll look cool, at the very least.
Participants:
Jonathan Huberdeau (FLA), Claude Giroux (PHI), Jordan Eberle (SEA), Roman Josi (NSH), Nick Suzuki (MTL), Zach Werenski (CBJ), Mark Stone (VGK), Jocelyne Lamoureux-Davidson (USAWNT)
The Pick:
This is a new event and it's tricky to handicap. I'll give an edge to hometown favorite Mark Stone, but don't count out NHL points leader Huberdeau or the grizzled veteran Giroux, who has a sweet set of hands. This could be more favored towards defensemen, however, with Josi and Werenski as darkhorses.
---
NHL All-Star Skills: Las Vegas NHL 21 in '22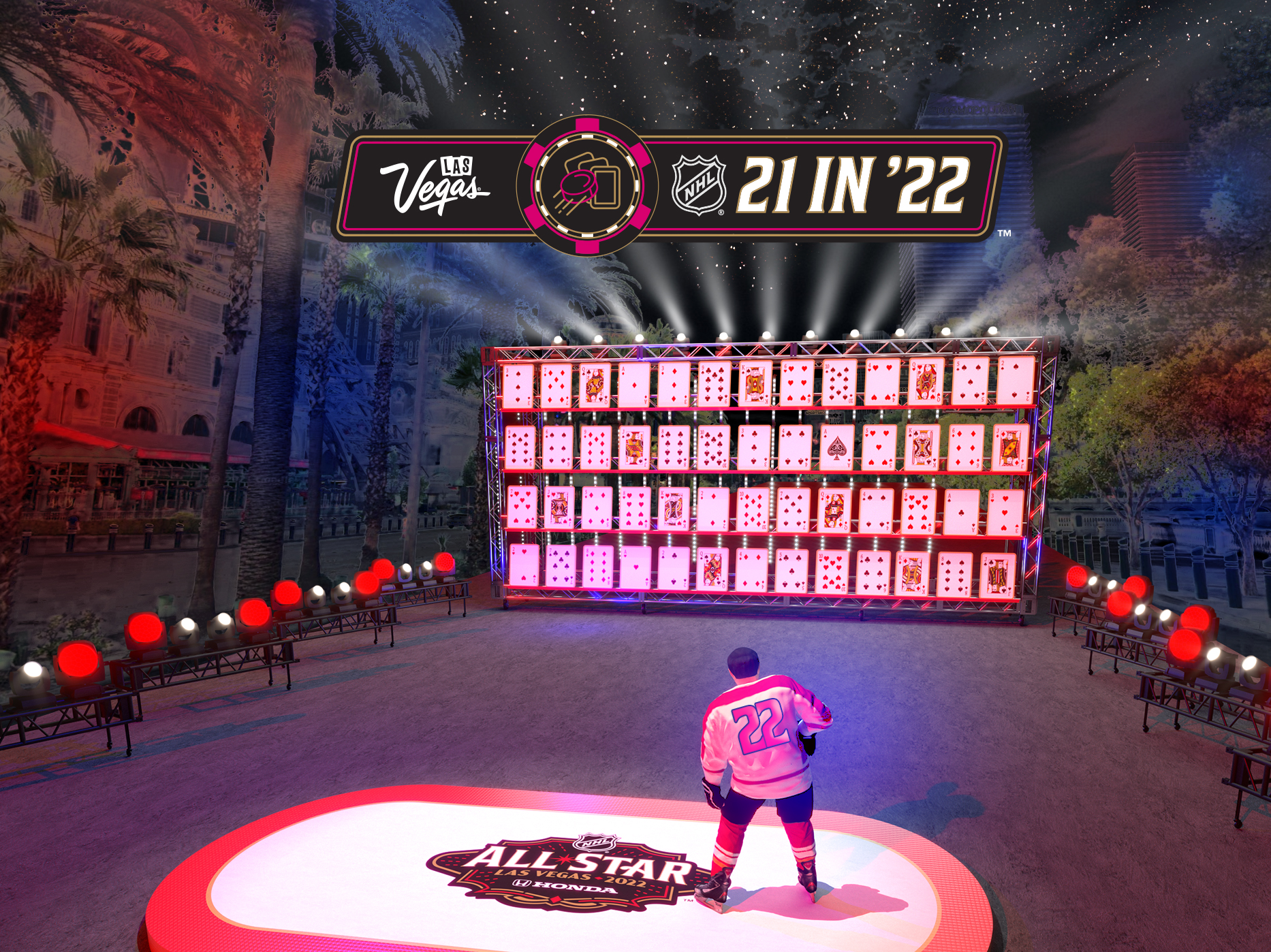 This is another new event unique to Las Vegas. It's "a twist on blackjack that will have five players standing on Las Vegas Boulevard and shooting at a deck of oversized cards on a rack. The goal will be to achieve a hand of 21 without going bust in the least amount of shots."
"It's accuracy shooting with strategy, because you're now shooting at 52 targets rather than four," Mayer said. "We're going to incorporate some other elements to throw guys off a little bit, to give them opportunities to maybe double down. We're going to use celebrities and I think Vegas personalities to kind of just enhance the experience."
Participants:
Nazem Kadri (COL), Auston Matthews (TOR), Joe Pavelski (DAL), Steven Stamkos (TBL), Brady Tkachuk (OTT)
The Pick:
This is all about shooting accuracy. It's going to come down to Matthews and Stamkos for me. I'll lean to the younger Matthews, who might have more motivation going into it.
It's worth noting that Huberdeau participated in the traditional shooting accuracy challenge in 2020, coming in third place at 13.074. Jaccob Slavin won it at 9.505 seconds.
---
NHL All-Star Skills: Breakaway Challenge
One of the good ol' favorites is back: the breakaway challenge. Participants are encouraged to be creative with costumes, trick shots, props, and more.
Participants:
Kirill Kaprizov (MIN), Trevor Zegras (ANA), Jack Hughes (NJD), Alex DeBrincat (CHI), Alex Pietrangelo (VGK)
The Pick:
Who else? Trevor Zegras.
TREVOR ZEGRAS WHAT? @tzegras11 pic.twitter.com/JXjGfAitSs

— NHL GIFs (@NHLGIFs) December 8, 2021
https://twitter.com/BradyTrett/status/1486868738208985092
Alex Pietrangelo is a sleeper pick here as the hometown participant. He could pull some local Vegas celebrities out of his bag of tricks. Kirill "the thrill" Kaprizov is also one to watch.
Kirill Kaprizov and Mats Zuccarello are unfair. This is a goal you'd only hope to try in NHL 22. pic.twitter.com/rEmfYsLOmV

— Ryan Gilbert (@RGilbertSOP) February 3, 2022
Given that this is encouraged to be a fun event, they'll have guest goalies in the crease. Manon Rheaume, the first woman to play goalie in an NHL game, and actor Wyatt Russell will be the goalies for the event. And a celebrity judging panel of actor Jon Hamm, Las Vegas ventriloquist Terry Fator and Hockey Hall of Famers Mark Messier and Paul Coffey will rate the attempts from 1-10.
---
NHL All-Star Skills: Fastest Skater
This one is pretty self-explanatory. Skate a lap around the rink as fast as possible.
Participants:
Chris Kreider (NYR), Adrian Kempe (LAK), Kyle Connor (WPG), Evgeny Kuznetsov (WSH), Jordan Kyrou (STL), Dylan Larkin (DET), Cale Makar (COL), Connor McDavid (EDM)
Betting Odds:
McDavid: +125
Makar: +450
Larkin: +600
Kreider: +900
Connor: +1000
Kyrou: +1000
Kuznetsov: +1500
Kempe: +1500
The Pick:
McDavid (13.215 seconds) and Kreider (13.509 seconds) both participated last time it was held in 2020.
Connor McDavid is the odds-on favorite here at +150. He's won the event three times and came second to Mathew Barzal last time it was held in 2020 in St. Louis.
Can Connor McDavid make it FOUR in the Fastest Skater TONIGHT?! ⭐️@EdmontonOilers | @cmcdavid97 pic.twitter.com/vbi19IExOS

— Olympic Hockey on NBC (@NBCSportsHockey) January 24, 2020
Cale Makar is one to watch out for as well at +450. The defenseman can move.  And you'll see in the above tweet that Larkin won it a few years back. He's worth a shot at +600 odds.
If you want to throw a few bucks on a long shot, Kyle Connor isn't a bad look at +1000. He's got sneaky speed.
---
NHL All-Star Skills: Save Streak
This is the goalies' time to shine. They'll take shots from the opposing divisions, looking to make as many breakaway saves in a row as they can.
Participants:
Jack Campbell (TOR), Andrei Vasilevskiy (TBL), Frederik Andersen (CAR), Tristan Jarry (PIT), Cam Talbot (MIN), Juuse Saros (NSH), Thatcher Demko (VAN), John Gibson (ANA)
Betting Odds:
Vasilevskiy: +430
Saros: +500
Andersen: +500
Campbell: +500
Gibson: +600
Demko: +750
Jarry: +750
Talbot: +950
The Pick:
This one is tough. There's not much preparation you can do for it in terms of handicapping as any one of these eight goalies could get hot and stop several shots in a row, if not double digits.
Luckily, a few of these goalies played in this event in 2020. Jarry's longest streak was four, next was Andersen at seven, and finally Vasilevskiy at nine. The Lightning netminder came up just short behind Jordan Binnington (10).
At +430, Vasilevskiy is worth a play. For longer odds, I'd look at Demko.
---
NHL All-Star Skills: Hardest Shot
Another self-explanatory one: shoot the puck as hard as you can into the net. Zdeno Chara, unfortunately, will not be participating, although he was asked to attend despite not being selected for the game.
Participants:
Adam Pelech (NYI), Timo Meier (SJS), Victor Hedman (TBL), Tom Wilson (WSH)
Betting Odds:
Hedman: +125
Pelech: +300
Wilson: +350
Meier: +350
The Pick:
Hedman was the only one to participate in 2020, clocking in at 102.1 miles per hour. That was in the middle of the pack with Shea Weber (106.5 MPH) taking home the crown. I'll take Hedman and his experience to win this one, but Pelech has a hell of a shot as well.
https://twitter.com/BR_OpenIce/status/1489399559365304320
---
NHL All-Star Skills: Accuracy Shooting
Along with the new NHL 21 in '22, the traditional accuracy shooting challenge will be back as well. Participants have to hit targets on each corner of the net as quickly as possible.
Participants:
Leon Draisaitl (EDM), Clayton Keller (ARI), Rasmus Dahlin (BUF), Sebastian Aho (CAR), Jake Guentzel (PIT), Troy Terry (ANA), Johnny Gaudreau (CGY), Patrice Bergeron (BOS), Jonathan Marchessault (VGK)
Betting Odds:
Draisaitl: +340
Marchessault: +550
Aho: +600
Bergeron: +650
Gaudreau: +750
Dahlin: +950
Terry: +950
Keller: +950
Guentzel: +950
The Pick:
Draisaitl has the experience with a second-place 10.257 seconds in 2020 and is one of the favorites this year.
(skip to 6:45 in the video for Draisaitl's attempt)
I'll also keep my eye on odds for Terry and Gaudreau, who both have great shots. Marchessault can't be discounted as the hometown guy.

---
RELATED CONTENT
NHL Futures: Best Bets to win Hart, Vezina, Norris, & Calder at All-Star break
2022 Olympic Men's Ice Hockey Preview, Odds, & Betting Picks
2022 Olympic Women's Ice Hockey Preview, Odds, & Betting Picks
---