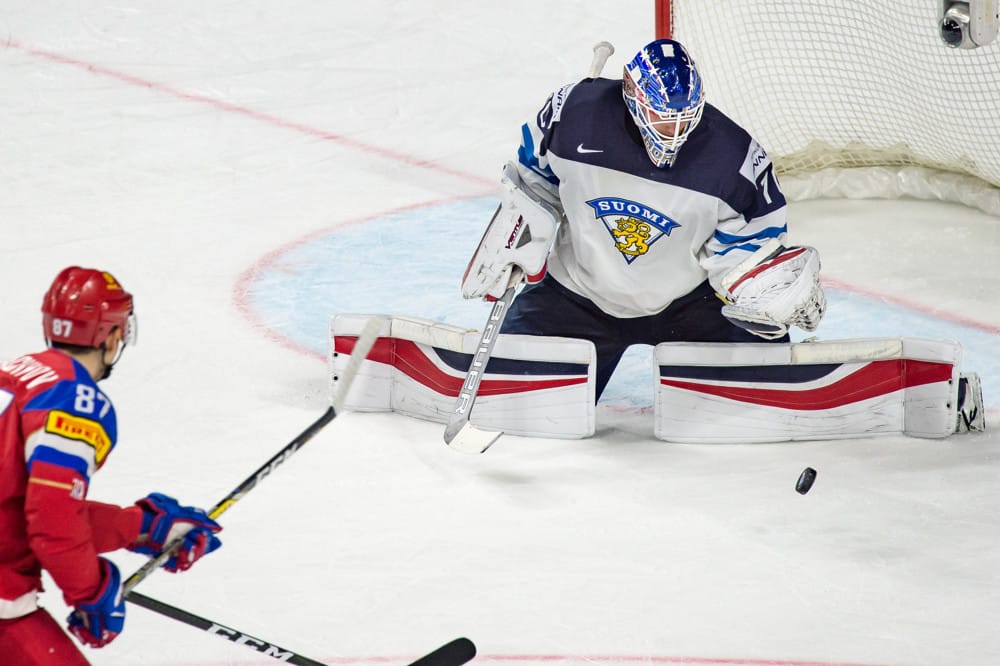 Thanks to the NHL prohibiting its players from attending another Olympic Games, we will be deprived of seeing the best in the world play against each other in Beijing. All the same, whether you are cheering for your country or for your bankroll, it should be an exciting tournament.
2022 Olympic Women's Ice Hockey Preview, Odds, & Betting Picks

2022 Olympic Men's Ice Hockey Preview, Odds, & Betting Picks
The Format
Group A: Canada, USA, Germany, China
Group B: ROC, Czech Republic, Switzerland, Denmark
Group C: Finland, Sweden, Slovakia, Latvia
Just like the previous few Games, the four teams with the best records (the three group winners and the best 2nd-place finisher) will advance directly into the final stage. The remaining teams will all have to play one another in order to qualify for it. This means that the group stage play is all about seeding as every top team will be aiming to skip that play-in game and preserve energy for the main rounds. Teams like Denmark should just be happy to be there.
---
2022 Olympic Men's Ice Hockey: The Favorites
ROC +160
When it was looking like the NHL was going to withdraw its players from the Olympics, the odds for Russia to win this tournament naturally dropped from around +500 and became the favourites at +160. This is because the KHL is the 2nd best league in the world, which boasts a number of Russian players who could play, or have played, in the NHL.
Legends such as Kovalchuk and Datsyuk will not be lacing up their skates this time around. That could be a good thing, though, as the Russians excel with speed in transition, so having a younger group in their top six bodes well for their offensive game. The likes of Nikita Gusev, Mikhail Grigorenko, and the goal-scoring phenom Vadim Shipachyov should be a threat to any defence, while Nikita Nesterov and Stanley Cup-winning ex-King Vyacheslav Voynov are more than capable of manning a steady blue line.
The Russians also get a favourable group matchup, which means they should be able to coast through the initial stage and get a top seed. This team are the favourites for a reason, and nobody would be shocked to see them repeat in another NHL-free Olympics.
Finland +400
Unlike most of their opponents, Finland has favoured experience over youth when assembling their roster. This is for good reason when you factor in the veterans they could choose from, including Sami Vatanen, Leo Komarov, Markus Granlund, and Valterri Filppula. This also makes sense considering the way the Finns traditionally play, which is a slower, harder, defensively-minded checking style; they are not as worried about employing faster, younger players as they are about turning the game into a grind.
Finland is second on the odds-board not only because of a number of players with long years in the NHL but because of recent success as well. This is a roster similar to the one that competed and won at the 2019 World Championship, with coach Jukka Jalonen staying on and captain Marko Antilla presumably wearing the 'C' again at this tournament. Finland has the kind of chemistry that the North American teams do not, so it is unsurprising to see them with the second shortest odds to win gold.
Canada +700
Devoid of NHL talent, the Canadian Olympic team suffers the most from the league's decision to keep its players home. Instead of Crosby, McDavid, MacKinnon, Makar, Marchand, etc., Team Canada is reduced to counting on veteran players such as Eric Staal, who won Gold with Team Canada in Vancouver but is now ancient. They are hoping prospects such as Owen Power, who scored four goals as a defenceman against Austria in the recent aborted World Juniors, can fill the void. Mason McTavish, the exciting Ducks forward, will also be counted on to provide an offensive spark.
Team Canada are also at a disadvantage due to a sudden coaching turnover. Claude Julien injured himself and was consequently replaced by ex-Blackhawks coach Jeremy Colliton. We had faith that Julien may have been able to devise simple enough tactics to maximise the strengths of this team (which on paper are clearly on the defensive side of the ice). Colliton, on the other hand, will have his hands full trying to implement his more modern, offensive playing style into this team on short notice.
Given how this line-up was constructed, given the dearth of talent and the absence of player familiarity, and given the sudden coaching switch from the sturdy Julien to the untested Colliton, it is tough to see how Canada will overcome teams like Russia or Finland. That said, their starting goalie Devon Levi turned in a ridiculous .964 save percentage at the 2021 World Juniors. In a short tournament like this, a hot goaltender can easily be the difference.
---
2022 Olympic Men's Ice Hockey: The Dark Horses
USA +1600
If the Finns decided to win this tournament with gritty old men, the United States decided to do it with kids. With only seven players having NHL experience, the American roster is constructed around exciting collegiate-level young guns like Jake Sanderson, Matty Beniers, Brendan Brisson, and goaltender Drew Commesso. David Quinn, the Rangers coach who was prematurely fired by James Dolan, mans the helm in Beijing, which is a great choice given his experience working with college athletes at BU.
As the youngest squad in the tournament, the Americans will be one of the more interesting teams to watch. They are not given much respect by the bookies at only 16-1, but if Quinn can tap into some of the potential that his team are loaded with and build on that chemistry formed between several of his players in college, the United States could catch a few of the better teams off-guard.
China: +70000
If the United States are a 'dark horse,' what could we call China at 700-1? A black horse? A black hole horse? Something that is darker than dark, anyway, as there is nothing remotely similar about the two teams judging by the chances the odds-makers are giving them.
We are not recommending you to load up a wheelbarrow full of cash and put it all down on Team China to win hockey Gold. Nevertheless, there are some things working for this team. We are not only referring to the fact that they are the host country. More importantly, Team China are basically Kunlun Red Star, a team that have been playing in the KHL since the Covid pandemic shut the Chinese hockey league down. This team does not only consist of Chinese athletes; there are Canadian, American, and Russian-born skaters up and down the line-up.
Red Star are naturally a terrible KHL team, but a theme of this article is 'chemistry.' We have emphasised how important it is to develop chemistry if any of these teams hope to win gold. KRS have been playing together for years, and in actual league play. They do not get together just for the odd international tournament, which is where most of the other teams derive their chemistry from. This is crucial for an upset narrative since a team that knows each other well can go a long way in bridging the enormous talent gap between them and the favourites.
If the bookies are showing the same lack of respect to this Chinese team on a game-by-game basis, we will happily be playing them on the puck line. There is also some value on them to win their group, since they dodge Finland, Russia, and Sweden. Instead, they draw teams that will be hurt the most by the NHL's absence.

2022 Olympic Men's Ice Hockey Best Bet: Finland to win Gold (+400)
Russia is rightly the favourites, and we would pick them to beat Finland over a seven-game series if the odds were identical. Thus, there is value to be had on the Lejonen at 4-1 to win their first Olympic gold in hockey. We like how experienced this team are, especially considering the core of the team who won the World Championship a few years ago have returned for this tournament.
Pay attention to Finland's group stage game against their Swedish rivals. That match will likely determine who gets a top seed and skips the play-in round.
---
RELATED CONTENT